CJCSC, Iranian President discuss matters of strategic interest, regional security
Both sides displayed desire to initiate meaningful and long-lasting security and defence cooperation between the two countries.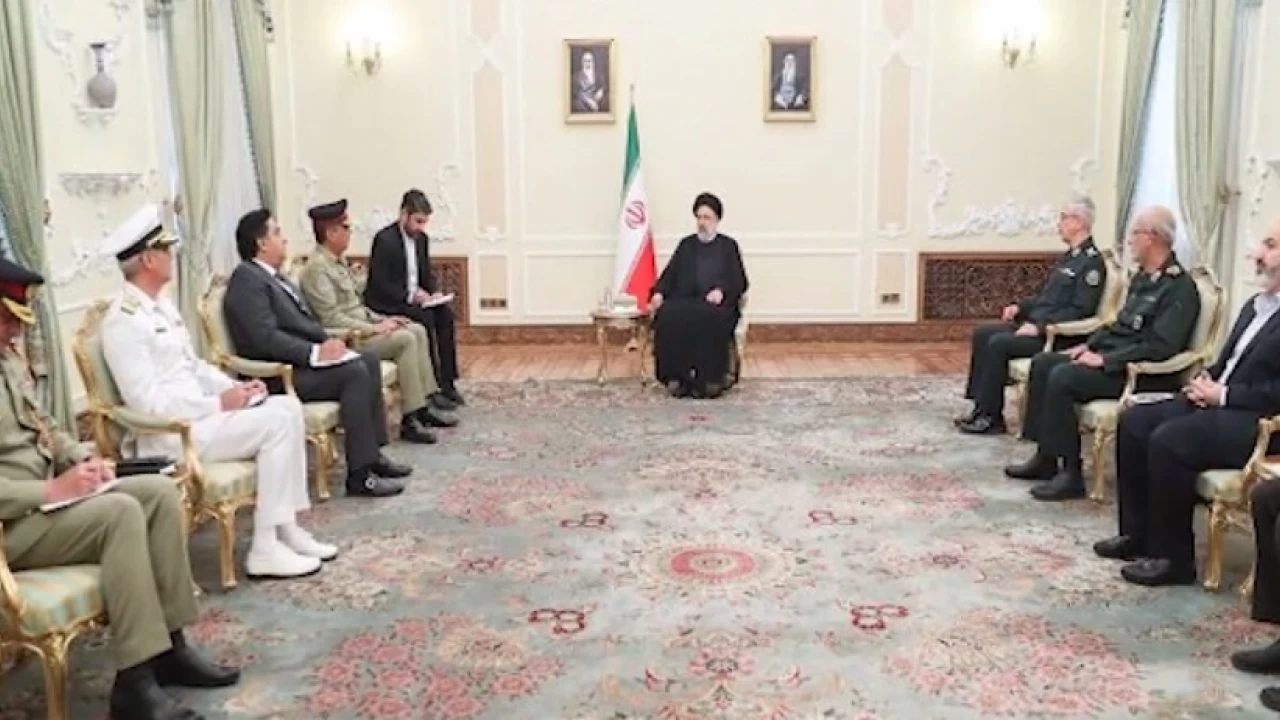 Tehran: Chairman Joint Chiefs of Staff Committee (CJCSC) General Nadeem Raza who is on official visit to Iran, called on President of Iran Sayyid Ebrahim Raisol-Sadati.
Matters of bilateral strategic interest and regional security environment including strengthening of bilateral security and defence cooperation between the two countries were brought into discussion.
Both sides displayed desire to initiate meaningful and long-lasting security and defence cooperation between the two countries.
Chairman JCSC also held separate meetings with Defence Minister Brigadier General Mohammad-Reza Gharaei Ashtiani, Chief of General Staff Major General Mohammad Bagheri, Commander-in-Chief Islamic Revolutionary Guard Corps Major General Hossein Salami, Commander of Iranian Navy Rear Admiral Shahram Irani and Commander of Air Force Brigadier General Hamid Vahedi.
The dignitaries discussed measures to enhance the level and scope of military engagements between both countries and pledged to continue to forge deeper ties. Both sides highlighted that common borders should be "Borders of Peace and Friendship".
The Iranian military leadership lauded the professionalism of Pakistan Armed Forces and acknowledged their sacrifices in fight against terrorism.
Earlier, upon arrival at General Staff Headquarters a smartly turned-out contingent presented 'Guard of Honour' to the Chairman Chairman Joint Chiefs of Staff Committee.
Court grants two-day physical remand of Shebaz Gill
The case hearing took place amid strict security arrangements.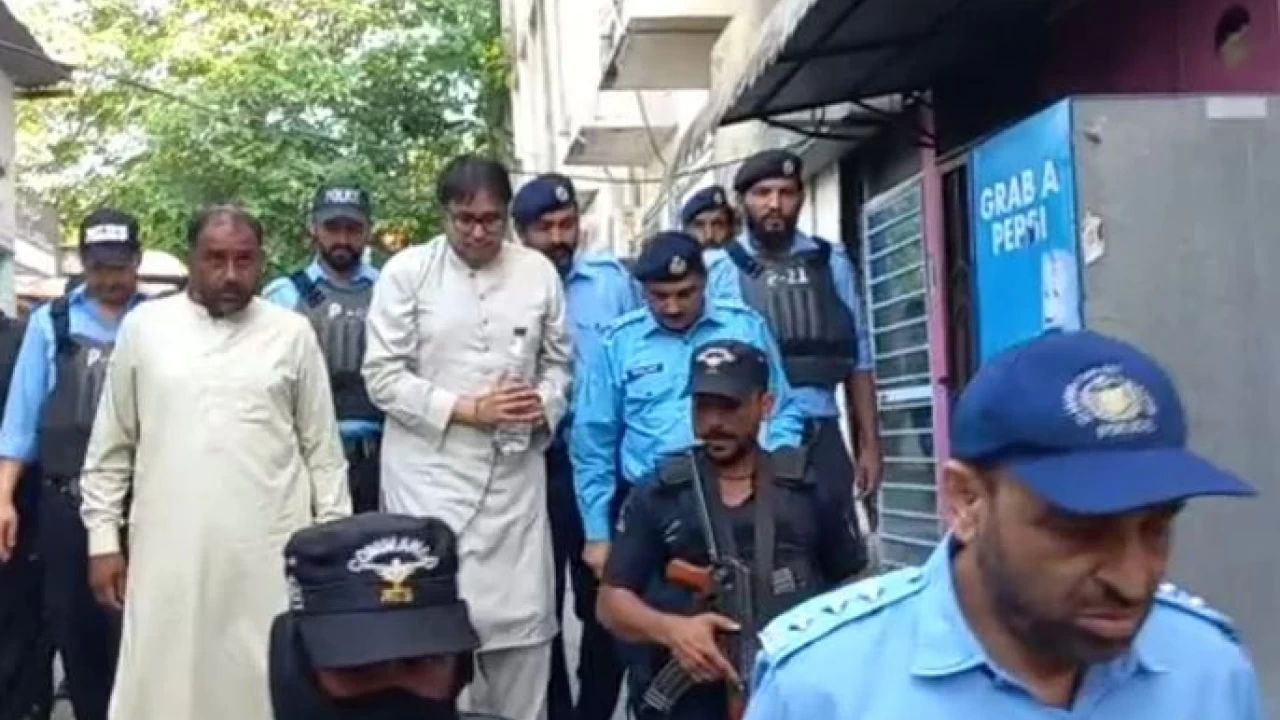 Islamabad: A court in the federal capital Wednesday granted a two-day physical remand of Pakistan Tehreek-e-Insaf (PTI) senior leader Shahbaz Gill, who was arrested on charges of alleged sedition and inciting the public against the state institutions.
In a sedition case, Gill was produced before the court today where the Islamabad Police sought his physical remand to recover the mobile phone and the device which he used to make statements.
Judicial magistrate Omar Bashir reserved his verdict, after hearing the petition, before granting a two-day physical remand.
The case hearing took place amid strict security arrangements.
It is pertinent to mention here that Shahbaz Gill was arrested by Islamabad police on Tuesday over a case of incitement to rebellion registered against him in the Bani Gala police station.
The FIR was registered under sections 34 (common intention), 109 (abetment), 120 (concealing design to commit offence punishable with imprisonment), 121 (waging war against state), 124-A (sedition), 131 (abetting mutiny, or attempt to seduce a soldier, sailor or airman from his duty), 153 (provoking to cause riot), 153-A (promoting enmity between different groups), 505 (statement conducing to public mischief), and 506 (punishment for criminal intimidation) of the Pakistan Penal Code (PPC).
Besides other charges, clauses related to spreading anarchy and hatred were added to the FIR.


Elon Musk sells Tesla shares worth $6.9 billion amid Twitter legal battle
The latest sales bring total stock sales by Musk to about $32 billion in less than one year.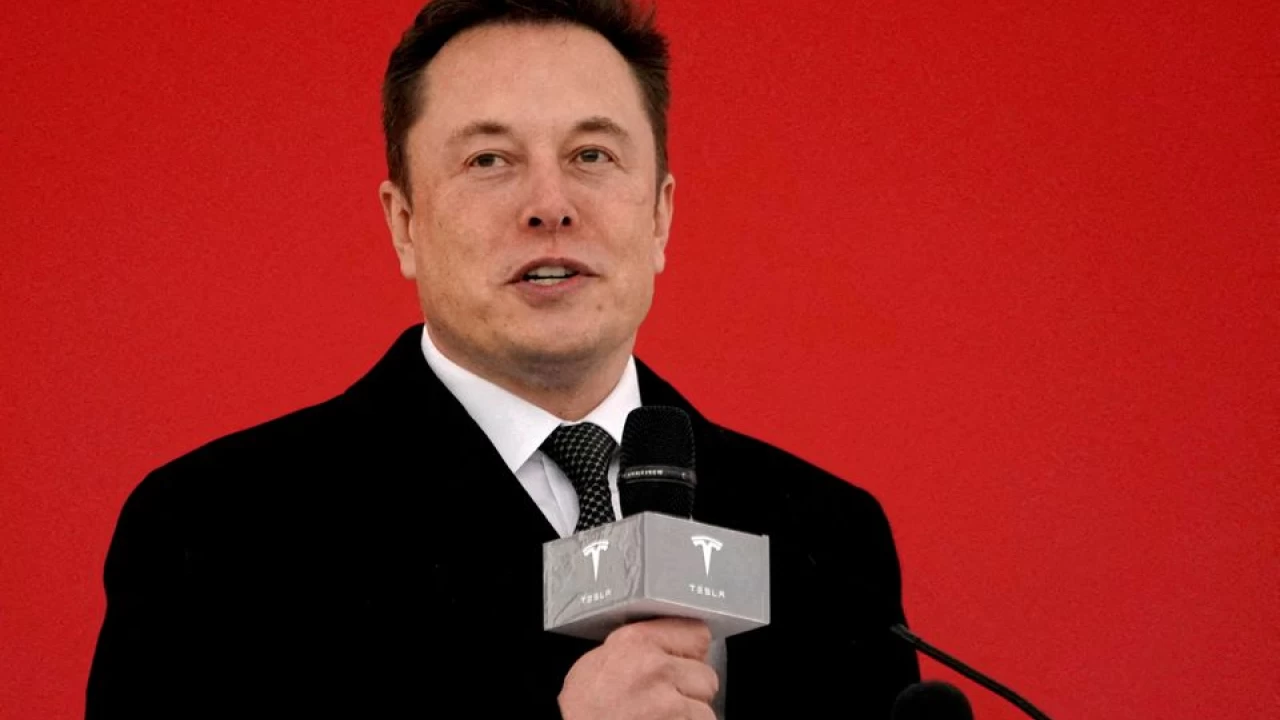 Tesla Inc (TSLA.O) Chief Executive Officer Elon Musk sold $6.9 billion worth of shares in the electric vehicle maker, saying the funds could be used to finance a potential Twitter deal if he loses a legal battle with the social media platform.
"In the (hopefully unlikely) event that Twitter forces this deal to close *and* some equity partners don't come through, it is important to avoid an emergency sale of Tesla stock," he said in a tweet late on Tuesday.
Musk in early July tore up his April 25 agreement to buy Twitter for $44 billion. Twitter has sued Musk to force him to complete the transaction, dismissing his claim that he was misled about the number of spam accounts on the social media platform as buyer's remorse in the wake of a plunge in technology stocks. The two sides head to trial on Oct. 17.
"Street will read through this poker move that chances of Twitter deal more likely now," Dan Ives, an analyst at Wedbush Securities, tweeted.
In other comments on Twitter on Tuesday, Musk said "yes" when asked if he was done selling Tesla stock, and also said he would buy Tesla stock again if the Twitter deal does not close.
Tesla did not immediately respond to a Reuters request for comment.
Musk, the world's richest person, sold $8.5 billion worth of Tesla shares in April and had said at the time there were no further sales planned. But since then, legal experts had suggested that if Musk is forced to complete the acquisition or settle the dispute with a stiff penalty, he was likely to sell more Tesla shares.
Musk sold about 7.92 million shares between Aug.5 and Aug.9, according to multiple filings. He now owns 155.04 million Tesla shares or just under 15% of the automaker according to Reuters calculations.
The latest sales bring total Tesla stock sales by Musk to about $32 billion in less than one year.
Tesla shares have risen nearly 15% since the automaker reported better-than-expected earnings on July 20, also helped by the Biden administration's climate bill that, if passed, would lift the cap on tax credits for electric vehicles.
Musk also teased on Tuesday that he could start his own social media platform. When asked by a Twitter user if he had thought about creating his own platform if the deal didn't close, he replied: "X.com"
SOURCE: REUTERS
UN envoy warns Israel-Gaza ceasefire is 'fragile'
Hundreds of homes and other civilian infrastructure were destroyed.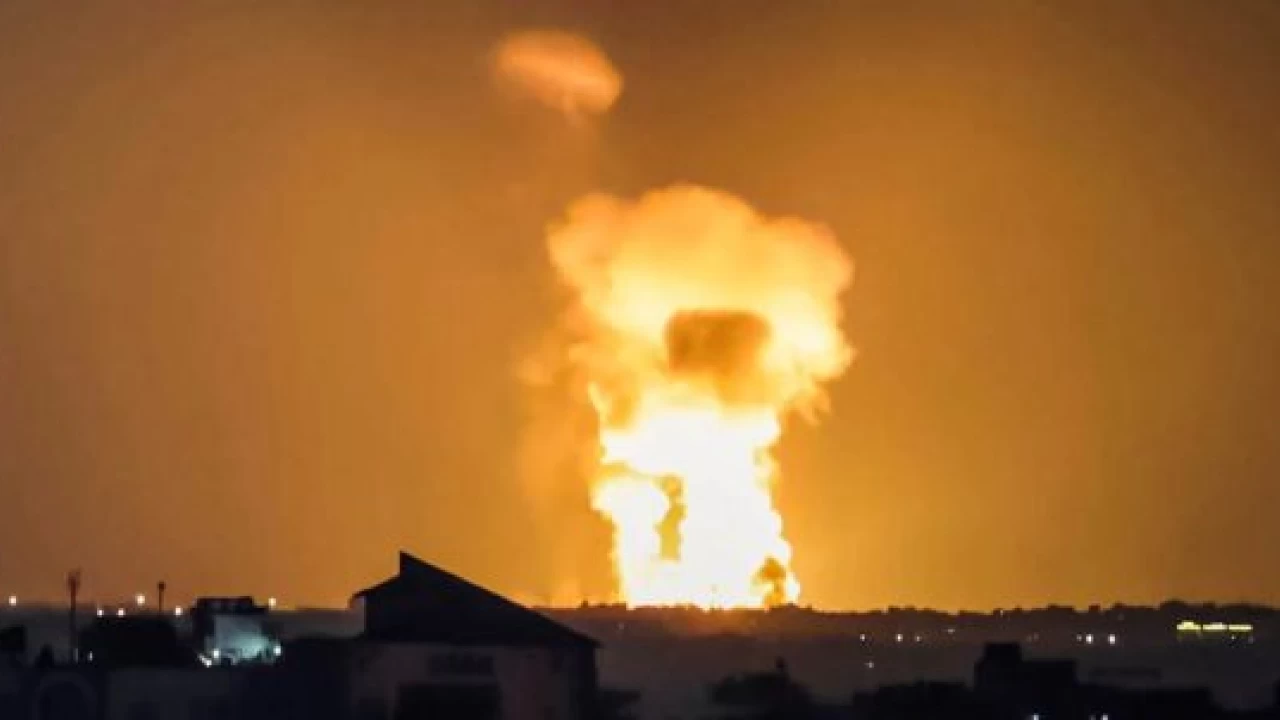 The UN Security Council held an emergency meeting Tuesday to assess a fragile truce between Israel and Palestinian Islamic Jihad (PIJ) militants in Gaza after three days of deadly fighting, with a UN envoy calling on all sides to abide by the agreement and the Council members denouncing the deliberate targeting of civilians, notably children.
Tor Wennesland, the UN's special coordinator for the Middle East peace process, told an emergency meeting of the 15-member Council that the cycle of violence will only stop with a political resolution to the decades-old conflict that ends the Israeli occupation and includes a two-State solution, based on the June 1967 borders and in line with UN resolutions and international law.
"The ceasefire remains in place as I speak," said Wennesland, updating on events between 5 and 7 August, which marked the worst outbreak of fighting since May 2021.
Alongside efforts by the UN, Qatar, United States, Jordan and the Palestinian Authority, he welcomed Egypt's crucial role in brokering the accord.
"Together these efforts helped prevent the outbreak of a full-scale war," he said, adding that it and allowed for the delivery of humanitarian relief into Gaza earlier that day.
"The situation is still very fragile, and I urge all parties to observe the ceasefire."
Wennesland said that 46 Palestinians were killed and 360 injured during the recent escalation, during which Israel launched 147 strikes on Gaza and Palestinian Islamic Jihad fired 1,100 rockets and mortars into Israel.
Hundreds of homes and other civilian infrastructure were destroyed. The figures are provisional and "verification is ongoing," he added.
"While fully recognizing Israel's legitimate security concerns I reiterate that under international law, all use of force must be proportionate and take all feasible steps to avoid civilian casualties," Wennesland said. "Children, in particular, must never be the target of violence or put in harm's way."
Wennesland said that the escalation had exacerbated already chronic shortages of essential medicines in Gaza, and that the closure by Israel of the Erez crossing into the Strip for six days had severe humanitarian consequences for Gazans, including preventing patients traveling for medical treatment in Israel.
"The closures also worsened the already precarious food-security situation in the Gaza Strip, reducing stocks of basic foods, particularly wheat flour," he said.
Wennesland thanked Egypt for the role it played in securing the ceasefire, alongside the UN, and also thanked Qatar, Jordan, the US and the Palestinian Authority for their deescalation efforts.
"Together, these efforts helped prevent the outbreak of a full-scale war and allowed for the delivery of much-needed humanitarian relief to the people of Gaza starting earlier today," he told the council members.
He welcomed the "timely reopening" of the Erez and Kerem Shalom crossings by Israel following the ceasefire, and he called on the leaderships of Israel and Palestine, along with the international community, to step up diplomatic efforts to resume negotiations aimed at securing a viable, two-state solution.
Riyad Mansour, the Palestinian permanent observer to the UN, accused Israel of "murdering and oppressing an entire nation." He added that Israel's "right to security has become a license to kill and needs to be revoked," as he urged the Security Council to "act now."
"If you are against violence, do not exclude Israeli violence," he added. "Do not justify it. Are you ready to say, 'Enough is enough,' as the highest authority responsible for the maintenance of peace and security?
"Israeli kills our people because it can. When will the world show them that it cannot?"
Mansour told council members that "defenceless Palestinian families need your support; not a nuclear power, not an occupying power," as he asked council members "to drag the two parties to the peace process, today before tomorrow."
Gilad Erdan, Israel's permanent representative to the UN, accused PIJ members of taking their orders from Iranian puppet masters, adding: "Their hate knows no boundaries."