Rainstorms lash northeast China, trapping cars, buses in floods
Alerts for flood risks were also issued in Jilin province, north of Liaoning.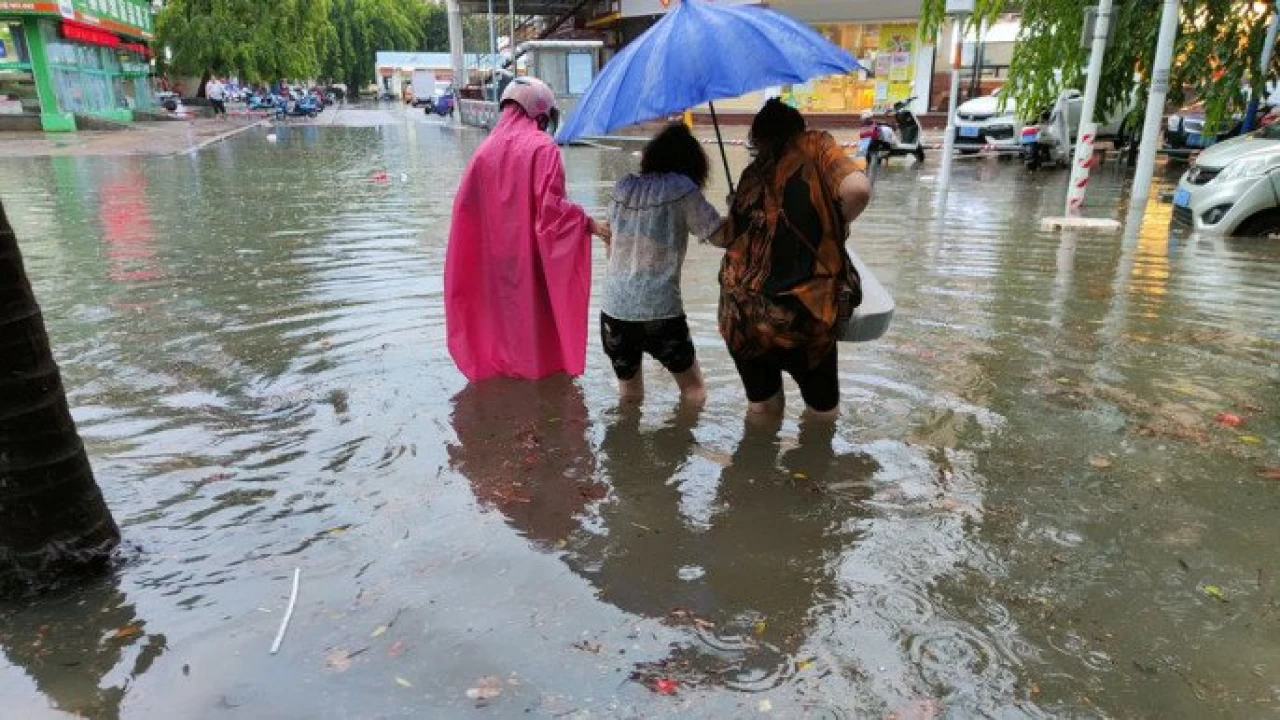 Beijing: Heavy rain battered China's northeastern rust belt on Thursday, triggering floods that trapped buses, swamped roads and disrupted commuters in cities, with more storms forecast for coming days.
In Shenyang, capital of Liaoning province, its 7.6 million residents were caught off-guard by the unexpectedly heavy rain even though several red alerts, the highest in a four-tier storm warning system, were issued on Wednesday.
Residents woke up to public messages on their mobile phones telling them to delay heading to work and call off any non-essential activities because of "extreme weather".
Traffic police data showed 52 waterlogged sections of roads, 30 of which were closed.
Five students and a driver were marooned in a school bus in one inundated area and had to be saved by rescuers in rubber boats, state television reported.
From the province of Hebei in the north to Anhui in the east, many motorists were trapped in their cars as engines stalled on waterlogged roads, state television footage showed this week.
In the past month, China has grappled with extreme weather from heatwaves to historic floods, with meteorologists blaming climate change and also the first typhoon of the season, Chaba.
Alerts for flood risks were also issued in Jilin province, north of Liaoning.
In Yanji, a Jilin city on the border with North Korea, a man was hailed for his bravery on social media after he dived into a raging river to rescue his wife despite not knowing how to swim, footage from state-run Xinhua news agency showed.
The two sustained some scrapes but suffered no severe injuries.
"I swear in my next life, I'll still marry him," the wife said in the footage, smiling.
Over the next 12 hours, flood-swollen rivers were expected to inundate farmland and urban areas in the cities of Changchun and Siping.
Liaoning and Jilin are expected to see more heavy downpours in the next two days before the rains start to dissipate.
SOURCE: Reuters
Rain with wind and thundershower expected in most parts of country
Heavy falls are likely at scattered places in Khyber Pakhtunkhwa, Upper Punjab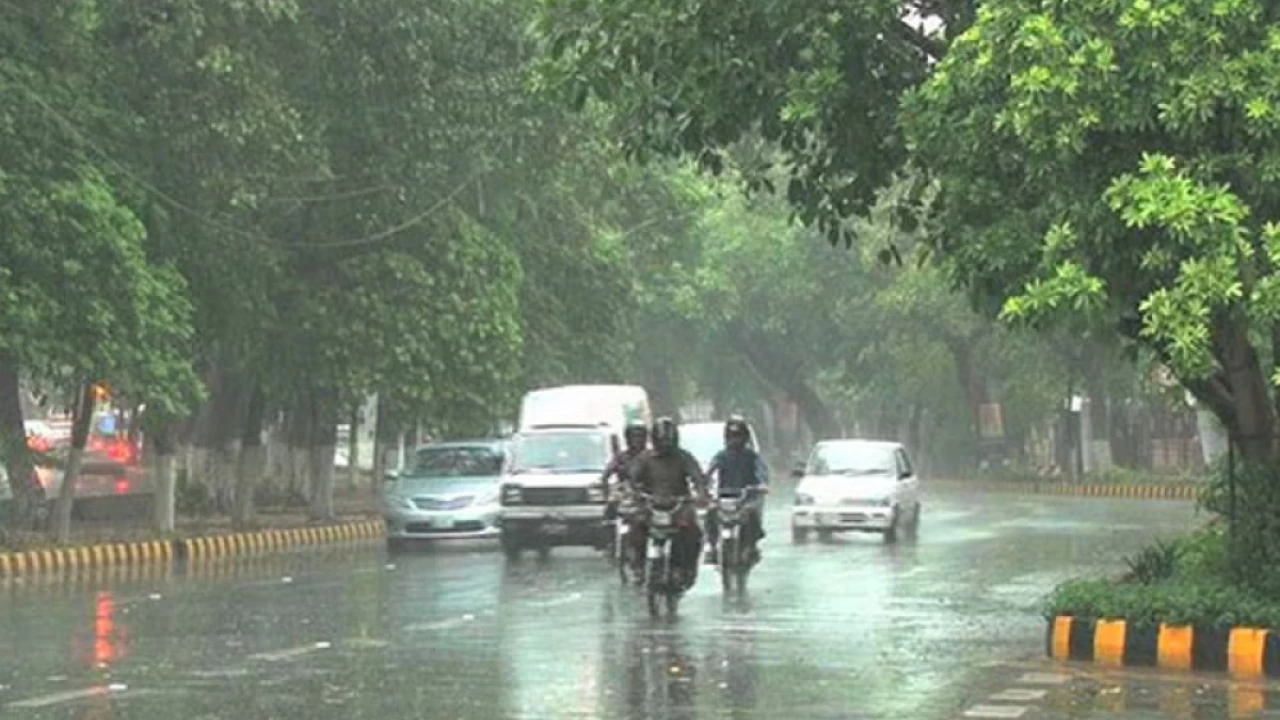 Islamabad: Rain with wind and thundershower is expected in Khyber Pakhtunkhwa Kashmir, Punjab, Sindh, northeast south Balochistan and Gilgit-Baltistan.
However, heavy falls are likely at scattered places in Khyber Pakhtunkhwa, Upper Punjab and Kashmir, while at isolated places in south Balochistan during the period.
Temperature of some major cities recorded on Thursday morning:
Islamabad and Karachi twenty-eight degree centigrade, Lahore twenty-nine, Peshwar thirty, Quetta and Muzafarabad twenty-five, Gilgit twenty-one and Murree eighteen degree centigrade.
According to Met Office forecast for Indian Illegally Occupied Jammu and Kashmir, partly cloudy weather with chances of rain-wind-thundershower is expected in Srinagar, Jammu, Leh, Pulwama, Anantnag, Shopian and Baramulla.
Temperature recorded this morning:
Srinagar, Anantnag and Baramulla twenty- one degree centigrade, Leh fifteen, Pulwama twenty and Shopian twenty-two degrees centigrade.
Nine Russian warplanes destroyed in Crimea blasts: Ukraine
Russia however denies any aircraft were damaged in Tuesday's blasts or that any attack took place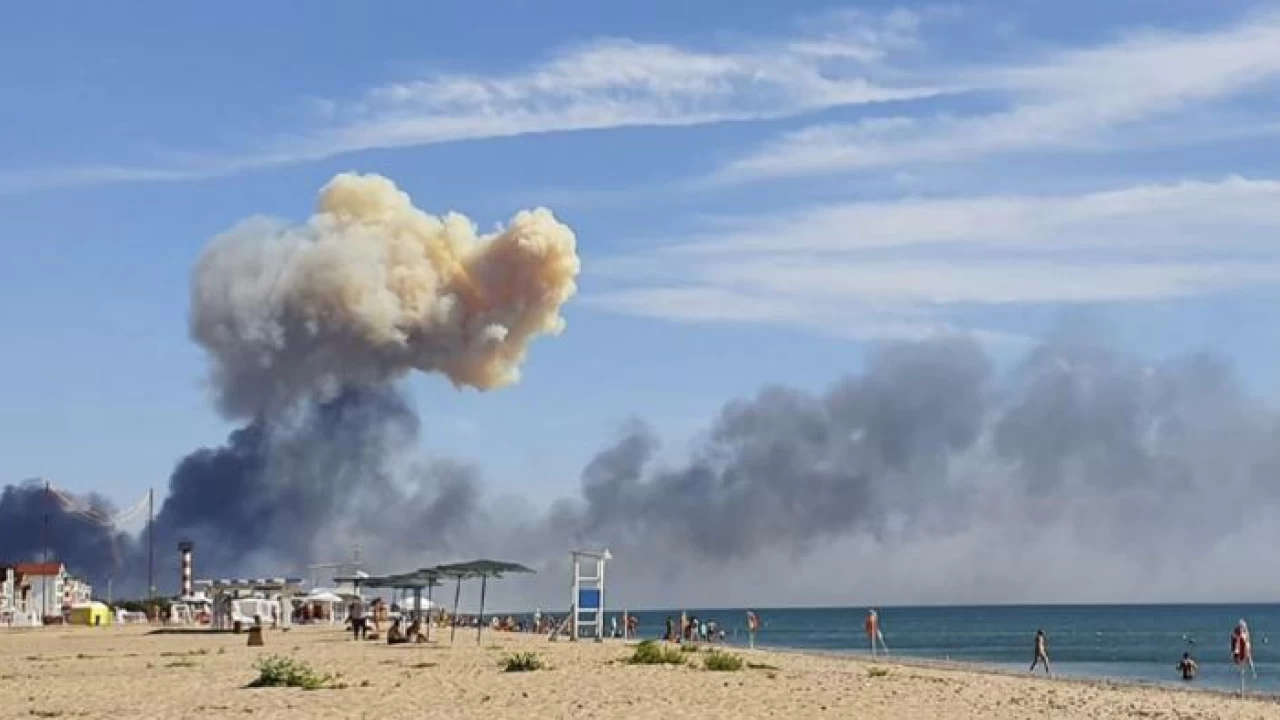 Ukraine's air force said Wednesday that nine Russian warplanes were destroyed in a deadly string of explosions at an air base in Crimea, amid speculation the blasts were the result of a Ukrainian attack that would represent a significant escalation in the war.
Russia denied any aircraft were damaged in Tuesday's blasts — or that any attack took place.
Ukrainian officials stopped short of publicly claiming responsibility for the explosions, while mocking Russia's explanation that a careless smoker might have caused ammunition at the Saki air base to catch fire and blow up. Analysts also said that explanation doesn't make sense and that the Ukrainians could have used anti-ship missiles to strike the base.
If Ukrainian forces were, in fact, responsible for the blasts, it would be the first known major attack on a Russian military site on the Crimean Peninsula, which was seized from Ukraine by the Kremlin in 2014. Russian warplanes have used Saki to strike areas in Ukraine's south.
Crimea holds huge strategic and symbolic significance for both sides. The Kremlin's demand that Ukraine recognize Crimea as part of Russia has been one of its key conditions for ending the fighting, while Ukraine has vowed to drive the Russians from the peninsula and all other occupied territories.
Hours after the blasts, Ukrainian President Volodymyr Zelenskyy promised again to do just that.
"This Russian war against Ukraine and against all of free Europe began with Crimea and must end with Crimea — its liberation," he said in his nightly address.
The explosions, which killed one person and wounded 14, sent tourists fleeing in panic as plumes of smoke rose over the coastline nearby. Video showed shattered windows and holes in the brickwork of some buildings.
One tourist, Natalia Lipovaya, said that "the earth was gone from under my feet" after the powerful blasts. "I was so scared," she said.
Sergey Milochinsky, a local resident, recalled hearing a roar and seeing a mushroom cloud from his window. "Everything began to fall around, collapse," he said.
Crimea's regional leader, Sergei Aksyonov, said some 250 residents were moved to temporary housing after dozens of apartment buildings were damaged.
But Russian authorities sought to downplay the explosions on Wednesday, saying all hotels and beaches were unaffected on the peninsula, which is a popular tourist destination for many Russians.
A Ukrainian presidential adviser, Oleksiy Arestovych, cryptically said that the blasts were either caused by Ukrainian-made long-range weapons or the work of Ukrainian guerrillas operating in Crimea.

A Ukrainian parliament member, Oleksandr Zavitnevich, said the airfield was rendered unusable. He reported on Facebook that it housed fighter jets, tactical reconnaissance aircraft and military transport planes.
"Official Kyiv has kept mum about it, but unofficially the military acknowledges that it was a Ukrainian strike," Ukrainian military analyst Oleh Zhdanov said.
The base is at least 200 kilometers (about 125 miles) from the closest Ukrainian position. Zhdanov suggested that Ukrainian forces could have struck it with Ukrainian or Western-supplied anti-ship missiles that have the necessary range.
The Washington-based Institute for the Study of War said it couldn't independently determine what caused the explosions but noted that simultaneous blasts in two places at the base probably rule out an accidental fire but not sabotage or a missile attack.
But it added: "The Kremlin has little incentive to accuse Ukraine of conducting strikes that caused the damage since such strikes would demonstrate the ineffectiveness of Russian air defense systems."
During the war, the Kremlin has reported numerous fires and explosions on Russian territory near the Ukrainian border, blaming some of them on Ukrainian strikes. Ukrainian authorities have mostly kept silent about the incidents, preferring to keep the world guessing.

In other developments, Russian forces shelled areas across Ukraine on Tuesday night into Wednesday, including the central region of Dnipropetrovsk, where 13 people were killed, according to the region's governor, Valentyn Reznichenko.
Reznichenko said the Russians fired at the city of Marganets and a nearby village. Dozens of residential buildings, two schools and several administrative buildings were damaged.
"It was a terrible night," Reznichenko said. "It's very hard to take bodies from under debris. We are facing a cruel enemy who engages in daily terror against our cities and villages."
Two residents of the village of Staryi Saltiv in the Kharkiv region in the northeast were killed Wednesday in Russian shelling, police reported.
In the country's southeast, Moscow's forces continued shelling the city of Nikopol across the Dnieper River from the Russian-occupied Zaporizhzhia power station, the biggest nuclear plant in Europe. Ukraine and Russia have accused each other of shelling it, stoking international fears of a catastrophe.
On Wednesday, foreign ministers of the Group of Seven industrialized democracies demanded that Russia immediately hand back full control of the plant to Ukraine. They said they are "profoundly concerned" about the risk of a nuclear accident with far-reaching consequences.
SOURCE: AP NEWS
South Korea flooding death toll rises to 11
President Yoon Suk-yeol says it was the heaviest rainfall since Seoul weather records began 115 years ago
Seoul: The death toll from South Korea's record-breaking rains and flooding has risen to 11, officials said Thursday, with eight more people still missing as Seoul struggles to clean up after the deluge.
Two days of torrential rain flooded streets and subway stations in the capital, with President Yoon Suk-yeol saying it was the heaviest rainfall since Seoul weather records began 115 years ago.
Images shared on social media earlier this week showed people wading through waist-deep water and overflowing metro stations, with the posh Gangnam district particularly hard hit.
Of the 11 dead, six were in Seoul, three in Gyeonggi province and two in Gangwon province, according to data from the interior ministry. Three of the eight missing were from the capital.
More than 5,300 people were forced to evacuate their homes, the ministry added.
Among the 11 victims, three died while trapped in their flooded semi-basement apartment, known as a banjiha, according to the ministry. Local reports say the victims were a teenager, her mother and her aunt.
One victim is believed to have been electrocuted while removing a tree that had fallen onto a sidewalk while another died when a landslide buried his home in mountainous Gangwon.
At an official meeting on relief efforts, South Korean Prime Minister Han Duck-soo said the government had already completed the bulk of emergency repair work.
SOURCE: AFP