By-polls on 33 NA seats: Imran Khan to be main candidate
PTI leader Shah Mahmood Qureshi says that the relevant MNAs who had tendered resignations from their respective constituencies will be the covering candidates on all 33 seats of the National Assembly.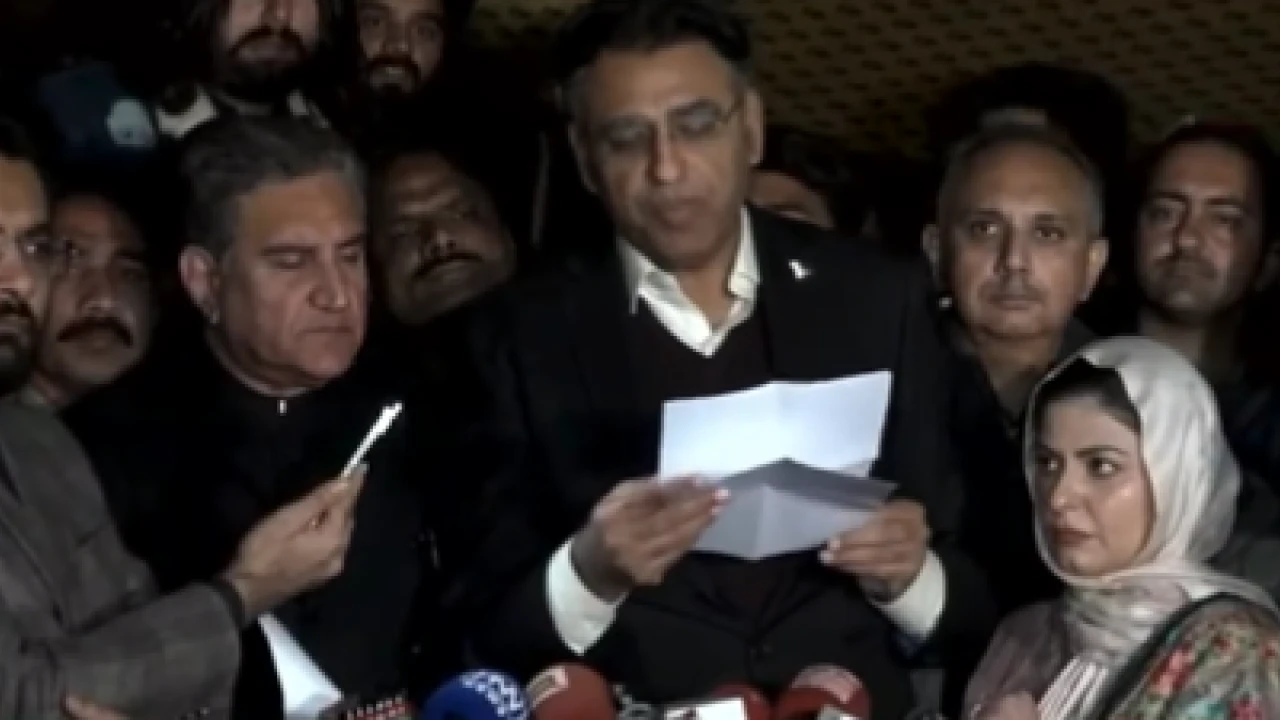 Lahore: Shah Mahmood Qureshi said that the PTI decided to take part in the by-polls on 33 NA seats and party Chairman Imran Khan would be the main candidate on all these seats.
He said that the MNAs who tendered their resignations from their respective seats would be the covering candidates.
Shah Mahmood Qureshi said that the by-elections should be held within the due time under the law in both Punjab and Khyber Pakhtunkhwa.
"We hope that the public will come out to vote Imran Khan on March 16," said Qureshi, adding that the public would prove this fact that they wanted to get rid of this group [coalition government].
پاکستان تحریک انصاف کی کور کمیٹی اور ممبران قومی اسمبلی کے اجلاس کی چوتھی قرارداد pic.twitter.com/FzRxGCr5Mh

— PTI (@PTIofficial) January 29, 2023
Taking about Fawad Chaudhary, Qureshi said that the people who used to criticize Fawad were now expressing sympathy with him.
"you can hear the people in the Senate and you can hear the lawyers as they all are raising voices for Fawad," said the PTI leader.
He went on to say that a group wanted to eliminate Imran Khan but God blessed him and the incident of Wazirabad was the evidence of this fact.
"We are hopeful that they will be successful before God and before the public," he added.
After dissolving the provincial assemblies, the Qureshi said that they won the public trust while the people who were now in the power were making efforts to end the cases against them.
Asad Umar said that they had moved a petition in the LHC for timely elections in Punjab and a similar petition would be filed in Peshawar High Court with the same plea.
Earlier, the PTI leaders, accompanied by Fawad Chaudhary's wife Hiba Fawad, announced that they passed four resolutions in their meeting.
پاکستان تحریک انصاف کی قیادت نے آج متفقہ قرارداد منظور کی. حکومتی وزراء اور گورنر کی جانب سے اداروں کی بدنامی کے لیے بیانات دیے جا رہے ہیں اور دوسری طرف ایک سینئر سیاست دان سے دہشت گردوں والا سلوک روا رکھا جا رہا ہے.

ہمارا مطالبہ ہے کہ اس ملک میں آئین بحال کیا جائے pic.twitter.com/LI8yOUlmDP

— Hafiz Farhat Abbas (@FarhatAbbas_PTI) January 29, 2023