Plane carrying 122 skids off runway, catches fire 
Staff noticed "abnormalities" and "suspended take off", causing the jet to overrun the runway and catch fire.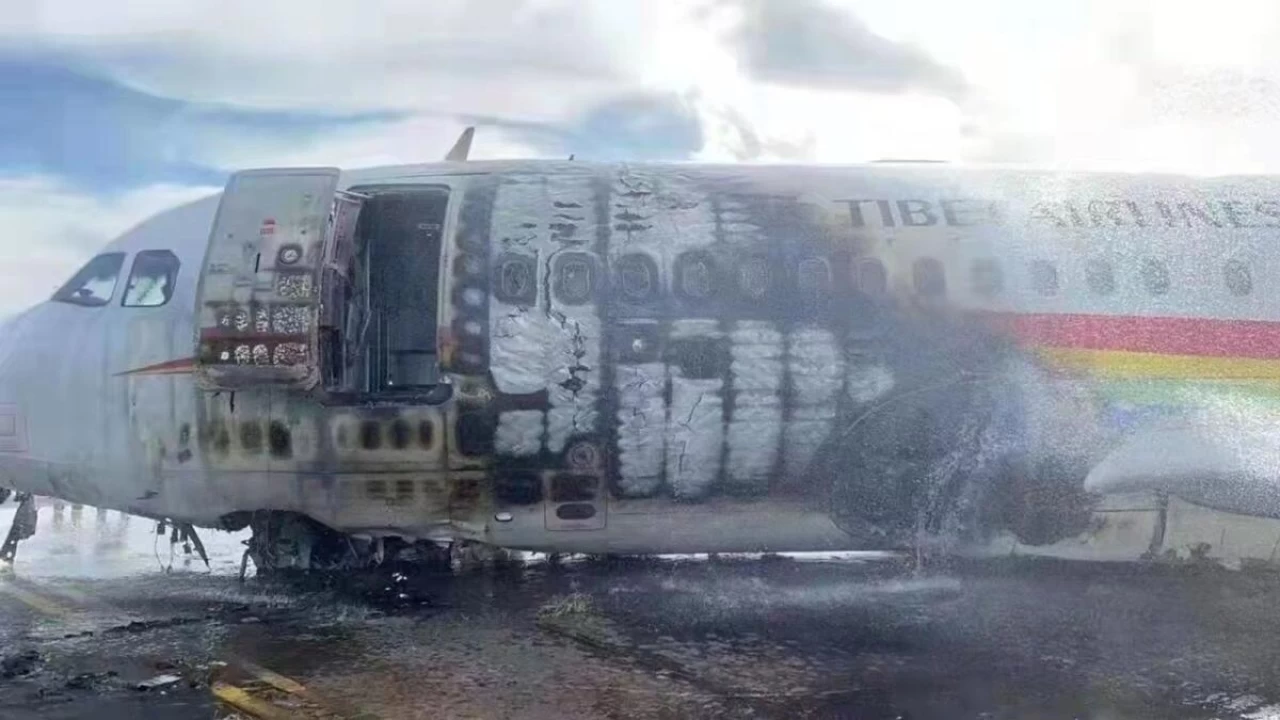 Beijing: At least 25 people sustained injuries after a passenger plane, carrying 113 passengers and nine crew, caught fire on Thursday at a Chinese airport after veering off the runway.
As per details, the flight was headed from the southwestern city of Chongqing to Tibet's Nyingchi.
While en route to Tibet, the airline staff noticed "abnormalities" and "suspended take off", causing the jet to overrun the runway and catch fire, said Tibet Airlines in a statement.
"The injured passengers were all only lightly injured, and have been sent to hospital for treatment," airline added.
Tibet Airlines, suffered runway excursion and fire at 8:09 a.m. (0009 GMT) as the flight was preparing to take off from the western city of Chongqing.
The images of the flight bursting into flames went viral on social media, showing flames engulfing the wing of the stricken jet as terrified passengers ran from the scene.
Looks like Tibet Airlines #9833 suffered a runway excursion and fire on departure from CKG.

No word on injuries at this time. https://t.co/ROhQsR6vio

— Jason Rabinowitz (@AirlineFlyer) May 12, 2022
The incident follows the crash of a Chinese Eastern Boeing 737-800 in southeastern China on March 21 in which all 132 people on board were killed.
That accident, in which the plane went into a sudden nosedive and slammed into the ground in a mountainous area, remains under investigation.
The incident comes after a China Eastern flight travelling from Kunming to Guangzhou plunged from 29,000 feet into a mountainside in March, killing all 132 people on board.
No reason for that crash has been given for the disaster, China's deadliest in around 30 years.
Pakistani 'Joyland' wins Cannes 'Queer Palm' award
It is the first-ever Pakistani competitive entry at the Cannes festival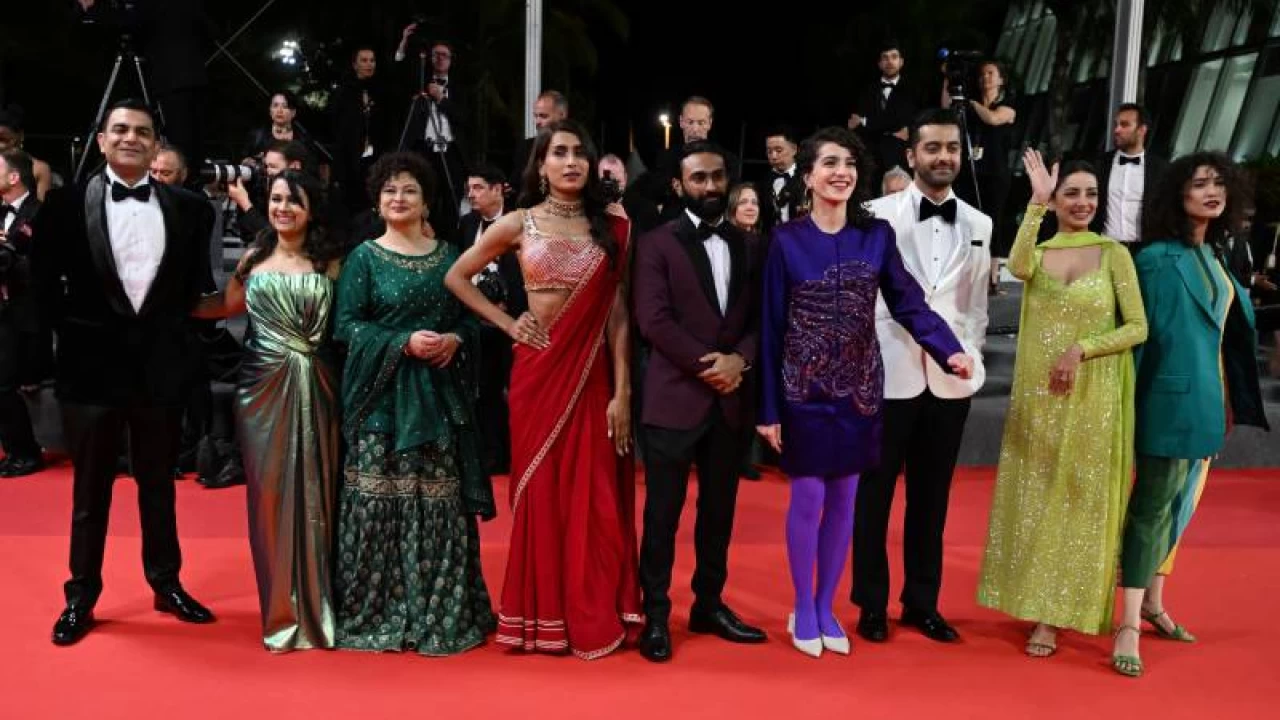 Cannes: A Pakistani movie featuring a daring portrait of a transgender dancer in the Muslim country on Friday won the Cannes "Queer Palm" prize for best LGBT, "queer" or feminist-themed movie, the jury head told AFP.
"Joyland" by director Saim Sadiq, a tale of the sexual revolution, tells the story of the youngest son in a patriarchal family who is expected to produce a baby boy with his wife.
He instead joins an erotic dance theatre and falls for the troupe's director, a trans woman.
It is the first-ever Pakistani competitive entry at the Cannes festival and on Friday also won the Jury Prize in the "Un Certain Regard" competition, a segment focusing on young, innovative cinema talent.
"It's a very powerful film, that represents everything that we stand for," "Queer Palm" jury head, French director Catherine Corsini, told AFP.
- 'Blown away' -
Corsini herself took the award last year with "La Fracture", which features a lesbian couple's relationship against the backdrop of the "Yellow Vest" movement in France.
"'Joyland' will echo across the world," Corsini said. "It has strong characters who are both complex and real. Nothing is distorted. We were blown away by this film."
The "Queer Palm" has been won by big-name directors in the past and attracted top talent to its juries, but has no official place at the world's top film festival.
Awards for films with lesbian, gay, bisexual, transgender, and queer content are already an integral part of other major movie gatherings, including Berlin which has handed out its "Teddy Award" since 1987, and made it part of its official programme.
Not so at Cannes, where the festival's leadership will not even allow the "Queer Palm" -- which has been running for a decade -- to set up shop in its main building, the Palais du Festival.
"It makes me sad that the festival is still cold-shouldering the Queer Palm," Corsini said.
Past winners of the prize, created in 2010 by critic Franck Finance-Madureira, include Todd Haynes for "Carol" and Xavier Dolan for "Laurence Anyways".
"Joyland" beat off several other strong entries, including "Close" by Belgian director Lukas Dhont and "Tchaikovsky's Wife" by Kirill Serebrennikov, both hot contenders for the Cannes Festival's top Palme d'Or award which will be announced on Saturday.
"Joyland" left Cannes audiences slack-jawed and admiring and got a standing ovation from the opening night's crowd.
- 'Very schizophrenic' -
Part of the surprise stemmed from the discovery by many at Cannes that Pakistan is one of the first nations to have given legal protection against discrimination to transgender people.
In 2009, Pakistan legally recognised a third sex, and in 2018 the first transgender passport was issued.
"Pakistan is very schizophrenic, almost bipolar," director Saim Sadiq told AFP in an interview.
"You get, of course, prejudice and some violence against a particular community on the one hand, but you also get this very progressive law which basically allows everyone to identify their own gender, and also identifies a third gender," he said.
For its short film award, the "Queer Palm" jury picked "Will You Look At Me" by Chinese director Shuli Huang.
The diary-type film, set in the film-maker's hometown, shows a traditional society in which parents care more about their reputation than about their gay children's happiness.
SOURCE: AFP
Israeli forces shoot and kill Palestinian teen in West Bank: health ministry
The death raises to five the number of Palestinian teenagers killed during Israeli military operations in the West Bank in a month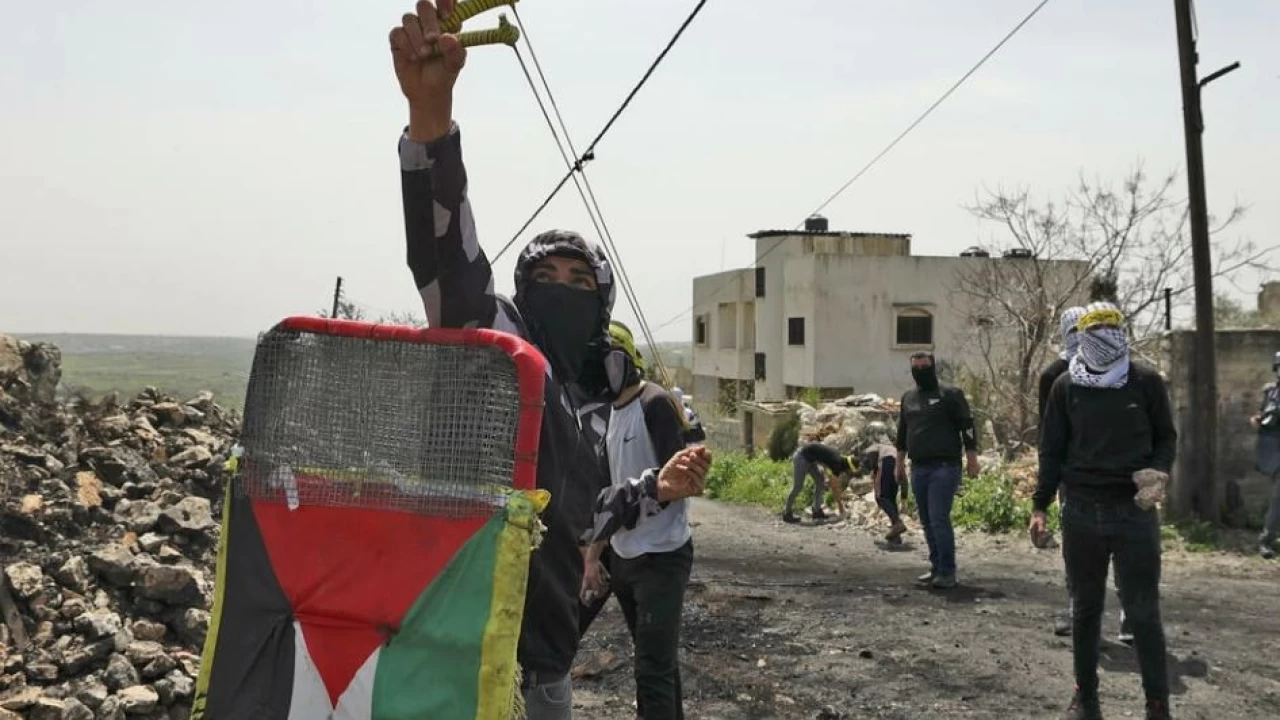 The Palestinian Health Ministry said Israeli forces shot and killed a teenager during an operation in a town near Bethlehem in the occupied West Bank.
The ministry identified the slain teen Zaid Ghunaim, 15. It said he was wounded by Israeli gunfire in the neck and back and doctors failed to save his life.
The death raises to five the number of Palestinian teenagers killed during Israeli military operations in the West Bank in a month. Israeli-Palestinian violence has intensified in recent weeks with near-daily arrest raids in Palestinian-administered areas of the West Bank and tensions around a Jerusalem holy site sacred to both Muslims and Jews.
The official Palestinian news agency, Wafa, cited witnesses as saying Ghunaim came upon the soldiers in al-Khader and tried to ran away but the troops fired at him. Online videos purportedly of the aftermath of the shooting show bloodstains near a white car parked in a passageway.
There was no immediate comment from the Israeli military, which has stepped up its operations in the West Bank in response to a series of deadly attacks inside Israel.
Palestinian Prime Minister Mohammad Shtayyeh said Israeli forces "deliberately" shot at Ghunaim with the intention to kill him.
On Sunday, Israeli ultranationalists plan to march through the main Muslim thoroughfare of the Old City of Jerusalem. The compound houses Al-Aqsa Mosque, the third holiest site in Islam. The hilltop site is also the holiest for Jews, who refer to it as the Temple Mount.
The march is meant to celebrate Israel's capture of east Jerusalem in the 1967 Mideast war. Israel subsequently annexed the area in a step that is not internationally recognized. The Palestinians claim east Jerusalem as the capital of a future state.
SOURCE: AP NEWS
Balochistan set to hold local government elections tomorrow
Over 2,000 polling stations declared extremely sensitive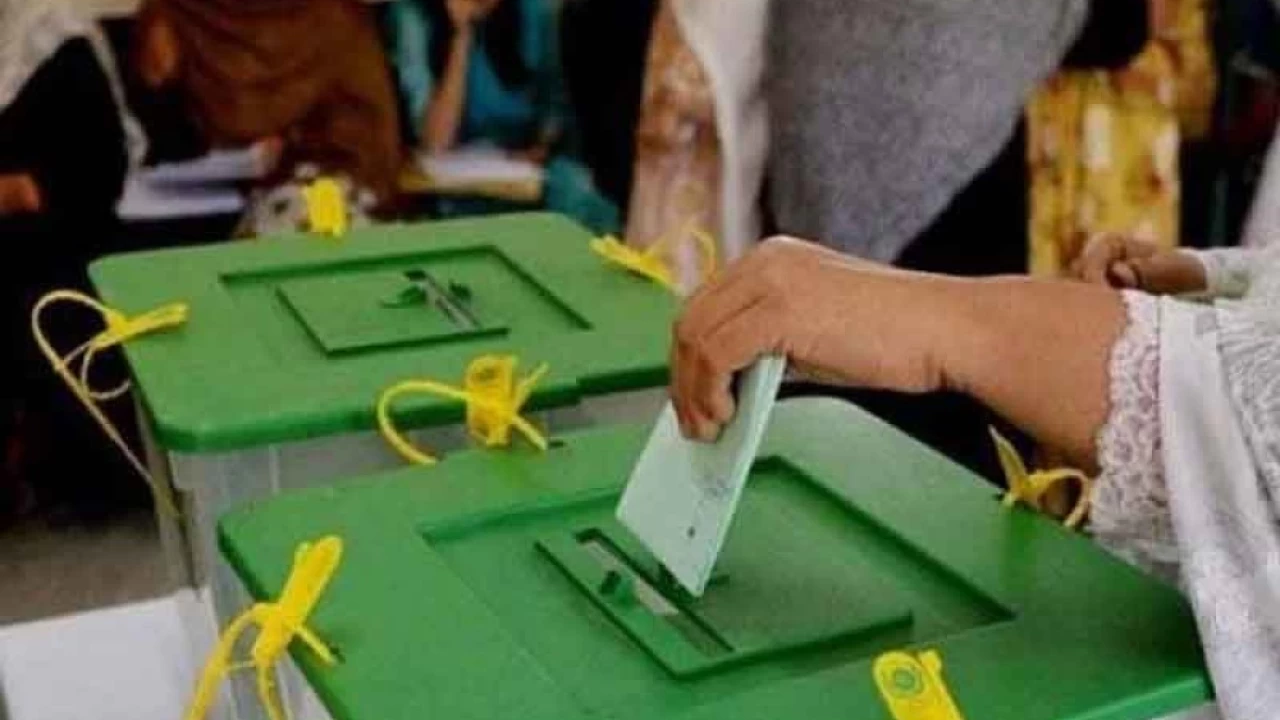 Quetta: Balochistan is all set to hold local government elections in 32 districts on May 29 (Sunday) amid tight security arrangements.
According to details, the Election Commission of Pakistan (ECP) has declared over 2,000 polling stations sensitive and the provincial government has enhanced security to avert any untoward incident during polling.
In Balochistan, a total of 17,774 candidates are contesting the LG elections. Chief Minister Balochistan, Mir Quddus Bizenjo ordered the release of Rs600 million to meet the expenses of the elections including logistics expenditures of the election staff and law enforcement agencies.
According to Provincial Election Commission, the total number of registered voters in the 32 districts is 3,552,398 with over 2,000,000 male voters and 1,546,124 female voters.
The ECP has set up 13,533 polling booths in 5,624 polling stations across 32 districts. Election results will be announced on June 2.
The voters will exercise their votes for seven Municipal Corporations, 49 Municipal Committees, and 838 Union Councils in these districts. There are 6,259 wards including 5,345 rural and 914 urban.
On the other hand, a special security plan was made to ensure peaceful and smooth polling.
Besides, 45,438 security personnel — including members of the police, Levies, Anti-Terrorist Force and Frontier Corps (FC) — will be deployed in and around polling stations. Army troops along with FC personnel would be deployed at all tentative polling stations.