PM Shehbaz inaugurates Green Line Train
He inaugurated the train service at 11:43am today.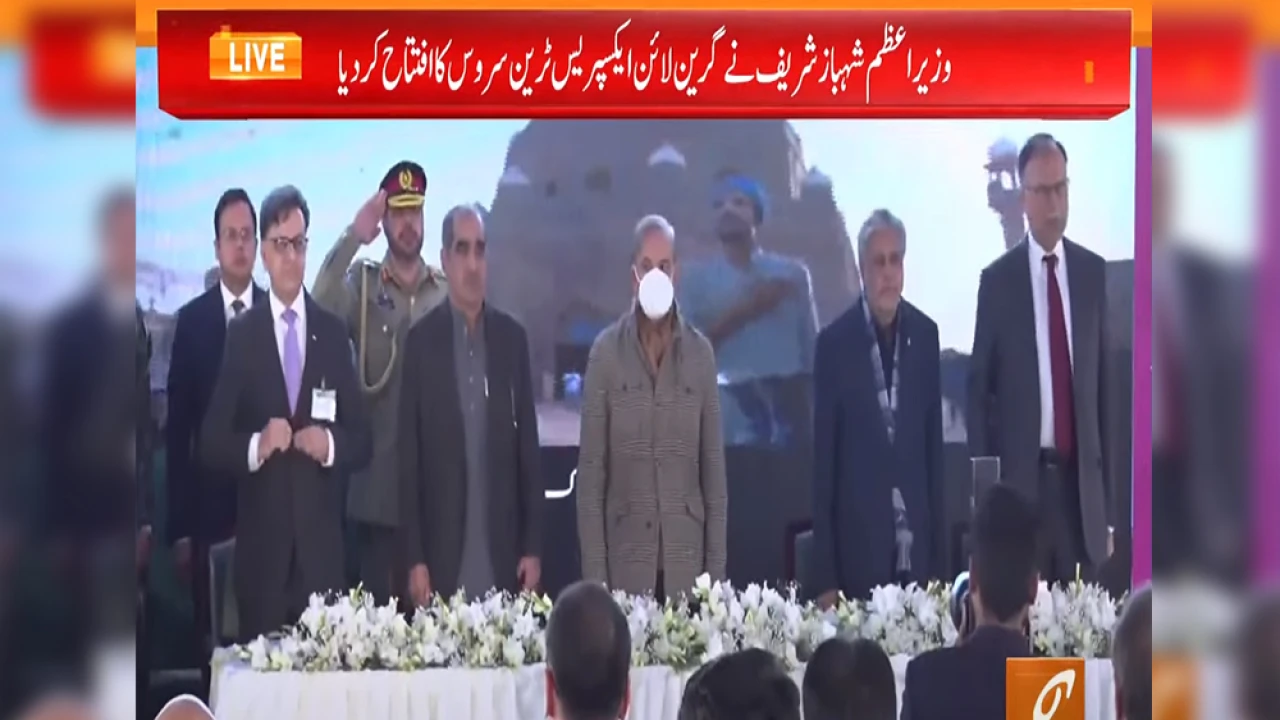 Islamabad: Prime Minister Muhammad Shehbaz Sharif Friday inaugurated Green Line Train, which will run between Islamabad and Karachi.
While addressing at the launch ceremony of the Green Line train service, the prime minister said the headway in talks with International Monetary Fund (IMF) would help the country address the current economic situation.
"The IMF delegation will be visiting Islamabad from January 31 to February 9 to continue discussions regarding the ninth review of the $7 billion Extended Fund Facility (EFF)," he stated.
Shehbaz Sharif emphasized the adoption of austerity at a massive scale to tackle difficult economic problems.
He added: "The government had set its priority keeping in view its foreign exchange reserves, thus allowing the import of medicine and food as essential items. The courageous nations stand united while braving the challenges with resilience".
The premier expressed confidence that with dedication and commitment, the country would soon regain its glory.
He regretted that the Green Line project, which was initiated during the tenure of then Prime Minister Nawaz Sharif, was delayed by the previous government in a mala fide.
Sharif endorsed the concept of outsourcing Pakistan Railways to make it better equipped and at par with contemporary services.
The prime minister said: "Main Line-1 (ML-1) railway track was a top priority for the government and mentioned that China was committed to its early completion".
He pointed out that the previous government indulged in baseless accusations of corruption against Chinese companies, and stressed that the coalition government was working on restoring the ties.
The new train service comprising modern coaches imported from China was launched from the Margalla train station, Islamabad.
Shehbaz visited various coaches of the train and appreciated the services provided for the travelers to make their journey comfortable.
The Green Line train will have stops at the stations at Rawalpindi, Chaklala, Lahore, Khanewal, Bahawalpur, Rohri, Hyderabad and Drigh Road, Karachi stations.
The turnaround time of the Green Line is set at 22 hours, which will be reduced gradually.
Minister for Railways Khawaja Saad Rafiq said: "The ticket would cover breakfast, lunch, hi-tea, and dinner besides wifi". Apart from this, he said, high-quality bedding and utility kits will also be provided to the passengers.
Saad stated, around 2,200 passengers would benefit from the train service to be run between Islamabad to Karachi.
The minister stressed: "Pakistan Railways would formulate rules for the approval of the cabinet in the next few days regarding the collection of revenue from its land".
Finance Minister Ishaq Dar said Pakistan had become the 24th largest economy in the world under the leadership of then Prime Minister Nawaz Sharif.
Planning Minister Ahsan Iqbal said the delay in development projects by the previous government incurred irreparable losses to the country.