SC bars three-member commission on audio leaks from further proceedings
The top court also suspended the notification issued to form the commission, as well as the decision of the commission given on May 22.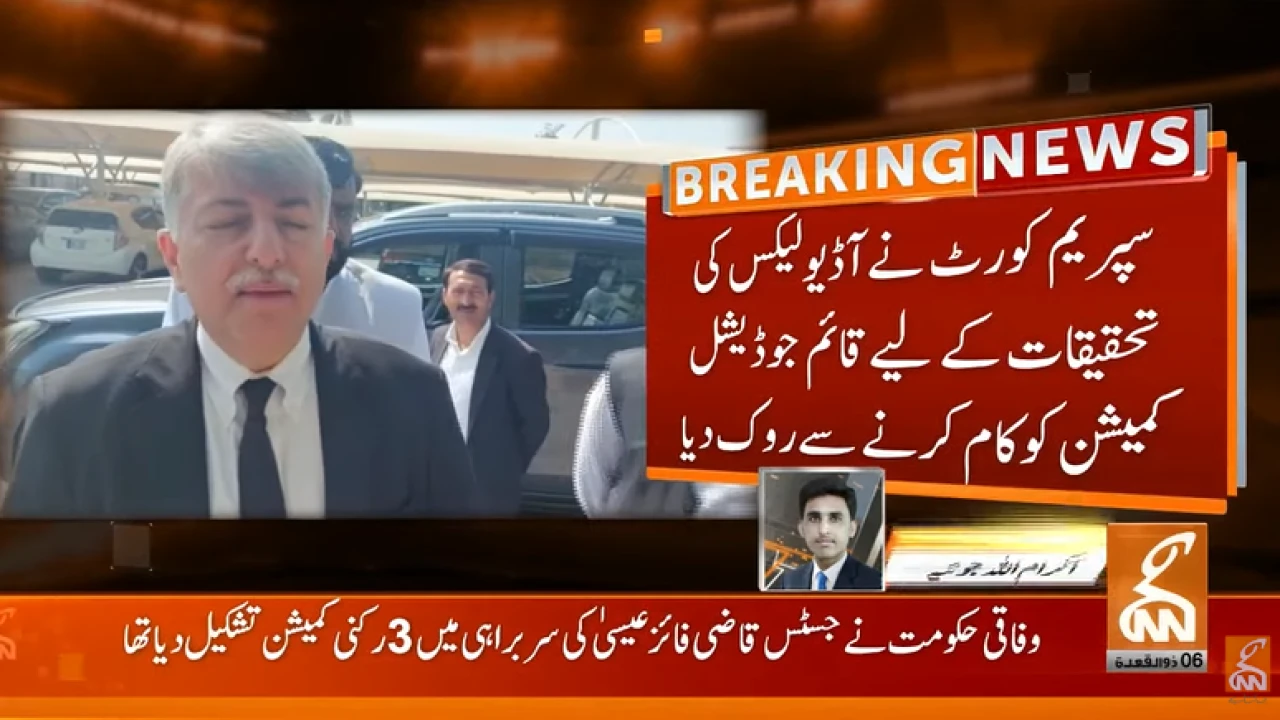 Islamabad: The Supreme Court (SC) on Friday barred a three-member commission headed by senior puisne judge Jusice Qazi Faez Isa constituted to probe audio leaks from conducting further proceedings.
A five-member bench of the Supreme Court, headed by Chief Justice of Pakistan Umar Ata Bandial, delivered a verdict in the inquiry commission case related to audio leaks involving judges and politicians. Justices Ijazul Ahsan, Muneeb Akhtar, Shahid Waheed, and Hasan Azhar Rizvi were the other members of the bench. The judgment raised concerns over the breach of a constitutional principle and suspended the operation of the government's notification and the commission's order.
CJP Umar Ata Bandial expressed his disappointment during the proceedings, questioning the government's use of judges for its own interests. The bench heard four pleas against the inquiry commission formed by the government. Imran Khan, the PTI chairman, was also among the petitioners and Dr. Babar Awan represented him before the bench. The Attorney General for Pakistan, Mansoor Usman Awan, and others were also present in the court.
The Chief Justice objected to the government's formation of a larger bench, stating that the government could not pick judges to serve its interests. He emphasized the importance of the judiciary's independence and discouraged government intervention in court matters.
Previously, the federal government had established a three-member inquiry commission, led by Justice Qazi Faez Isa, to investigate the leaked audios involving the judiciary. PTI Chief Imran Khan approached the Supreme Court, challenging the commission and requesting its nullification. Khan argued that no judge could be appointed to the commission without the Chief Justice's permission and emphasized the Supreme Judicial Council as the proper forum for any probe or action against judges.
The commission made progress in its investigation, receiving audio files and transcripts from the government. Eight audio recordings were submitted for scrutiny, along with the details of individuals involved. The inquiry commission continues its examination of the materials provided.
As the Supreme Court's decision suspends the government's notification and commission proceedings, the case raises important questions about the separation of powers and the independence of the judiciary in Pakistan.
The top court also suspended the notification issued to form the commission, as well as the decision of the commission given on May 22. The apex court also issued notices to the respondents and adjourned May 31.