Sindh to start jabbing people above 18 from May 21
The Sindh government has announced to start vaccination for the general public from Friday, May 21.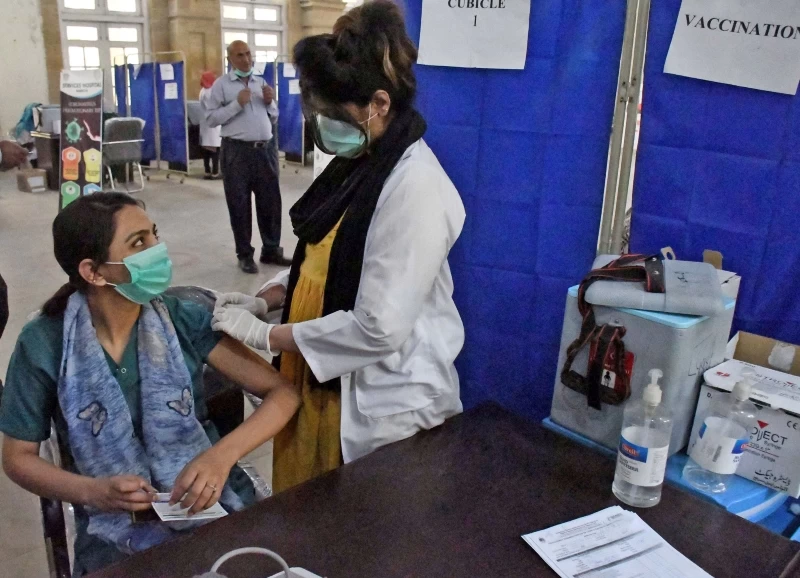 As reported by local TV channel, according to the Sindh government, every 18-year-old Pakistani who has an identity card, a student's visa to go abroad and a work permit will be eligible for the vaccine from May 21, 2021.
The Sindh Health Department has also decided to keep the vaccination centre at the Expo Center open 24 hours a week to make the COVID vaccine drive more lively.
The decision will benefit those who cannot get vaccinated during the day due to office and business commitments.
The Sindh Health Department has instructed its employees as well as private doctors, paramedics, nurses and other service providers to get vaccinated as soon as possible.
Departmental action will be taken against health professionals who do not vaccinate themselves.
Pakistan is presently experiencing the third wave of coronavirus which is said to be deadlier and more contagious than the previous two waves.
According to National Command and Operations Center (NCOC), around 4,207 cases of coronavirus were reported while 131 people succumbed to the disease in the last 24 hours, taking the total death toll to 19,987.
The total number of confirmed cases reached 890,391.
As many as 804,122 patients have recovered from the disease with 4,517 critical cases.
As per official data from the Ministry of Health, Pakistan has vaccinated 1,966,837 people partially, while 964,227 individuals are fully vaccinated and a total of 3,836,291 doses of coronavirus jabs has been administered.
The country carried out the record of 41,771 coronavirus tests in a single day.
Several coronavirus vaccines have been approved for use, either by individual countries or groups of countries, such as the European Union and the World Health Organization (WHO).
Of the 189 countries and territories administering vaccines and publishing rollout data, 66 are high-income nations, 100 are middle-income and 23 low-income.
Most countries are prioritising the over-60s, health workers and people who are clinically vulnerable.
Some countries have secured more vaccine doses than their populations need, while other lower-income countries are relying on a global plan, known as Covax, which is seeking to ensure everyone in the world has access to a vaccine.
With many countries now having started widespread vaccine rollouts, the number of daily cases is stable or falling in most regions.
However, Asia is the notable exception, mostly due to India's recent surge in cases.
Asia was the centre of the initial outbreak that spread from China in early 2020, but the number of cases and deaths were initially lower than in Europe and North America.