Israeli police beat pallbearers at Al Jazeera journalist's funeral
Israeli police beat mourners at funeral of slain Al Jazeera journalist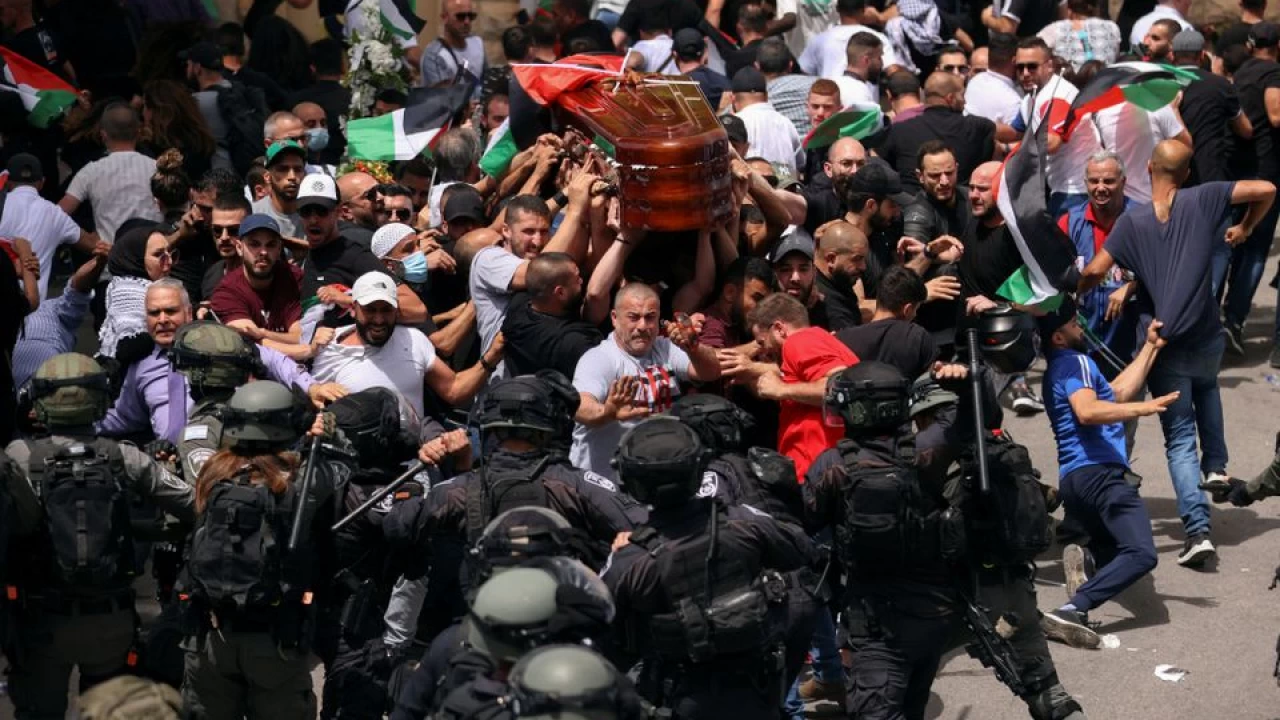 Jerusalem: Israeli police charged at Palestinian mourners carrying the coffin slain journalist of Al Jazeera Shireen Abu Akleh, before thousands led her casket through Jerusalem's Old City in an outpouring of grief and anger over her killing.
Packed around Abu Akleh's coffin, dozens of Palestinians, some waving Palestinian flags and chanting, "with our soul and blood we will redeem you Shireen," began walking toward the gates of St. Joseph's Hospital.
Israeli police officers, in an apparent bid to stop them proceeding by foot rather than taking the coffin by car, burst through the courtyard gates and charged at the crowd, some beating pallbearers with batons and kicking them.
At one point the group carrying her coffin backed against a wall and almost dropped the casket, recovering it just before one end hit the ground as stun grenades detonated.
The violent scenes, which lasted only minutes, added to Palestinian outrage over Abu Akleh's killing, which has threatened to fuel violence that has surged since March.
Abu Akleh, who had covered Palestinian affairs and the Middle East for more than two decades, was shot while reporting on an Israeli raid in the occupied West Bank on Wednesday.
Palestinian authorities have described Abu Akleh's killing as an assassination by Israeli forces. Israel's government initially suggested Palestinian fire might have been to blame, but officials have also said they could not rule out it was Israeli gunfire that killed her.
Israeli police said a group of Palestinians outside the hospital, whom they described as rioters, had begun throwing stones at officers.
"The policemen were forced to act," they added.
The White House found the images disturbing, press secretary Jen Psaki told reporters, and U.S. officials will remain in close contact with Israeli and Palestinian authorities in the aftermath of Akleh's funeral.
"Every family deserves to be able to lay their loved ones to rest in a dignified and unimpeded manner," U.S. Secretary of State Antony Blinken said.
Egypt, Qatar and Al Jazeera condemned the police's conduct. Deputy U.N. spokesperson Farhan Haq said the scenes were "very shocking" and the EU said it was appalled.
A few minutes after police intervened, Abu Akleh's coffin was placed in a vehicle that headed toward the Cathedral of the Annunciation of the Virgin in Jerusalem's Walled Old City, where the funeral ceremony proceeded peacefully.
Crowds of Palestinians lined the narrow alleyways of the Old City as the coffin was carried to the Mount Zion Cemetery nearby.
Her grave was covered in wreaths and the Palestinian flag draped over the grave cross as mourners surrounded it solemnly, paying tribute to Abu Akleh.
"We're here because we are screaming for justice. Justice for Shireen Abu Akleh and justice for Palestine," said one mourner, who did not want to be identified by name.
Investigations and raids
The Israeli military said on Friday that its initial investigation "concluded that it is not possible to unequivocally determine the source of the gunfire which hit and killed Ms. Abu Akleh."
She may have been killed by shots fired by Palestinian militants shooting at Israeli military vehicles or been hit inadvertently by an Israeli soldier returning fire, it said.
The Palestinian Attorney General's office issued a statement on Friday in which it said initial investigations have found that the sole source of gunfire in the area where Abu Akleh was hurt was Israeli.
In a statement, agreed by consensus on Friday, the 15-member U.N. Security Council strongly condemned the killing and called for an "immediate, thorough, transparent, and fair and impartial investigation."
Israeli forces on Friday resumed raids on the outskirts of Jenin, where Abu Akleh was killed, and the Palestinian Health Ministry said 13 Palestinians had been wounded.
The Palestinian Islamic Jihad group meanwhile claimed responsibility for the death of an Israeli police officer in an exchange of gunfire in Jenin.
A spokesman for Palestinian President Mahmoud Abbas, Nabil Abu Rudeineh, said events in Jerusalem and Jenin could push the sides into serious escalation.
Abu Akleh's death has drawn widespread condemnation. Video footage from the moments after she was shot showed Abu Akleh, 51, wearing a blue vest marked "Press".
At least two of her colleagues who were with her said that they had come under Israeli sniper fire and that they were not close to militants.
Israel, which has voiced regret at Abu Akleh's death, has proposed a joint investigation with the Palestinians, asking them to provide the bullet for examination.
The Palestinians have rejected the Israeli request and have called for an international investigation.
SOURCE: REUTERS
Pakistani 'Joyland' wins Cannes 'Queer Palm' award
It is the first-ever Pakistani competitive entry at the Cannes festival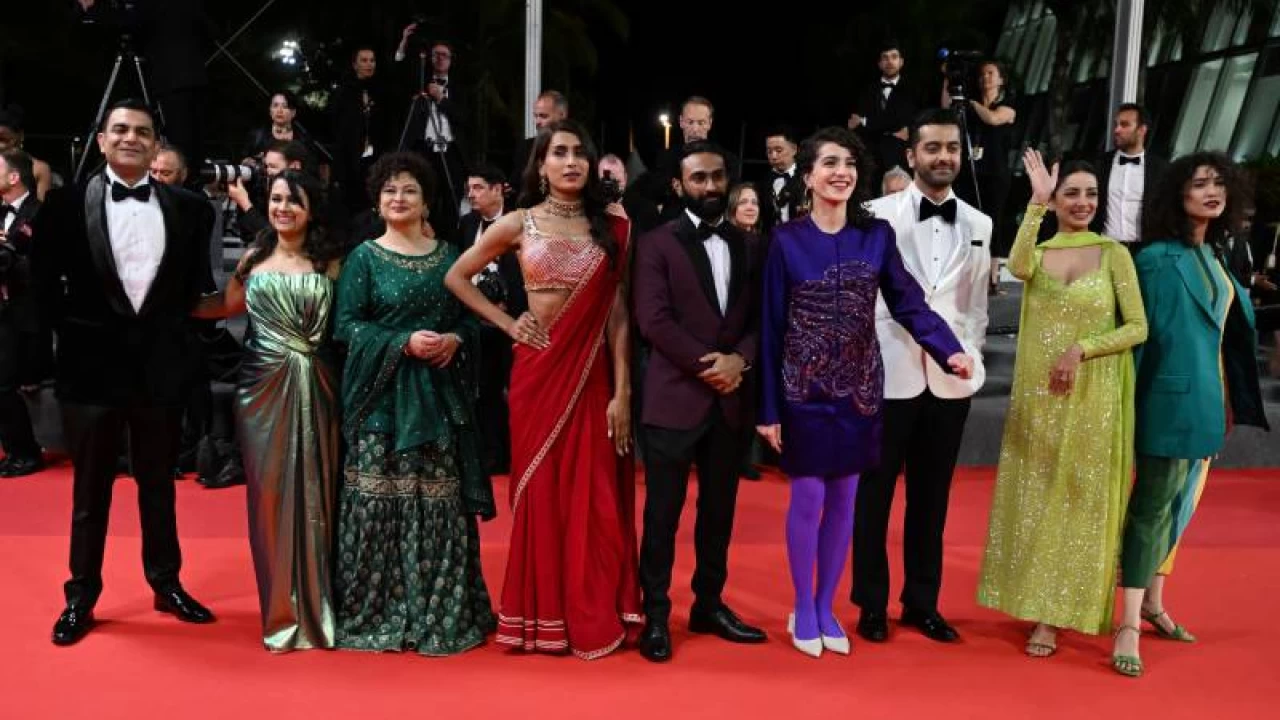 Cannes: A Pakistani movie featuring a daring portrait of a transgender dancer in the Muslim country on Friday won the Cannes "Queer Palm" prize for best LGBT, "queer" or feminist-themed movie, the jury head told AFP.
"Joyland" by director Saim Sadiq, a tale of the sexual revolution, tells the story of the youngest son in a patriarchal family who is expected to produce a baby boy with his wife.
He instead joins an erotic dance theatre and falls for the troupe's director, a trans woman.
It is the first-ever Pakistani competitive entry at the Cannes festival and on Friday also won the Jury Prize in the "Un Certain Regard" competition, a segment focusing on young, innovative cinema talent.
"It's a very powerful film, that represents everything that we stand for," "Queer Palm" jury head, French director Catherine Corsini, told AFP.
- 'Blown away' -
Corsini herself took the award last year with "La Fracture", which features a lesbian couple's relationship against the backdrop of the "Yellow Vest" movement in France.
"'Joyland' will echo across the world," Corsini said. "It has strong characters who are both complex and real. Nothing is distorted. We were blown away by this film."
The "Queer Palm" has been won by big-name directors in the past and attracted top talent to its juries, but has no official place at the world's top film festival.
Awards for films with lesbian, gay, bisexual, transgender, and queer content are already an integral part of other major movie gatherings, including Berlin which has handed out its "Teddy Award" since 1987, and made it part of its official programme.
Not so at Cannes, where the festival's leadership will not even allow the "Queer Palm" -- which has been running for a decade -- to set up shop in its main building, the Palais du Festival.
"It makes me sad that the festival is still cold-shouldering the Queer Palm," Corsini said.
Past winners of the prize, created in 2010 by critic Franck Finance-Madureira, include Todd Haynes for "Carol" and Xavier Dolan for "Laurence Anyways".
"Joyland" beat off several other strong entries, including "Close" by Belgian director Lukas Dhont and "Tchaikovsky's Wife" by Kirill Serebrennikov, both hot contenders for the Cannes Festival's top Palme d'Or award which will be announced on Saturday.
"Joyland" left Cannes audiences slack-jawed and admiring and got a standing ovation from the opening night's crowd.
- 'Very schizophrenic' -
Part of the surprise stemmed from the discovery by many at Cannes that Pakistan is one of the first nations to have given legal protection against discrimination to transgender people.
In 2009, Pakistan legally recognised a third sex, and in 2018 the first transgender passport was issued.
"Pakistan is very schizophrenic, almost bipolar," director Saim Sadiq told AFP in an interview.
"You get, of course, prejudice and some violence against a particular community on the one hand, but you also get this very progressive law which basically allows everyone to identify their own gender, and also identifies a third gender," he said.
For its short film award, the "Queer Palm" jury picked "Will You Look At Me" by Chinese director Shuli Huang.
The diary-type film, set in the film-maker's hometown, shows a traditional society in which parents care more about their reputation than about their gay children's happiness.
SOURCE: AFP
7 Indian troops perish in accident near disputed border with China
The incident happened early Friday when a vehicle carrying the soldiers skidded off the road and plunged about 50 feet into the Shyok River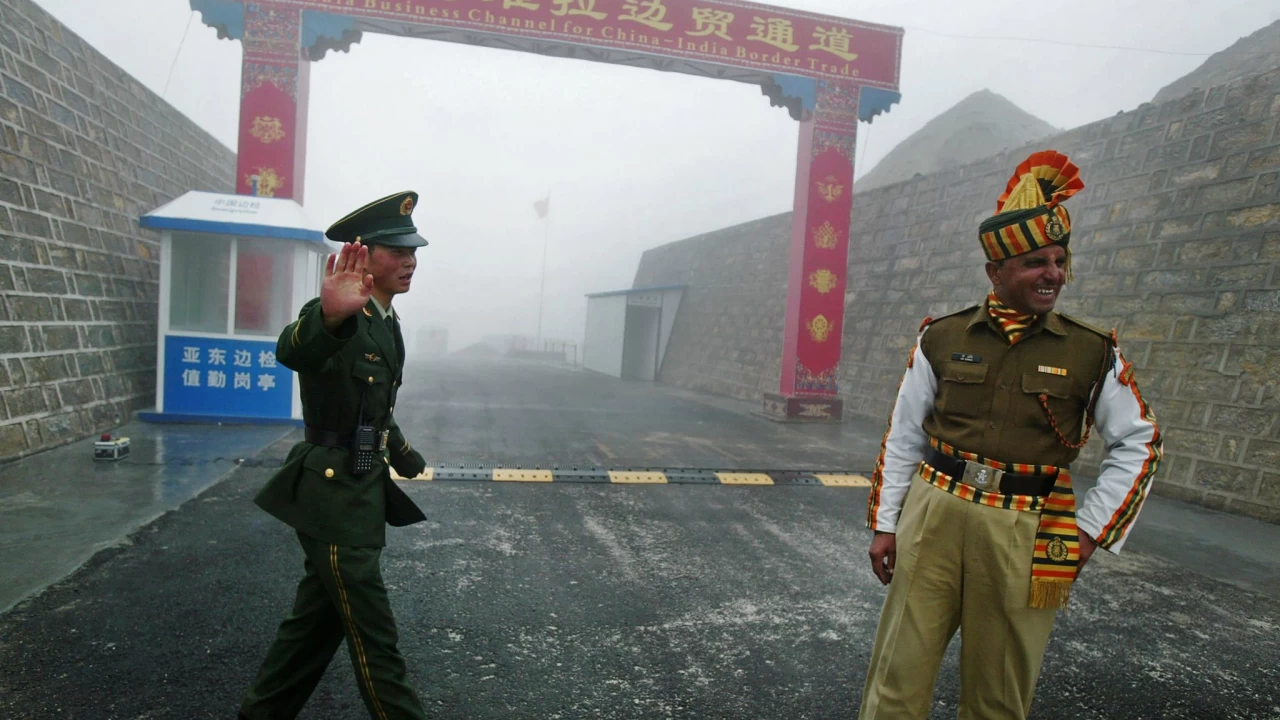 At least seven Indian soldiers were killed and 19 others injured in a road accident in the remote Ladakh region, close to the country's disputed border with China, police said on Friday.
The world's two most populous nations redirected tens of thousands of additional troops into the high-altitude Himalayan region after a deadly hand-to-hand battle in June 2020 left at least 20 Indian and four Chinese soldiers dead.
"Seven soldiers killed, 19 injured in the remote Nubra area," a senior police officer in Ladakh told AFP.
The incident happened early Friday when a vehicle carrying the soldiers for deployment close to the contested frontier skidded off the road and plunged about 15 metres (50 feet) into the Shyok River, according to the official.
"Anguished by the bus accident in Ladakh in which we have lost our brave army personnel," India's Prime Minister Narendra Modi tweeted.
"My thoughts are with the bereaved families. I hope those injured recover at the earliest. All possible assistance is being given to the affected."
India and China, after fighting a full-scale border war in 1962, have long accused each other of trying to seize territory along their unofficial divide, which is known as the Line of Actual Control (LAC).
Relations have soured dramatically since a June 2020 clash along one section between Ladakh and Tibet.
Both sides have since reinforced the region with extra soldiers, military hardware and new infrastructure as multiple rounds of military and diplomatic talks have failed to de-escalate tensions.
SOURCE: AFP
Balochistan set to hold local government elections tomorrow
Over 2,000 polling stations declared extremely sensitive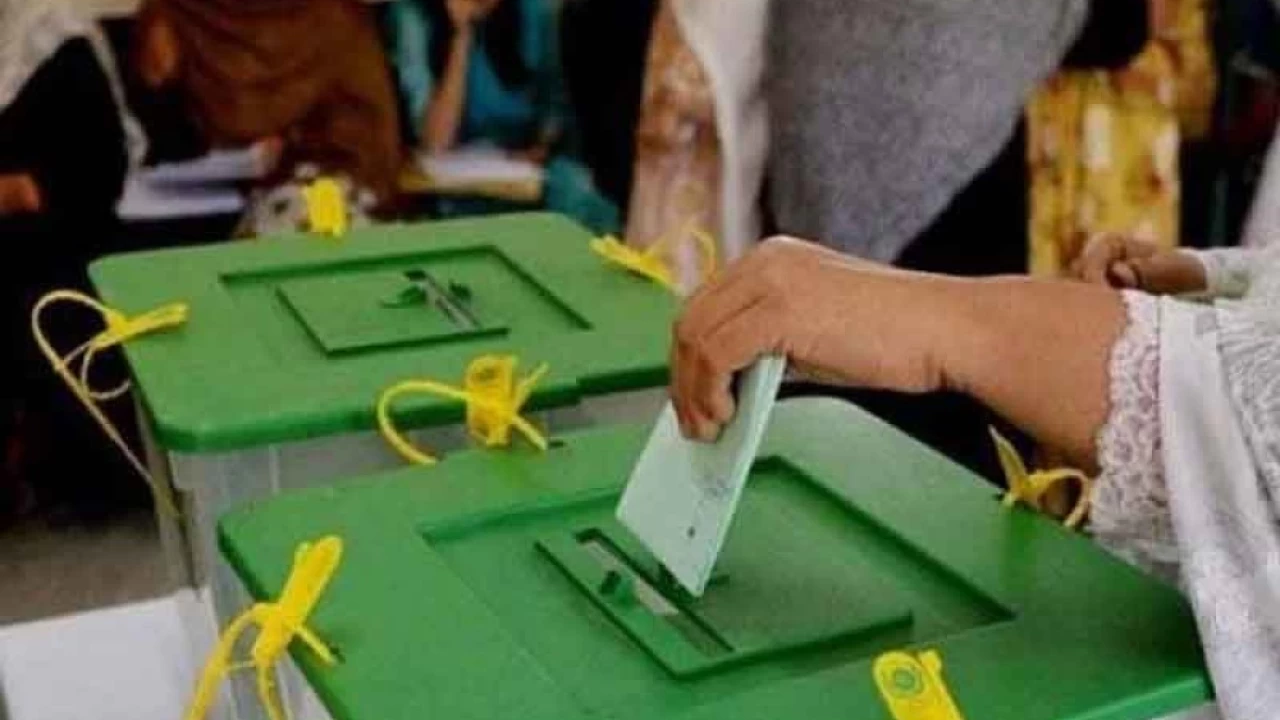 Quetta: Balochistan is all set to hold local government elections in 32 districts on May 29 (Sunday) amid tight security arrangements.
According to details, the Election Commission of Pakistan (ECP) has declared over 2,000 polling stations sensitive and the provincial government has enhanced security to avert any untoward incident during polling.
In Balochistan, a total of 17,774 candidates are contesting the LG elections. Chief Minister Balochistan, Mir Quddus Bizenjo ordered the release of Rs600 million to meet the expenses of the elections including logistics expenditures of the election staff and law enforcement agencies.
According to Provincial Election Commission, the total number of registered voters in the 32 districts is 3,552,398 with over 2,000,000 male voters and 1,546,124 female voters.
The ECP has set up 13,533 polling booths in 5,624 polling stations across 32 districts. Election results will be announced on June 2.
The voters will exercise their votes for seven Municipal Corporations, 49 Municipal Committees, and 838 Union Councils in these districts. There are 6,259 wards including 5,345 rural and 914 urban.
On the other hand, a special security plan was made to ensure peaceful and smooth polling.
Besides, 45,438 security personnel — including members of the police, Levies, Anti-Terrorist Force and Frontier Corps (FC) — will be deployed in and around polling stations. Army troops along with FC personnel would be deployed at all tentative polling stations.