'Elvis' puts the King back in spotlight in North American theaters
The movie earned an estimated $30.5 million in its fifth weekend of release.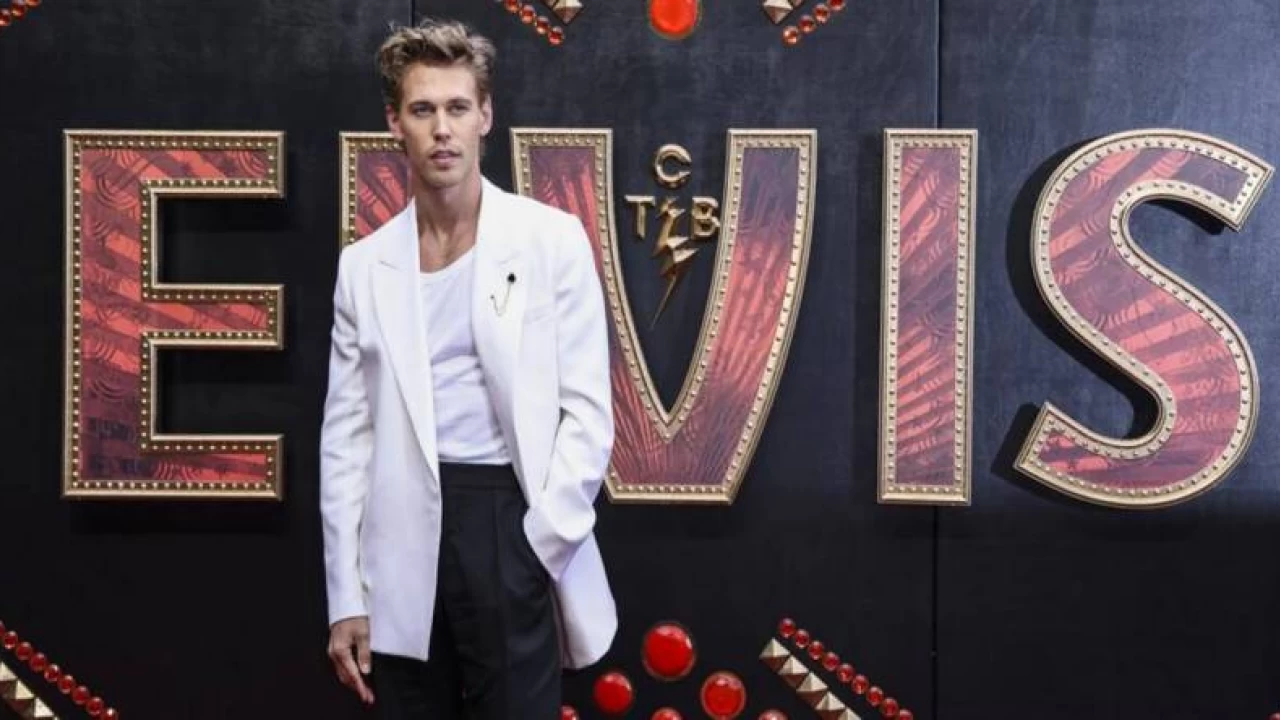 Hollywood: Baz Luhrmann's rock'n'roll biopic "Elvis" hip-swiveled to the top of the box office on its opening weekend in North America, taking in an estimated $30.5 million in a rare tie with "Top Gun: Maverick," industry watcher Exhibitor Relations reported Sunday.
The nearly three-hour-long extravaganza by director Luhrmann, known for glitzy films like "Moulin Rouge!" and "The Great Gatsby," brought in nearly double the average for the musical biography genre, said analyst David A. Gross of Franchise Entertainment Research.
Despite being a "risky proposition," in part for casting relative newcomer Austin Butler as Elvis Presley alongside Tom Hanks as his exploitative manager, Colonel Tom Parker, the film has impressed audiences and critics, Gross said.
"This is the Baz Luhrmann show, a music, dance and sex appeal spectacular -- it's a hit," he said.
"Elvis" was locked in a dead heat with "Top Gun: Maverick" -- the crowd-pleasing sequel to the original 1986 film that once again features Tom Cruise as cocky Navy test pilot Pete "Maverick" Mitchell.
It also earned an estimated $30.5 million in its fifth weekend of release.
It is now the highest grossing film of the year worldwide, breaking the $1 billion mark with nearly $522 million in ticket sales in North America and $484 million overseas.
In third place was "Jurassic World Dominion," Universal's sixth installment in the "Jurassic Park" franchise, at $26.4 million.
The latest dinosaur frightfest stars Chris Pratt and Bryce Dallas Howard alongside franchise originals Sam Neill, Laura Dern and Jeff Goldblum.
Fourth spot went to horror film "The Black Phone" starring Ethan Hawke as a serial killer, which earned $23.4 million on its opening weekend.
"Lightyear," Pixar and Disney's latest computer-animated offering from the "Toy Story" empire, took the fifth position with $17.7 million in its second week.
The spinoff from the wildly successful animation series stars Chris Evans and has taken $88.8 million domestically and $63 million overseas, after a lackluster opening.
Rounding out the top 10 were:
"Doctor Strange in the Multiverse of Madness" ($1.7 million)
"Jugjugg Jeeyo" ($604,000)
"Everything Everywhere All At Once" ($533,346)
"The Bob's Burgers Movie" ($513,000)
"The Bad Guys" ($440,000)
SOURCE: AFP
PM emphasizes sustained high-level Pak-EU exchanges for stronger partnership
"Pakistan attached high importance to its relations with the EU as well as its historically close and cooperative bilateral ties with EU member states"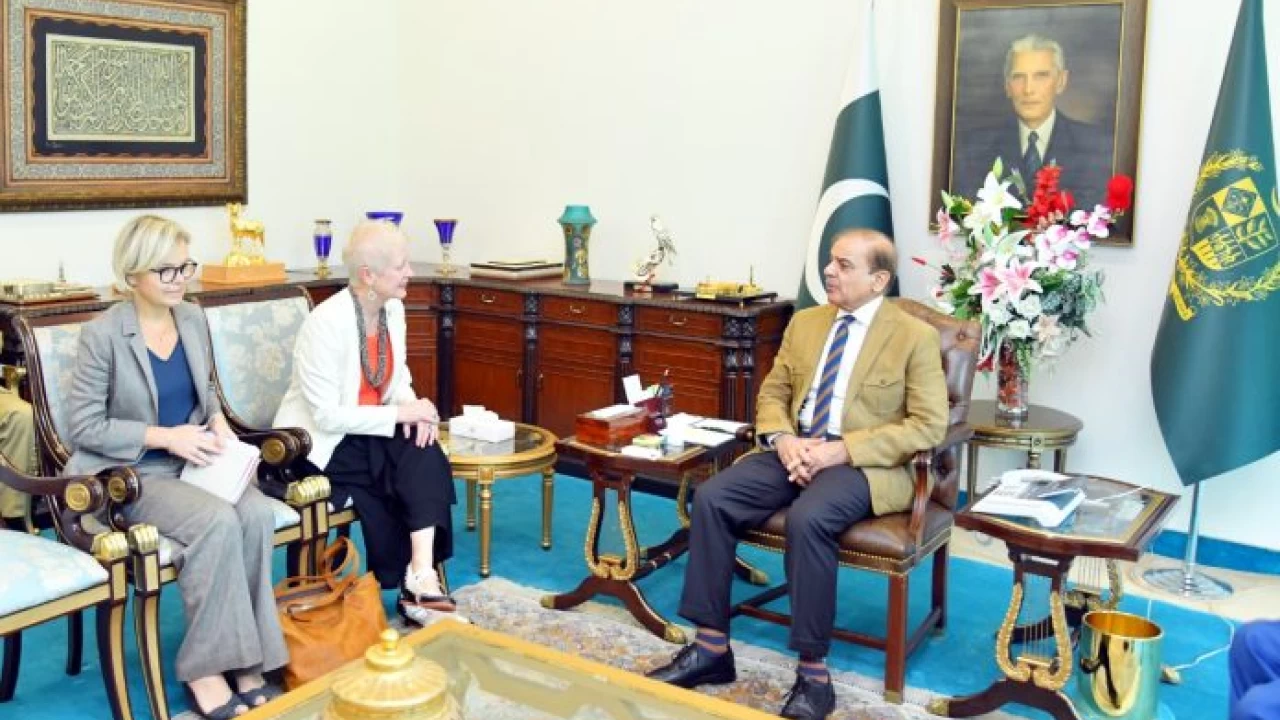 Islamabad: Prime Minister Shehbaz Sharif on Thursday said the sustained high-level exchanges between Pakistan and the European Union was vital to further strengthen the growing partnership.
The prime minister, in a meeting with the newly appointed Ambassador of the European Union to Pakistan Dr. Riina Kionka who called on him here, said that Pakistan attached high importance to its relations with the EU as well as its historically close and cooperative bilateral ties with EU member states.
Recalling his recent telephone conversations with the EU Council President Charles Michel and the President of the European Commission Ursula von der Leyen, the prime minister expressed confidence that the upcoming visits to Pakistan by the EU Parliamentary delegations as well as the next rounds of political and security dialogues under EU-Pakistan Strategic Engagement Plan would pave the way for more substantive cooperation between the two sides.
He credited the current GSP Plus scheme with enhancing the mutually beneficial trading ties between Pakistan and EU and hoped that Pakistan would continue to be part of the arrangement beyond 2023.
Noting the 60th anniversary of Pakistan-EU relations this year, the prime minister stressed that this milestone should be commemorated by both sides in a fitting manner.
Prime Minister Shehbaz Sharif stressed the importance of a peaceful and stable Afghanistan. He also highlighted the unprecedented level of cooperation that Pakistan had extended to the international community in regard to Afghanistan, especially since the developments of August last year.
Dr. Riina Kionka thanked the prime minister for receiving her and expressed her resolve to work for further deepening of EU-Pakistan relations during her tenure in Islamabad.
NDMA provides relief items to flood-hit areas of Balochistan
The NDMA also provided 117 dewatering pumps for drainage of accumulated rain and floodwater from the localities.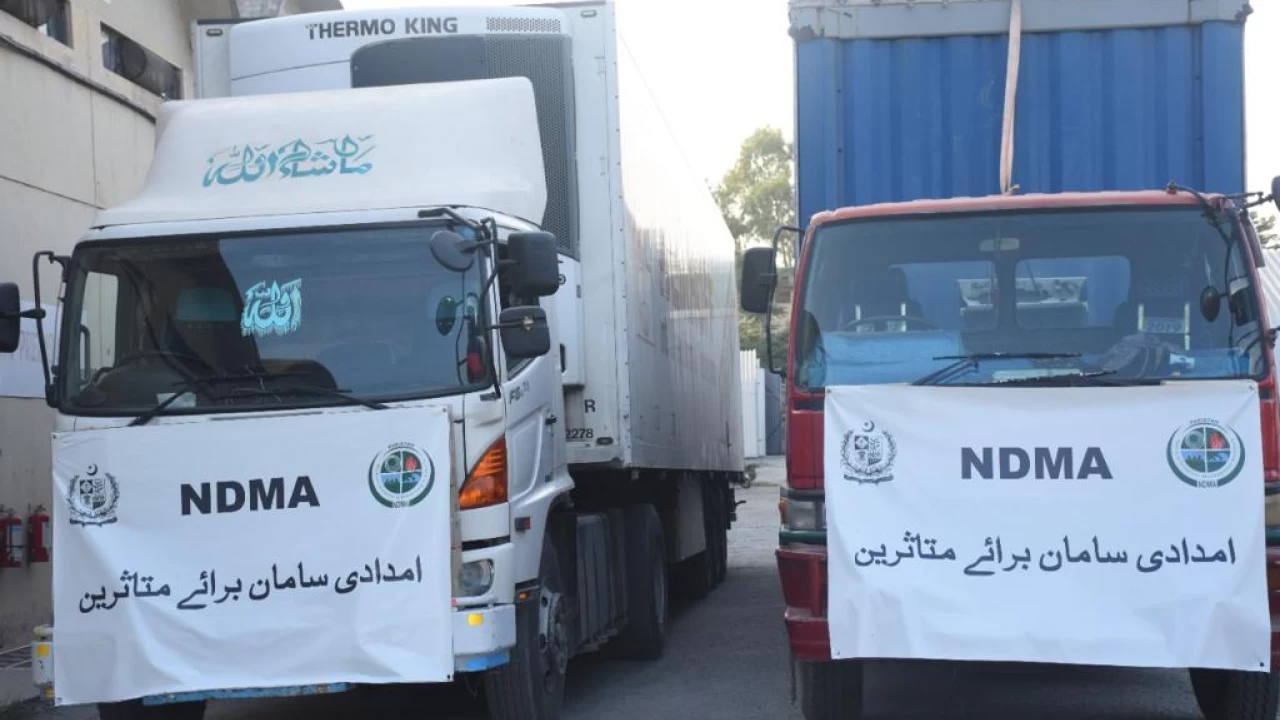 Islamabad: The National Disaster Management Authority (NDMA) on Thursday continued to provide relief items to flood affected areas of the country especially Balochistan.
The NDMA ensured emergency assistance to the flood victims including ration and other necessary equipment, a news release said.
The relief equipment provided by the Authority included provision of ration packs for over 40,000 people, tents, mosquito nets, and blankets for the accommodation of 60,000 victims, it said.
The NDMA also provided 117 dewatering pumps for drainage of accumulated rain and floodwater from the localities.
However, during the emergency aid dispatch most of the aid was given to the affected areas of Balochistan.
Moreover, 60,000 liters of drinking water was also provided to flood victims in Balochistan alongwith other aid items including kitchen sets, hygiene kits and chemical spray machines.
Nine Russian warplanes destroyed in Crimea blasts: Ukraine
Russia however denies any aircraft were damaged in Tuesday's blasts or that any attack took place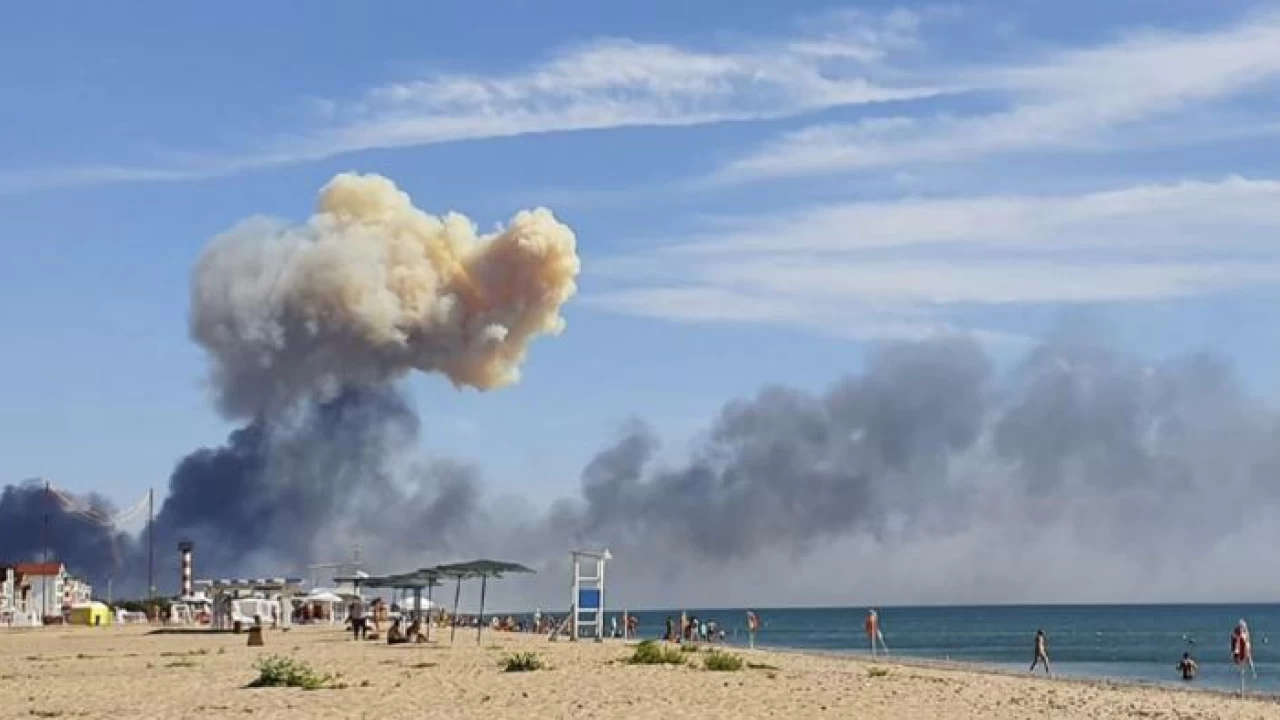 Ukraine's air force said Wednesday that nine Russian warplanes were destroyed in a deadly string of explosions at an air base in Crimea, amid speculation the blasts were the result of a Ukrainian attack that would represent a significant escalation in the war.
Russia denied any aircraft were damaged in Tuesday's blasts — or that any attack took place.
Ukrainian officials stopped short of publicly claiming responsibility for the explosions, while mocking Russia's explanation that a careless smoker might have caused ammunition at the Saki air base to catch fire and blow up. Analysts also said that explanation doesn't make sense and that the Ukrainians could have used anti-ship missiles to strike the base.
If Ukrainian forces were, in fact, responsible for the blasts, it would be the first known major attack on a Russian military site on the Crimean Peninsula, which was seized from Ukraine by the Kremlin in 2014. Russian warplanes have used Saki to strike areas in Ukraine's south.
Crimea holds huge strategic and symbolic significance for both sides. The Kremlin's demand that Ukraine recognize Crimea as part of Russia has been one of its key conditions for ending the fighting, while Ukraine has vowed to drive the Russians from the peninsula and all other occupied territories.
Hours after the blasts, Ukrainian President Volodymyr Zelenskyy promised again to do just that.
"This Russian war against Ukraine and against all of free Europe began with Crimea and must end with Crimea — its liberation," he said in his nightly address.
The explosions, which killed one person and wounded 14, sent tourists fleeing in panic as plumes of smoke rose over the coastline nearby. Video showed shattered windows and holes in the brickwork of some buildings.
One tourist, Natalia Lipovaya, said that "the earth was gone from under my feet" after the powerful blasts. "I was so scared," she said.
Sergey Milochinsky, a local resident, recalled hearing a roar and seeing a mushroom cloud from his window. "Everything began to fall around, collapse," he said.
Crimea's regional leader, Sergei Aksyonov, said some 250 residents were moved to temporary housing after dozens of apartment buildings were damaged.
But Russian authorities sought to downplay the explosions on Wednesday, saying all hotels and beaches were unaffected on the peninsula, which is a popular tourist destination for many Russians.
A Ukrainian presidential adviser, Oleksiy Arestovych, cryptically said that the blasts were either caused by Ukrainian-made long-range weapons or the work of Ukrainian guerrillas operating in Crimea.

A Ukrainian parliament member, Oleksandr Zavitnevich, said the airfield was rendered unusable. He reported on Facebook that it housed fighter jets, tactical reconnaissance aircraft and military transport planes.
"Official Kyiv has kept mum about it, but unofficially the military acknowledges that it was a Ukrainian strike," Ukrainian military analyst Oleh Zhdanov said.
The base is at least 200 kilometers (about 125 miles) from the closest Ukrainian position. Zhdanov suggested that Ukrainian forces could have struck it with Ukrainian or Western-supplied anti-ship missiles that have the necessary range.
The Washington-based Institute for the Study of War said it couldn't independently determine what caused the explosions but noted that simultaneous blasts in two places at the base probably rule out an accidental fire but not sabotage or a missile attack.
But it added: "The Kremlin has little incentive to accuse Ukraine of conducting strikes that caused the damage since such strikes would demonstrate the ineffectiveness of Russian air defense systems."
During the war, the Kremlin has reported numerous fires and explosions on Russian territory near the Ukrainian border, blaming some of them on Ukrainian strikes. Ukrainian authorities have mostly kept silent about the incidents, preferring to keep the world guessing.

In other developments, Russian forces shelled areas across Ukraine on Tuesday night into Wednesday, including the central region of Dnipropetrovsk, where 13 people were killed, according to the region's governor, Valentyn Reznichenko.
Reznichenko said the Russians fired at the city of Marganets and a nearby village. Dozens of residential buildings, two schools and several administrative buildings were damaged.
"It was a terrible night," Reznichenko said. "It's very hard to take bodies from under debris. We are facing a cruel enemy who engages in daily terror against our cities and villages."
Two residents of the village of Staryi Saltiv in the Kharkiv region in the northeast were killed Wednesday in Russian shelling, police reported.
In the country's southeast, Moscow's forces continued shelling the city of Nikopol across the Dnieper River from the Russian-occupied Zaporizhzhia power station, the biggest nuclear plant in Europe. Ukraine and Russia have accused each other of shelling it, stoking international fears of a catastrophe.
On Wednesday, foreign ministers of the Group of Seven industrialized democracies demanded that Russia immediately hand back full control of the plant to Ukraine. They said they are "profoundly concerned" about the risk of a nuclear accident with far-reaching consequences.
SOURCE: AP NEWS