PTI gets approval to hold Faizabad rally
Protestors cannot chant any anti-state slogans.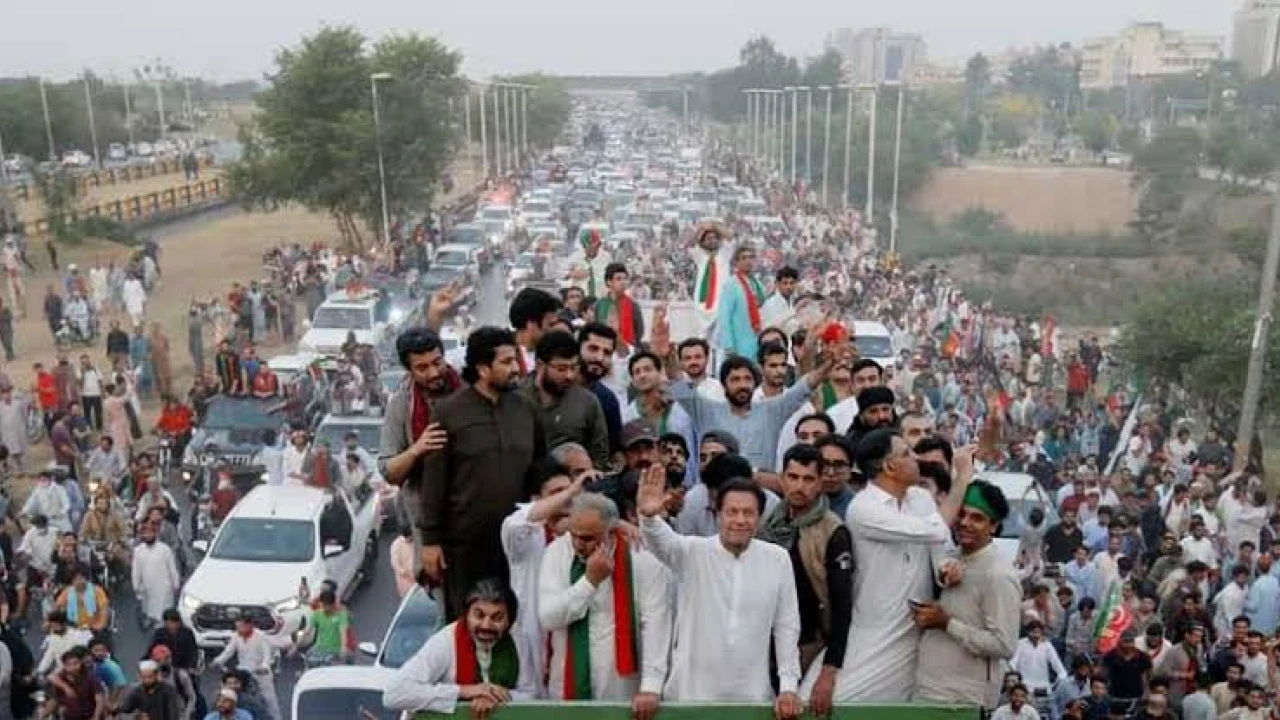 Islamabad: The Pakistan Tehreek-e-Insaf (PTI) Friday received permission to hold a demonstration in Faizabad, Rawalpindi for the party's 'Haqeeqi Azadi' march slated to be held tomorrow (November 26).
According to GNN reports, a 56-point permit has been issued by the Rawalpindi administration for Pakistan Tehreek-e-Insaf (PTI) to hold a sit-in.
The notification has directed the Rawalpindi police to take care of all the security measures regarding the rally.
Protestors cannot chant any anti-state slogans or deliver speeches that are against constitutional offices, armed forces and the judiciary, read the notification.
The notification warned that the party and the organisers could face legal proceedings in case of a violation of any of the stated guidelines, clarifying that PTI Chairman was allowed to only use the route directed by the party, Islamabad administration and security agencies.
PTI could not stay at Allama Iqbal Park after the sit-in, said notification, adding that traffic police have emphasized a full traffic plan to be followed.
The notification further added, "In case of any untoward incident or loss of life, rally administration would be held accountable". It also refused to allow the use of drone cameras.
Moreover, former Prime Minister has been directed to refrain himself from using a sunroof car before and after the rally.
As per the official notification, the England cricket team would reach Rawalpindi soon, thus the site should be evacuated completely once the rally ended.
The copies of the notification have been sent to the concerned authorities.
The Faizabad flyover that joins the twin cities has been completely closed from all four sides due to the rally, causing severe traffic jams on Rawalpindi Double Road, Inter-Junction Principal (IJP) Road and Rawalpindi-Murree Road.
Reportedly, ambulances were also stuck in the traffic jam.
A diversion has been set up at Faizabad for those travelling from Islamabad to Rawalpindi via Murree Road, while the old airport road and stadium road can be used to enter Islamabad from Rawalpindi, as per the traffic police.
Express Chowk and Nadra Chowk have remained shut to enter into the Red Zone. However, the alternate roads of Margalla Road, Ayub Chowk and Serena Chowk would be operational.
The police have directed the citizens to take alternate routes and in case of emergency call 15.