'Peoples are looking towards honorable judges,' Imran Khan appeals judiciary for rule of law
The PTI Chief has regretted that there is worst situation in the country, because there is no justice ; urged the people to stand up against injustice; criticized ECP over Naqvi's appointment as caretaker Punjab CM, saying that "they [the coalition partners] do not want elections on time,".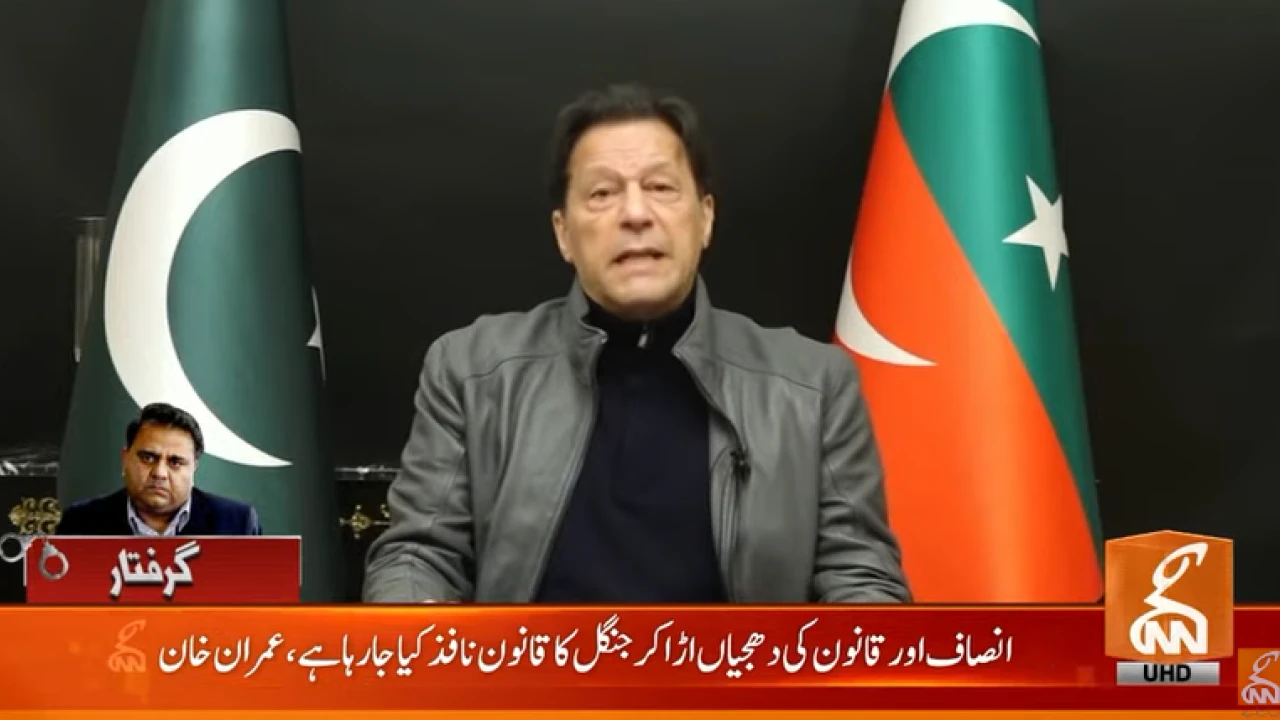 Lahore: PTI Chairman and former Prime Minister Imran Khan on Wednesday requested the judiciary and the legal fraternity to play their role for democracy and rule of law in the country.
He said present situation was worst from the Musharraf's period.
"This is the right time now that our judiciary and the honorable judges need to play their role for rule of law and justice," said the PTI Chief while talking to the media on Wednesday evening.
Imran Khan recalled that he was put behind the bars during the Musharraf's period but the present situation was worse than Musharraf's era.
He also regretted over appointment of Naqvi as caretaker Punjab CM, saying that it seemed that there would no fair and free elections.
He said that Saeed, an investigator, was suspended by CM Naqvi.
Khan also stated, "The officer of May 25 has been brought back. We have no other option except going to the judiciary," he appealing to the judges for dispensation of justice.
He also expressed concerns over delay on the part of the KPK and Punjab Governors regarding election date.
The PTI Chairman stated that they dissolved their assemblies because they thought that the country was going to default but despite all that election date was not being given.
"We believe that there is only one way to make this country strong: fair and free elections," said Khan, adding that people would only trust that government which would come into the power with true mandate.
Mohsin Naqv, he said, was brought as caretaker Punjab CM because they did not want elections on time.
"We are looking towards the judiciary in this situation. People looking at you [honorable judges]," said Khan.
He stated that around 26 years ago, he named his party "Tehreek-e-insaaf" which meant "rule of law". He defined the human society, saying that the human society is the society where there is justice.
"The countries with the rule of law are developed countries. Look at Roman empires and before that were the greeks," said Imran Khan.
"why I used to say Madina ki Riyasat again and again since I became the PM," said the PTI Chairman, paying homage to the great struggle of Holy Prophet PBUH.
Nabi Pak (s.a.w) laid down the foundation of justice and clearly said that everyone including his own daughter was equal before the law.
"I'm 70 years old and I have hugely been blessed by Almighty Allah. When I was ousted from the power corridors people gave me respect, you people gave me respect. You are standing at the dangerous junction. But before that I will say Jihad is an obligation on all of us. Standing against injustice," said Khan.
He also gave reference of Nelson Mandela, saying that he used to emphasize over rule of law.
"450 ministers were put behind the bars in China over corruption," said the PTI chairman, adding that the system of injustice could not work.
He regretted that everything including the flour was touching the sky and the farmers were facing hardships because Urea prices went high.
He stated that electricity bills were so high that people were so disturbed but on the other hand, the powerful and corrupt people waived off their corruption cases.
"Why the situation is so worst here in Pakistan? Whenever I visited in Saudi Arabia I saw Pakistanis in large numbers. But why we are in miserable condition today?," he said. He went on to say that the Holy Prophets in the past talked about justice.
He feared that the inflation would further go up.
"We are in miserable conditions despite that we recited Kalima and made promise before the God that we will not bow before any other except Him. The reason is quite clear that there is injustice. We are not allowed to accept injustice," he added.
He also addressed the judiciary and the legal fraternity, saying that they need to take step for the rule of law.
"I tell you by faith that there is no future of this country where these [coalition partners] are taking the country to. Peoples' hope has died. People are leaving this country, because their hope is dying. I appeal to the judiciary and the legal fraternity for the rule of law," said the PTI Chief.
He said that he had been struggling for the people of Pakistan and for this country.
"Why Fawad Chaudary has been arrested? Calling CEC as Munshi is illegal in a democratic setup? Swati was arrested despite that he is Senator," he regretted.
He gave examples of Shahbaz Gill and journalist Arshad Sharif.
"Arshad Sharif was the most honest and patriot journalist," he said.
He told the nation that they were responsible for their fate and promised with them that he would continue to struggle for the country.
"My elders told me that you have been born in a free country," he remembered, saying that he played cricket only for Pakistan whole his life and not for any country.
"I believe in God and I have seen death so close and when their will be time of my death there will be no change in the plane," said Khan, pointing out that he was warned about "the jails".
He asked the ECP as to why Mohsin Naqvi was chosen as caretaker Punjab Chief Minister, adding that they gave names which were acceptable to the other side.
"Mohsin Naqvi was the most active person against our government. Whether Zardari did not call him his own son? His TV has been propagating against the PTI. Incumbent NAB Chief held investigation against Naqvi and subsequently he returned Rs3.5m to the NAB," he pointed out.
The PTI Chief questioned the process of appointing the caretaker setup and regretted that police operations had begun.
"This is not going to be fair election. We are taking this matter to the courts," said Khan, adding that "We expect our judiciary that it should protect our fundamental rights,".
Talking about JIT in his own case, Khan said that powerful people wanted to get him killed. But he said he had no fear of jails and death and urged the people to break the idol of fear.
In Sri Lanka, he said, IMF said them to cut half their military expenses and the similar orders had been given to the Egypt.
"This country has been given back to those who have been looting this country for last 30 years. You can read on google what the international media is saying about them," he added.
Soviet Union ended just because of weak economy, he said, urging the people that their destiny was in their own hands.