Pakistan cricket team position in International Cricket Council (ICC) new ODI men's team rankings has been dropped down to number 6th from 5th.
The latest ODI team rankings have led India to slip down to the third spot and Australia stepped up to second place while New Zealand is the new number 1 ranked team.
New Zealand have replaced the reigning world champions, England, as the No.1 side in the annual @MRFWorldwide ICC Men's ODI Team Rankings update.

Details 👇

— ICC (@ICC) May 3, 2021
The two-time world cup finalists, Black Caps have dethroned reigning World champions England from the top spot and became the top-ranked team. New Zealand, who defeated Bangladesh 3-0 in their only ODI series during the past year, have advanced two slots in the MRF Tyres ICC Men's ODI Team Rankings.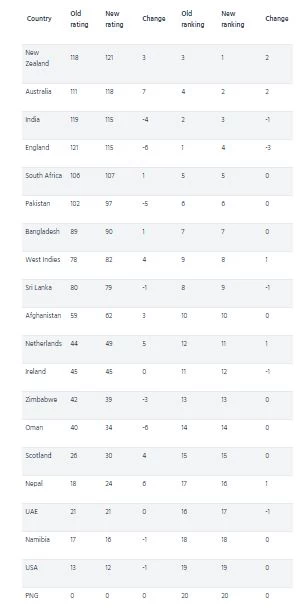 The Kane Williamson-led Kiwis also retained their top position in the T20 format gaining the third spot.
England's slip down to the fourth position comes in the second annual update since they won the ICC Men's Cricket World Cup at Lord's in the summer of 2019.
Babar Azam-led Pakistan ODI cricket team has taken the sixth spot while it is fourth in the T20s ranking. Babar Azam has previously ended the long reign of Virat Kholi from being positioned at top of the Men's ODI players ranking.
Recently, the Pakistan cricket team has defeated Zimbabwe in a three-match T20 series that led Pakistan to a better spot in the T20 ranking, however, Pakistan's ranking in the ODI format sinks.
Pakistan's spot in the ODI team rankings substantially depends upon the upcoming 5 match ODI series with England in July.