Saudi Armed forces chief of general Staff calls on PM Imran Khan
General Fayyadh bin Hameed Al-Rowailly, Chief of the General Staff of the Armed Forces of the Kingdom of Saudi Arabia Monday called on Prime Minister Imran Khan.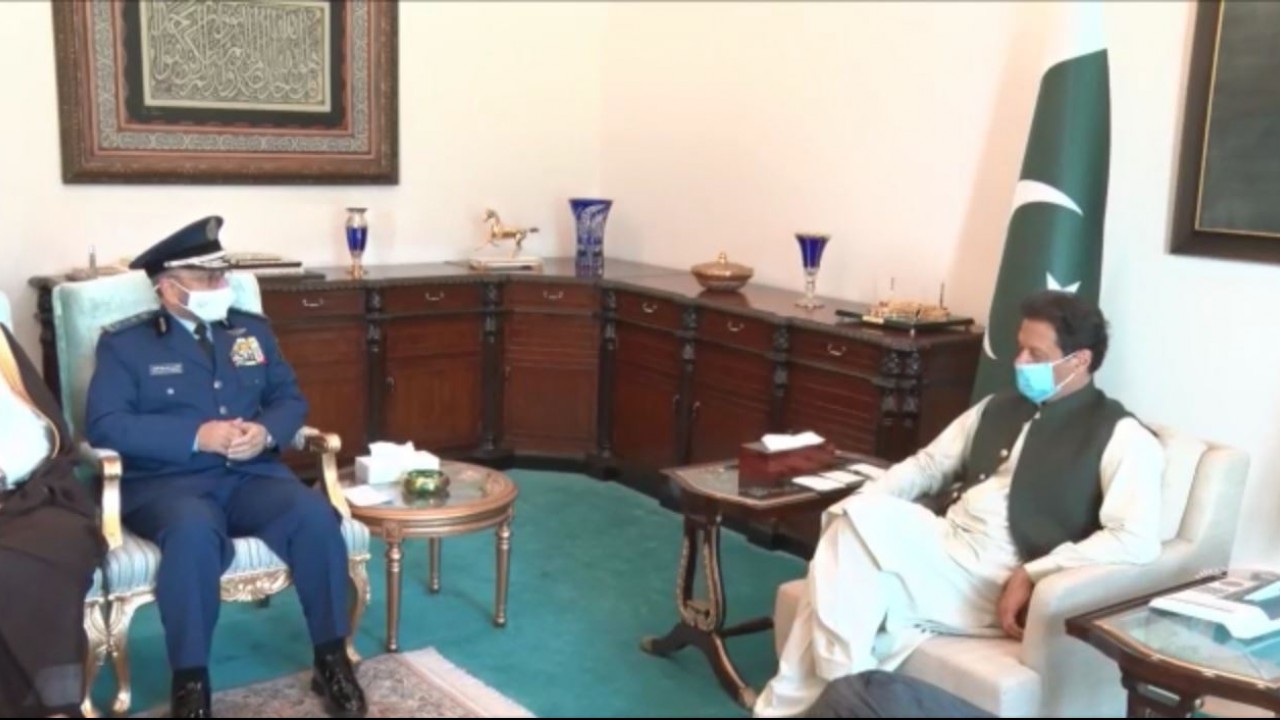 Prime Minister Imran Khan welcomed the delegation and conveyed his warm regards to His Majesty King Salman Bin Abdulaziz Al Saud and His Royal Highness Crown Prince Mohammed bin Salman. He added that the people of Pakistan always accorded special reverence to the Saudi leadership.
Reaffirming the close fraternal ties between the two countries, Prime Minister Imran Khan underscored Pakistan's commitment and support for the sovereignty and territorial integrity of the Kingdom of Saudi Arabia.
During the meeting, views were exchanged on a range of important issues of common interest. The Prime Minister underlined the importance attached by Pakistan to further deepening and broadening mutual cooperation and strengthening people-to-people linkages with the Kingdom. He hoped that the recently established Saudi-Pakistan Supreme Coordination Council (SPSCC) would play a catalytic role in fostering enhanced bilateral cooperation in all fields.
The Prime Minister expressed satisfaction at the robust defence relationship between the two countries and hoped that bilateral defence cooperation will grow further in the years ahead. General Al-Rowailly acknowledged the excellent collaboration and appreciated the professionalism of Pakistan armed forces.
During the meeting, the latest situation in Yemen was also discussed. The Prime Minister expressed Pakistan's support for resolving the conflict in Yemen through dialogue and diplomacy and appreciated Saudi efforts in this regard.
Pakistan and Saudi Arabia have long-standing and historic fraternal relations, rooted deep in common faith, shared history and mutual support. Regular and high-level exchange of visits is a reflection of excellent relations between the two countries.
Messi wins Ballon d'Or for seventh time
Argentine football great Lionel Messi defeated Robert Lewandowski of Polish (Bayern Munich Club) and Georginho (Chelsea) of Italy for this annual award for the best player in the world of football.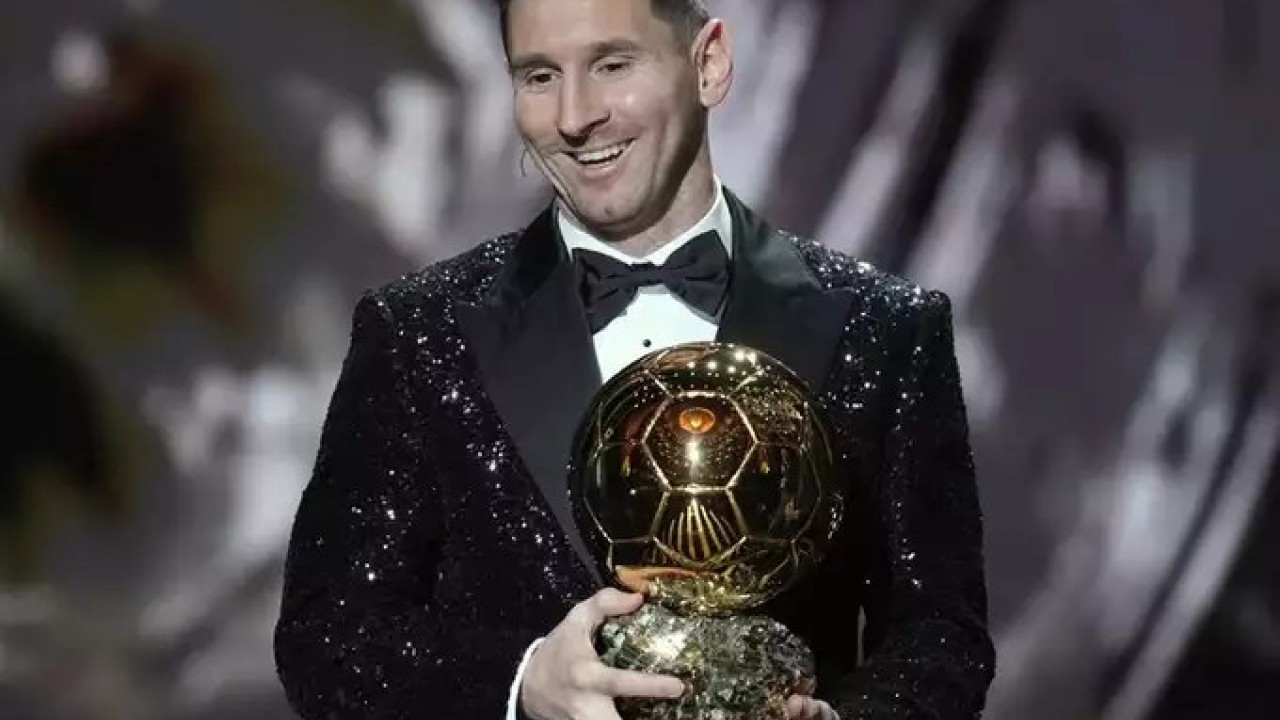 Paris: Argentina and Paris Saint-Germain forward Lionel Messi has created history as he won the Ballon d'Or award for a record-extending seventh time late on Monday night.
Argentine football great Lionel Messi defeated Robert Lewandowski of Polish (Bayern Munich Club) and Georginho (Chelsea) of Italy for this annual award for the best player in the world of football.
By winning the award, Messi has gone several miles ahead of Portugal's star striker Cristiano Ronaldo in terms of winning the most Ballons d'Or.
The 34-year-old Messi now has 7 awards to his name, while 36-year-old Ronaldo has won this honor 5 times.
Besides this, the star footballer claimed a maiden Copa America title with his country this year and was top scorer in La Liga for the 2020-21 season with 30 goals.
Messi ​​won the Best Player of the Year award for the first time in 2009. He won this title in 2009, 2010, 2011, 2012, 2015, 2019 and now in 2021.
Messi joined PSG on a free transfer from Barcelona during the off-season and collected 613 points to finish ahead of Lewandowski (580) and Chelsea's Italy midfielder Jorginho (460) at a star-studded ceremony in Paris.
For the unversed, Messi and Ronaldo have won this award a total of 12 times since 2008. Thus, both players are dominating the world of football.
Awarded by France Football magazine, the Ballon d'Or has been awarded since 1956.
Twitter Chief Technology Officer Agrawal to replace Dorsey as CEO
Dorsey is stepping down as chief of the social media company.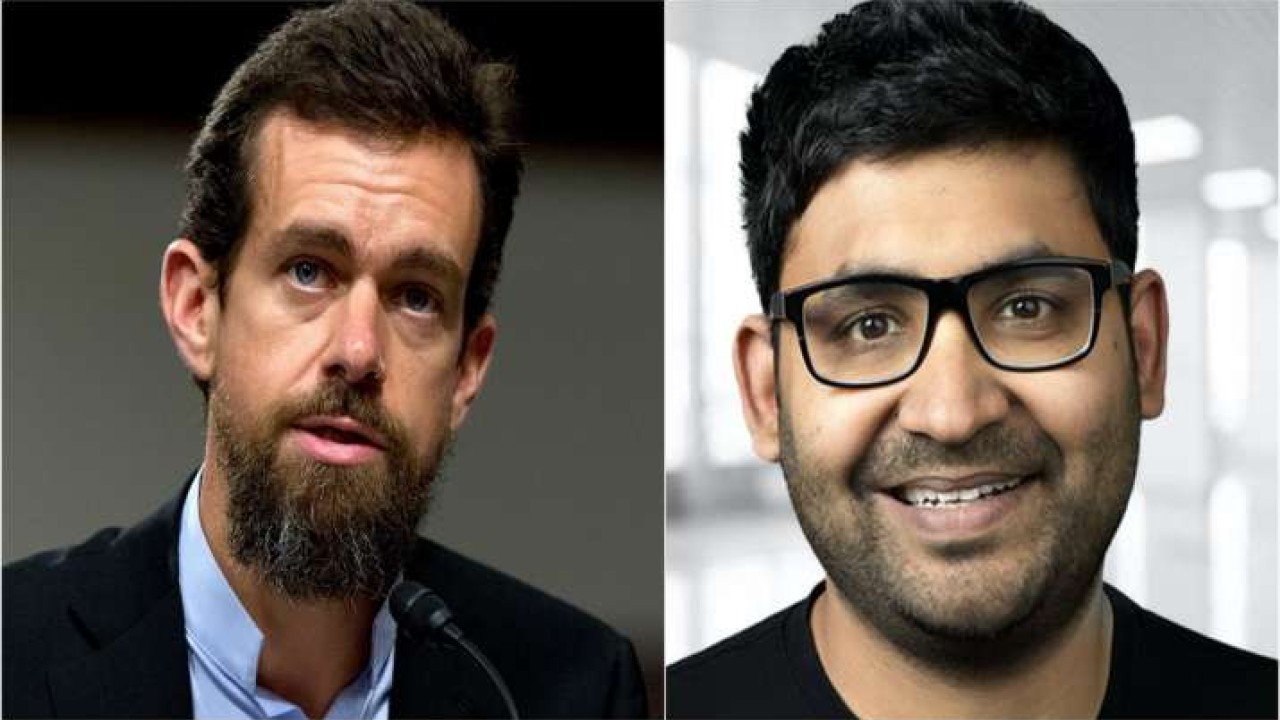 Twitter CEO Jack Dorsey is stepping down as chief of the social media company, effective immediately. Parag Agrawal, Twitter's chief technology officer, will take over the helm, the company said Monday.
Shares of Twitter were down about half a percent before noon on Monday.
Dorsey, 45, was serving as both the CEO of Twitter and Square, his digital payments company. Dorsey will remain a member of the board until his term expires at the 2022 meeting of stockholders, the company said. Salesforce President and COO Bret Taylor will become the chairman of the board, succeeding Patrick Pichette, a former Google executive, who will remain on the board as chair of the audit committee.
"I've decided to leave Twitter because I believe the company is ready to move on from its founders," Dorsey said in a statement, though he didn't provide any additional detail on why he decided to resign.
Agrawal will have to meet Twitter's aggressive internal goals. The company said earlier this year it aims to have 315 million monetizable daily active users by the end of 2023 and to at least double its annual revenue in that year.
Agrawal, who's served as CTO since 2017, has been with Twitter for more than a decade. He had been in charge of strategy involving artificial intelligence and machine learning and he led projects to make tweets in users' timelines more relevant to them.
Agrawal was also previously tasked with finding a leader for Project Bluesky, a research project Twitter launched to establish open and decentralized standards for social media platforms. Dorsey had previously said Bluesky will help social media companies collaborate on how posts are promoted to users and will give users more control over the content they see. Bluesky could also make it easier for the social networks to enforce restrictions against hate speech and other abuse, essentially helping them share the load at a lower cost.
Agrawal held research internships at AT&T, Microsoft and Yahoo prior to joining Twitter.
Dorsey said in an email he published on Twitter that Agrawal has been his choice to lead the company "for some time given how deeply he understands the company and its needs."
Dorsey was nearly ousted last year when Twitter stakeholder Elliott Management had sought to replace him. Elliott Management founder and billionaire investor Paul Singer had wondered whether Dorsey should run both of the public companies. Singer called for Dorsey to step down as CEO of one of them before the investment firm reached a deal with Twitter's management.
Dorsey, who co-founded the social media giant in 2006, served as CEO until 2008 before being pushed out of the role. He returned to lead Twitter in 2015 after former CEO Dick Costolo stepped down.
Shares have jumped 85% since Dorsey took over as CEO on Oct 5. 2015. Square stock has surged 1,566% since its initial public offering on Nov. 19, 2015.
SOURCE: CNBC
Several vehicles collide on motorway amid dense fog
More than 30 vehicles pile up motorway M2 due to fog. Several people are said to be injured in the incident.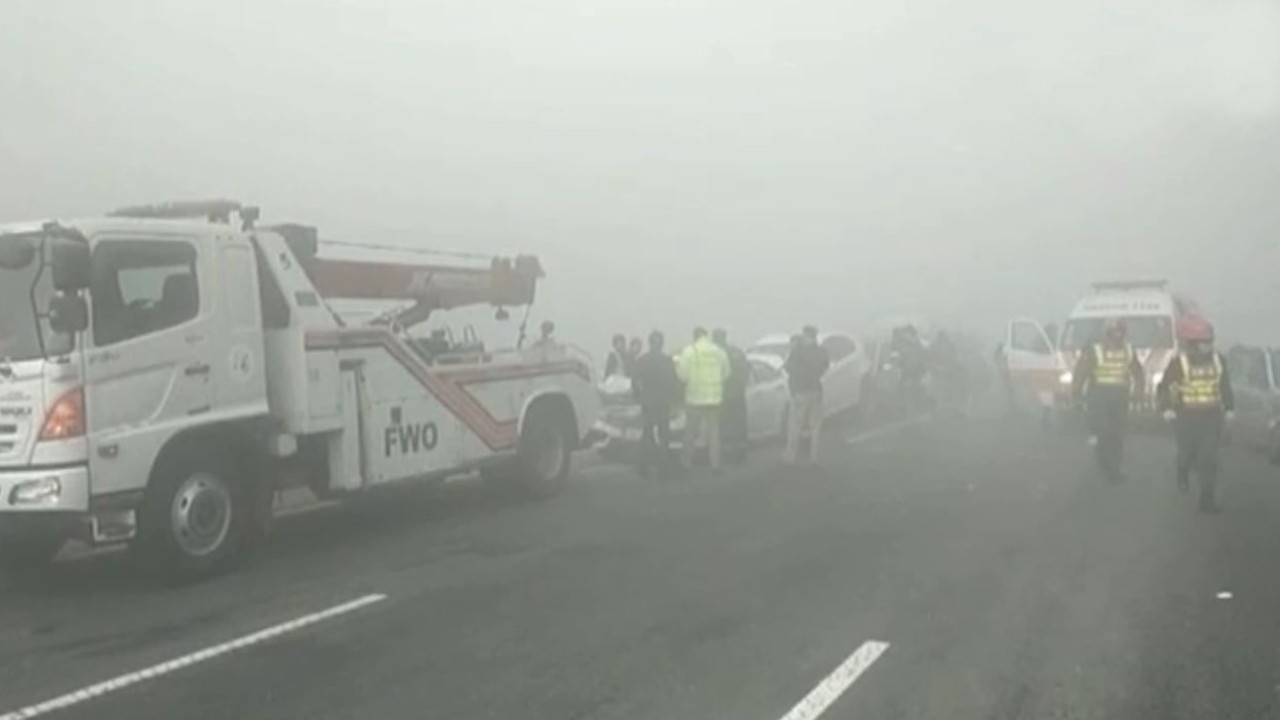 Sheikhupura: Due to foggy conditions, more than 30 vehicles have piled up on motorway M2 near Kala Shah Kaku in Sheikhupura on Tuesday morning.
The multi-vehicle collision was caused by dense smog that has hit Punjab and Khyber Pakhtunkhwa plains. Speeding vehicles rammed into one another while trying to stop after 1 collision.
Rescue 1122 crew arrived at the spot with ambulances. Paramedics were seen tending to people with minor injuries.
Rescue officials said at least 20 people were injured and at least 10 of them were moved to Tehsil Headquarters Hospital Muridke.
Motorway police and FWO staff also responded to the crash.
The motorway was blocked after the crash.
A dense fog has hit Punjab and Khyber Pakhtunkhwa plains causing traffic disruptions. Sections of motorways M1, connecting Peshawar with Islamalabad, M11, connecting Lahore to Sialkot, and M3 connecting Lahore to Multan were closed on Monday morning.