PTI govt to amend constitution ensuring forthcoming polls on EVM
Pervez Khattak said the public become aware and voted for PTI candidates in recently held CB elections.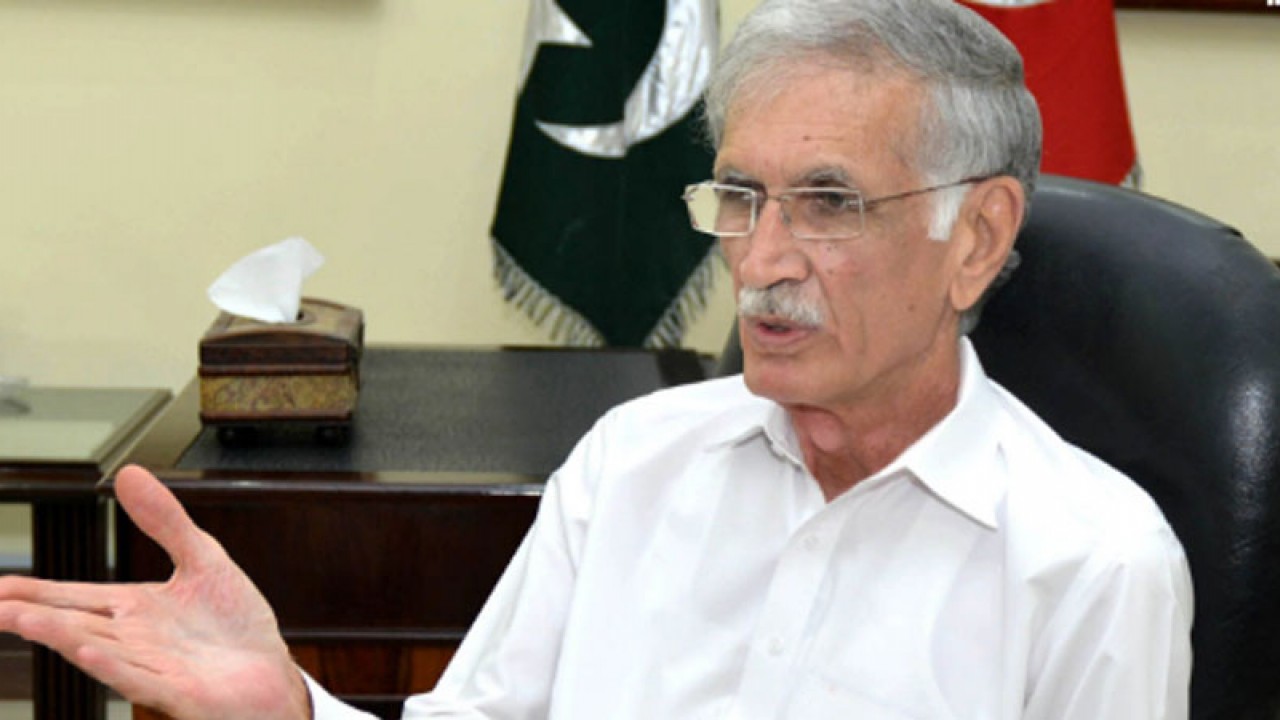 Islamabad: Minister for Defence, Pervez Khattak has said that Pakistan Tehrik-e-Insaaf (PTI) government would bring constitutional amendment to ensure the use of Electronic Voting Machines (EVMs) for transparency and impartiality in the forthcoming general elections of 2023.
Addressing a reception hosted to celebrate victory in recently held Cantonment Board (CB) elections in Nowshera, he said the opposition parties have been exposed before the people as they did nothing except looting and plundering of the national exchequer.
He said the opposition parties had been exposed before the people as they did nothing other than looting and plundering the national exchequer during their governmental tenures.
Pervez Khattak said the public become aware and voted for PTI candidates in recently held CB elections.
Oil plummets $10 a barrel as new Covid variant spooks investors
News of the variant has caused ructions in a market previously caught between producer and consumer nations.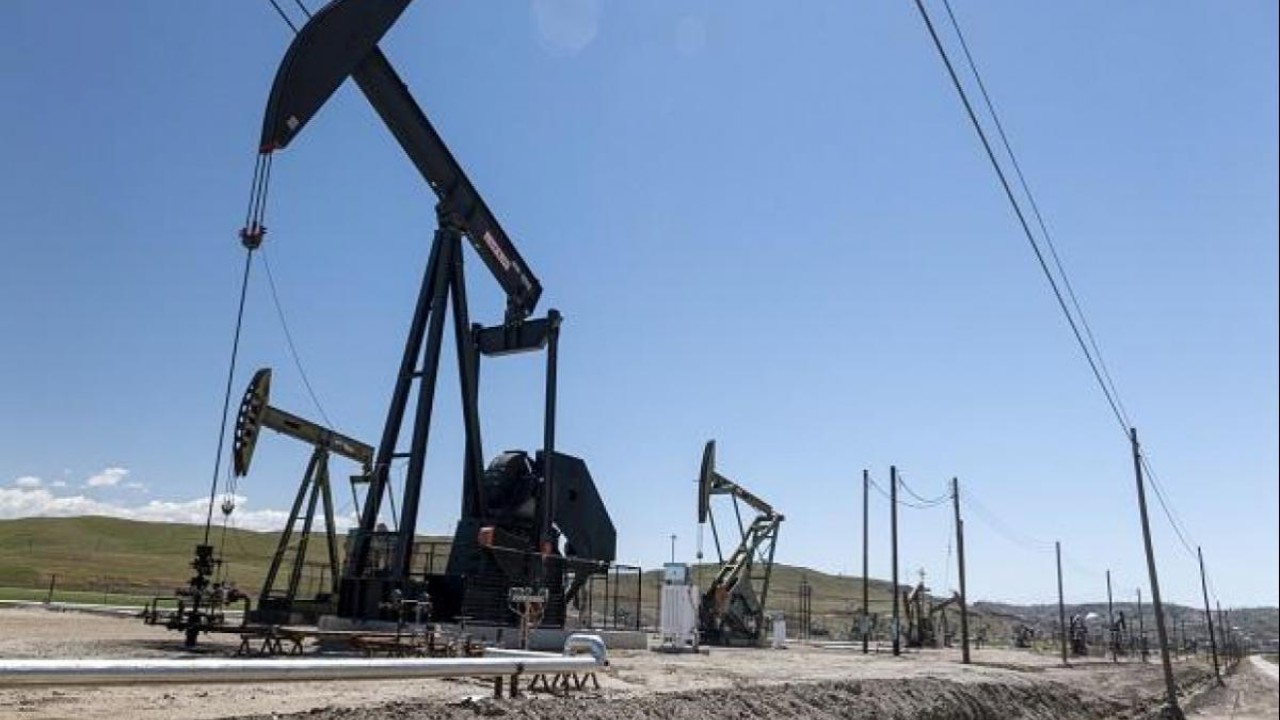 Oil prices dropped about $10 a barrel on Friday, their largest one-day drop since April 2020, as a new variant of the coronavirus spooked investors and added to concerns that a supply surplus could swell in the first quarter.
Oil fell with global equities markets on fears the variant could dampen economic growth and fuel demand.
The World Health Organization has designated the new variant as "of concern," according to the South African health minister, while Britain, Guatemala and European countries are among those to restrict travel from southern Africa, where the variant was detected. read more
Top U.S. infectious disease official Dr. Anthony Fauci said on Friday that a ban on flights from southern Africa was a possibility.
Brent crude fell $8.62, or 10.5%, to $73.60 a barrel by 12:45 p.m. EST (1745 GMT).
U.S. West Texas Intermediate (WTI) crude was down $9.36, or 11.9%, at $69.03 a barrel, in high volume trading after Thursday's Thanksgiving holiday in the United States.
Both contracts were heading for their fifth week of losses and their steepest falls in absolute terms since April 2020, when WTI turned negative for the first time.
News of the variant has caused ructions in a market previously caught between producer and consumer nations.
"The biggest fear is that it will be resistant to vaccines and be a massive setback for countries that have reaped the benefits from their rollouts," said Craig Erlam, senior market analyst at OANDA.
OPEC+ is also monitoring developments around the variant, sources said on Friday, with some expressing concern that it may worsen the oil market outlook less than a week before a meeting to set policy.
Scientists have so far only detected the B.1.1.529 variant in relatively small numbers, mainly in South Africa but also in Botswana, Hong Kong and Israel, but they are concerned by its high number of mutations which could make it vaccine-resistant and more transmissible. read more
Drug makers Pfizer and BioNTech said if necessary they would be able to redesign their shot within 6 weeks and ship initial batches within 100 days.
The foreign ministry said South Africa would speak to Britain to try to get it to reconsider its travel ban.
"Our immediate concern is the damage that this decision will cause to both the tourism industries and businesses of both countries," Foreign Minister Naledi Pandor said in a statement.
Oil prices rose early in the week as the Organization of the Petroleum Exporting Countries and its allies (OPEC+) suggested it could taper production in response to a strategic release from large consuming countries that are members of the International Energy Agency. read more
Such a release was likely to swell supplies in coming months, an OPEC source said, based on findings of a panel of experts that advises OPEC ministers.
The forecasts cloud the outlook for a Dec. 2 meeting when the group will discuss whether to adjust its plan to increase output by 400,000 barrels per day in January and beyond.
"OPEC's initial assessment of the co-ordinated (stockpile) release and the sudden appearance of a new variant of the coronavirus raises serious concerns about economic growth and the oil balance in coming months," PVM analyst Tamas Varga said.
SOURCE: REUTERS
Ban on travel from Africa widens as new Covid variant sparks fear
WHO names new variant as Omicron which is more infectious than Delta: New virus reaches Europe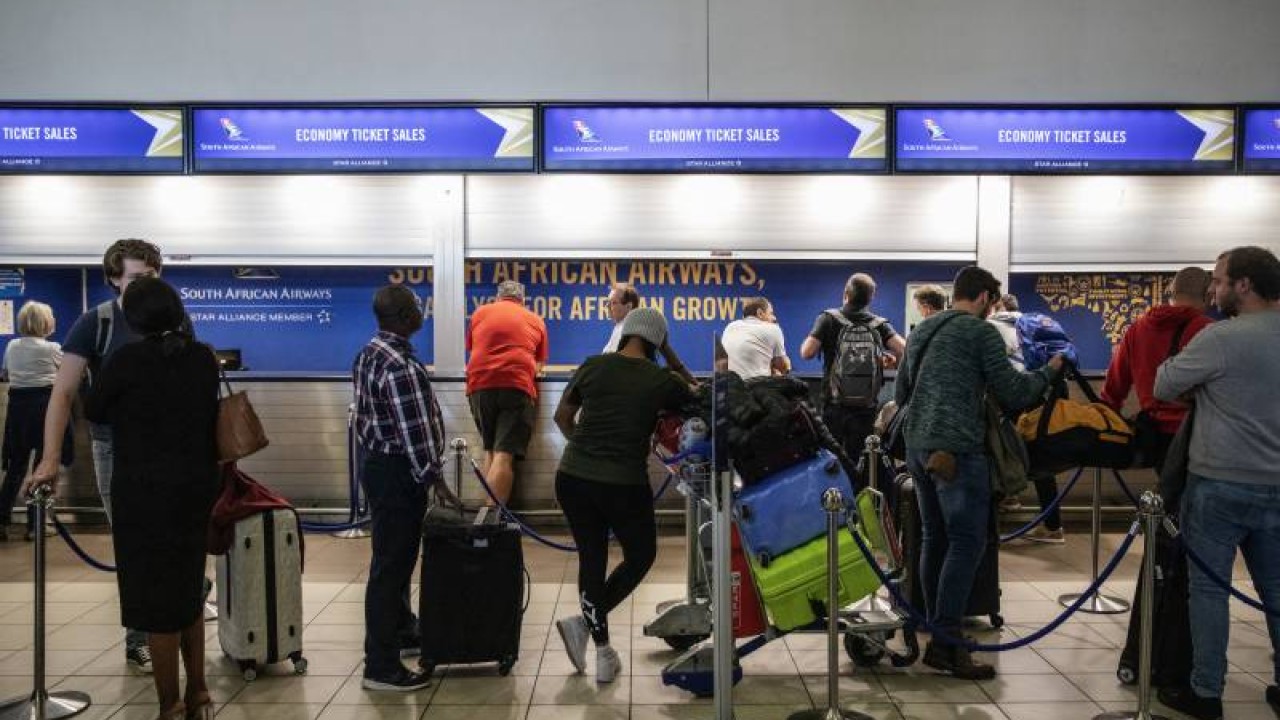 New York: The United States, Brazil, Canada, and Saudi Arabia became the latest countries to restrict travel from southern Africa, where a new Covid strain labelled a "variant of concern" has been discovered in a potentially heavy blow to the world's efforts to end the coronavirus pandemic.
The World Health Organization said the new variant is more infectious than the dominant, highly transmissible Delta strain, and renamed this B.1.1.529 strain of Covid-19 as Omicron.
It has reached Europe with one confirmed case in Belgium after being found in South Africa, Botswana and then in Hong Kong.
Anxious tourists in Johannesburg rushed to the airport to catch a last flight out as nations across the globe started shutting their doors, while many worried the new variant could be more resistant to vaccines.
Markets around the world plunged as news of the latest setback in the fight against the pandemic sank in.
US President Joe Biden said countries should donate more Covid-19 vaccines and give up intellectual property protections to manufacture more doses worldwide to stem the spread of the virus.
"The news about this new variant should make clearer than ever why this pandemic will not end until we have global vaccinations," he said.
Scientists are now racing to determine the threat posed by the heavily mutated strain, and whether the current coronavirus vaccines should be adjusted.
The WHO said it could take several weeks to understand the variant and cautioned against imposing travel curbs while scientific evidence was still scant.
EU officials holding an emergency meeting agreed to urge all 27 nations in the bloc to restrict travel from southern Africa, even though many members had already announced flight suspensions.
- 'Draconian' travel bans -
Europe is already struggling with a coronavirus surge, and the Netherlands on Friday became the latest country to ramp up anti-Covid restrictions with the early closure of bars, restaurants and shops.
"From Sunday, the whole of the Netherlands is effectively closed between 5pm and 5am," Prime Minister Mark Rutte said.
Belgium announced the first publicly known case of B.1.1.529 in Europe: an unvaccinated person who returned on November 11 from Egypt via Turkey. The health ministry did not give the individual's nationality, age or gender.
"It must be repeated that this is a suspect variant -- we don't know if it is a very dangerous variant," Belgian Health Minister Frank Vandenbroucke said.
Israel said it has quarantined three people, one having just returned from Malawi.
Austria, the Czech Republic, Germany, Italy, Cyprus and the Netherlands joined Britain Friday in suspending flights from southern Africa.
The United States, Brazil, Canada and Guatemala also restricted travel from the region. The US measures go into force on Monday.
Japan said it will require a 10-day quarantine period for travelers from the area.
The shock measures included South Africa, as well as many of the following: Botswana, Eswatini (Swaziland), Lesotho, Namibia, Zambia, Mozambique, Malawi and Zimbabwe.
South Africa's health ministry called the global rush to impose travel bans "draconian."
Germany on Friday used a military plane to transfer intensive-care patients to less afflicted regions, in an unprecedented move as it battles a vicious fourth wave of the pandemic.
"The last thing we need now is an introduced new variant," Germany's acting health minister Jens Spahn said.
The Philippines also suspended flights from southern Africa, while Saudi Arabia, the United Arab Emirates, Jordan and Morocco announced bans, as well.
- 'Ridiculous' -
The rush to close off southern Africa comes a day after scientists in Johannesburg said they had detected the new strain with at least 10 mutations, compared with two for the Delta.
The variant is of "serious concern" and had been blamed for a surge in infection numbers, authorities in South Africa said.
Spooked European markets fell at close by three percent, with airline shares especially hit. Tokyo closed down 2.53 percent.
The new variant caused Wall Street to plunge in Friday's holiday shortened session, with the Dow Jones index suffering its worst loss of the year as it plunged 2.5 percent.
And next week's World Trade Organization ministerial conference, the global trade body's biggest gathering in four years, was called off at the last minute Friday due to the new variant, a source told AFP.
The European Medicines Agency said it was "premature" to talk about modifying current vaccines to target the new variant.
Germany's BioNTech and US drugmaker Pfizer said they were studying the variant, with impact data expected "in two weeks at the latest" to say whether their jointly developed vaccine should be adjusted if Omicron spreads globally.
But Moderna said it will develop a booster specific to the new variant as part of a three-pronged strategy to fight it.
Omicron variant poses 'high to very high' risk to Europe
The new Covid variant, dubbed Omicron and originally detected in South Africa, poses a "high to very high" risk to Europe, the EU health agency warned on Friday.
The European Centre for Disease Prevention and Control (ECDC) noted in a threat assessment report that there was still "considerable uncertainty related to the transmissibility, vaccine effectiveness, risk for reinfections and other properties of the Omicron variant."
However, the overall risk that Omicron posed to the European Union and European Economic Area (Iceland, Liechtenstein and Norway) was "high to very high."
Given the possibility that current vaccines may not protect against the variant, and the fact that it may be more transmissible, "we assess the probability of further introduction and community spread in the EU/EEA as high," the Stockholm-based agency said.
"In a situation where the Delta variant is resurgent in the EU/EEA, the impact of the introduction and possible further spread of Omicron could be very high," it added.
Apart from South Africa, Omicron has been detected in Israel in a person coming from Malawi as well as in Botswana, Hong Kong and EU member Belgium.
The agency urged countries to conduct genomic sequencing and contact tracing of confirmed cases, and called for people to not travel to affected areas.
The World Health Organization on Friday declared the recently-discovered strain to be a variant of concern.
The classification puts Omicron into the most-troubling category of Covid-19 variants, along with the globally-dominant Delta, plus its weaker rivals Alpha, Beta and Gamma.
Nations rushed to ban flights to slow the spread of Omicron on Friday, while stock markets and oil prices plunged on fears surrounding the variant, potentially dealing a heavy blow to the global economic recovery.
SOURCE: AFP
AMC's Lt Gen Nigar Johar becomes first female to be appointed as colonel commandant
Lieutenant General Nigar became the first female ever to be appointed as Colonel Commandant of Army Medical Corps (AMC), the Inter-Services Public Relations said Friday.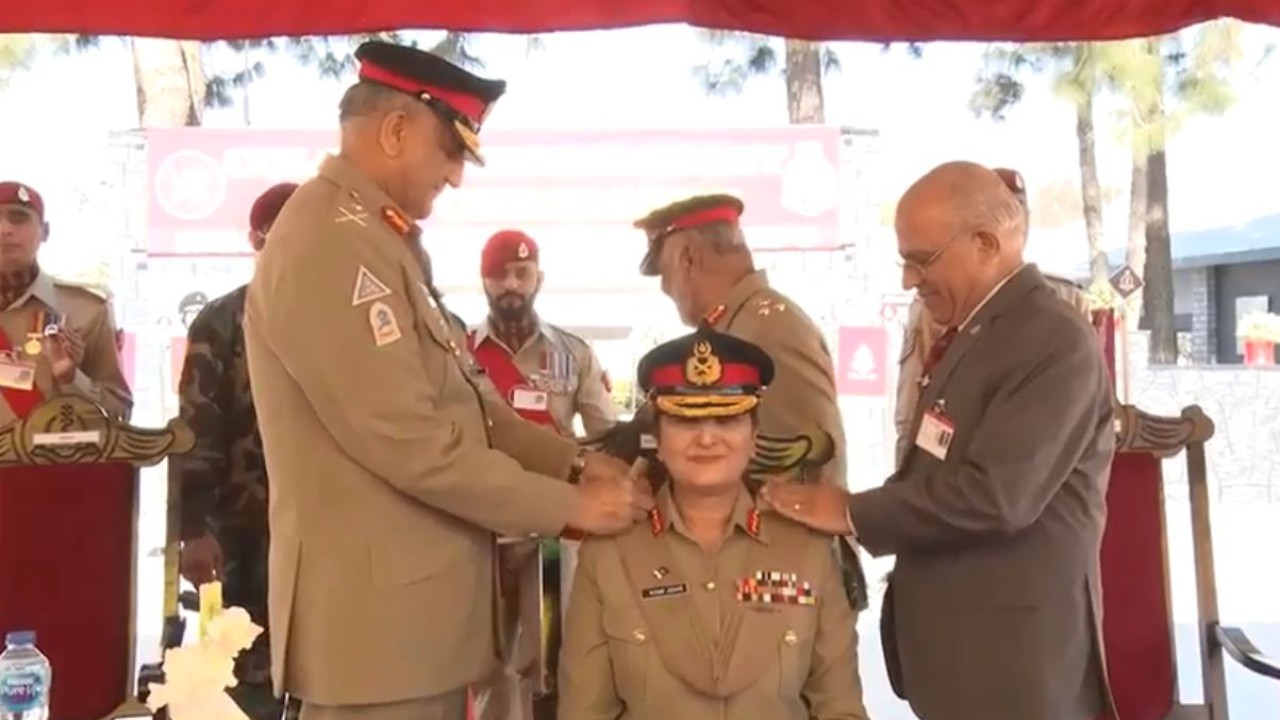 Chief of Army Staff General Qamar Javed Bajwa pinned the badges of the new rank on Lt Gen Johar's uniform during a ceremony at AMC Centre to formally install her to the new post, the military's media wing said in a statement.
Speaking on the occasion, Gen Bajwa said that the appointment of Lt Gen Johar as the first female army official to have three stars on her uniform is "indeed, a matter of immense pride for Pakistan Army and the country".
The Army chief also lauded AMC's contributions in ensuring high standards of healthcare in peace and war.
"AMC has always answered the call of duty during natural calamities, both inland and abroad. Our doctors and paramedical staff have been the frontline warriors against COVID-19, displaying exemplary commitment and resolve for the safety and well-being of the people of Pakistan," he said.
He concluded by saying that keeping pace with the rapid advancements in medical science is imperative for doctors and paramedics to keep themselves at par with the modern militaries and best healthcare practices across the globe.
According to ISPR, Genenral Bajwa also laid a floral wreath at Yadgar-e-Shuhada at the AMC Centre on the occasion and offered fateha.