UK, Germany and Italy detect Omicron coronavirus variant cases
Britain, Germany and Italy detected cases of the new Omicron coronavirus variant on Saturday and British Prime Minister Boris Johnson announced new steps to contain the virus, while more nations imposed restrictions on travel from southern Africa.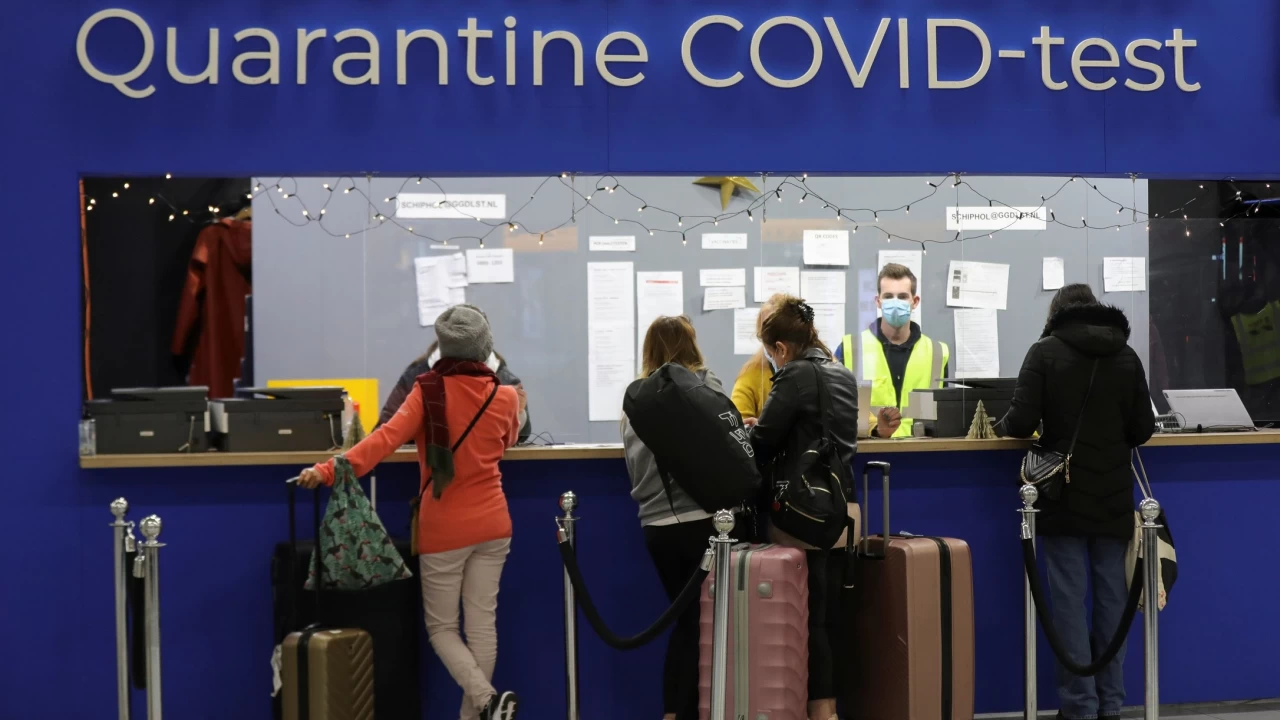 The discovery of the variant has sparked global concern, a wave of travel bans or curbs and a sell-off on financial markets on Friday as investors worried that Omicron could stall a global recovery from the nearly two-year pandemic.
The two linked cases of the new variant detected in Britain were connected to travel to southern Africa, British health minister Sajid Javid said.
Speaking later, Johnson laid out measures that included stricter testing rules for people arriving in the country but that stopped short of curbs on social activity other than requiring mask wearing in some settings.
"We will require anyone who enters the UK to take a PCR test by the end of the second day after their arrival and to self-isolate until they have a negative result," Johnson told a news conference.
People who had come into contact with people testing positive for a suspected case of Omicron would have to self-isolate for 10 days and the government would tighten up the rules on wearing face coverings, Johnson said, adding the steps would be reviewed in three weeks.
The health ministry in the German state of Bavaria also announced two confirmed cases of the variant. The two people entered Germany at Munich airport on Nov. 24, before Germany designated South Africa as a virus-variant area, and were now isolating, said the ministry, indicating without stating explicitly that the people had travelled from South Africa. read more
In Italy, the National Health Institute said a case of the new variant had been detected in Milan in a person coming from Mozambique.
Czech health authorities also said they were examining a suspected case of the variant in a person who spent time in Namibia.
Omicron, dubbed a "variant of concern" by the World Health Organization, is potentially more contagious than previous variants of the disease, although experts do not know yet if it will cause more or less severe COVID-19 compared to other strains.
England's Chief Medical Officer, Chris Witty, said at the same news conference as Johnson that there was still much uncertainty around Omicron, but "there is a reasonable chance that at least there will be some degree of vaccine escape with this variant".
The variant was first discovered in South Africa and had also since been detected in Belgium, Botswana, Israel and Hong Kong.
FLIGHTS TO AMSTERDAM
Dutch authorities said that 61 out of around 600 people who arrived in Amsterdam on two flights from South Africa on Friday had tested positive for the coronavirus. Health authorities were carrying out further tests to see if those cases involved the new variant. read more
One passenger who arrived from South Africa on Friday, Dutch photographer Paula Zimmerman, said she tested negative but was anxious for the days to come.
"I've been told that they expect that a lot more people will test positive after five days. It's a little scary the idea that you've been in a plane with a lot of people who tested positive," she said.
Financial markets plunged on Friday, especially stocks of airlines and others in the travel sector, as investors worried the variant could cause another surge in the pandemic. Oil prices tumbled by about $10 a barrel.
It could take weeks for scientists to fully understand the variant's mutations and whether existing vaccines and treatments are effective against it.
TRAVEL CURBS
Although epidemiologists say travel curbs may be too late to stop Omicron from circulating globally, many countries around the world - including the United States, Brazil, Canada and European Union nations - announced travel bans or restrictions on southern Africa on Friday.
The U.S. Centers for Disease Control and Prevention (CDC) and State Department added on Saturday to Washington's previously announced travel restrictions, advising against travel to eight southern African countries.
Also on Saturday, Australia said it would ban non-citizens who have been in nine southern African countries from entering and will require supervised 14-day quarantines for Australian citizens returning from there. read more
Japan said it would extend its tightened border controls to three more African countries after imposing curbs on travel from South Africa, Botswana, Eswatini, Zimbabwe, Namibia and Lesotho on Friday.
Britain also said it was expanding its "red list" to put travel curbs on more southern Africa countries, while South Korea, Sri Lanka, Thailand, Oman, Kuwait and Hungary announced travel restrictions on southern African nations.
South Africa is worried that the curbs will hurt tourism and other sectors of its economy, the foreign ministry said on Saturday, adding the government is engaging with countries that have imposed travel bans to persuade them to reconsider.
Omicron has emerged as many countries in Europe are already battling a surge in COVID-19 infections, and some have re-introduced restrictions on social activity to try to stop the spread. Austria and Slovakia have entered lockdowns.
VACCINATIONS
The new variant has also thrown a spotlight on disparities in how far the world's population is vaccinated. Even as many developed countries are giving third-dose boosters, less than 7% of people in low-income countries have received their first COVID-19 shot, according to medical and human rights groups.
Seth Berkley, CEO of the GAVI Vaccine Alliance that with the WHO co-leads the COVAX initiative to push for equitable distribution of vaccines, said this was essential to ward off the emergence of more coronavirus variants.
"While we still need to know more about Omicron, we do know that as long as large portions of the world's population are unvaccinated, variants will continue to appear, and the pandemic will continue to be prolonged," he said in a statement to Reuters.
"We will only prevent variants from emerging if we are able to protect all of the world's population, not just the wealthy parts."
SOURCE: REUTERS
Kazak envoy calls on COAS Bajwa, discusses regional security, bilateral matters
General Qamar Bajwa hoped law and order situation in Kazakhstan would be restored soon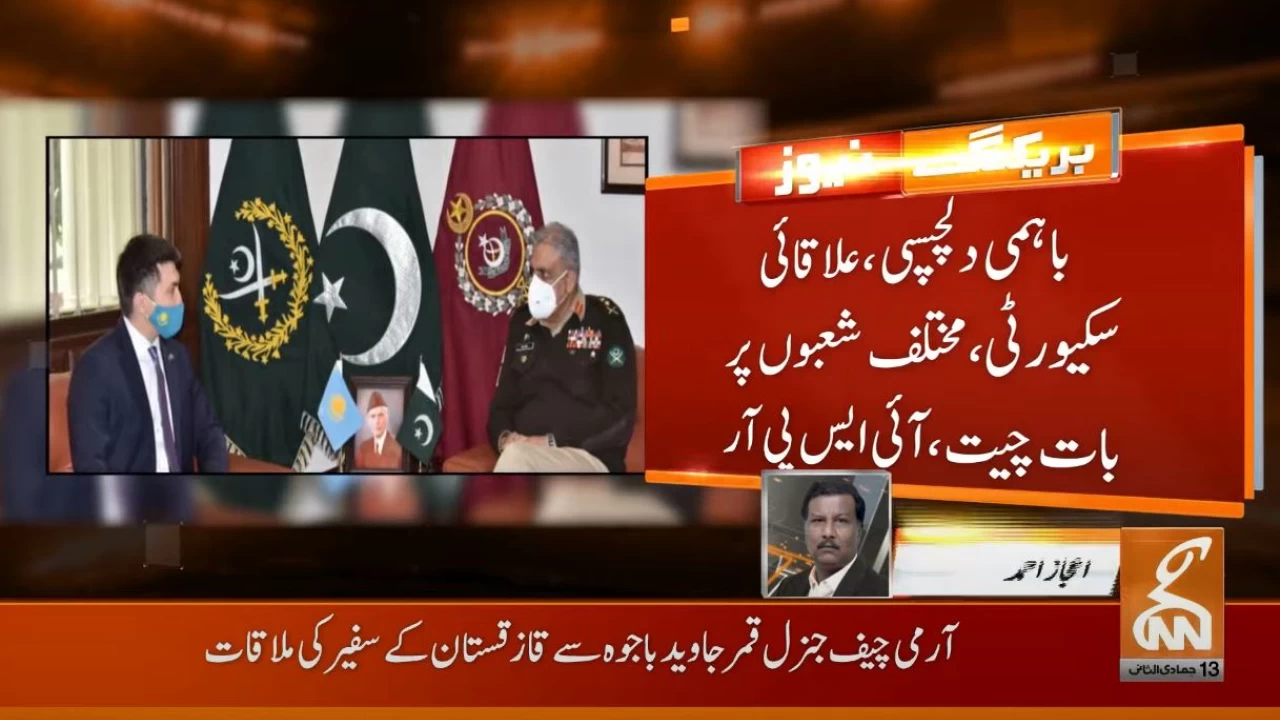 Rawalpindi: Ambassador Extraordinary and Plenipotentiary of the Republic of Kazakhstan Yerzhan Kistafin Monday called on Chief of Army Staff (COAS) General Qamar Javed Bajwa at GHQ on Monday.
During the meeting matters of mutual interest, regional security situation and cooperation in various fields were discussed, said an Inter Services Public Relations (ISPR) media release.
Speaking on the occasion, the COAS hoped that law and order situation in Kazakhstan was restored soon.
Referring to Afghanistan, the COAS stressed upon the need for sincere international efforts to avert a humanitarian crisis there.
General Bajwa said Pakistan remained committed to cooperate with its international partners for peace in the region.
The visiting dignitary appreciated Pakistan's role and efforts for regional stability and pledged to play his role for further improvement in diplomatic cooperation with Pakistan at all levels.
China's birth rate drops to record low in 2021: Report 
As per official data, there were 10.62 million births in 2021.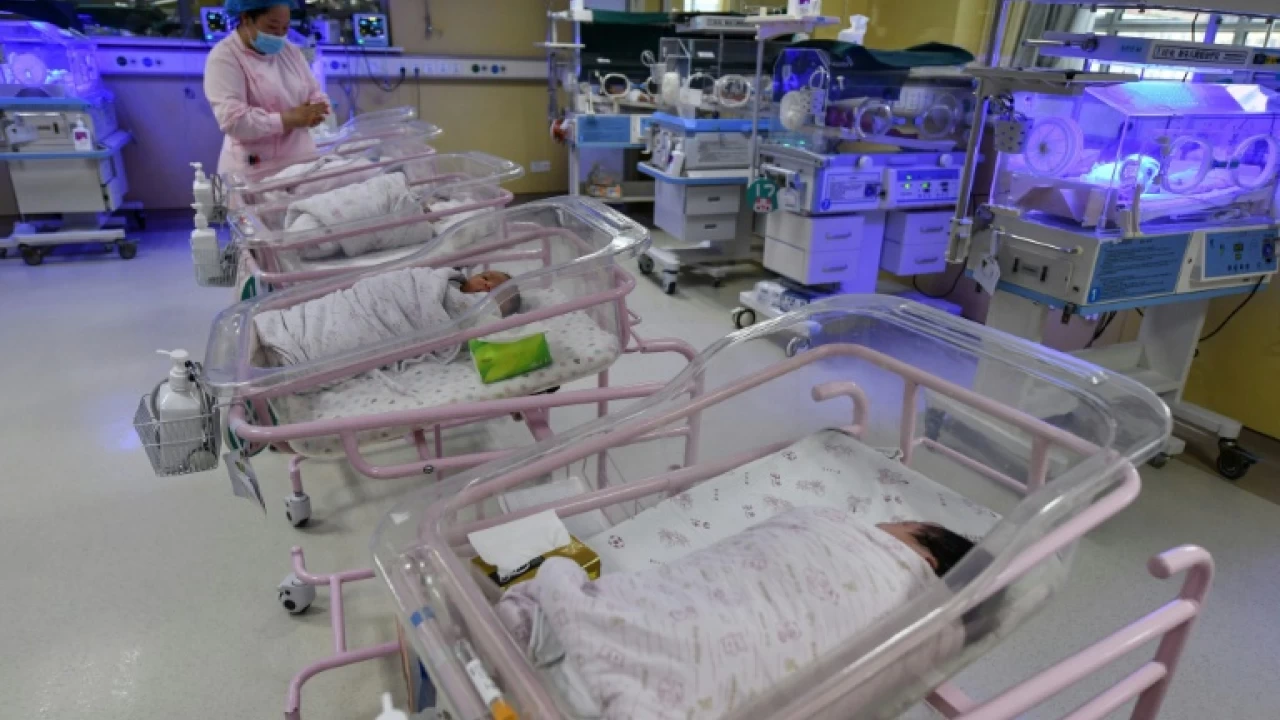 Beijing: China's birth rate dropped to a record low of 7.52 per 1,000 people in 2021, National Bureau of Statistics data showed Monday.
China scrapped its decades-old one-child policy in 2016, replacing it with a two-child limit to try and counter a rapidly ageing population, but many couples do not want to have more children because of the high cost of urban living.
Country's birth rate was the lowest since 1949 when the statistics bureau began collating the data.
The natural growth rate of China's population, which excludes migration, was only 0.034% for 2021, the lowest since 1960.
As per chief economist at Pinpoint Asset management, Zhiwei Zhang, "The demographic challenge is well known but the speed of population ageing is clearly faster than expected".
"This suggests China's total population may have reached its peak in 2021. It also indicates China's potential growth is likely slowing faster than expected," added Zhang.
As per official data, there were 10.62 million births in 2021.
Under-19 World Cup: Pakistan to take on Zimbabwe today
Pakistan is the third most successful side after India and Australia in the ICC U19 Cricket World Cup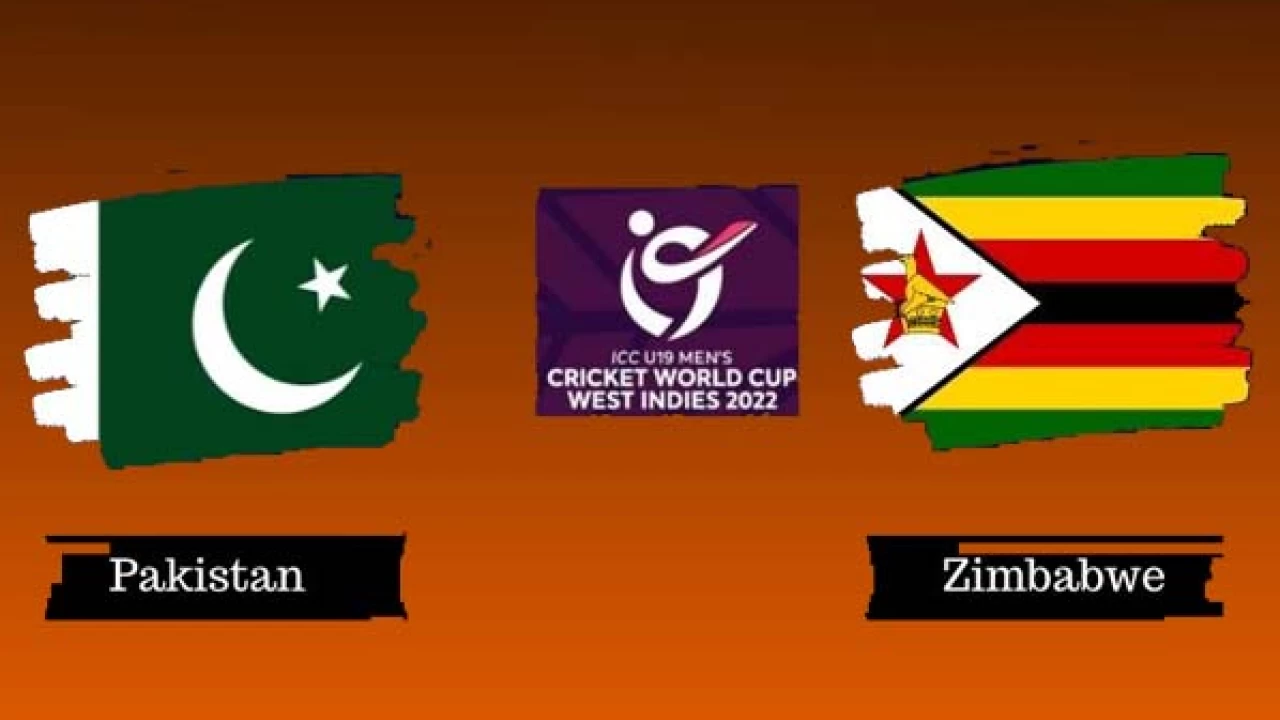 Trinidad and Tobago: Pakistan will play their first match of the tournament against Zimbabwe in the ICC Men's U19 Cricket World Cup West Indies 2022 on Monday at the Diego Martin Sporting Complex in Trinidad and Tobago.
Pakistan will then meet Afghanistan on Thursday at the Brian Lara Cricket Ground, while their last Group C fixtures will be against Papua New Guinea (PNG) on Saturday at the Queens Park Oval.
Pakistan is the third most successful side after India and Australia in the ICC U19 Cricket World Cup, which was launched in 1988 before becoming a biennial event in 1998.
Pakistan have won titles in 2004 and 2006, finished runners-up thrice in 1988, 2010 and 2014, and achieved third positions in 2000, 2008, 2018 and 2020.
Squad: Qasim Akram (captain, Central Punjab), Abdul Faseeh (Northern), Abbas Ali (Khyber Pakhtunkhwa), Ahmed Khan (Khyber Pakhtunkhwa), Ali Asfand (Central Punjab), Arham Nawab (Central Punjab), Awais Ali (Central Punjab), Faisal Akram (Southern Punjab), Haseebullah (wicketkeeper, Balochistan), Irfan Khan Niazi (Central Punjab), Maaz Sadaqat (Khyber Pakhtunkhwa), Mehran Mumtaz (Northern), Mohammad Shehzad (Southern Punjab), Rizwan Mehmood (Sindh) and Zeeshan Zameer (Sindh)
Traveling reserves: Ghazi Ghori (wicketkeeper, Sindh), Mohammad Zeeshan (Central Punjab).
Pakistan fixtures:
17 Jan - v Zimbabwe - Diego Martin Sporting Complex.
20 Jan - v Afghanistan - Brian Lara Cricket Ground.
22 Jan - v PNG - Queens Park Oval.