ULaw, ICMAP ink partnership agreement for academic opportunities
The University of Law signs Partnership Agreement with the Institute of Cost and Management Accountants of Pakistan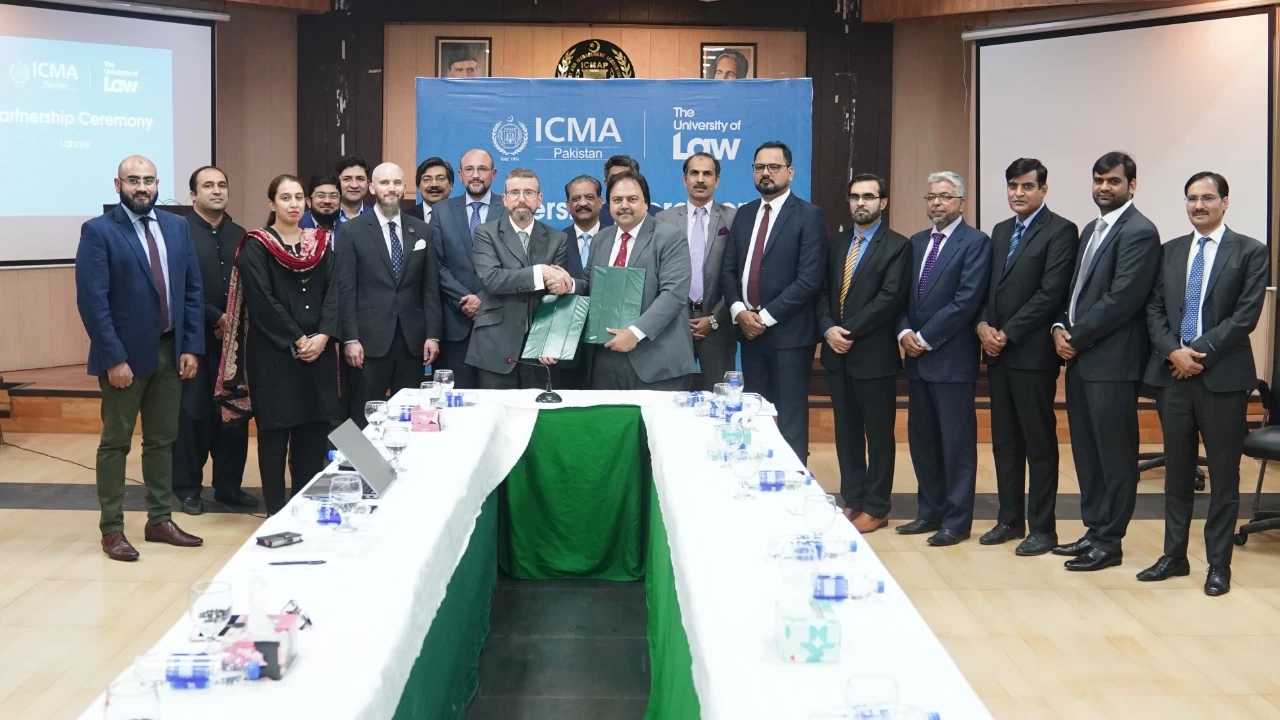 Lahore: The University of Law (ULaw) and Institute of Cost and Management Accountants of Pakistan (ICMA Pakistan) on Monday signed a partnership agreement to provide academic options to the members of ICMA Pakistan to study masters degrees awarded by ULaw.
A ceremony was held at ICMA Lahore Office where the agreement was signed and attended by senior officials from both organisations.
As a result of this agreement, ICMA Pakistan's Associates and Members will be given access to highly specialised masters degrees in Global Accounting and Financial Management at The University of Law at preferential rates.
Students will be able to study these qualifications online whilst pursuing their employment or at one of the 12 teaching locations in the UK and Germany.
Addressing the ceremony, Professor Crisp said: "We are excited about this collaboration in Pakistan. ICMA Pakistan is an organisation of great importance and its members play a pivotal role in the economic development of Pakistan. The University of Law Business School will not just support this agreement but also work closely with ICMA Pakistan to support the employability agenda"
Zia Ul Mustafa Awan speaking on the occasionb said: "This is our first academic partnership with a top tier University in Great Britain. This partnership is a testament of great work my team is doing to elevate not just the finance profession and ICMA Pakistan but also the profile of our beloved country. "
Present at this event were Professor Peter Crisp, Deputy Vice Chancellor Law, Zia Ul Mustafa Awan, President ICMA Pakistan; Dr Andres Perez, Director Business School, The University of Law; Faisal Azeem, Managing Director - Pakistan, Global University Systems; Kelvin Jones, Director of International, Global University Systems; Sabahat Khan, Chief Operating Officer - Pakistan, Global University Systems and Aamir Ejaz Khan, Executive Director, ICMA Pakistan and senior members of ICMA Pakistan Council.
Twitter expands feature that allows users to flag misleading content
The feature was first tested in the United States, Australia and South Korea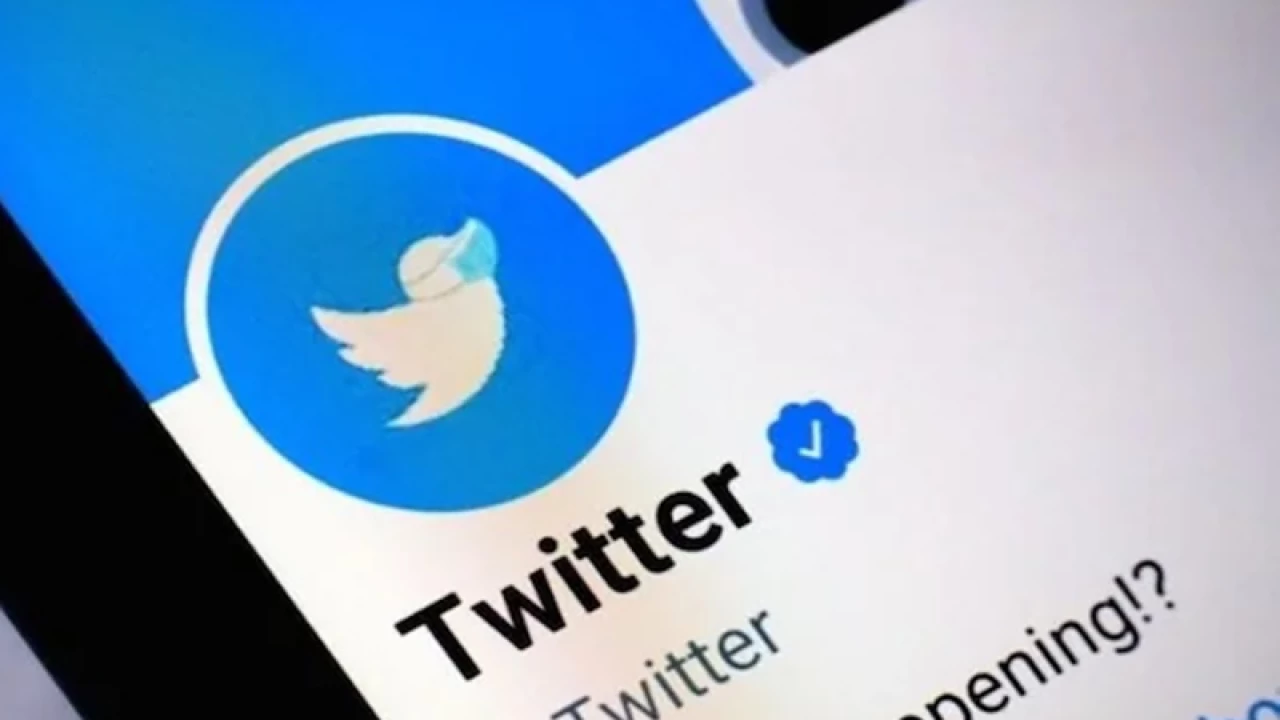 Twitter said on Monday it will expand its test feature which allows users to flag misleading content on its social media platform to Brazil, Spain and the Philippines.
The company had introduced the pilot test of the feature in August last year, as a part of its effort to reduce misinformation on its platform.
It was first tested in the United States, Australia and South Korea.
Since it was first announced, Twitter said it has received around 3 million reports from users who have used it to flag tweets which they believe are in violation of its policies.
The social media giant last year launched another program called Birdwatch, which lets participants write notes and provide additional context to misleading tweets, though those notes are held on a separate website.
SOURCE: REUTERS
10 members of PCB staff members test positive for coronavirus
The cricket board has already administered the booster dose of the coronavirus vaccine to its staff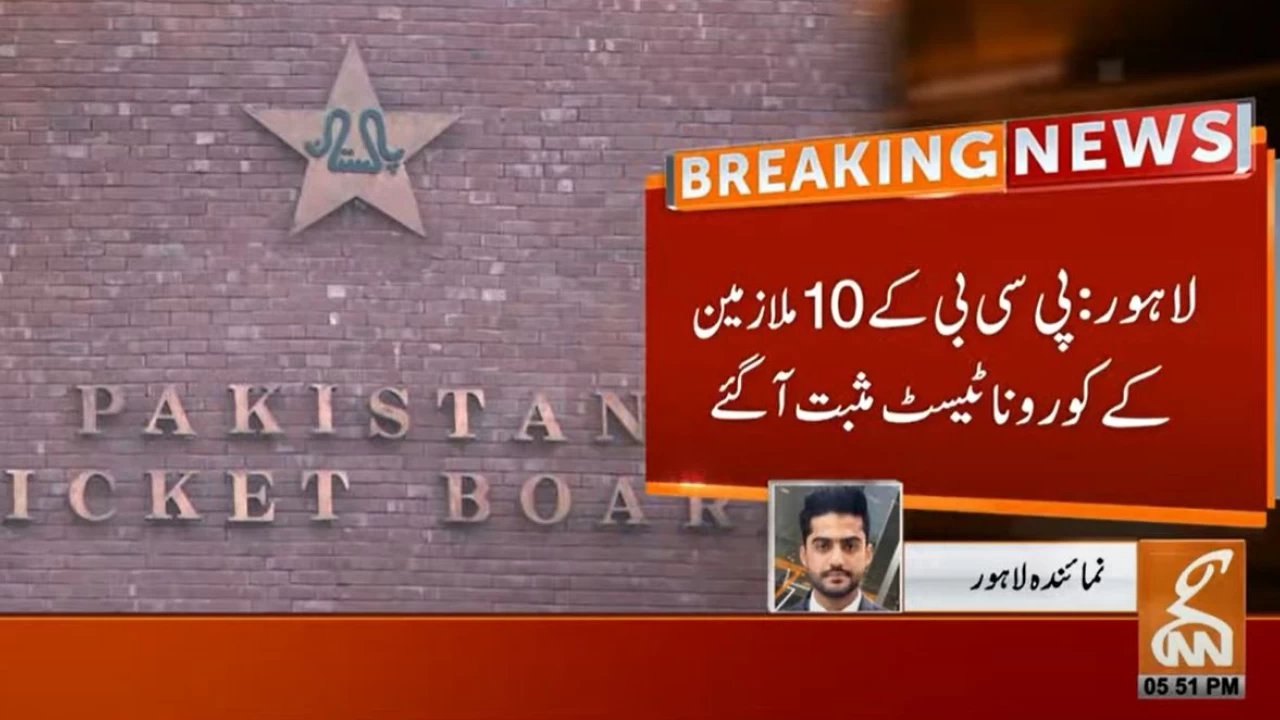 Lahore: The Pakistan Cricket Board (PCB) on Monday has confirmed 10 positive cases of COVID-19 among its staff members.
According to an official statement released by the board in this regard, five members of the PCB staff, while five ground employees have tested positive for the virus.
The infected members have been isolated after their tests came positive, the board said in the statement, adding that the tests were conducted last week.
It is pertinent to mention here that the cricket board has already administered the booster dose of the coronavirus vaccine to its staff.
The PCB has said that all coronavirus standard operating procedures (SOPs) will be followed and all meetings will be virtual, while the staff will strictly abide by the protocols.
UAE: Suspected drone attack triggers blast cum fire, killing 3 including a Pakistani
Police said "small flying objects" were found at both places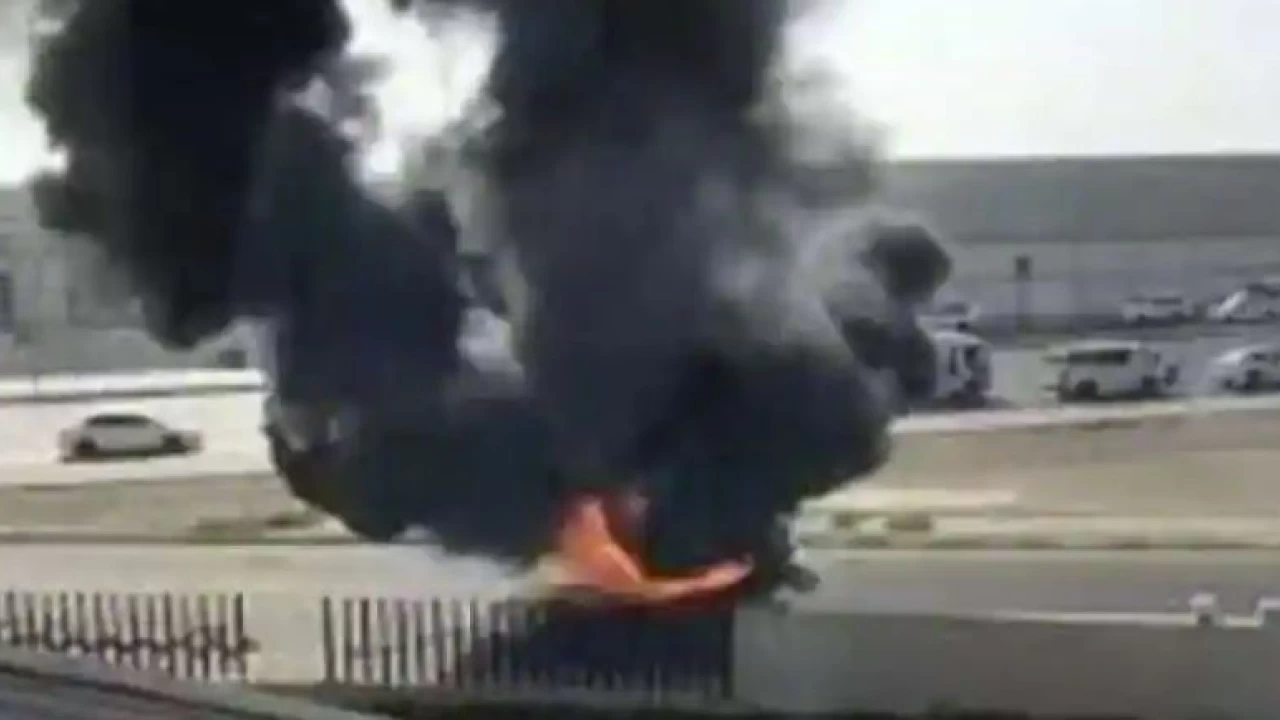 Abu Dhabi: Three people were killed in a suspected drone attack that set off a blast and a fire in Abu Dhabi on Monday, officials said, as Yemen's rebels announced military operations in the United Arab Emirates.
Two Indians and a Pakistani died as three petrol tanks exploded near the storage facility of oil giant ADNOC, while a fire ignited in a construction area at Abu Dhabi airport.
Police said "small flying objects" were found at both places, suggesting the sort of deliberate attack that is unheard of in the wealthy UAE, a renowned safe haven in the volatile Middle East.
"Preliminary investigations indicate the detection of small flying objects, possibly belonging to drones, that fell in the two areas and may have caused the explosion and fire," police said in a statement, adding that the incidents were under investigation.
Yemen's Huthi rebels did not claim the attacks. But the Huthis military spokesman announced a "military operation" in the UAE, a partner in Yemen's pro-government coalition, in what would be a major escalation in the seven-year war.
Yahya Saree tweeted that the rebels' armed forces had said they would "announce an important military operation in the UAE in the coming hours".
Drone attacks are a hallmark of the Huthis' assaults on Saudi Arabia, the UAE ally which is leading the coalition fighting for Yemen's government in a grinding civil war.
The rebels have previously threatened to target Abu Dhabi and Dubai, the gleaming crown jewels of the UAE which last year opened its first nuclear power plant.
The Huthis' latest statement comes two weeks after they seized a UAE-flagged ship, the Rwabee, off the Yemen coast, and released footage purporting to show military equipment on board.
The UAE said the Rwabee, whose 11 crew are now hostages, was a "civilian cargo vessel" and called the hijacking a "dangerous escalation" in the busy Red Sea shipping route.
The rebels later rejected a UN Security Council demand for the ship's immediate release, saying it was "not carrying... toys for children but weapons for extremists".
SOUCE: AFP