Green shirts on firm footing for victory against Bangladesh in first test match
Setting a target of 202, the green shirts reached 109-0 at stumps and need only 93 runs on the final day on Tuesday.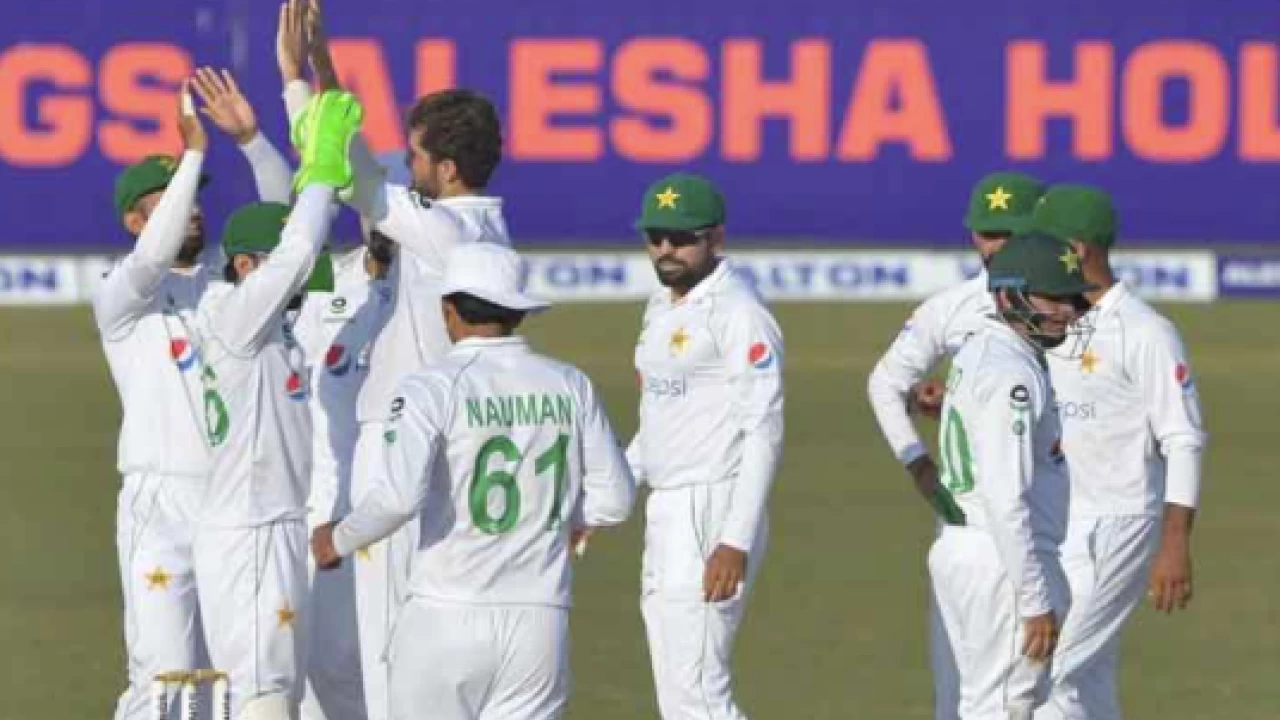 CHITTAGONG: Both Pakistani openers Abid Ali and Abdullah Shafique smashed an unbeaten fifty on Monday to put the Men In Green in a commanding position in the first Test against Bangladesh in Chittagong.
Ali was batting on 56 at the end of the day's play, adding to his first-innings score of 133, while debutant Shafique was unbeaten on 53.
Fast bowler Shaheen Afridi earlier claimed 5-32 to help Pakistan bowl out Bangladesh for 157 runs in their second innings despite wicketkeeper-batsman Liton Das making a fighting fifty.
Resuming on 39-4, Bangladesh looked down and out once they lost Mushfiqur Rahim in the first over of the day, before Liton, who struck a hundred in the first innings, hauled the hosts back to respectability with 59 off 89 balls.
Afridi trapped Liton leg-before and then had Abu Jayed out for a duck to complete his fourth five-wicket Test haul.
Off-spinner Sajid Khan, who finished with 3-33, wrapped things up by dispatching Taijul Islam.
The hosts had got off to a positive start with Mushfiqur hitting a boundary off the first ball of the morning, bowled by Hasan Ali.
But two balls later he left a wrong delivery and departed for 16 after Hasan struck off-stump.
Liton joined overnight batsman Yasir Ali to prevent further collapse.
Just when they looked ready to prosper, Afridi's low bounce hit the helmet of Yasir, who retired hurt after making 36.
Liton survived on 26 when he was given out, caught at short leg off Sajid Khan.
The replay showed that the ball only hit his pad and was going down the leg.
Sajid was rewarded for his persistence as he trapped Mehidy Hasan leg-before for 11.
Substitute Nurul Hasan replaced Yasir after Mehidy's dismissal and barely survived a strong caught-behind appeal just before lunch.
Nurul heaved one at long-on to Faheem Ashraf off Sajid after the break, getting dismissed for 15, and Pakistan took little time to take the remaining wickets.
Bangladesh have failed to defeat Pakistan in any of their 10 previous encounters.
SOURCE: AFP
Twitter expands feature that allows users to flag misleading content
The feature was first tested in the United States, Australia and South Korea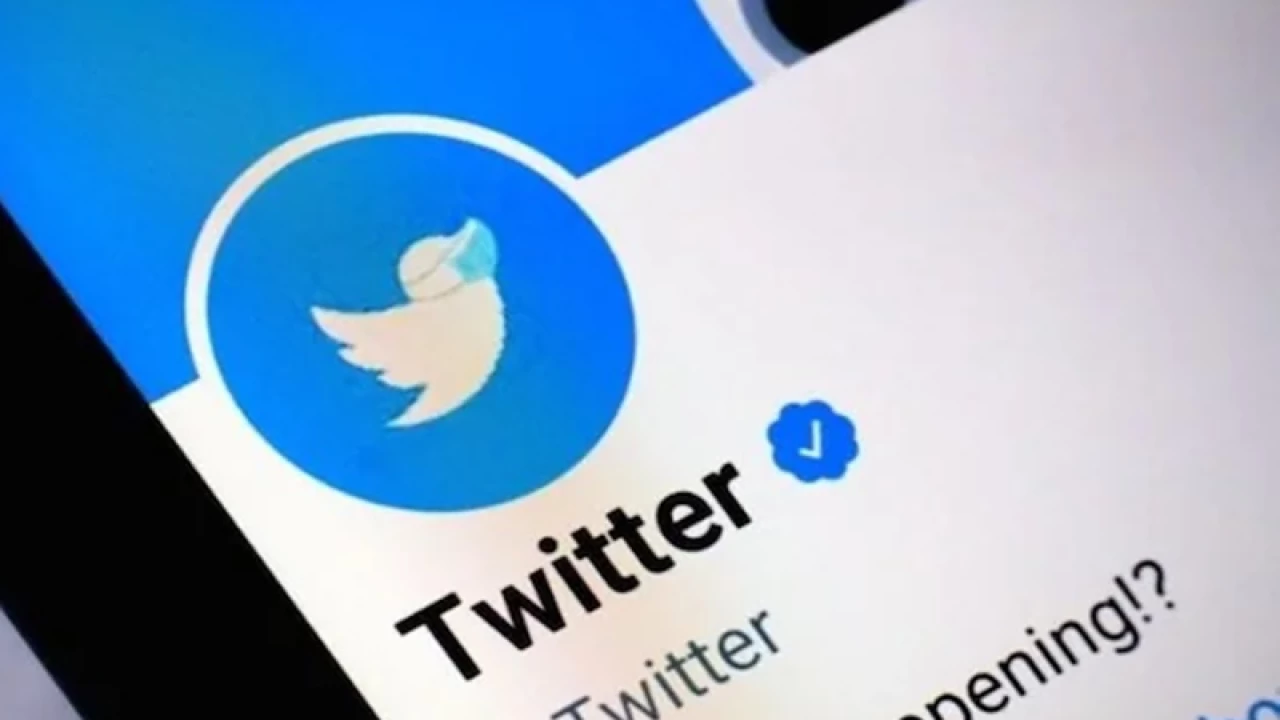 Twitter said on Monday it will expand its test feature which allows users to flag misleading content on its social media platform to Brazil, Spain and the Philippines.
The company had introduced the pilot test of the feature in August last year, as a part of its effort to reduce misinformation on its platform.
It was first tested in the United States, Australia and South Korea.
Since it was first announced, Twitter said it has received around 3 million reports from users who have used it to flag tweets which they believe are in violation of its policies.
The social media giant last year launched another program called Birdwatch, which lets participants write notes and provide additional context to misleading tweets, though those notes are held on a separate website.
SOURCE: REUTERS
PM's article on State of Madina, the fundamental for Muslims to follow: Farrukh Habib
'These rules were setup for all times, for the betterment of an individual, a society and a nation'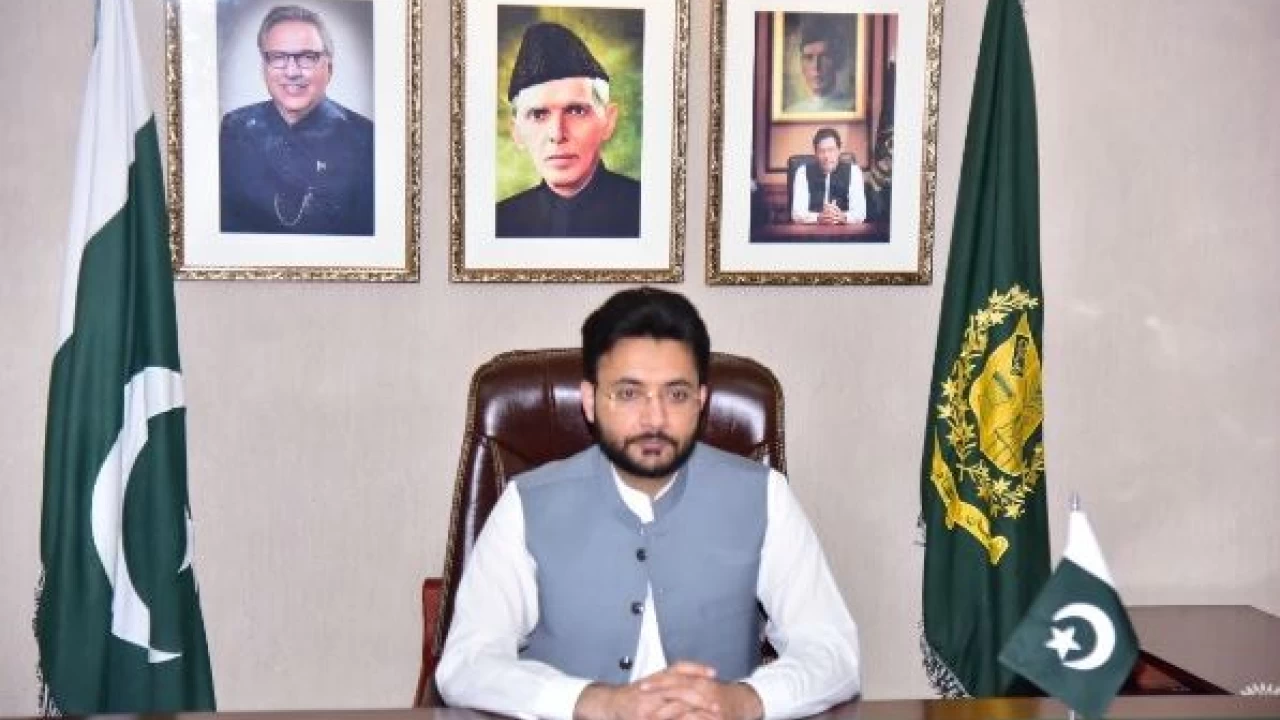 Islamabad: Minister of State for Information and Broadcasting, Farrukh Habib Monday said that the article by Prime Minister Imran Khan on the establishment of State of Madina was the fundamental for every Muslim to follow.
In a tweet, he said these rules were setup for all times, for the betterment of an individual, a society and a nation.
Earlier today, Prime Minister Imran Khan stressed upon continuous struggle to embody as a nation and state the principles of Riyasat-i-Madina as laid down by the Holy Prophet (Peace Be Upon Him).
On his official twitter handle, the Premier posted his article published in English daily, the Express Tribune, titled "Spirit of Riyasat-i-Madina: transforming Pakistan".
"Explaining guiding principles of Riyasat-i-Madina as laid down by our Prophet PBUH creating the foundation of the greatest civilisation of all times. In Pak, to realize our potential today we have to struggle to embody these principles as a nation & state," the caption read.
According to Imran Khan's views expressed in his piece of writing the core of every civilization was its spiritual principles; when they died, the civilization died.
"In Islamic civilization, the manifestation of our spiritual principles happened in the Prophet's (SAW) Madina. Besides many other important principles, there were five very important guiding principles upon which the state of Madina was built. These principles are unity, justice and rule of law leading to meritocracy, strong moral and ethical foundation, inclusion of all humans in progress and prosperity, and finally, the quest for knowledge," he added.
The prime minister said to help revive the spirit of the covenant of Madina, National Rahmatul Lil 'Alamin Authority (NRA) has been formed.
Highlighting the ethical and moral transformation of the people as per principles of Riyasat-i-Madina, the Prime Minister said NRA will endeavor to engage in doing good and forbidding evil by teaching seerat-al-nabi (PBUH) to our youth in schools and universities in the hope to raise the level the ethics and morals in our society.
Regarding Islam's principle of quest for knowledge, THE Prime Minister said that all sources that impact human behavior should disseminate knowledge which produces self-control, self-discipline, patience, forbearance, tolerance and a spirit of service and volunteerism.
Talking about the steps taken for the welfare of the people, Khan stated that his government allocated billions of rupees under Ehsaas Program to provide relief to the common masses.
Imran Khan reiterated to establish the rule of law, which is the most urgent of all challenges facing Pakistan.
Two alleged terrorists killed, cop martyred in Islamabad face-off
Two motorcyclists opened fire on policemen at a picket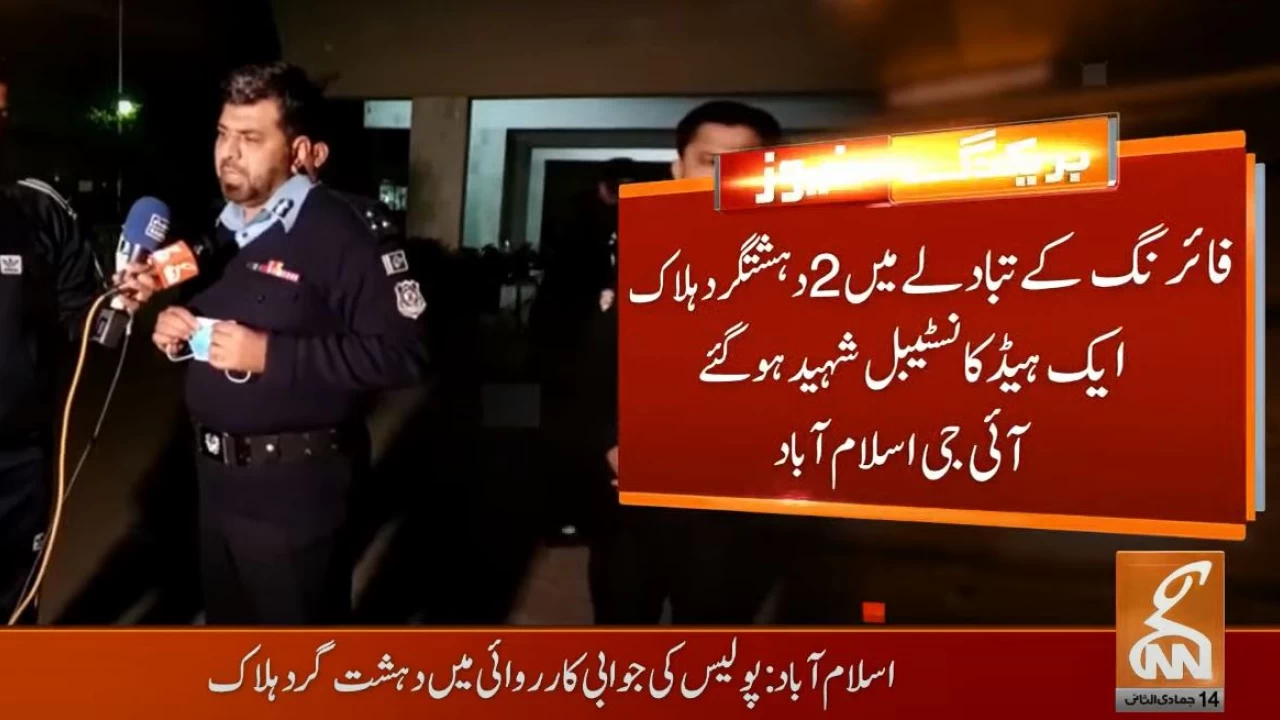 Islamabad: Two alleged terrorists were killed while a police head constable was martyred in crossfire between the police and suspects at a police picket on Monday, police said.
Some policemen were performing duty at Jilania police check post in Sector G-8 when two motorcylists reached there and opened fire on cops.
The exchange of gunfire led to killing of two suspects. A policeman also lost his life. Two other cops suffered injuries who were shifted to a state hospital.
Senior police officers rushed to the spot. Karachi Company police are dealing the case and collecting evidence from the crime scene.
The Islamabad police chief told reporters that the incident was reported at around 9:30pm.
The suspects, who were killed, were terrorists, he said, adding they were wearing bullet proof jackets.