Gold price further drops by Rs850 per tola in Pakistan
Precious metal lost Rs729 to fall to Rs106,953 per 10 grams in the domestic market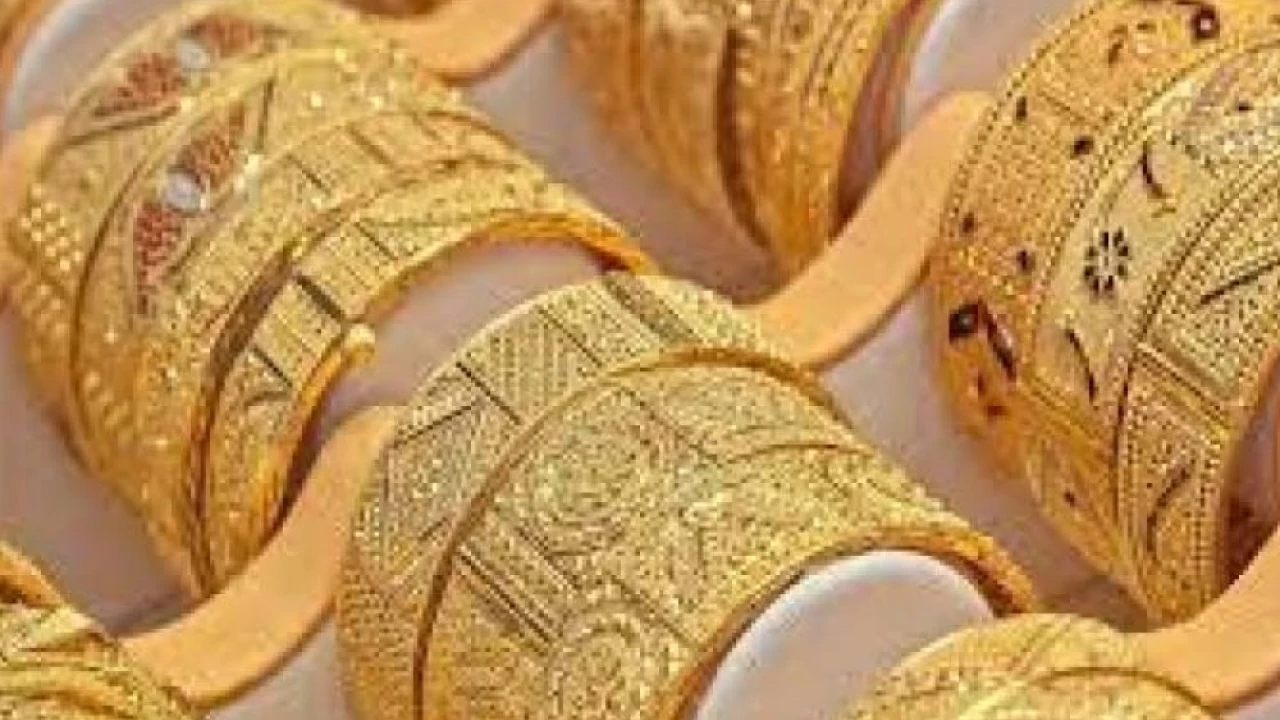 Karachi: The gold price on Friday further dropped during the consecutive third day by Rs850 per tola.
According to the All Sindh Sarrafa and Jewellers Association, gold price recorded a drop of Rs850 per tola, taking the precious metal to Rs124,750 in Pakistan.
The precious metal lost Rs729 to fall to Rs106,953 per 10 grams in the domestic market. 24k-gold is now selling at $1,818 per ounce.
Meanwhile, in the international market, it dropped by $1 to reach $1,821 per ounce.
On Thursday, the gold price recorded a drop of Rs100 per tola, taking the price to Rs125,600 in Pakistan. 24k-gold is now selling at $1,822 per ounce. Ten grams of gold dropped by Rs85 to trade at Rs107,682 on January 13.
It gained by $4 per ounce in the international market. Gold has recorded an increase of $24 in the last four days.
The precious commodity hit a record high of $2,074 an ounce in August 2020 and a five-month high of $1,874 on November 16. It reached a peak of Rs132,000 per tola in Pakistan on October 26.
Silver rate
Meanwhile, the rate of silver stayed unchanged in the local market. It is being sold at Rs1,450 per tola and Rs1,243.14 per 10 grams.
Iran captures two Greek tankers amid row over US oil grab
The United States had confiscated the Iranian oil cargo held onboard few days ago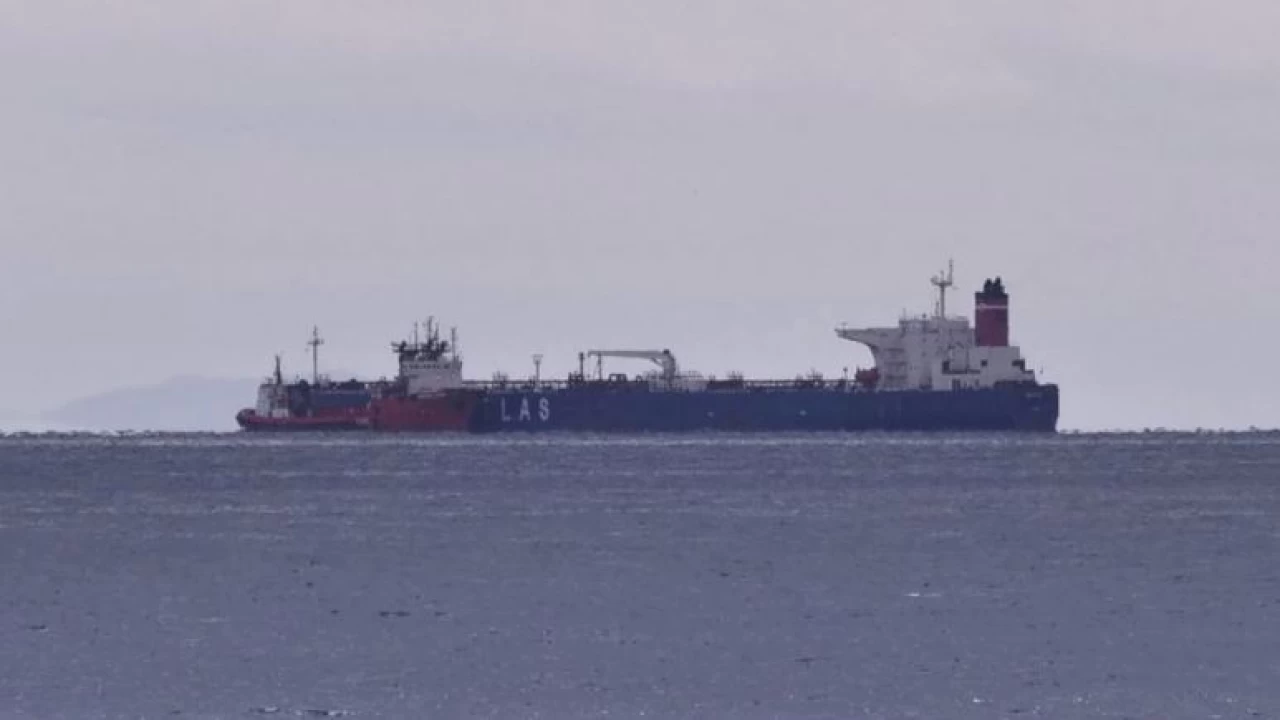 Iranian forces seized two Greek tankers in the Gulf on Friday, shortly after Tehran warned it would take "punitive action" against Athens over the confiscation of Iranian oil by the United States from a tanker held off the Greek coast.
"The Revolutionary Guards Navy today seized two Greek tankers for violations in Gulf waters," said a Guards statement, quoted by Iranian state news agency IRNA. It gave no further details and did not say what the alleged violations were.
Greece's foreign ministry said an Iranian navy helicopter landed on Greek flagged vessel Delta Poseidon, which was sailing in international waters, 22 nautical miles from the Iranian shore, and took the crew hostage, among them two Greek citizens.
It said a similar incident took place on another Greek-flagged vessel near Iran, without naming the ship, adding both actions violated international law and Greece had informed its allies, as well as complained to Iran's ambassador in Athens.
Greece-based Delta Tankers, which operates the Delta Poseidon, could not be immediately reached for comment.
Greek authorities last month impounded the Iranian-flagged Pegas, with 19 Russian crew members on board, near the coast of the southern island of Evia due to European Union sanctions.
The United States later confiscated the Iranian oil cargo held onboard and plans to send it to the United States on another vessel, Reuters reported on Thursday.
The Pegas was later released, but the seizure inflamed tensions at a delicate time, with Iran and world powers seeking to revive a nuclear deal that Washington abandoned under former President Donald Trump in favour of returning sanctions on Iran.
Earlier on Friday, Nour News, which is affiliated to an Iranian state security body, said on Twitter: "Following the seizure of an Iranian tanker by the Greek government and the transfer of its oil to the Americans, #Iran has decided to take punitive action against #Greece."
It did not say what kind of action Iran would take.
The Pegas was among five vessels designated by Washington on Feb. 22 - two days before Russia's invasion of Ukraine - for sanctions against Promsvyazbank, a bank viewed as critical to Russia's defence sector.
It was unclear whether the cargo was impounded because it was Iranian oil or due to the sanctions on the tanker over its Russian links. Iran and Russia face separate U.S. sanctions.
NUCLEAR TALKS
A maritime security source said the other tanker seized on Friday was the Greek-flagged Prudent Warrior. Its operator, Greece-based shipping firm Polembros, told Reuters there had been "an incident" with one of its ships, without elaborating, adding it was "making every effort to resolve the issue."
U.S. advocacy group United Against Nuclear Iran (UANI), which monitors Iran-related tanker traffic through ship and satellite tracking, said Prudent Warrior was carrying a cargo of Qatari and Iraqi oil, while the Delta Poseidon was loaded with Iraqi oil.
Each vessel was carrying approximately one million barrels, it said.
"This should have direct implications on the JCPOA (Iran nuclear) negotiations and further stalling any chances of reviving a deal," Claire Jungman, chief of staff at UANI, told Reuters.
A spokesperson with the U.S. Fifth Fleet in Bahrain said it was aware of the reported seizures and was looking into them.
Also on Friday, Iran summoned an envoy of Switzerland, which represents U.S. interests in Tehran, to protest against the Pegas oil seizure, the Iranian foreign ministry said.
"The Islamic Republic expressed its deep concern over the U.S. government's continued violation of international laws and international maritime conventions," state media quoted the foreign ministry as saying.
A spokesperson for the U.S. Department of Justice declined to comment on the oil seizure.
IRNA quoted Iran's Ports and Maritime Organization as saying the tanker had sought refuge along the Greek coast after experiencing technical problems and poor weather. It called the seizure of its cargo was "a clear example of piracy".
SOURCE: REUTERS
The United States on Wednesday imposed sanctions on what it described as a Russian-backed oil smuggling and money laundering network for Iran's Revolutionary Guards' Quds Force.
In 2019, Iran seized a British tanker near the Strait of Hormuz for alleged marine violations two weeks after British forces detained an Iranian tanker near Gibraltar, accusing it of shipping oil to Syria in violation of European Union sanctions. Both vessels were later released.
Pakistan committed to promote environment of peace, stability in South Asia
"Pakistan adheres to the latest international standards on export controls and maintains the highest standards of nuclear safety and security"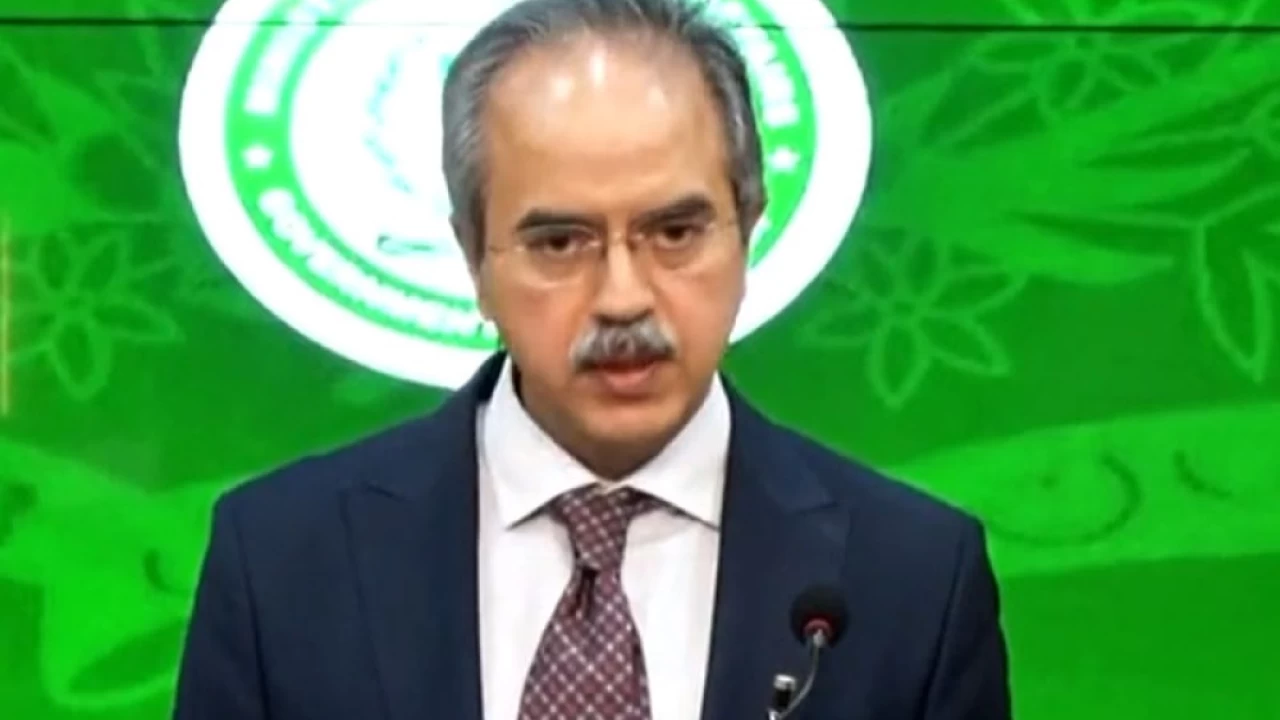 Islamabad: Pakistan is committed to the promotion of an environment of peace and stability in South Asia while preserving its capability to ward off aggression or adventurism in any form.
In a press release in connection with Youm-e-Takbeer being observed on Saturday, Foreign Office Spokesperson Asim Iftikhar said the tests conducted in 1998 not only demonstrated the resolve of the Pakistani nation to safeguard the country's territorial integrity, independence, and sovereignty, but also the desire to preserve strategic balance in South Asia.
He said we are partners in international efforts to strengthen the global non-proliferation regime based on the principles of non-discrimination and equal security for all states.
The spokesperson said Pakistan adheres to the latest international standards on export controls and maintains the highest standards of nuclear safety and security.
He also paid tributes to its scientists, engineers and technicians in ensuring Pakistan's security saying that the nation also deeply appreciates the contributions of Pakistan's nuclear programme to the country's socio-economic development.
Govt coalition agrees on name of Justice (r) Maqbool Baqar as Chairman NAB
The government believes the Opposition Leader will also support the government's pick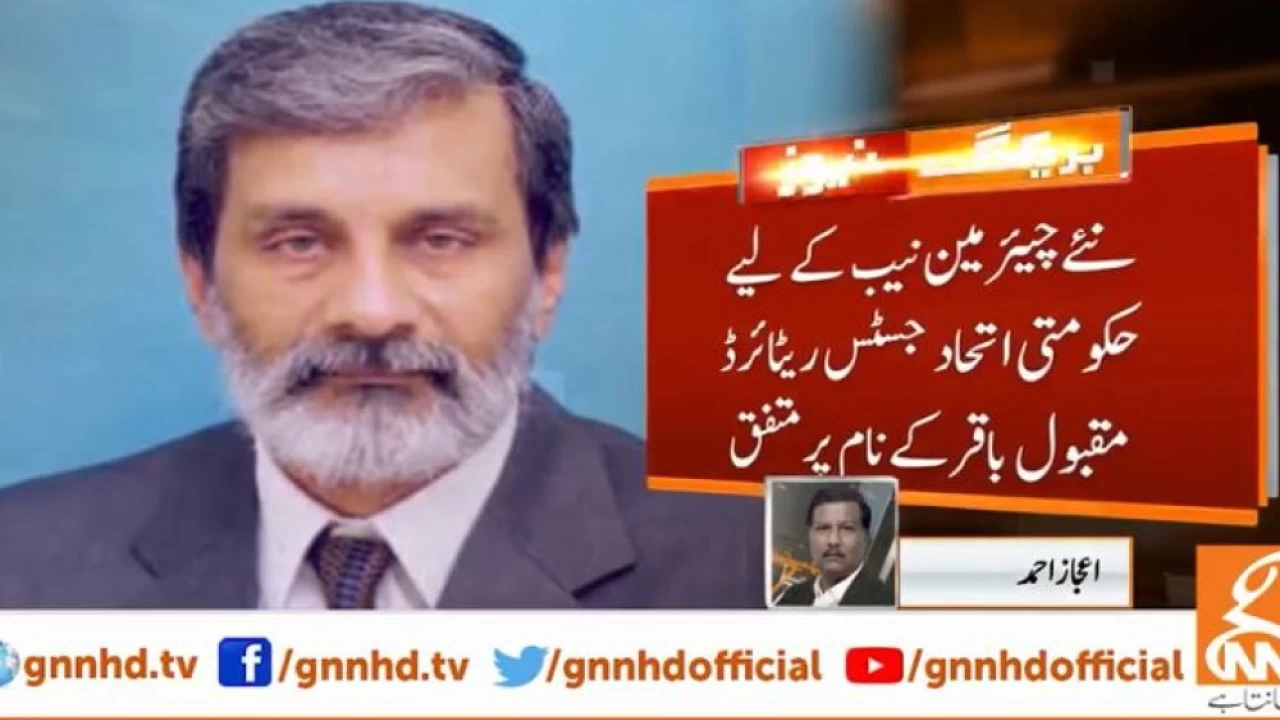 Islamabad: The government and its coalition partners have agreed on name of Justice (retd) Maqbool Baqar as the new Chairman of the National Accountability Bureau (NAB).
According to sources privy with the development, the name of a former Supreme Court judge came under discussion during a meeting of Prime Minister Imran Khan and former president Asif Ali Zardari.
Sources further said that Government believes the Opposition Leader of the National Assembly will also support the government pick as Maqbool Baqar's judicial career is spotless.
Government members are hopeful that if all goes smoothly, Justice (retd) Maqbool Baqar will be the new head of the anti-graft watchdog.