A climate scientist on how to recognize the new climate change denial
Delay, deflect, downplay, and other ways fossil fuel companies block climate action.
For the past dozen years or so, every time the United Nations General Assembly holds its annual session in New York City, climate activists hit Manhattan to protest outside. They call it Climate Week. And this week has been a big one, with tens of thousands of protesters demonstrating as part of the New York March to End Fossil Fuels.
After a summer of extreme weather, Vox's daily news podcast Today, Explained is tackling Climate Week with some help from a scientist — one who's been at the center of climate science since before it was cool, and has some ideas on how we can keep the planet from getting too hot.
Michael Mann is a professor at the University of Pennsylvania and author of the new book Our Fragile Moment: How Lessons from Earth's Past Can Help Us Survive the Climate Crisis. Mann is perhaps best known for the "hockey stick curve" in a 1998 paper he co-published about the planet's rapidly rising temperature after a mostly steady millennium.
Mann spoke with Today, Explained host Sean Rameswaram about his experience fighting climate denialism, and the new tactics that have emerged from the fossil fuel industry and the groups it supports. Read on for an excerpt of the conversation, edited and condensed for length and clarity, and listen to the full conversation wherever you find podcasts.
What is the hockey stick curve?
It was an estimate that we published 25 years ago now of how temperatures had varied over the past 1,000 years. We have widespread thermometer measurements that go back about a century and a half that tell us the planet has warmed up over that time period, a better part of 2 degrees Fahrenheit now. But what the short instrumental record doesn't tell us is how unusual that warming is. The shape resembles a hockey stick because there's the upturned blade, which is the dramatic warming of the past century and a half, which coincides, of course, with the Industrial Revolution and the burning of carbon and greenhouse gas pollution. But that blade emerges from a fairly flat preceding nine centuries. You might think of that as the handle of this upturned hockey stick. And so it got a name and because it really conveyed just how profound an impact we are having on the climate today, it became an iconic graph in the climate debate, and it led me to the center of that fractious debate.
Now, a lot of people don't see scientific papers in their day-to-day lives. How did people get exposed to your hockey stick graph? How did it become your greatest hit?
At the time that the hockey stick study was published, by the mid-1990s, there were a number of studies that really demonstrated quite definitively that we were warming the planet, but they were fairly technical. Whereas when we published the hockey stick curve in 1998, it told a very clear story. And it was widely reproduced. It became a symbol in the climate change debate because it told a simple story. I think in the scientific community, it was recognized as a landmark achievement, if I say so myself. But in the political realm, critics of climate science, [those with] fossil fuel interests, and those promoting an agenda of climate inaction saw the hockey stick as a threat because it did tell a simple story. It was easy to understand from looking at that graph that we were having this profound impact on the planet.
Where was the negativity coming from?
The usual suspects, and I document this in The Hockey Stick and the Climate Wars book that I wrote about my experiences some years ago. It was a virtual constellation of think tanks and front groups, most of which were tied to fossil fuel companies or conservative donors like the Koch brothers or the Scaife Foundations. Any time the finding of science has found itself on a collision course with powerful vested interests, those vested interests have often sought to discredit the science.
It sounds like you're talking about climate denialism here. Can you remind us about an era in which it was easy to say, "Yeah, none of that's happening. None of this is real."
Yeah. If you go back a couple of decades, as we sometimes say, the signal was still emerging from the noise. The science very clearly established that we were warming the planet and changing the climate in various ways. But in terms of public understanding, the public wasn't really seeing it yet in the form of the sorts of unprecedented extreme weather events that we're now seeing and the coastal inundation and droughts and heatwaves and wildfires and floods. It wasn't yet that apparent. There was still a window of opportunity for climate polluters and those promoting their agenda. There was really an effort to discredit the science, often by discrediting the scientists. And I found myself at the receiving end of personal attacks that were intended to discredit the hockey stick curve because it was perceived as such a threat.
What kind of attacks?
I received a white powder in the mail. The FBI had to come to my office. There was police tape over my office. They had to send out the sample to the lab to have it tested. It turned out it was cornmeal or something. It was intended to intimidate and scare me. And demands from conservative politicians that I be fired from my job at the University of Pennsylvania. Fox News, the Wall Street Journal, vilifying me to their audiences. It was a full-throttle effort to discredit me because of the threat of the hockey stick curve that I had published.
Okay, 25 years later, are you still being bullied?
Well, the battle has largely moved on. We've really evolved mostly past denialism because the impacts of climate change are staring us in the face. They've become so obvious we can see them play out in real time. And there is a resurgence, a superficial resurgence of denial, like on social media, Twitter, for example. But it's not real in the sense that the actual public survey work that's been done shows that it remains a fairly small fraction of the American public, roughly 10 percent, who are climate dismissives. So in reality, most people have moved on. The vast majority of the public gets it. They understand because they can see it, they can feel it. It's not like the fossil fuel industry has given up. They're still doing everything they can to prevent us from moving on. But they've largely moved away from [outright] denialism toward these softer denialist tactics.
What do you call it if it's not climate denialism anymore? What are we facing now?
So there are other D-words. There's delay. There's division. Get climate advocates fighting with each other about, like, whether they're vegans or not or whether they drive a car or not. Get climate advocates fighting with each other so you divide and conquer the movement. That's division. Delay: "Oh, look, we can fix the problem with geoengineering, with carbon capture down the road. Trust us, we'll be able to fix it." So "let us continue to burn fossil fuels now. We will fix it later." Delay. And that's what they want. They want people disengaged on the sidelines rather than on the front lines. We see these tactics literally playing out today.
There's an article that just recently appeared in the Wall Street Journal detailing how Rex Tillerson, the former CEO of ExxonMobil, who had been lauded as the next generation of Exxon leadership — he was not a climate denier. He accepted that climate change is real — there was a real effort by Tillerson and ExxonMobil at that time to present this public face of climate acceptance — because it had already become difficult to deny it was happening. People understood it was happening. It wasn't credible to deny it. And so it was, "Yes, we accept the science," but the D-word here is downplaying. And in the article, the Wall Street Journal makes it very clear, based on internal documents that show a different side of ExxonMobil and Rex Tillerson, that they were actively campaigning to downplay the detrimental impacts of the climate crisis while playing up techno fixes like geoengineering. In fact, Rex Tillerson was quoted saying that climate change is an engineering problem.
The idea here is, look, we can continue to extract and burn and sell and burn fossil fuels because we have all these techno fixes, other things that we can do to the climate system: trying to offset the warming by shooting particles into the stratosphere that reflect sunlight or dumping iron into the ocean to fertilize the algae that will take up the carbon dioxide, take it out of the atmosphere. Or massive carbon capture, we'll just suck the CO2 back out of the atmosphere. That can't be very hard, right? Well, actually, no. It's really expensive and really difficult to do. And so [there are] these very elaborate schemes to try to somehow put the genie back in the bottle rather than the obvious solution, which is to keep the genie in the bottle in the first place.
By which you mean what?
Not extracting and burning fossil carbon and putting it into the atmosphere.
And a lot of that would have to be on the individual because obviously, if individuals want to burn fossil fuels, this is a country where they're going to find someone willing to help them do so. How much of the climate delayism is being pushed on the individual at this moment?
It's a great point. And actually I would even classify that with a different D-word, what I call deflection, which is to say there's been an effort by the same bad actors to deflect the conversation away from regulation and the needed policies which will hurt their bottom line — carbon pricing, cap and trade, what have you — to redirect the conversation against those systemic changes and policies that will hurt them financially and turn attention instead to individuals. It's the same thing, for example, that the beverage industry did to try to prevent the passage of bottle bills. They didn't want deposits on bottles and cans, even though that was a systemic policy that would help clean up the countryside and get people to recycle. They didn't want that because it would hurt their bottom line.
So instead, they ran a campaign to convince us, and there's the famous Crying Indian commercial, early 1970s, the tearful Native American. It was an underhanded effort by the beverage industry to convince us that we didn't need regulation, we didn't need bottle bills.
That same playbook is being used today by carbon polluters. In the early 2000s, the very first widely used and publicized individual carbon footprint calculator, where you could calculate your carbon footprint and figure out how to change your lifestyle to make it smaller, was created and publicized by British Petroleum. British Petroleum wanted you so focused on your individual carbon footprint that you failed to note theirs.
That's why we need policies, because individuals can't put a price on carbon themselves. They can't block the construction of new fossil fuel infrastructure. These are all things that only our politicians can do. And so that's where we are today. Deflection remains one of the key tactics. And a lot of good people have fallen victim to it. A lot of environmentalists will tell you, yeah, the solution is just us decreasing our carbon footprint. "You need to become a vegan, you can't have children, you shouldn't fly." Ironically, that framing helps the fossil fuel industry even more because it plays to this notion on the right that climate action is about controlling people's lifestyles.
You're reminding me of one of my favorite Onion headlines from, I don't know, 2010, I think, which was, "'How bad for the environment can throwing away one plastic bottle be?' 30 million people wonder." This isn't completely on the individual. But if 300 million Americans woke up tomorrow and said, "I never want to put gas in my car ever again," that would change the world.
That's absolutely true. One of the things that we understand, though, is that people in general won't make voluntary decisions to change their lifestyle in a way that would appear to impact their quality of life unless there's some incentive. And that's why you need a financial incentive. It needs to be cheaper for people to purchase energy that's not warming the planet and destroying the environment. Because right now we've got our thumb on the wrong end of the scale. And so you need that price signal. You need policies that will collectively move everybody in the right direction without them having to actively think about it.
I want to ask you about another D-word that I think is related to the lack of policies that are going to make enough of a difference to save this planet. And that, of course, is doom. Climate doomerism.
Yeah. And doomism has actually been weaponized by bad actors to convince even environmentalists that, "Hey, it's too late to do anything anyway, so you might as well just give up trying to solve the climate crisis." People who are ostensible climate advocates and environmentalists insist that it's too late, and we just have to accept our fate. There are events, like mass extinction events in the past, that some of these doomists will point to and say, "Look what happened to the dinosaurs, what happened during the so-called Great Dying 250 million years ago when 90 percent of all species died out because of a massive release of carbon into the atmosphere through an episode of massive volcanism, that's happening today." There are prominent actors in the climate space who are literally making this claim. And they're doing so by misrepresenting what the record of Earth history actually tells us about those events. We are at a fragile moment. We're not yet past the point of no return. But if we don't take substantial action and do so immediately, then we are due for some of those potential worst-case scenarios. So it is still up to us.
So it sounds like you're not a doomer.
I'm not. If the science indicated that it was too late for us to prevent the worst consequences of climate change, I would have to be truthful as a scientist about that. Fortuitously, that's not what the science does tell us. So I can in good faith be out there trying to explain that to people.
Is there a D-word out there that we haven't talked about — not denialism, divisionism, delayism, doomism, deflection — that people can attach themselves to in a moment where critical decisions that are made could really shift the outcome?
Yes ... We have to be determined now to take the actions that are necessary while we still can. Let's be clear. We should all do everything we can within the constraints of our own lifestyles to minimize our environmental impact and to minimize our carbon footprint. But the most important thing an individual can do is to use their voice and their vote, because the policies that we need in place to decarbonize our economy, to lower carbon emissions by 50 percent over the next decade, the only way we can accomplish that is with policy. And so we need to vote for politicians who will do what's right by us and act on climate, rather than the politicians who too often are simply acting as rubber stamps for polluters.
Why Volodymyr Zelenskyy had to go to Washington
The Ukrainian president seeks support for the same fight, but under different circumstances.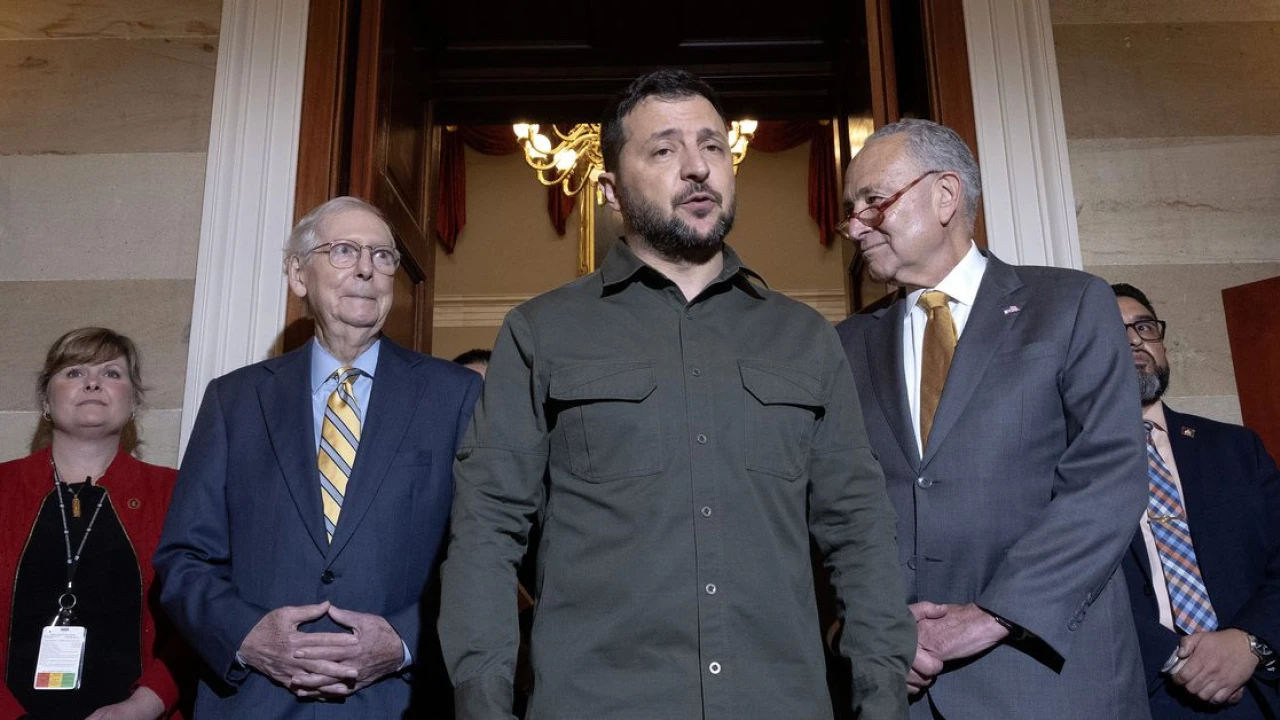 Ukrainian President Volodymyr Zelenskyy is visiting the White House and Congress on Thursday — but under decidedly different circumstances than when he arrived less than a year ago.
Zelenskyy is seeking to shore up support as Ukraine is struggling to achieve a breakthrough in its counteroffensive. The objective Ukraine is targeting — to essentially divide up Russian-controlled territory — was always going to be extremely challenging. And now time is running short, as fall turns to winter, when fighting will become much more difficult. At the same time, Russia has continued bombarding Ukraine, overnight unleashing missiles on major cities like Kyiv and Kharkiv, and even Lviv, in the west, far from the front lines. Those attacks damaged energy infrastructure, an echo of Moscow's campaign last year to try to undermine Ukraine's economy and its population's resolve.
Russia's invasion continues, as does the suffering and devastation that it has wrought. That hasn't changed, but the future trajectory of the conflict is a lot less clear — which is why Zelenskyy, after trying to rally the world to Ukraine's cause at the United Nations in New York, is meeting face-to-face with his backers in Washington.
That may be the biggest difference from last year: the question-mark over future Western support for Ukraine, and what that might mean for Ukraine's ability to sustain its defense against Russia. On the whole, the United States and Europe have continued to provide financially and militarily to Ukraine. Yet the splits are beginning to show. It's not clear how big or significant they will be, but Zelenskyy doesn't want to reach the point where Ukraine has to find out.
The political dynamics abroad may change the course of war in Ukraine
When Zelenskyy visited Washington last December, Congress was considering another huge billion-dollar package of aid to Ukraine. This time, the Biden administration is pushing Congress to pass another $24 billion in aid to Ukraine. Then, as now, the package has bipartisan support, save for a vocal group of Republicans who have criticized the "blank check" to Kyiv.
That assistance package did pass last year, but the skepticism of Ukraine aid has intensified among this set of Republicans. They are questioning Ukraine's counteroffensive progress against Russia, and where all this money is going. This has also become a leverage point in the GOP's internal feud that could shut down the US government.
Some House Republicans remain optimistic; Michael McCaul (R-TX), the House chair of the Foreign Affairs Committee, said Thursday that "we will get it done."
But even if this Ukraine aid package does get done, it will likely come after more short-term drama, and maybe even a government shutdown, which is probably not going to make any partners who rely on the US confident about its reliability.
And Zelenskyy apparently made no secret to lawmakers as to how much Kyiv relies on that support. As Senate Majority Leader Chuck Schumer (D-NY) said in Thursday floor remarks: "To quote President Zelenskyy in the room, and this is a quote, he said: 'If we don't get the aid, we will lose the war.' That's a quote from President Volodymyr Zelenskyy. That's how stark the issue is."
This funding request is also not likely the last US political hurdle for Ukraine. The GOP primary debates have showcased the views of Ukraine skeptics, including the frontrunner, Donald Trump, who claims he has a plan to end the war. This strain in the GOP, then, is probably not going away, and may morph beyond battles over Ukraine funding into fundamentally questioning the US's position on Ukraine. As Zelenskyy said in an interview this week, if Trump has a peace plan, he should share it. But, Zelenskyy added: If "the idea is how to take the part of our territory and to give Putin, that is not the peace formula."
There are also some worrisome signs among Ukraine's other partners. Western solidarity has not been perfect throughout Russia's invasion, but it's largely held up amid domestic political fights, an energy crisis, and inflation. But none of that is permanent.
Right now, Poland, Hungary, and Slovakia have defied EU rules and banned Ukrainian grain exports, saying they are flooding the market and undermining their farmers. Ukraine has filed a complaint at the World Trade Organization against that move, including against Poland, perhaps Kyiv's staunchest supporter in the Western alliance to date.
On Thursday, Poland's prime minister said it was done sending weapons to Ukraine amid this grain dispute. It's not clear exactly how the policy will play out; US National Security Advisor Jake Sullivan said Thursday that he believes that Poland continues to stand behind Ukraine. But it shows that support for Ukraine is not unconditional.
At the heart of this feud, too, is Russia's withdrawal from the Black Sea grain deal and its continued blockade of the Black Sea. Ukraine is still trying to get grain out through its sea ports, but it is risky, especially as the region becomes an increasingly volatile front in the war. But Russia can continue to use this as a pressure point, strangling Ukraine's economy, probing a sore spot in Ukrainian-Polish relations, and potentially disrupting global food prices.
And right now, it seems Russia can continue to expose these pressure points.
The conflict feels entrenched right now, but the stakes are as high as ever
At the United Nations, Zelenskyy called on the world to "act united to defeat the aggressor." Soon after, Moscow unleashed an aggressive air campaign against Ukrainian cities. Russia almost seemed to be sending a message: Try us.
Russia is not exactly winning, but it is also not defeated. Its winter offensive largely failed to achieve its objectives, and there are plenty of doubts as to whether Russia is capable of trying another offensive next year. But Moscow's defensive lines proved formidable against Ukraine's advances. Kyiv may be degrading Russian forces and logistics, but Moscow also has tools Ukraine doesn't have, like the ability to pound Ukrainian forces from the air with attack drones and guided bombs, straining Ukraine's air defense capabilities and exploiting Kyiv's lack of air superiority.
Russia probably wouldn't be calling up North Korea if it didn't really need more munitions and weapons, and sanctions will continue to deplete its ability to wage war in the long-term. But Russia is still finding ways to fight, and even seeking to retake some territory as Ukraine focuses on its counteroffensive. President Vladimir Putin has, so far, survived the biggest challenge to his power to date, and then that challenger's plane fell out of the sky — a sign, at least for now, that Putin is still in control and will continue waging his war.
Yet Ukrainian forces could still make a decisive push into Russian territory in the coming weeks. Last September, Ukraine liberated huge swaths of Kharkiv, and later, in November, forced a Russian retreat in Kherson. That momentum bolstered Western support, and, maybe, along with that Zelenskyy visit, helped convince the West to provide Kyiv things like missile defense systems and battle tanks.
Kyiv has adapted and changed throughout the conflict, because it knows the stakes of this war, which are existential. Kyiv switched tactics in its summer counteroffensive when its initial blitz failed, and Ukrainian troops have had success — and might have more still — degrading Russian forces. Ukraine is developing capabilities to take the fight directly to Moscow, with drones and sabotage operations. This is the case Zelenskyy is making in Washington: that Ukraine can win, and it will win. But Kyiv's backers have to stay the course.
What a defense ministry shake-up may say about Ukraine's corruption problem
The removals come two weeks after the removal of the defense ministry and as Ukraine seeks to shore up global support.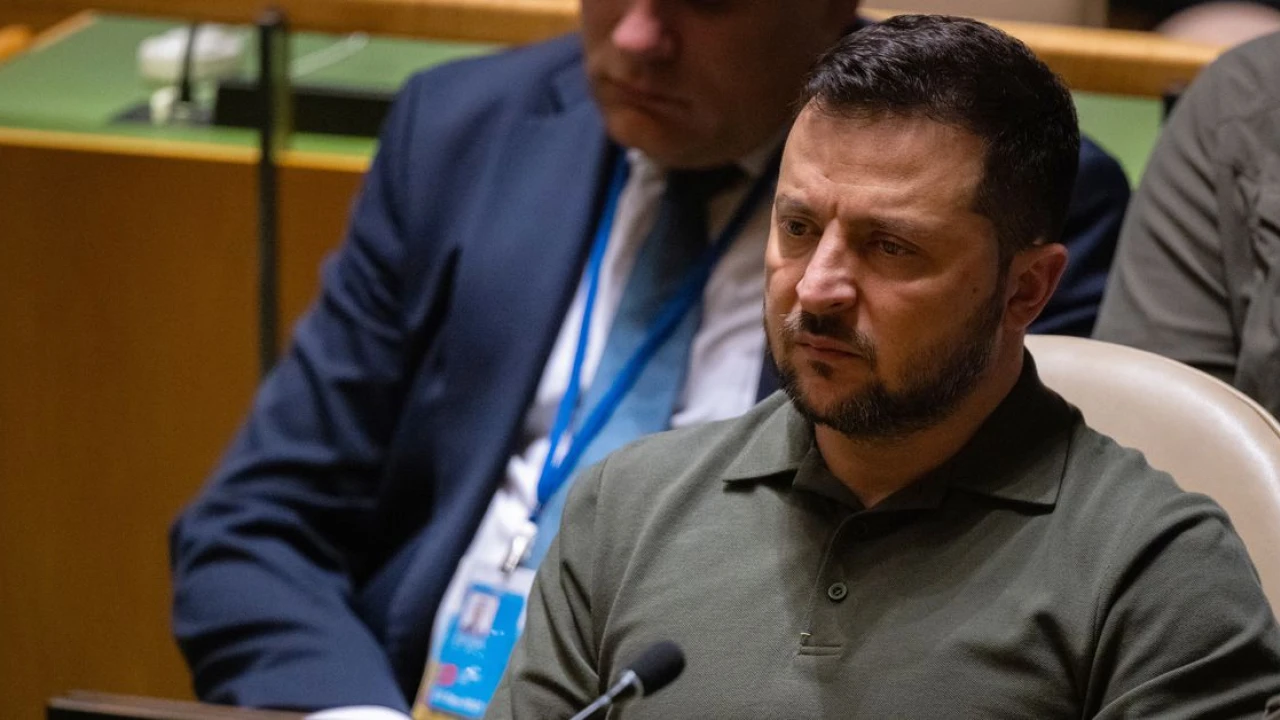 Ukraine is shaking up its defense ministry, removing all six deputy ministers, as President Volodymyr Zelenskyy travels to the United Nations and Washington to shore up support and aid.
The purge comes after Zelenskyy replaced Ukraine's defense minister Oleksii Reznikov earlier this month. That was a very visible upheaval, arriving in the middle of Kyiv's ongoing counteroffensive, and came amid ongoing allegations of corruption and financial mismanagement within the military.
The latest Ministry of Defense dismissals are likely a continuation of that attempt to clean house, although the ministry did not give a reason for the removals, nor did it directly connect it back to Reznikov's dismissal. (Reznikov himself was not directly implicated in any scandals.) Some outlets have pointed out that staff changeovers are not unusual when a top official leaves; the new Minister of Defense was likely going to put in his own team anyway.
Still, these latest shake-ups are likely a message that Ukraine is taking any hint of corruption or mismanagement seriously and wants to signal renewed leadership at the defense ministry. The removal also comes at an inauspicious time: as Zelenskyy seeks to assure partners, including in the United States, that Kyiv is responsibly managing billions in military, security, and economic assistance.
The graft allegations previously swirling around the defense ministry shake-up haven't directly implicated misuse of Western aid, and past oversight hasn't found any evidence of misuse. But Ukraine has previously struggled to root out high-level corruption and bolster the rule of law, despite Zelenskyy promising to do so when he was elected in 2019. Ukraine's backers in the United States and Europe had put pressure on Kyiv for nearly a decade to deal with these issues, especially as a condition for Ukraine's invitation into Western institutions.
Russia's full-scale attack last year shunted some of those corruption concerns aside as the urgency of Ukraine's war effort consumed Zelenskyy's government, its Western backers, and even some of Ukraine's watchdog organizations.
The problem of systemic graft, however, never fully dissipated. And as the war goes on — and it may go on much, much longer — it is a reputation that Ukraine is very much trying to avoid, especially as it relies on uninterrupted Western aid and as it continues to make the case that it belongs in institutions like the EU and maybe even NATO.
This shake-up sends a message, but Ukraine's corruption issues are still a challenge
This is not the first major personnel change since the war began, and graft accusations had lingered around the defense department for some time before the departure of Minister Reznikov earlier in September.
Back in January, allegations that the Ministry of Defense had overseen inflated prices for food contracts led to a major personnel shake-up and arrests. In August, Zelenskyy fired the heads of the military recruitment offices over allegations that these officials had taken bribes to enable draft dodgers. Ukrainian media and anti-corruption activists have continued to expose scandals related to the military procurement processes, including a recent investigation from ZN.UA that the Ministry of Defense ordered overpriced jackets for the troops from a company tied to a member of parliament's nephew.
But the departure of these deputy defense ministers comes as Ukraine is at a bit of a crossroads militarily and diplomatically.
Ukraine is waging its counteroffensive, which is making slow progress. Kyiv has made some key gains in recent days, though the operation is largely still an attritional battle. A breakthrough could still happen, but Ukraine will continue to need sustained military, security, economic, and humanitarian support.
The United States and many of its Western partners have continued to provide, but there are some quiet cracks in that assistance. The US has maintained bipartisan backing from Ukraine, but a very vocal wing of the Republican Party — including some running for president — has questioned that level of aid and investment in Ukraine. Some US Republicans have used examples of past corruption to challenge the Biden administration's support for Kyiv. European support for Kyiv is very strong, but divisions over things like the transport of Ukrainian grain could also threaten its solidarity. This is why President Zelenskyy is making the rounds at the United Nations — and making an essential pit stop in Congress.
Along the way, Kyiv wants to make it very clear that aid is being allocated effectively, responsibly, and appropriately. It wants to make the case that as countries continue to invest in Ukraine — including putting resources into ramping up production for weapons and artillery — this is also a long-term downpayment on a democratic Ukraine.
This is a case to make to outsiders but also to those within Ukraine. Daria Kaleniuk, the executive director of the Anti-Corruption Action Center in Ukraine, said that across Ukrainian society, support is high to expose corruption, even if it poses a risk of breaking trust with Ukraine's partners. "People believe in and [are] encouraging the exposing of corruption even during wartime. People have very low tolerance to corruption. People see Ukraine as an EU and NATO member — and this is what we're fighting for."
As Kaleniuk pointed out, the Ministry of Defense will oversee the procurement of lethal and nonlethal aid as this war continues, and it needs to be able to make effective and sound decisions. The military operations run through Zelenskyy, so any personnel changes shouldn't affect the day-to-day operations of the counteroffensive, but ministry responsibilities — like buying food and supplies and equipment — can influence the battle. Those jackets for Ukrainian troops did not just have inflated prices, they were also apparently supposed to be for cold-weather wear, but ended up being lightweight coats, according to Ukrainian media reports.
So yes, Ukraine wants to make it clear that it is stamping out corruption. But there are still a lot of questions about exactly how Ukraine is approaching its anti-corruption campaign. Firing or replacing officials is one thing, but Zelenskyy has proposed making wartime corruption a treasonous offense. This would put more power in Ukraine's security forces, which some critics and watchdogs fear will diminish the authority of the independent investigative bodies. This could potentially backfire, undermining the rule of law and independent judiciary, and create lasting damage to the institutions that Ukraine (and the West) sought to build up. The president's office also oversees the security services, which could lead to Zelenskyy consolidating power, with the security services potentially used to shield the president's allies and tamp down scandals that may be embarrassing for Zelenskyy.
War, no matter who is doing the fighting, tends to be fertile ground for corruption. The chaos of conflict — lots of rapid procurements, an influx of funds, and supplies moving through many hands — increases the potential for graft. Ukraine is no exception, but it faces the additional challenge that corruption permeated its government institutions even before Russia's invasion.
There's still a lot unclear from these shake-ups, but it does hint that Ukraine's corruption problem — and the perception of that corruption problem — still threatens to undermine Kyiv's war efforts, within Ukraine and without.