Pakistan, China reaffirm commitment to CPEC
Foreign Office Spokesperson Mumtaz Zahra Baloch has said the affirmation to this effect was made during the Third Round of Pakistan-China Bilateral Political Consultations held in Beijing.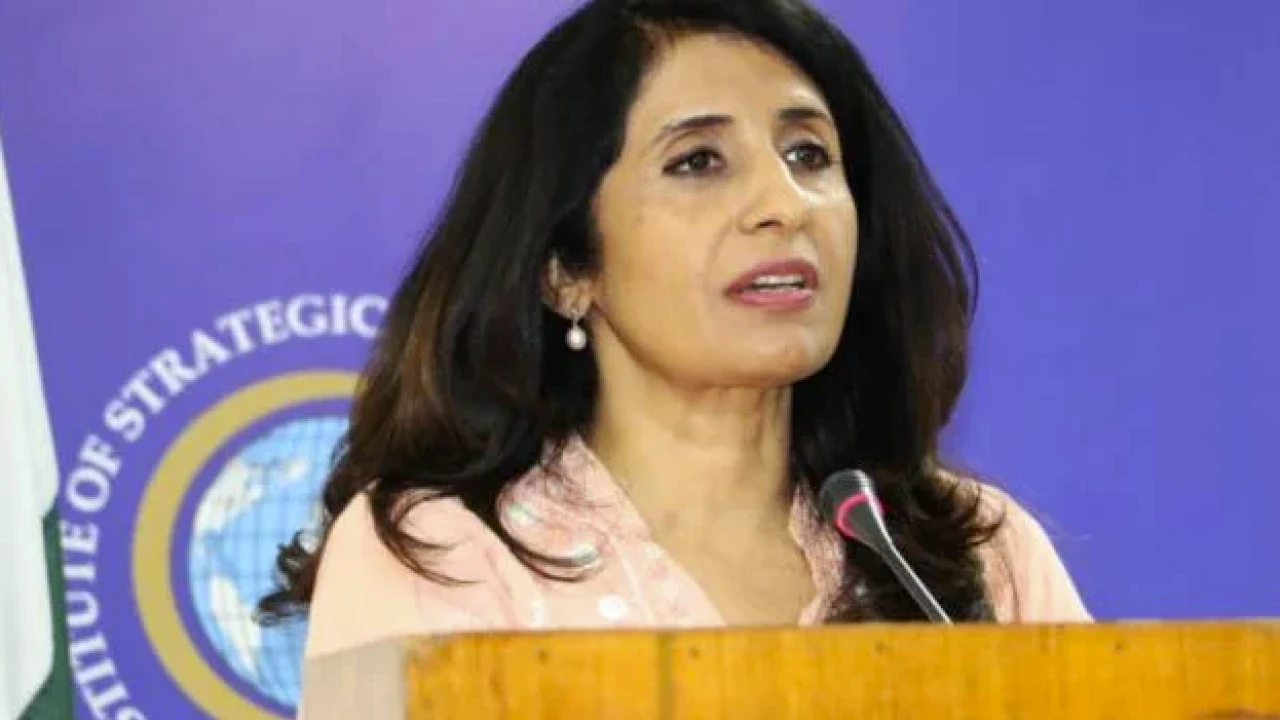 Islamabad: Pakistan and China on Friday reaffirmed their commitment to China-Pakistan Economic Corridor and agreed to remain engaged in its expansion.
At her weekly news briefing in Islamabad today, Foreign Office Spokesperson Mumtaz Zahra Baloch said the affirmation to this effect was made during the Third Round of Pakistan-China Bilateral Political Consultations held in Beijing.
She said the two sides also agreed to expand and reinforce political and security cooperation, bilateral trade, economic and financial cooperation, cultural exchanges, tourism, and people-to-people ties.
The Spokesperson urged India to stop suppression of journalists and human rights defenders and its policy of stifling freedom of expression and assembly in the occupied territory.
Pakistan, Afghanistan to play first T-20I match tonight
Both Pakistan and Afghanistan will lock horns at Sharjah ground at 9pm.
Dubai: The first T-20 of three-match series between Pakistan and Afghanistan will be played in Sharjah tonight.
The match will start at 9 pm Pakistan Standard time.
Earlier today, Pakistan named a dynamic XI for the first of the three T20Is against Afghanistan at the Sharjah Cricket Stadium on Friday. Opener Saim Ayub, middle-order batter Tayyab Tahir and right-arm quicks Zaman Khan and Ihsanullah will make Pakistan debuts. Top-order batter Abdullah Shafique, all-rounders Faheem Ashraf and Imad Wasim, and Azam Khan mark their returns to the Pakistan side.
These eight players were named in the 15-member squad for this T20I series after a string of impressive performances in the domestic circuit and the recently-concluded HBL Pakistan Super League 8. The series comes with an opportunity for these players to carry their form in international cricket.
Karachi-born 20-year-old Saim will open with Mohammad Haris, who has played five T20Is for Pakistan and announced his arrival in the last ICC Men's T20 World Cup in Australia with his blazing strokeplay and bold intent, and has batted with him in Peshawar Zalmi during the HBL PSL 8. Saim comes into the side after a highly impressive run for Sindh and Peshawar Zalmi.
The left-hander played an integral role in crowning Sindh the National T20 champions as he made 416 runs in 12 matches at a strike rate of 155.22. He smashed 341 runs – that included five half-centuries, the joint-most in the season with Babar Azam – at a strike rate of 165.53 for Peshawar Zalmi in this HBL PSL at the top of the order.
Speaking ahead of his debut, Saim told PCB Digital: "Whatever I had done in my life was to achieve this jersey and now I want to do justice with this opportunity. There's excitement and an element of nervousness as well as I never expected to play for Pakistan this early. But, since I have gotten this opportunity, I am going to do my best.
"It is very important to give a good start to your team in T20 cricket no matter what opposition you are playing. You have to assess the conditions quickly and make your presence count and that's what I will be planning to do with Haris. We have been playing together in Peshawar Zalmi and we were batchmates as well. We enjoy good chemistry and our playing style is also similar – we look to dominate the opposition. So, it will be fun to play with him."
Abdullah and Tayyab make number three and four respectively. Abdullah, who has played three T20Is with his last being in December 2020 in New Zealand, comes into the side after making 268 runs at 144.08 for champions Lahore Qalandars. He scored two half-centuries, the last being in the final against Multan Sultans.
Tayyab has been in good touch over the last year. He marked his HBL PSL 8 debut with a whirlwind 65 and made 137 runs at 144.21 and was the best batter of the Pakistan Cup, that concluded in January. He also bagged player of the final award for his match-winning 71 for Central Punjab. He made 708 runs in first-class Quaid-e-Azam Trophy at an average of 59 and recorded four centuries and one half-century.
"Whenever a cricketer starts his journey, he idolises the ones who wear the national colours and dream of doing the same," Tayyab said. "I am grateful to Almighty that I have been provided the opportunity to serve my country. My parents are going to be very happy when they see me play.
"There will definitely be some nerves when I play for Pakistan, but I will be able to overcome them as I have been playing competitive and quality cricket at domestic level and in the HBL Pakistan Super League. I am very excited to make my Pakistan debut."
The middle-order comprises captain Shadab Khan, Azam, Faheem and Imad.
Azam scored 282 runs at a staggering 161.14 for Islamabad United this HBL PSL. His highest score of 97 came against Quetta Gladiators at the National Stadium Karachi. This will be 24-year-old's fourth T20I.
Faheem, Azam's HBL PSL teammate, provided balance to the side with his contributions with bat and ball. He made 215 runs at 149.30 and took eight wickets at an economy of 9.50 – in a league that has had the best run rate (9.20) in the last one year for any major T20 tournament around the world.
Imad's nine wickets for Karachi Kings came at an average of 28.22 and an economy of 7.93, but it was his sensational batting that turned heads as the left-hander scored 404 runs at a phenomenal average of 134.66 and a staggering strike rate of 170.46. The 34-year-old has an experience of 58 T20Is in which he has 55 wickets at an average of 23.49. His economy is 6.33.
Experienced speedster Naseem Shah will spearhead the pace attack that includes newcomers Zaman and Ihsanullah.
Zaman was outstanding with the new and old ball in the Powerplay and death overs and he is expected to execute the same role in Pakistan colours on Friday. He moves the ball in the air at the start of the innings and keep the batters guessing in death with his wily variations.
He defended 13 off the last over to help Lahore Qalandars to their second straight HBL PSL title and took 15 wickets at 23.60 runs per dismissal and an economy of 8.53 in the recent season. "It was my goal to play for my country and I am about to achieve it," Zaman, who hails from Mirpur, said. "I am very excited and will give my best for my team. I have had a good HBL PSL 8 and that will definitely help me a great deal over here.
"The presence of Umer [Gul, bowling coach] bhai has helped me immensely. We discussed how every pitch is different and spoke in detail, about the behaviour of Sharjah wicket. He told me that hitting the hard length will be helpful. I will definitely keep that in mind."
In Ihsanullah, Pakistan have a reliable pace bowler to carry them through the middle-overs. The right-arm pacer's thunderbolts kept batters on backfoot throughout the HBL PSL 8 as he peppered every opposition with lethal bouncers. Ihsanullah was the first bowler in the tournament to pick a five-wicket haul and he went on to finish the tournament as the best player and best bowler for taking 22 wickets (the second most) at only 15.77 runs apiece and he leaked only 7.59 runs in the 45.4 overs he bowled, the most for a bowler with top-five wickets.
"My parents wanted me to play for Pakistan and I am delighted that their dream is coming true," Ihsanullah, who belongs to the village of Matta in Swat, said. "Definitely my experience of the HBL PSL will come in handy. There were players from all around the world and even from Afghanistan and I learned a great deal bowling to them, so it is going to be useful.
Pakistan XI for first Afghanistan T20I: Saim Ayub, Mohammad Haris, Abdullah Shafique, Tayyab Tahir, Shadab Khan (c), Azam Khan (wk), Faheem Ashraf, Imad Wasim, Naseem Shah, Zaman Khan and Ihsanullah
The second T-20 will be played on Sunday while the third to be played on Monday.
President confers military awards on armed forces personnel
President conferred Star of Good Conduct on the martyrs of the Pakistan Army.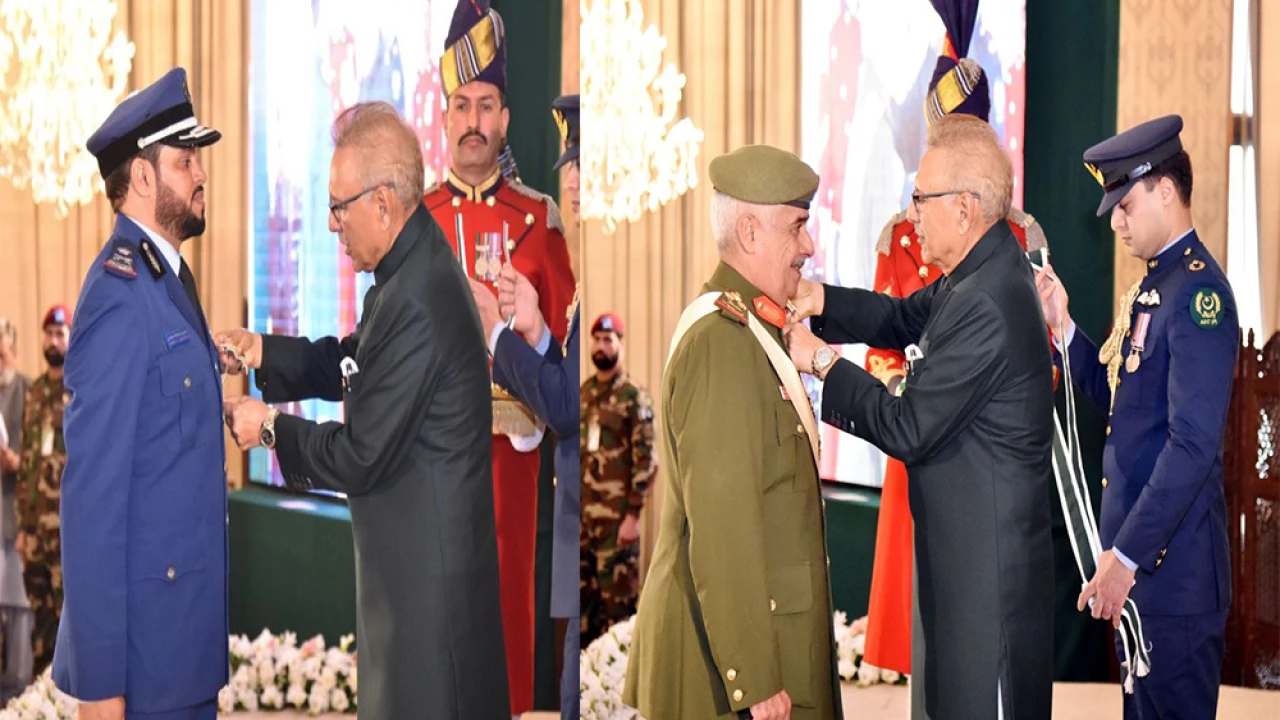 Islamabad: President Dr. Arif Alvi on Friday conferred military awards on the serving and martyred armed forces personnel at a Pakistan Day investiture ceremony held here at the President House.
A total of 49 officers and soldiers of the Pakistan Army, Navy and Air Force received the military awards including the families of four martyred troops in the categories of Order of Excellence, Crescent of Excellence, and Star of Good Conduct. Two foreign dignitaries from friendly countries also received prestigious awards.
Commander of Bahrain National Guards Shaikh Mohammed Bin Salman Al-Khalifa was awarded Order of Excellence (military) and Defence Attache of Saudi Arabia Major General (Pilot) Staff Awad Bin Abdullah Alzahrani was given Crescent of Excellence (military) in recognition to their illustrious services of strengthening defence ties with Pakistan.
The president conferred Star of Good Conduct on the martyrs of the Pakistan Army in recognition of their velour demonstrated while fighting terrorists in operation areas.
The awards were received by the family members of the martyrs, including Major Shujaat Hussain (30 Baloch Regiment, martyred in Angoor Adda, South Waziristan); Captain Bilal Khalil (Army Medical Corps, martyred in Noshki, Balochistan); Captain Faheem Abbas (72 Punjab Regiment, martyred in Jani Khel area of Bannu); and Sepoy Muhammad Waqas (18 Frontier Force Regiment, martyred in North Waziristan).

President conferred Crescent of Excellence (military) on Air Marshal Chaudhry Ahsan Rafiq (Air Headquarters), Air Marshal Waqas Ahmed Sulehri (AHQ), Maj Gen Khurram Nisar (Joint Services HQ), Maj Gen Qamar un Nisa Chaudhry (Army Medical Corps), Maj Gen Irfan Ali Mirza (AMC), Maj Gen Muhammad Rafiq Zafar (AMC), Rear Admiral Javed Iqbal (Naval Headquarters), Rear Admiral Muhammad Sohail Arshad (NHQ), Rear Admiral Salman Ilyas (NHQ), Air Vice Marshal Muhammad Nadeem Sabir (AHQ), Maj Gen Syed Khurram Shahzad (AMC), Maj Gen Bilal Umair (AMC).
Maj Gen Muhammad Wasim (AMC), Maj Gen Muhammad Suhail Amin (AMC), Maj Gen Ariq ur Rehman Sulehria (AMC), Maj Gen Muhammad Aleem (AMC), Air Vice Marshal Salman Abbas Shah (AHQ), Maj Gen Muhammad Avais Dastgir (GHQ), Maj Gen Ahmed Sharif Chaudhry (JS HQ), Rear Admiral Muhammad Faisal Abbasi (NHQ), Maj Gen Omar Ahmed Bokhari (GHQ) were also included in the recipient of Crescent of Excellence.
Moreover, Maj Gen Inayat Hussain (GHQ), Maj Gen Kamal Azfar (Frontier Works Organization), Maj Gen Muhammad Aamer Najam (National Defence University), Maj Gen Adil Yameen (GHQ), Maj Gen Fahim Amer (Inter Services Intelligence), Maj Gen Shahid Manzoor (JS HQ), Maj Gen Muhammad Kashif Azad (ISI), Maj Gen Tabassum Habib (GHQ), Maj Gen Kamran Ahmed Satti (GHQ), Maj Gen Adil Rehmani, Maj Gen Muhammad Hassan Khattak (ISI), Maj Gen Muhammad Shuja Anwar (General Officer Commanding), Maj Gen Majid Jahangir (JS HQ) recived the award.
Maj Gen Azhar Waqas (Rangers), Maj Gen Asif Mahmood Goraya (Army Air Defence), Maj Gen Akif Iqbal (ISI), Maj Gen Rashid Mahmood, Maj Gen Muhammad Irfan (GOC), Maj Gen Dilawar Khan (JS HQ), Maj Gen Abdul Moeed (GOC), Rear Admiral Muhammad Saleem (NHQ), Air Vice Marshal Shams ul Haq (AHQ), Maj Gen Chaudhry Muhammad Qamar ul Haq Noor, and Air Vice Marshal Muhammad Qaiser Janjua (AHQ) were awarded with Crescent of Excellence .