Party position: Past and present in Senate
After completion of the much-hyped Senate election process, the opposition has currently emerged with a statistical majority in the upper house—Senate.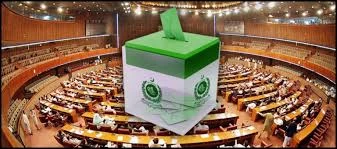 Now, all eyes are now set on the coming election for the two key offices of Senate chairman and deputy chairman.
After staging an upset in the Senate elections, the opposition parties have managed to retain their majority in the upper house of parliament and are now hopeful of getting the top offices of chairman and deputy chairman for which elections through secret balloting will be held on March 12.
After results, a hung Senate has emerged. In the current situation, after elections on 48 seats of the Senate, the opposition has 53 whereas government alliances have 47 members in the 100-member Senate.
The ruling party PTI bagged 18 new seats, including the five that had been elected unopposed, earlier in Punjab and taking numbers to 25.
Meanwhile, the PPP managed to have eight new senators elected against as many who retired and maintaining figure at 21.
The PML-N lost ground and managed to clinch only five new seats that it had earlier won uncontested in Punjab, against 17 of its senators who retired. The number of seats for PML-N dropped from 29 to 18.
Another party that managed to gain ground was the Balochistan Awami Party (BAP) — an ally of the ruling PTI — which secured six more seats and increasing its ranks from 10 to 13 in the Senate.
Voting under the supervision of the Election Commission of Pakistan (ECP) was held in which 78 candidates contested from Sindh, Khyber Pakhtunkhwa, Balochistan and Islamabad.
Party wise position in Senate:
2021
| | |
| --- | --- |
| Parties | Seats |
| PTI | 25 |
| PPP | 21 |
| PML-N | 18 |
| BAP | 13 |
| Others | 23 |
2018
| | |
| --- | --- |
| Parties | Seats |
| PTI | 14 |
| PPP | 21 |
| PML-N | 29 |
| BAP | 10 |
| Others | 26 |
Following candidates are among the winners, as per unofficial and unverified results:
Islamabad
Yousuf Raza Gilani — PPP (General)

Fozia Arshad — PTI (Women)
Palwasha Khan — PPP (Women)

Saleem Mandviwalla — PPP (General)

Sherry Rehman — PPP (General)

Farook Naek — PPP (Technocrats)

Saifullah Abro — PTI (Technocrats)

Khalida Ateeb — MQM-P (Women)

Jam Mahtab Dahar — PPP (General)

Taj Haider — PPP (General)

Faisal Vawda — PTI (General)

Faisal Subzwari — MQM-P (General)

Shahadat Awan — PPP (General)
Sania Nishtar — PTI (Women)

Falak Naz — PTI (Women)

Dost Muhammad Khan — PTI (Technocrats)

Hamayun Mohmand — PTI (Technocrats)

Gurdeep Singh — PTI (Minorities)

Shibli Faraz — PTI (General)

Mohsin Aziz — PTI (General)

Liaquat Khan Tarakai — PTI (General)

Faisal Saleem Rehman — PTI (General)

Zeeshan Khanzada — PTI (General)

Hidayatullah Khan — ANP (General)

Attaur Rehman — JUI-F (General)
Sarfaraz Bugti — BAP (General)

Manzoor Ahmed — BAP (General)

Prince Ahmed Umer Ahmedzai — BAP (General)

Maulana Abdul Ghafoor Haideri — JUI-F (General)

Muhammad Qasim — BNP (General)

Abdul Qadir — Independent (General)

Umer Farooq — ANP (General)

Saeed Ahmed Hashmi — BAP (Technocrats)

Kamran Murtaza — JUI-F (Technocrats)

Naseema Ehsan — Independent (Women)

Samina Mumtaz — BAP (Women)

Danesh Kumar — BAP (Minorities)