US basketball star goes on trial in Russia on drug charges
Brittney Griner was formally told at this first hearing that she was charged with intentionally importing narcotics into Russia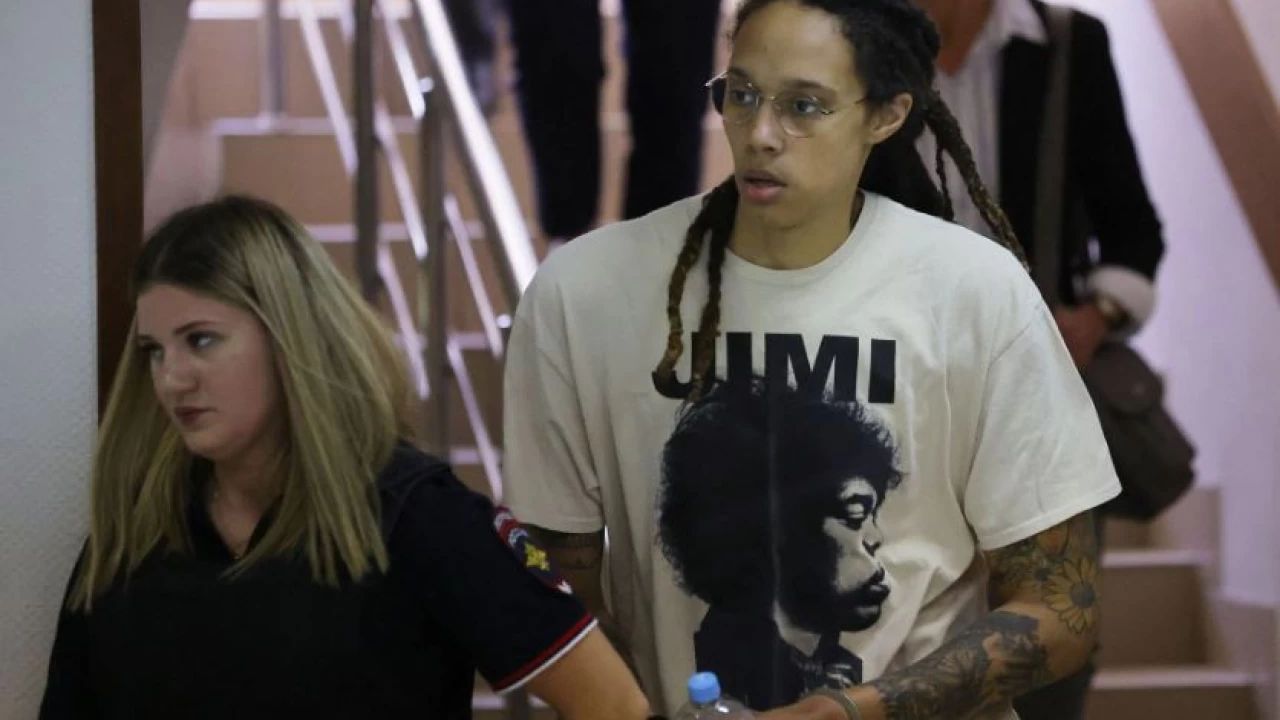 US basketball star Brittney Griner went on trial in a court on the outskirts of Moscow on Friday to hear drug charges that could see her serve up to 10 years in a Russian jail.
Griner, 31, was formally told at this first hearing that she was charged with intentionally importing narcotics into Russia. She spoke to say she understood the charges. The judge set the next hearing for July 7.
Griner, who has played regularly in Russia as well as in the U.S. Women's National Basketball Association (WNBA), was arrested at a Moscow airport in February, allegedly with vape cartridges containing hashish oil in her luggage.
The case takes place against a backdrop of high tension between Moscow and Washington over the conflict in Ukraine. U.S. officials say Griner has been detained wrongfully.
Griner arrived at Khimki City Court, near Sheremetyevo Airport, in handcuffs shortly after noon (0900 GMT), wearing a Jimi Hendrix T-shirt and sneakers without laces.
Three employees of the U.S. embassy, including deputy chief of mission Elizabeth Rood, were present in the courtroom. Griner sat in the defendant's cage with a plastic bag of cookies and a bottle of mineral water.
Griner told a Reuters reporter she was finding detention hard because she could not speak Russian, and that she was unable to keep up her fitness because she could do only general exercises such as stretching.
Her lawyers declined to say how she planned to plead.
'TOUGH LADY'
"She is a bit worried because she has the trial and the sentencing in the close future. But she is a tough lady. I think that she will manage," lawyer Alexander Boykov said after the hearing.
Rood said the United States was working very hard to bring Griner home: "She asked me to convey that she is in good spirits and is keeping up the faith."
Asked about the case, Kremlin spokesman Dmitry Peskov denied it was politically motivated.

"I can only operate with known facts, and the facts indicate that the eminent athlete was detained with illegal drugs that contained narcotic substances. There are articles in Russian legislation that provide for punishment for such crimes," he told reporters. "Only the court can pass a verdict."
U.S. officials and numerous athletes have called for the release of Griner - or "BG" as she is known to basketball fans.
Some have expressed concerns that Moscow could use the two-time Olympic gold medallist to negotiate the release of a high-profile Russian in U.S. custody.
Griner, a centre for the Phoenix Mercury, had played for UMMC Ekaterinburg in the Russian Women's Basketball Premier League to boost her income during the WNBA off-season, like several other U.S. players.
Some have left the Russian league since Griner's detention and Russia's military intervention in Ukraine, while the WNBA regular season kicked off in May.
Reached by email on Friday, the WNBA said it did not have an immediate statement.
Griner's wife, Cherelle Griner, told CNN in an interview on Thursday that she hoped for a meeting with U.S. President Joe Biden, saying: "I would love for him to tell me he cares."
"The rhetoric and the actions don't match," she said.
U.S. Secretary of State Antony Blinken said in a statement that he had "no higher priority" than bringing home Griner and other "wrongfully detained Americans."
"We won't stop working until they are reunited with their loved ones," he said.
U.S. Representative Colin Allred, a Democrat on the House Foreign Affairs Committee who has met with State Department staff handling Griner's case, told CNN it was important for Griner's supporters to continue public pleas for her release.
"At one point the best thing to do was to try to keep this out of the headlines," he said. "Now we are at the point where outside political pressure, outside global pressure... hoping that every single kind of pressure can help."
The U.S. government has warned citizens against travelling to Russia in light of the "potential for harassment against U.S. citizens by Russian government security officials".
SOURCE: REUTERS
COAS General Bajwa arrives in UK
The Army Chief will also call on military leadership of United Kingdom during the visit.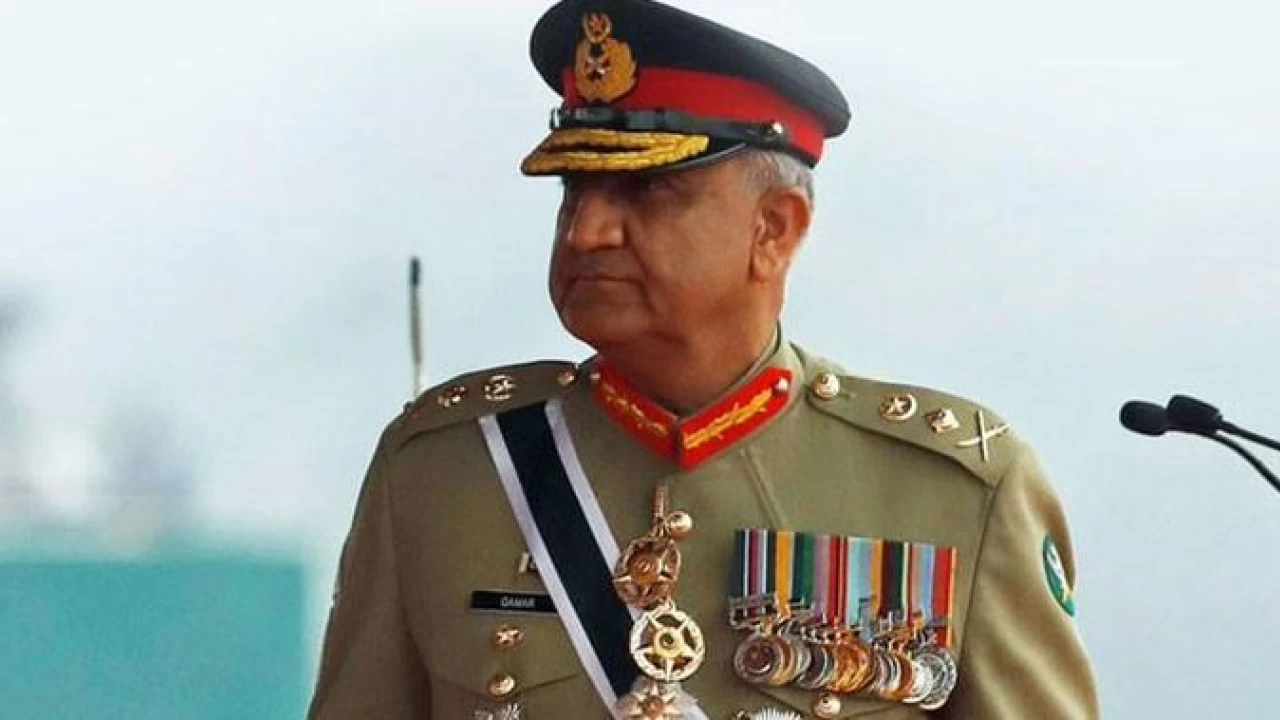 London: Chief of Army Staff ( COAS) General Qamar Javed Bajwa reached United Kingdom on an official visit.
During the visit, he will be attending the Passing-out Parade at Royal Military Academy, Sandhust as Chief Guest.
The Army Chief will also call on military leadership of United Kingdom during the visit.
Real Madrid defeat Eintracht Frankfurt to win fifth UEFA Super Cup
"It wasn't an easy game"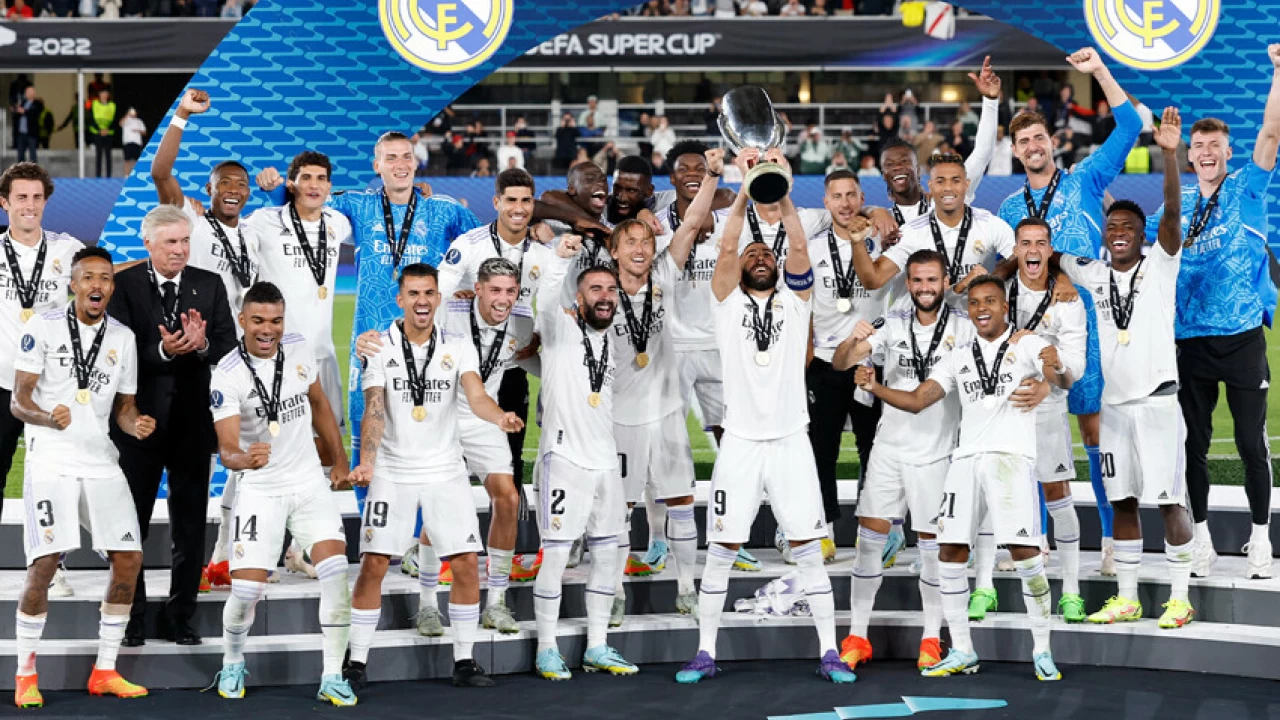 Helsinki: Goals from David Alaba and Karim Benzema gave Real Madrid a 2-0 victory over Eintracht Frankfurt and a fifth UEFA Super Cup on Wednesday.
While Frankfurt were dangerous, particularly in the first half, Madrid's experience and individual quality saw them through, as it did so often in their victorious 2021-22 Champions League campaign.
"It wasn't an easy game, they were entrenched in their own half, but we managed to score and we controlled it well afterwards," Real Madrid manager Carlo Ancelotti told Movistar TV.
"At the start of the season, you can't expect the team to be already at 100 percent, but we won and we have started the season well. I believe it can help us achieve better results and winning helps motivate the players."
It was a particularly memorable evening for veteran French striker Benzema whose goal took him to 324 for the Spanish side, one more than Raul.
Only Cristiano Ronaldo, who scored 450, has more Real goals than Benzema.
"Now he's in line for the Ballon d'Or. Is there any doubt? For me, no," added Ancelotti.
Frankfurt had the best of the early stages, with Madrid keeper Thibaut Courtois forced into a stunning anticipation save when one-on-one with Daichi Kamada in the 14th minute.
Madrid almost got their first, when Benzema released Vinicius to curl past Kevin Trapp in the penalty box, only for Tuta to clear the ball off the line.
With Madrid dominating possession, Frankfurt mounted several counter-attacks until Madrid launched a counter of their own in the 37th minute.
A diving Trapp got his fingertips to a goal-bound shot by Vinicius, pushing the ball out for a corner.
From the ensuing play, Benzema linked with Casemiro just next to the right post.
The Brazilian sucked in several Frankfurt defenders and a diving Trapp, before heading back to an unmarked Alaba who scored from close range.
After the goal, Madrid stepped it up a gear and should have gone 2-0 up, with Benzema uncharacteristically dragging the ball wide with the goal begging in the 41st minute.
Vinicius, Benzema connect
Madrid's quality became more obvious in the second half, with Trapp saving a deflected Vinicius shot in the 54th minute and Casemiro hitting the crossbar with 61 minutes gone.
Borussia Dortmund loanee Ansgar Knauff had a chance saved just minutes later, before Vinicius and Benzema combined to put Madrid 2-0 up.
Vinicius skated down the left before slicing the ball back seemingly unsighted for the Frenchman to hammer home from the edge of the box.
Frankfurt fought hard in the closing stages but Madrid were able to dominate the game to win their fifth Super Cup from eight attempts.
Alaba praised his team's determination to continue their stellar form from last season.
"We were here to win and to collect the next title… We want to pick up where we left off last season," Alaba told RTL.
"It's always nice to score goals – it doesn't happen so often for me."
Frankfurt captain Sebastian Rode lamented his side's failures to take their opportunities.
"Against the Champions League winners you have to take your chances. We didn't take ours in the decisive moments," he told broadcaster DAZN.
The clash, in Helsinki's Olympic Stadium, was the first time these two sides had met in a European decider since 1960, when Madrid dismantled Frankfurt 7-3 through four goals to Ferenc Puskas and three to Alfredo di Stefano in the European Cup final.
The match also highlighted the growing gap between the Champions League and Europa League competitions, with Madrid being the ninth Champions League team to win the competition in the past 10 years.
Only city rivals Atletico Madrid have won the Super Cup when qualifying via a Europa League win in the past decade, having done so by beating Real in the 2018 edition.
SOURCE: AFP
Rain with wind and thundershower expected in most parts of country
Heavy falls are likely at scattered places in Khyber Pakhtunkhwa, Upper Punjab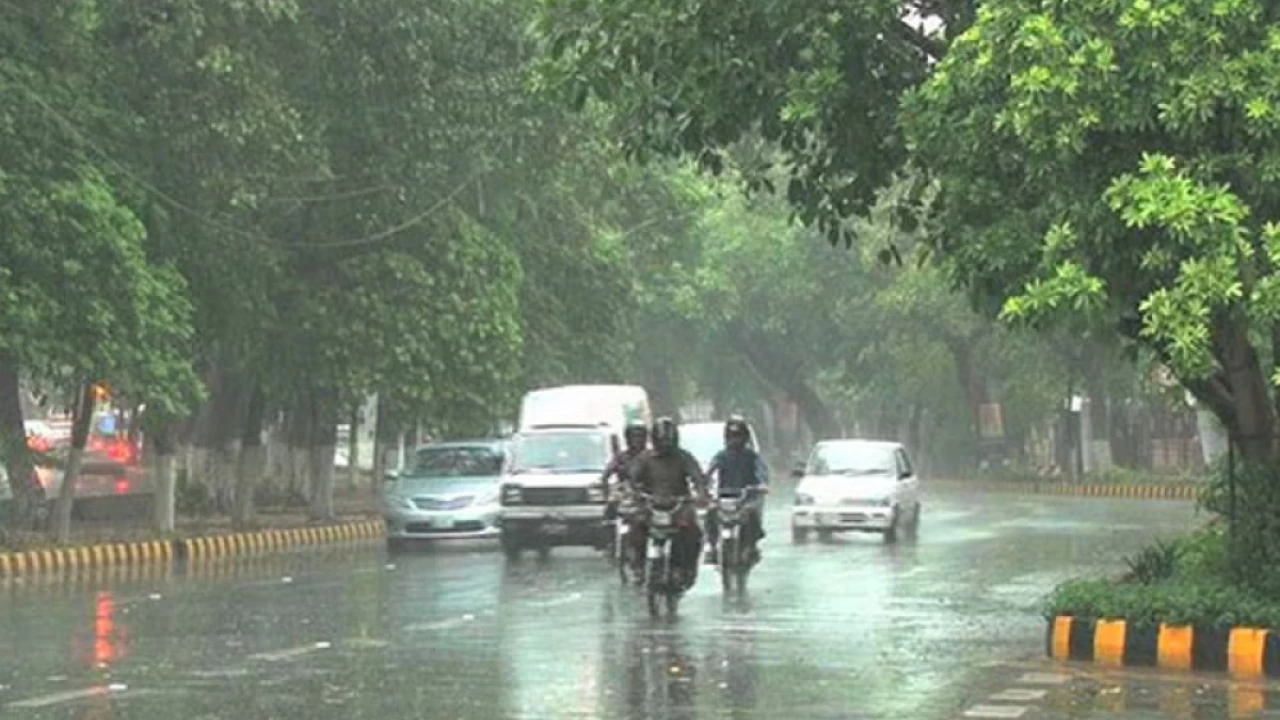 Islamabad: Rain with wind and thundershower is expected in Khyber Pakhtunkhwa Kashmir, Punjab, Sindh, northeast south Balochistan and Gilgit-Baltistan.
However, heavy falls are likely at scattered places in Khyber Pakhtunkhwa, Upper Punjab and Kashmir, while at isolated places in south Balochistan during the period.
Temperature of some major cities recorded on Thursday morning:
Islamabad and Karachi twenty-eight degree centigrade, Lahore twenty-nine, Peshwar thirty, Quetta and Muzafarabad twenty-five, Gilgit twenty-one and Murree eighteen degree centigrade.
According to Met Office forecast for Indian Illegally Occupied Jammu and Kashmir, partly cloudy weather with chances of rain-wind-thundershower is expected in Srinagar, Jammu, Leh, Pulwama, Anantnag, Shopian and Baramulla.
Temperature recorded this morning:
Srinagar, Anantnag and Baramulla twenty- one degree centigrade, Leh fifteen, Pulwama twenty and Shopian twenty-two degrees centigrade.