PM assures full assistance to flood-hit people
The Prime Minister was briefed on the ongoing rescue and relief operation in the affected areas.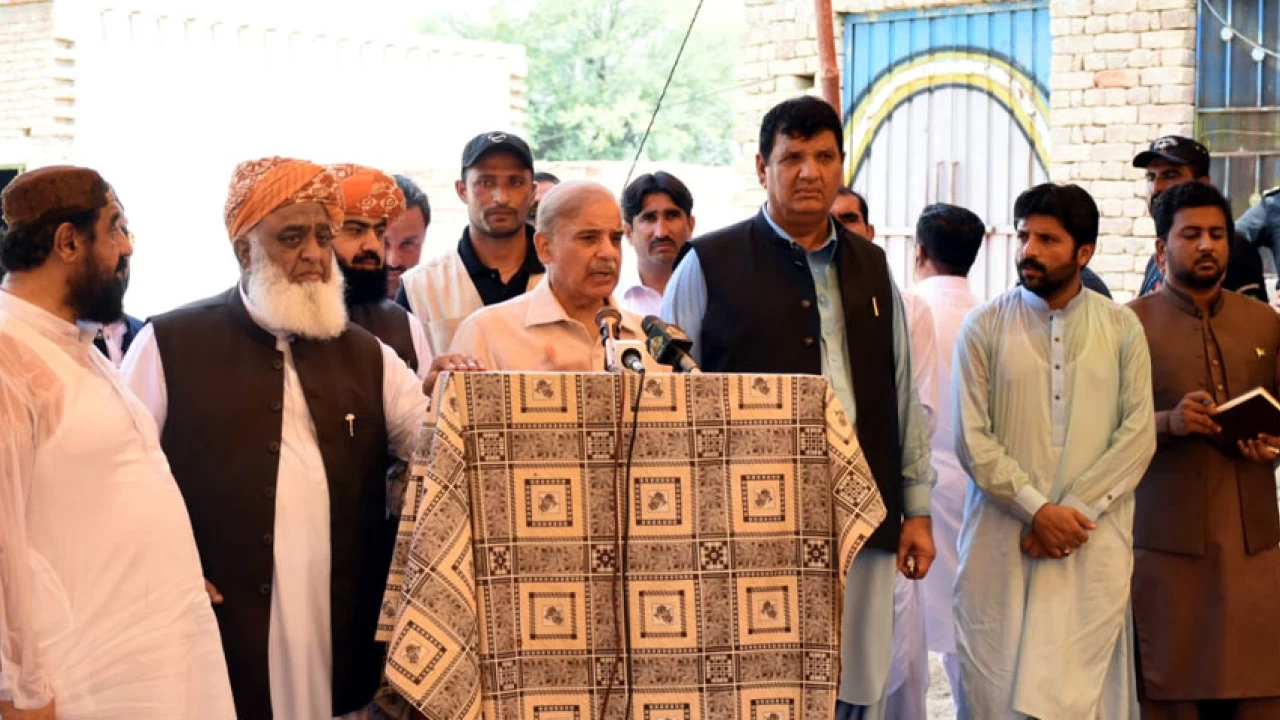 Islamabad: Prime Minister Muhammad Shehbaz Sharif has assured the flood-hit people of federal government's full support and cooperation in these difficult times.
He was talking to the affected people during his visit to the flood-hit areas of District Dera Ismail Khan and Tank of Khyber Pakhunkhwa, today.
The Prime Minister was briefed on the ongoing rescue and relief operation in the affected areas.
Muhammad Shehbaz Sharif, speaking on the occasion called for mutual understanding and cooperation between the Khyber Pukhtunkwa and the Federal government in relief and rehabilitation activities.
He announced one million rupees for the heirs of the each individual who lost their lives in floods.
Shehbaz Sharif said infrastructure of the flood affected areas will be revamped at the earliest.
He lauded the role of National and Khyber Pakhtunkhwa Disaster Management Authorities in the natural calamity.
Speaking on the occasion JUI-F Chief Maulana Fazal Ur Rehman said construction of Gomal Zam Dam is need of the hour as it will help avoid flood related issues and its water will be used for irrigation purposes.
Prime Minister is accompanied by Federal Minister for Communication Maulana Asad Mehmood and Advisor to PM Ameer Maqam.
Filling of nomination papers for NA-31 continues: EC
Election Commission is conducting by-elections on NA-31 on September 25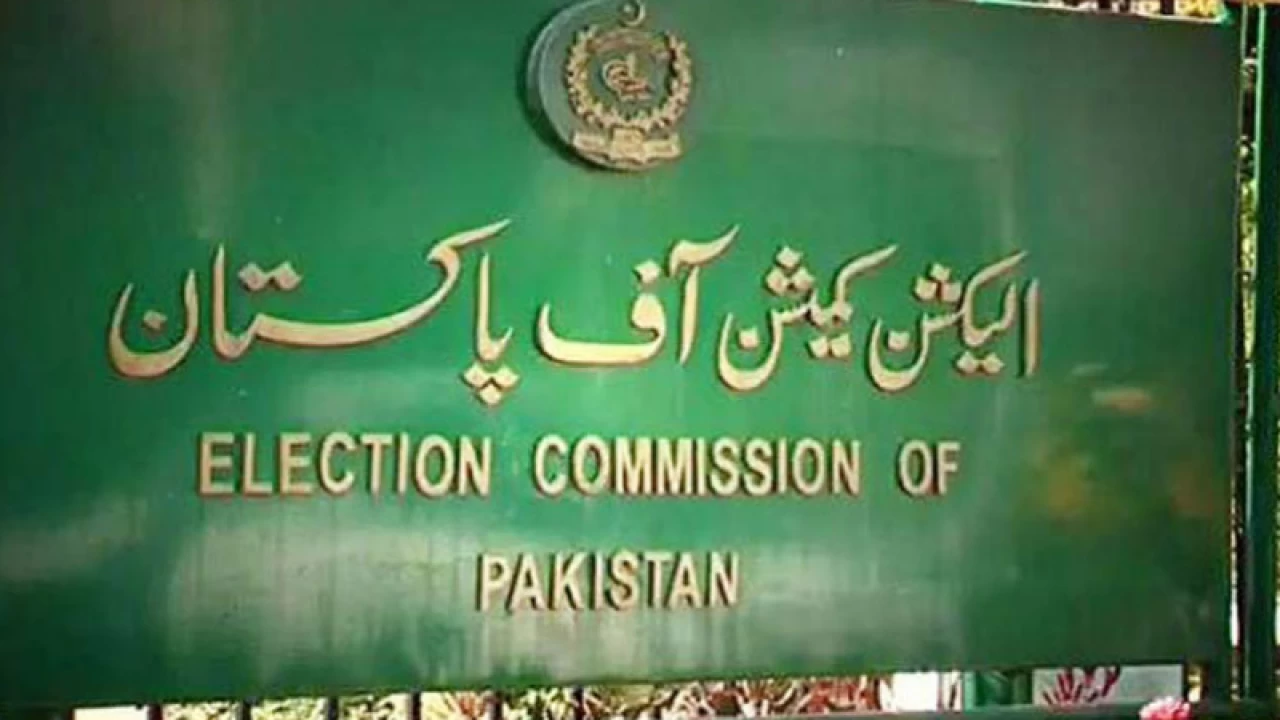 Peshawar: Vacant seat of Constituency NA-31 of National Assembly from Peshawar candidates of various political parties are continuing to submit nomination papers for vacant seats, an official of the Election Commission said here Saturday.
The official disclosed that on behalf of former Prime Minister Imran Khan, Haji Shaukat Ali has submitted the papers.
This seat has become vacant after the acceptance of the resignation of Shaukat Ali, a member of the National Assembly of PTI.
Election Commission is conducting by-elections on NA-31 on September 25.
'We will have achieved real freedom by next Independence Day': Imran Khan
The PTI chairman announced to hold countrywide anti-government rallies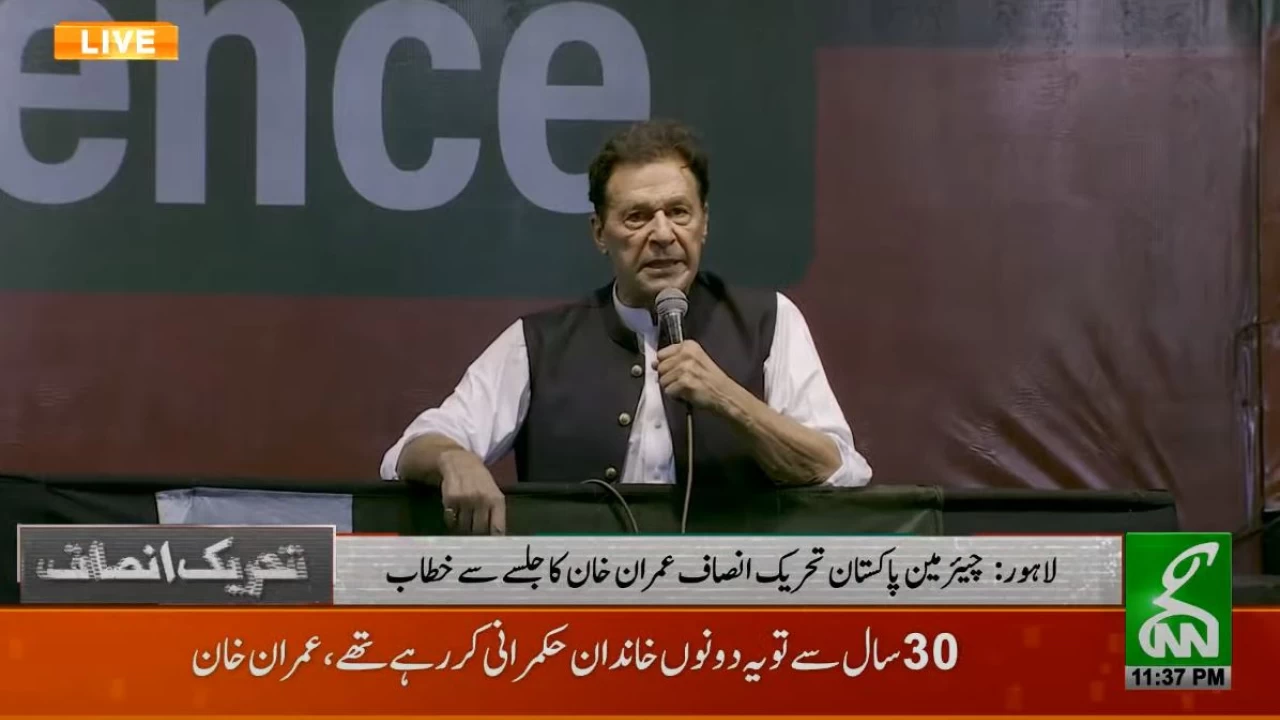 Lahore: PTI Chairman and former prime minister Imran Khan Saturday said he wasn't against the US, and that he wanted friendship and not slavery.
Addressing a a large public meeting cum rally at the Lahore's National Hockey Stadium, Khan said Quaid-e-Azam had said that Muslims always struggled for freedom.
The party celebrated the 75 years of Pakistan's independence marked with fireworks and traditional songs.
The PTI Chairman said he had decided to "go to the people", starting from Rawalpindi, followed by Karachi, Sukkur, Hyderabad, Islamabad, Peshawar, Mardan, Attock, Abbottabad, Multan, Bahawalpur, Sargodha, Jhelum, Gujrat, Faisalabad, Gujranwala, and Quetta.
"Today I have to give you a road map of real freedom, that country is lucky in which there are fanatical intelligent youth and whose mothers and sisters have the passion for freedom."
The PTI chief said his character assassination had been continuing for the last 26 years, but "look at the glory of Allah, today a large number of people have come for solidarity".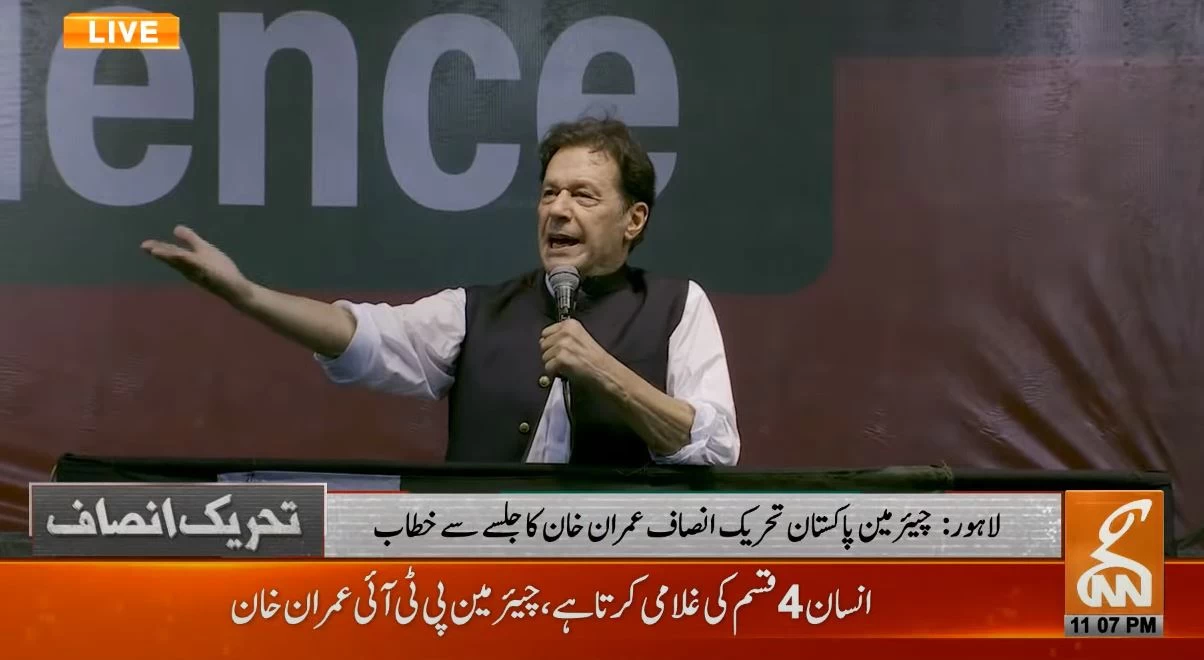 He said Quaid-e-Azam Muhammad Ali Jinnah gave us freedom from slavery, a nation that is a slave never rises, fear is also a slavery, a person trades his conscience because of fear.
Khan said the idol of fear makes a person a slave, a slave nation can never rise, why do we walk in front of the world with outstretched hands?
The former premier said a nation that is a slave never rises, when a human being falls, it goes lower than animals, all kinds of tactics were used to defame me.
He said that since 26 years these people have been destroying my character, educated and honest people used to say that politics is very dirty, I entered politics for justice and self-righteousness.
The PTI stalwart said the revolution did not come with the sword, the intellectual revolution came from the minds, our people have a misconception that Islam spread with the sword.
Imran Khan said freedom does not come easily, but sacrifices have to be made. I know that my nation is ready for sacrifices. Until this imported government is dismissed and elections are held, we will continue our struggle and bring our nation together. Together we will clear the nation's debts.
"I went to Russia for the benefit of my people, who are they to ask why I went to Russia? Am I their slave? I wanted to buy cheap oil from Russia. I wanted to buy 20 million tons of wheat from Russia at cheap prices. When the imported government came, we talked about buying cheap oil from Russia."
Khan said our rulers were lying at the feet of America as they didn't have enough courage to say that this is the need of our people.
He announced the formation of a new "Tiger Force", claiming that it would work for "independence" as the people did before the partition.
Marriyum Aurangzeb extends gratitude to all who contributed in re-recording of national anthem
"The National Anthem has been re-recorded after 68 years"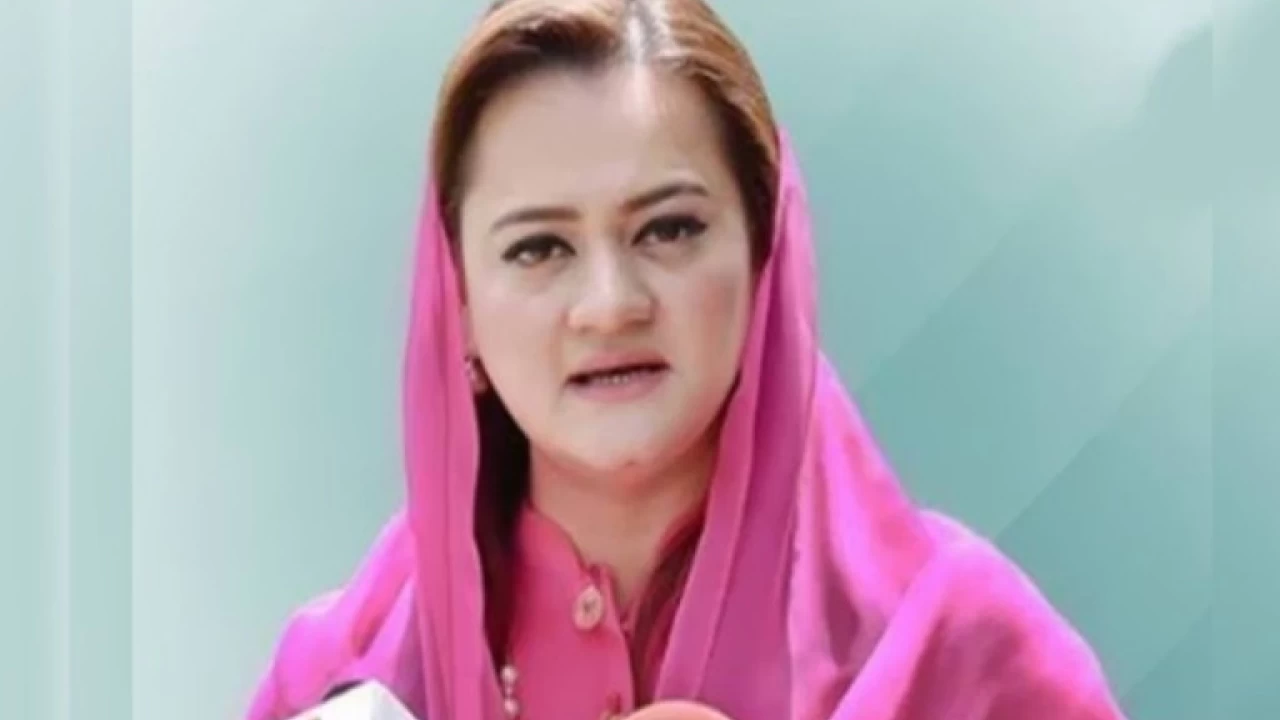 Islamabad: Minister for Information and Broadcasting Marriyum Aurangzeb has extended gratitude to all who contributed to the re-recording of the national anthem.
Addressing media in Islamabad today (Saturday), she paid rich tribute to the people who paid their role in the development of the country and made Pakistan's defense indispensable.
Congratulating the nation Pakistan's Independence Day, she said the journey of development will continue under the democratic government of Pakistan.
Marriyum Aurangzeb said the Ministry of Information and Broadcasting has organized a calendar of activities on the directions of the Prime Minister in connection with Independence Day celebrations.
She said an effort has been made to project the cultural diversity and heritage of the country.
The Minister said the National Anthem has been re-recorded after 68 years, with the participation of 155 singers, 48 musicians and 6 bandmasters.
She said the project was completed in collaboration with various departments including Ministry of Information and Broadcasting and ISPR.
The brass bands of all three armed forces also participated in this national effort.
The new compositions, recorded with excellent imaging have created a rainbow of all the cultural and regional colors of Pakistan.
The Minister also urged the opposition not to promote division and play its role for country's development by strengthening democratic values.