New Delhi: Acclaimed Bollywood actress Alia Bhatt has tested positive for Covid-19 and is under home quarantine, following all the safety protocols listed by her doctors
The actress informed fans about the development with a post on her Instagram stories.
She posted a note late Thursday which said, "Hello all, I have tested positive for Covid-19. I have immediately isolated myself and will be under home quarantine".
"I am following all safety protocols under the advice of my doctors. Grateful for all your love and support" she added.
The 28-year-old actress, urged fans to take all precautionary measures against novel corona virus.
"Please stay safe and take care," she concluded.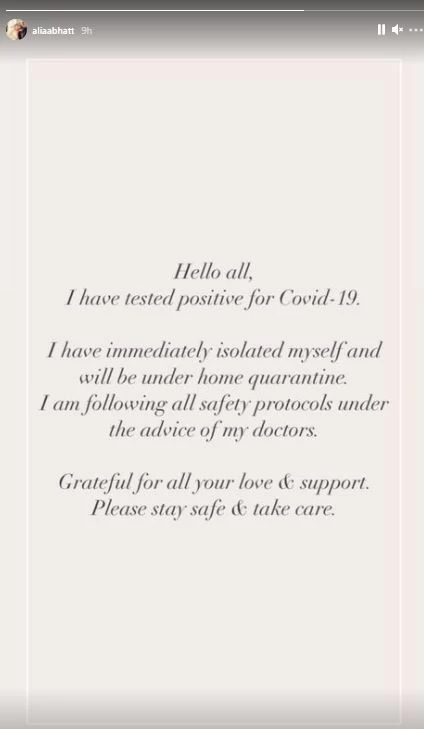 Several Bollywood celebs tested positive for coronavirus including Sanjay Leela Bhansali Ranbir Kapoor, Varud Dhawan, Tamannaah Bhatia, Amitabh Bachchan, Aishwaria Rai Bachchan, Malaika Arora Khan and Arjun Kapoor.
Kapoor last week tested negative for COVID-19 while reports suggest that Bhansali has also recovered from the virus.