Mumbai: Bollywood superstar Katrina Kaif has tested positive for coronavirus, after which she has quarantined herself at home.
The actor took to her Instagram Stories and confirmed that she has contracted the virus. She said she has isolated herself and will be under home quarantine.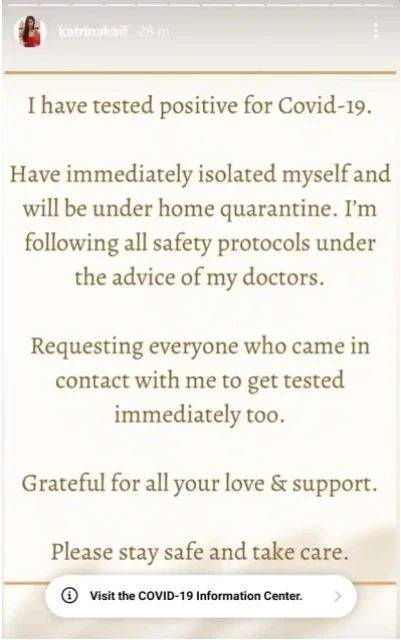 "I have tested positive for Covid-19. Have immediately isolated myself and will be under home quarantine. I'm following all safety protocols under the advice of my doctors. Requesting everyone who came in contact with me to get tested immediately too. Grateful for all your love & support. Please stay safe and take care," her statement read.
The Bollywood actress has written in her message that she is taking all precautionary measures related to the coronavirus as per the instructions of her doctor.
It may be recalled that before Katrina Kaif several Bollywood actors have also become the victim of the deadly coronavirus, including Aamir Khan, Akshay Kumar, Paresh Rawal, Miland Sooman, Sunny Deol, Ranbir Kapoor and his mother Neto Kapoor, Alia Bhatt, Karthik Aryan and Amitabh Bachchan and many others.