'Fawad's arrest isn't political,' Marriyum reacts to PTI leader's case
The Federal Minister for Information and Broadcasting has said that many PTI leaders would have been behind the bars if it had been political.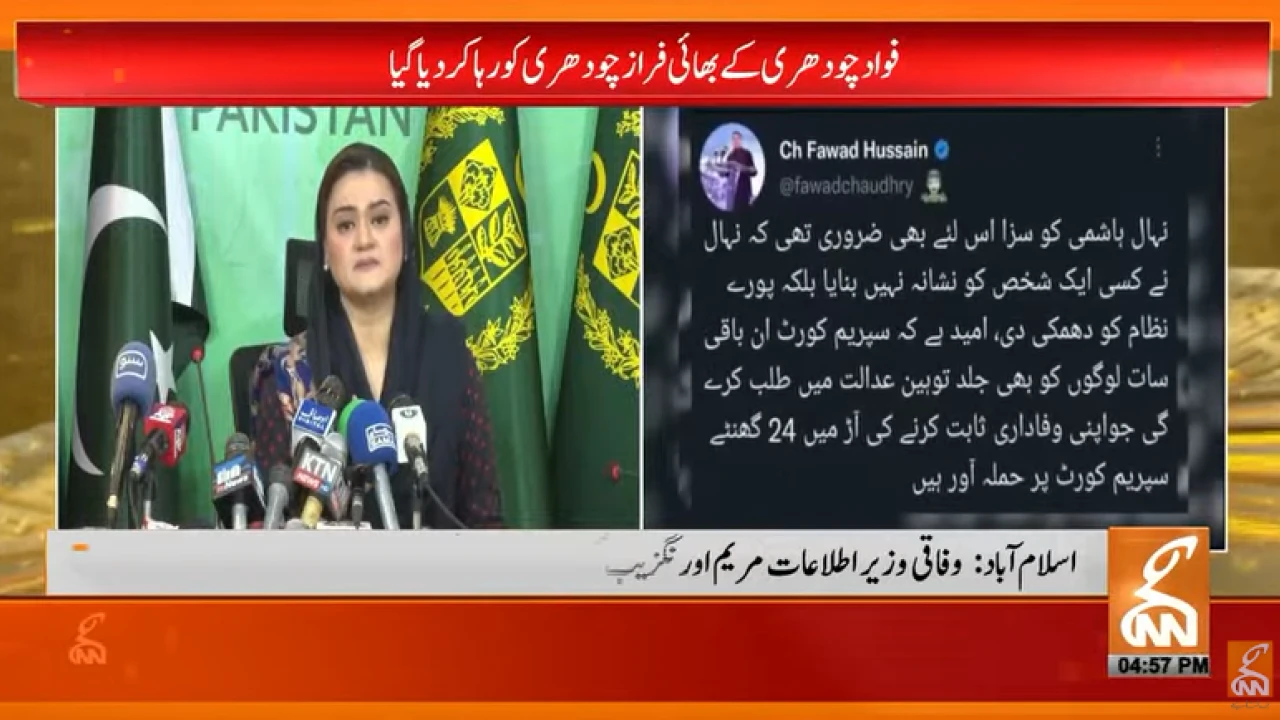 Islamabad: Federal Minister for Information and Broadcasting Marriyum Aurangzeb on Wednesday termed the arrest of Fawad Chaudhary as "non-political", saying that many PTI leaders would have been behind the bars if the case had been political.
The PTI leaders including Imran Khan would have already been arrested if it was political.
"The PTI leaders are hurling abuses at his opponent and has continuously been speaking lie since the day one," said the federal minister while addressing a press conference on Wednesday.
She stated that the arrest of Fawad Chaudhary was not political; he was arrested in lawfully registered case.
Marriyum said that PTI in its tenure targeted the PML-N leadership and put them behind the bars one after another in the baseless cases.
"We have put Imran Khan behind the bars first if there had been political case," said the minister, rejecting the notion that Fawad Chaudhary was arrested in any political case.
She was of the view that the PTI and its leadership had been abusing the state institutions and hurling abuses at the women, blaming different people since the beginning but nobody took notice and they were given free hand.
During the PTI rule, she said, PML-N leader was arrested over an Iqama and father was arrested before his daughter and there were many other instances of brutal incidents.
The reaction came after arrest of Fawad Chaudhary became headlines on traditional and social media.
Islamabad police raided the residence of Fawad Chaudhary in Lahore and arrested him on Wednesday morning. The police later took Fawad to a local court to seek his transitory remand in a case registered against him over charges of threatening ECP and its members, the people sitting in the government and their families.
The court allowed Fawad's transitory remand after which the Islamabad police took him to Islamabad for his production before the relevant judicial magistrate in the said case.
Meanwhile, the LHC also asked about the location of Fawad Chaudhary and summoned IGPs of Punjab and Islamabad in the case, with directions to them to produce the PTI leader before it at 6: 00 pm today evening.