Iranian diplomat underlines need for strengthening ties with Pakistan
Consul General Mehran Movahedfar has said that the terrorism is a common affliction and it requirs joint action to combat it.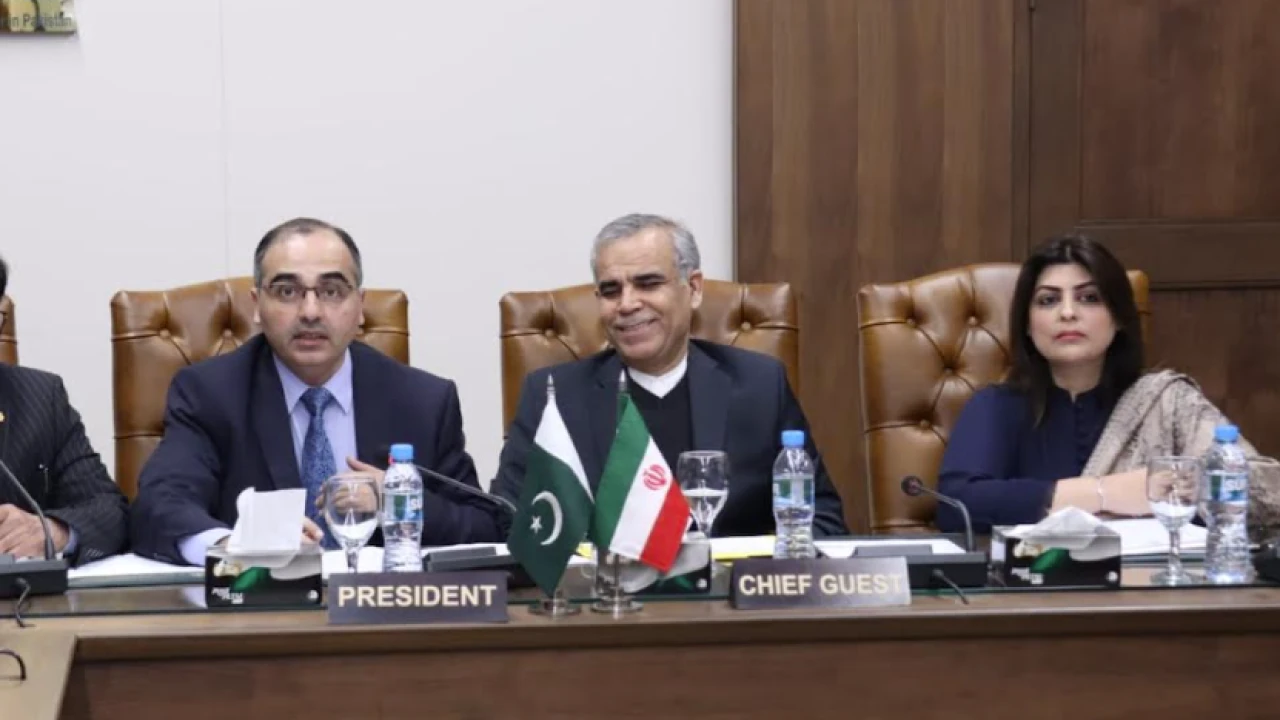 Lahore: Iranian Consul General Mehran Movahedfar on Tuesday said that tragic terrorism incident in Pakistan underlined the need for strengthening relations between the two countries in other fields apart from economic relations.
He was speaking at the Lahore Chamber of Commerce and Industry. LCCI President Kashif Anwar, Commercial Head, Consulate of Iran Murteza Forati, Convener LCCI Standing Committee on Pakistan Iran Business Promotion Syed Ali Raza Rizvi also spoke on the occasion. LCCI Executive Committee member were also present on the occasion.
The Consul General said that terrorism is a common affliction and it required joint action to combat it. He said that Iran prefers to develop relations with neighboring countries.
"Keeping this in mind, we have to determine the size of our relationship for the long term," said the Consul General.
He said that Pakistan and Iran have a common border of 900 kilometers and their capacity requires planning together. He said that both countries could multiply the volume of trade with the cooperation of various institutions and ministries. He went on to say that businessmen of the both sides were not satisfied with the current trade volume.
The Consul General said that it is sad to say that despite the cooperation of the two governments regarding barter trade, there has been no improvement. Difficulties are created in operations by the State Bank of Pakistan. Similar difficulties faced by the companies exporting rice from Pakistan, due to which many companies refused to continue cooperation.
He said that Iran has banned Indian rice and now there is a golden opportunity for Pakistani rice exporters. From Pakistan we can import rice, meat to Iran and give LPG and raw materials in return. He said that the tariffs have been imposed by Pakistan on many Iranian export items including cement, fruits and tiles etc. Due to which the unofficial trade has increased. As a result, the government of Pakistan is facing loss in the form of reduction in tax revenue.
He said that recently, Iran has removed Preferential Agreement restrictions on import items and allowed the import of Kinnos from Pakistan. It is expected that the government of Pakistan will not obstruct the import of Iranian apples and kiwis.
The Consul General said that we need to focus on preferential trade agreements. The Iranian government is in the process of following up on it while the Pakistani Chambers should also follow up on it. He said that the problems of banking channels have started since 2010. Due to State Bank constraints, Iran's electricity exports through barter trade and Pakistan's rice exports have faced difficulties.
He said they needed to create a Conflict Resolution Committee or system that would be the responsibility of a financial institution. He said that we have presented our suggestions in this regard. Three months ago, the Governor of the State Bank of Iran came to Karachi and signed the agreement for the Conflict Resolution Committee. This is an important step that will resolve the disputes between traders on both sides. He said that Punjab is an agricultural province and we want the agricultural chambers of Iran to be connected with Punjab. He said that the importance of exchange of delegations cannot be denied. He said that 50 percent of the market in Iran is captured by Pakistani rice. We want you to cooperate with us for the first exhibition of Iranian products.
LCCI President Kashif Anwar said that there are excellent working relations between Lahore Chamber and Consulate General of Iran in Lahore. He said that both the countries had large domestic markets and unique geo-strategic competitive advantages but they had yet to enhance their trade volume by making use of these opportunities.
He said that the potential sectors where Pakistan and Iran can enhance Trade are value-added Textiles, Pharmaceuticals and Rice. Iran is one of the biggest consumers of Denim in the region while Pakistani rice has a strong market in Iran. There is also a great potential for the pharmaceutical Industry in Pakistan to enhance its exports by tapping the Iranian market.
He said that lack of sound Banking Channels is the prime cause of this low trade volume. Both Iran and Pakistan should collaborate to devise a specialized mechanism for enhancing trade. The presence of Iranian financial institution in Pakistan can greatly help in this regard. Moreover, through ensuring strict vigilance from both sides on undocumented trade, we can also improve the figures of formal trade.
The LCCI President hoped that there will be a regular exchange of export oriented delegations for bridging the communication gap among the private sector representatives from both the countries. This will help both in gaining knowledge and understating about each other's markets.
He said that our businessmen should look into OIC countries market first for preferential trade and then explore rest of the world's market. If the Muslim countries enhance the trade, all countries will lift their level of development up.