16 bodies recovered from mass grave in ​​Kohat
The bodies of 16 people abducted almost 10 years ago have been found in a mass grave in a mountainous area of ​​Kohat District, Khyber Pakhtunkhwa(KP).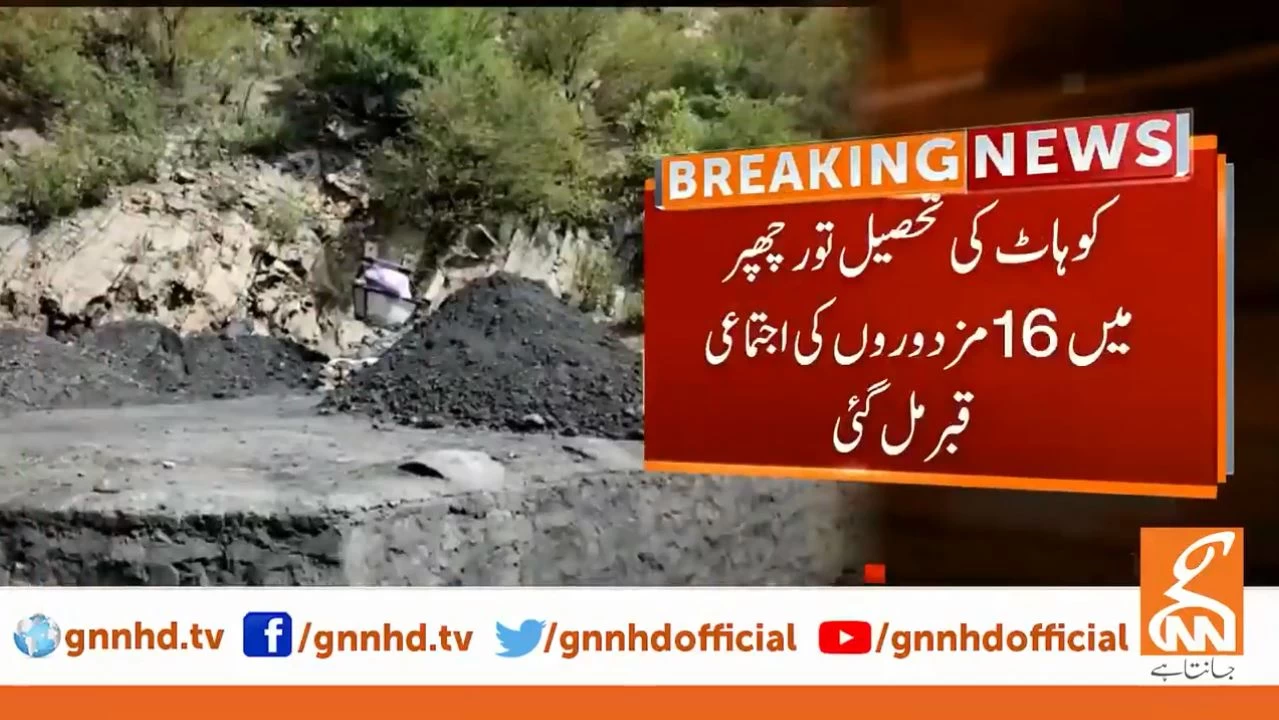 Khyber Pakhtunkhwa Rescue 1122 spokesman Bilal Ahmad Faizi told a local news outlet that the district government had approached him to remove the human remains from a grave, which was operated on.
بریکنگ نیوز۔ ۔ ۔
کوہاٹ کی تحصیل تور چھپر میں 16 مزدوروں کی اجتماعی قبر مل گئی #GNN #GNNUpdates #BreakingNews #Kohat pic.twitter.com/1Xjm0rABFl

— GNN (@gnnhdofficial) April 9, 2021
"Residents saw rotten human organs and an identity card in the mountainous area and reported it to the local administration," he said.
According to Bilal Faizi, when the heirs were called for identification based on identity cards, he said, "It was not one but 16 miners who were abducted from Khyber Agency in September 2011."
According to a rescue spokesman, the mountainous area is located at a remote area of one and a half kilometres from the highway and therefore the operation was not been completed instantly.
"The bodies are in pieces and in a decomposed state," he said.
According to police, the bodies have all been lifted from the grave and an investigation into the matter is underway.
Meanwhile, Khyber Pakhtunkhwa Chief Minister Mahmood Khan has expressed regret over the discovery of bodies of abducted workers from a mass grave in Bobo Khel near Nowshera.
According to a statement issued from the Chief Minister's House, Mahmood Khan said that the heirs of the slain would not be left alone and all possible help would be given to them.
The Chief Minister has announced Rs1 million assistance for the heirs of the slain. KP CM also directed Commissioner Kohat and DIG Kohat to inquire into the incident and submit a report.
How were the miners abducted?
The miners were abducted one morning in September 2011 when they started work at a mine in Bara Tehsil, Khyber District.
The then political agent (after the merger, the deputy commissioner has the power) told the media that the number of abducted miners was close to 30, who were abducted from the Kala Khel area of ​​Bara Tehsil.
The abducted miners were from Swat and Shangla. The then district administration had said that the abducted miners may have been taken to the Tor Chhapar area of ​​Kadra Adamkhel by militants.
Remains of these mines have now been recovered from near the area, which is adjacent to Kohat District but is administratively adjacent to Peshawar District.