PTI supporter killed after police crackdown in Lahore
Farrukh Habib says that PTI worker Ali Bilal lost his life due to police torture, and he condemned the coalition government for starting to take life of the party workers.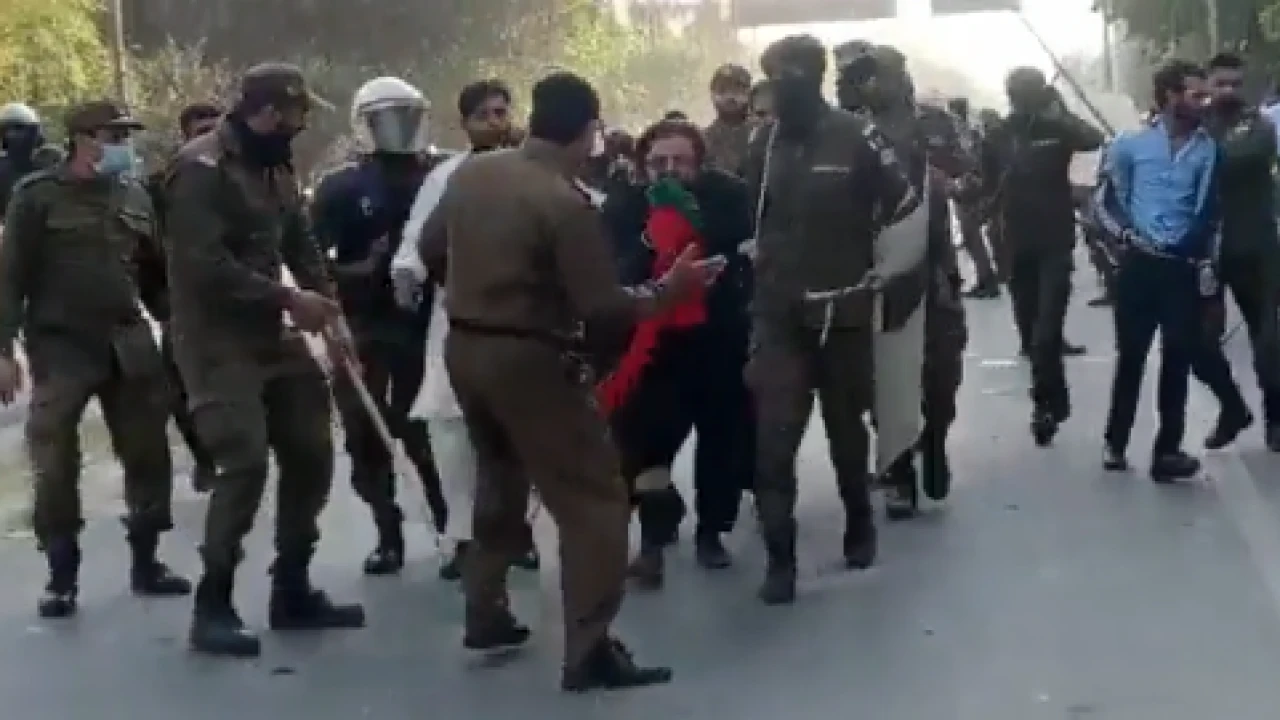 Lahore: A worker of Pakistan Tehreek-e-Insaf (PTI) lost his life after police launched crackdown against the party workers to stop them from rallying in the provincial capital on Wednesday.
The deceased was identified Ali Bilal, the resident of Lahore's Jahangir Town.
Taking to Twitter, Farrukh Habib shared picture of the deceased and his ID card, and strongly condemned the coalition government over his murder. He termed it fascism and said that the coalition government started killing the party workers.
فاشسٹ حکومت نے ظلم کی انتہا کردی گئی PTI پرانے ورکر علی بلال کو پولیس کے ظلم اور تشدد سے شہید کردیا گیا ہے۔ اس امپورٹڈ حکومت نے کارکنوں کا خون بہانا شروع کردیا ہے pic.twitter.com/K6IoAJ5tb7

— Farrukh Habib (@FarrukhHabibISF) March 8, 2023
The worker succumbed to his injuries after the police subjected him to baton-charge during the operation against the PTI workers. Several workers got injured during clash with the police.
An injured @PTIofficial worker Bilal is being violently beaten by police under direct orders of General Asim Munir. Pakistan is under undeclared martial law. He was later killed by police.
Please raise voice.#PakistanUnderFascism@CNN@BBC@Reuters@FoxNews@ABC@amnesty@hrw… https://t.co/Y8MKRLe4p4 pic.twitter.com/T5ICMCNBKm

— Dr Fatima K - PTI (@p4pakipower) March 8, 2023
According to the reports, the police took many others into custody and shifted them to lockups in different police stations.
The Canal road near the residence of Imran Khan in Zaman Park turned into a battle field between the police and the workers while some videos showed police smashing the windows of the vehicles. They also committed violence with the commuters, blocked all the roads leading to the residence of Imran Khan in Zaman Park.
The PTI released videos on its Twitter handle, showing that police are using water cannons and arresting workers on Canal Road.
The PTI had earlier announced a pro-judiciary rally in the city and gave call to its workers to gather at the party chairman's residence. However, Imran Khan, after witnessing the situation, announced to take back the call and asked the workers to return to their homes. He said they wanted elections. Khan warned his workers that the coalition partners could use any lame excuse to delay elections. The coalition government, he said, could take the benefit if their peaceful protest turned violent or the workers showed any resentment against the police' torture.
"Do not become part of any mess and return to your home," said the PTI chairman in the video message to his party workers.
The Punjab government, earlier in the day, imposed Section 144 in the city for seven days, citing security concerns and warned the PTI workers against taking to the street. A heavy police contingent and water cannons have been moved near Zaman Park.