Ceremony of Pakistan Martyrs Day being held at GHQ
Chief of Army Staff (COAS) General Syed Asim Munir is the chief guest of the event.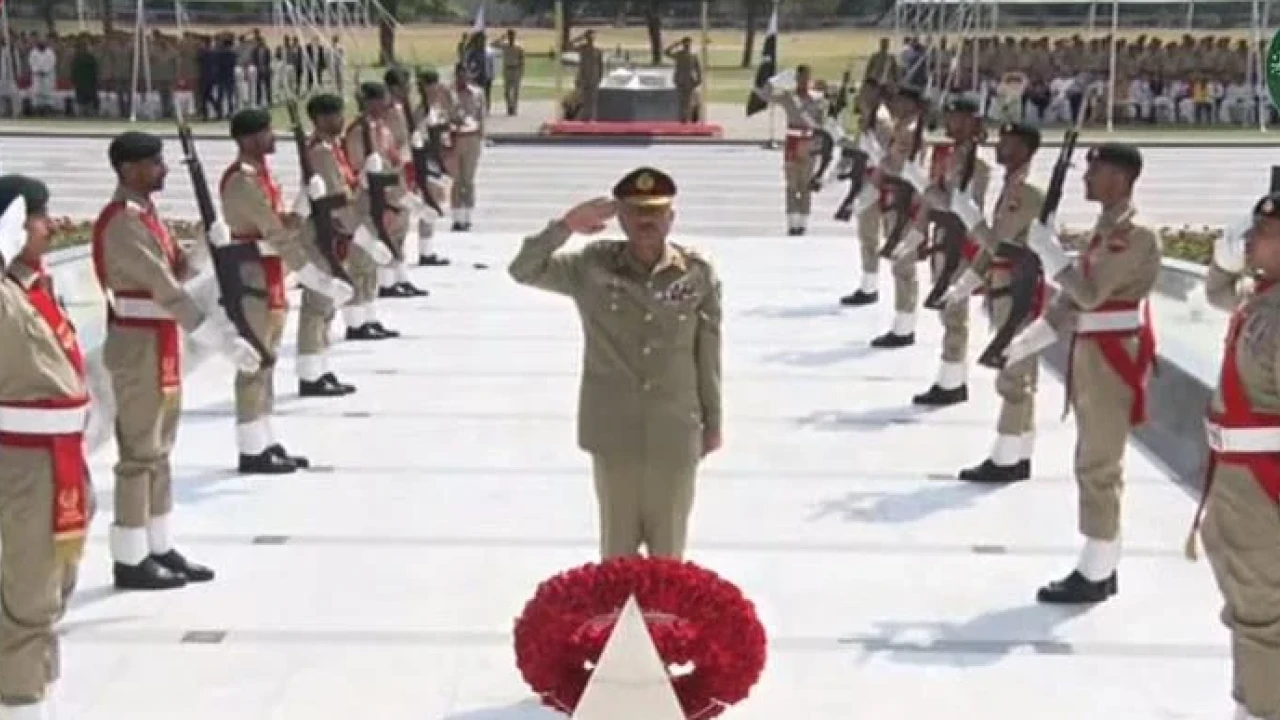 Islamabad: An important ceremony regarding 'Youm-e-Takreem Shuhada-e-Pakistan' also known as Pakistan Martyrs Day is undergoing at General Headquarters (GHQ).
According to details, Chief of Army Staff (COAS) General Syed Asim Munir is the chief guest of the event.
The current serving and retired officers of the armed forces are also participating in the ceremony, including former Army Chief General (retd) Qamar Javed Bajwa, former Chairman Joint Chiefs General Nadeem Raza and other retired officers.
Chairman Ruet-e-Hilal Committee Maulana Abdul Khabir Azad, Mufti Muneebur Rehman, National Cricket Team Captain Babar Azam and other personalities from different walks of life are also present at the event.
The ceremony was started with the recitation of Holy Quran, followed by the National Anthem.
Army Chief General Asim Munir attended the martyrs' memorial, presented flowers, recited Holy verses and prayed for the high status of the martyrs.
The families of the martyrs present at the ceremony and the school children placed flowers on the memorial of the martyrs.
On the other hand, ceremony will also be held at the Pakistan Air Force (PAF), Pakistan Naval Headquarters, Formation Headquarters and Police Martyrs Memorials.
Events have been organized at the police headquarters and other places of the four provinces in this regard, while rallies are also being held in favor of the Pakistan Army.
On the occasion of Martyrs' Day, Inter-Services Public Relations (ISPR) said that no one can be allowed to undermine the eternal sacrifices of martyrs, the Pakistani nation will remain indebted to the martyrs and their proud families.
In the statement released by ISPR, it has been said that the martyrs were, are and will always be our pride. Today is the day for the entire nation to pay homage to every martyr.