Dubai's Best Diplomats event kicks off with grand opening
It serves as a platform for Young Leaders and Change makers to exchange ideas and resolve the most challenging global issues.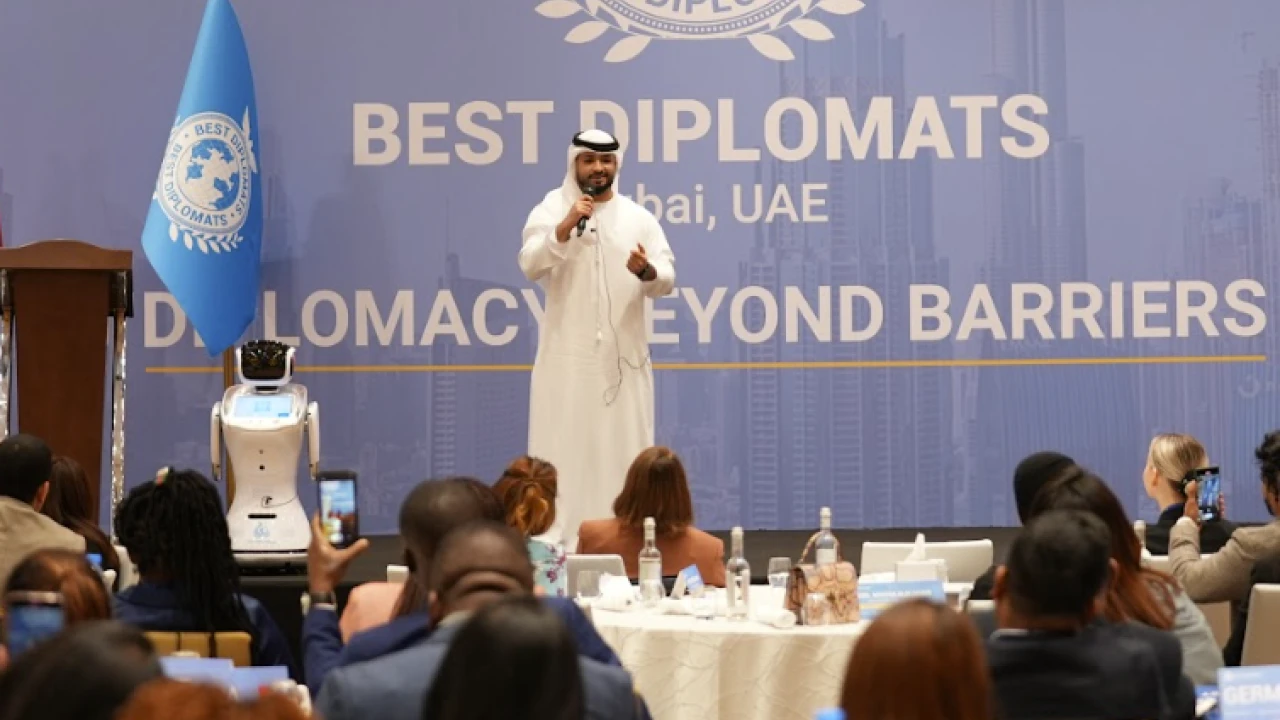 Dubai: The opening ceremony of the Best Diplomats with more than 60 aspiring Youth Leaders globally was held in Dubai.
Dubai witnessed one of the most remarkable events of connecting aspiring Youth leaders worldwide in an enriching set-up.
Best Diplomats, 2023, organized and lead by Director General, Fawad Ali Langah, Operations Manager, Shaheer Suhail Qureshi and their amazing talented team at the Hilton Double Tree M Square Hotel.
Best Diplomats, a New York-based organization, focuses in conducting Diplomatic Simulations of prestigious international bodies such as the United Nations, European Union, African Union, and more.
It serves as a platform for Young Leaders and Change makers to exchange ideas and resolve the most challenging global issues. These Diplomatic Simulations are an ideal avenue for aspiring Future Diplomats to grasp and grip the lobbying and critical thinking skill set that will enable them to become a better diplomat. The central theme for the conference revolved around the significant role of Artificial Intelligence (AI) within the industries. The event aimed to explore and discuss the transformative impact of AI on various sectors, highlighting its potential to revolutionize business processes, drive innovation, and shape the future of industries worldwide.
The much-awaited concepts of Sustainability and Innovation were practically demonstrated at the event with the presence of the Robots named Joe, Donald and Elon acting as the Co-host of the opening ceremony with some of the most influential speakers in the UAE, who have been an inspiration to the youth leaders due to their broad vision, hard work, and determination.
The opening ceremony was attended by Guest of Honor, Senator Amanullah Kanani Baloch, senator and former president of Supreme Court Bar Association, Pakistan; Eng. Maitha AlBlooshi, emerging Youth Leader of technology and sustainability, Multi Award-winning youth leader, Scrum Master of Hospitality Ambassador in Switzerland and Founder of Be You; Ahmed Al-hashemi, motivational speaker of Commitment to delivering exceptional technology solutions and elevating industry standards, Founder and CEO of Hedwey Technology Solutions.; Harjyot Oberoi Bohra, aspiring speaker of Youth leadership and passion to work, head of Marketing, Branding and Magazine – Khaleej Times.; Dr. Yuting Wang, Head of the Department for International Studies and Psychology department in American University of Sharjah.;Zhala Bharamova, CEO of shane English School Azerbaijan; Fahad Shahbaz, president Youth General Assembly and Partner Rehnuma Law, and lastly H.E Djamel Eddine Neggaz, Vice consul , Algerian Consulate in Dubai.
According to the Director General of Best Diplomats, Fawad Ali Langah, Best Diplomats strongly upholds three fundamental pillars that are essential for the reform and progress of our contemporary world: Diplomacy, Leadership, and Negotiation skills. In the present era, there is an increasing demand for visionary leaders who possess extensive and long-term thinking abilities, as well as a deep understanding of modern world diplomacy.
Best Diplomats firmly believes that the cultivation of diplomatic skills is vital in navigating the complexities of our global landscape. It recognizes that effective leadership is crucial for driving positive change and achieving sustainable solutions. Additionally, the organization emphasizes the importance of honing negotiation skills to address intricate challenges and foster mutually beneficial outcomes.
He further added: "We are thrilled to be hosting the Best Diplomats Conference in partnership with the Artificial Intelligence Robots," for the first time ever. "As technology continues to evolve at an unprecedented pace, it is crucial for diplomats to stay ahead of the curve and understand how these changes will impact their work. We are confident that this conference will prove to be a valuable forum for discussion and collaboration on the future of diplomacy bridging with artificial intelligence."
"We value leadership as essentially the process of social influence which maximize the efforts of others towards the achievement of a common goal, because leadership is an essential piece to the puzzle of the positive changes, Best diplomats experience the training provided for Influence and Decision Making."
The conferences connect students, professionals and diplomacy-enthusiasts from all walk of life eager to sharpen the perspective of working towards a better, more sustainable future for everyone remains at the heart of their work. Best Diplomats has a tradition to organized Grand Symposium feature talks and discussions by acclaimed and notable keynote speakers ranging from ambassadors and diplomats to eminent young athletes and entrepreneurs.
Best Diplomats achieved historic milestones from South East Asia region, Bangkok, Thailand, Kuala Lumpur, Malaysia; to the European region, Turkey.; Africa region – Sham El Sheikh, Egypt.; and the most awaited region is Middle Eastern Region, the City of Gold, Heaven on Desert and Pearl of Persian Gulf that is DUBAI, Furthermore, we are delighted to announce our upcoming conferences scheduled to take place in the United States and several European countries.