Thai diplomat announces to resume flight operations to Pakistan
LCCI President Kashif Anwar highlights potential for expanding trade between Pakistan and Thailand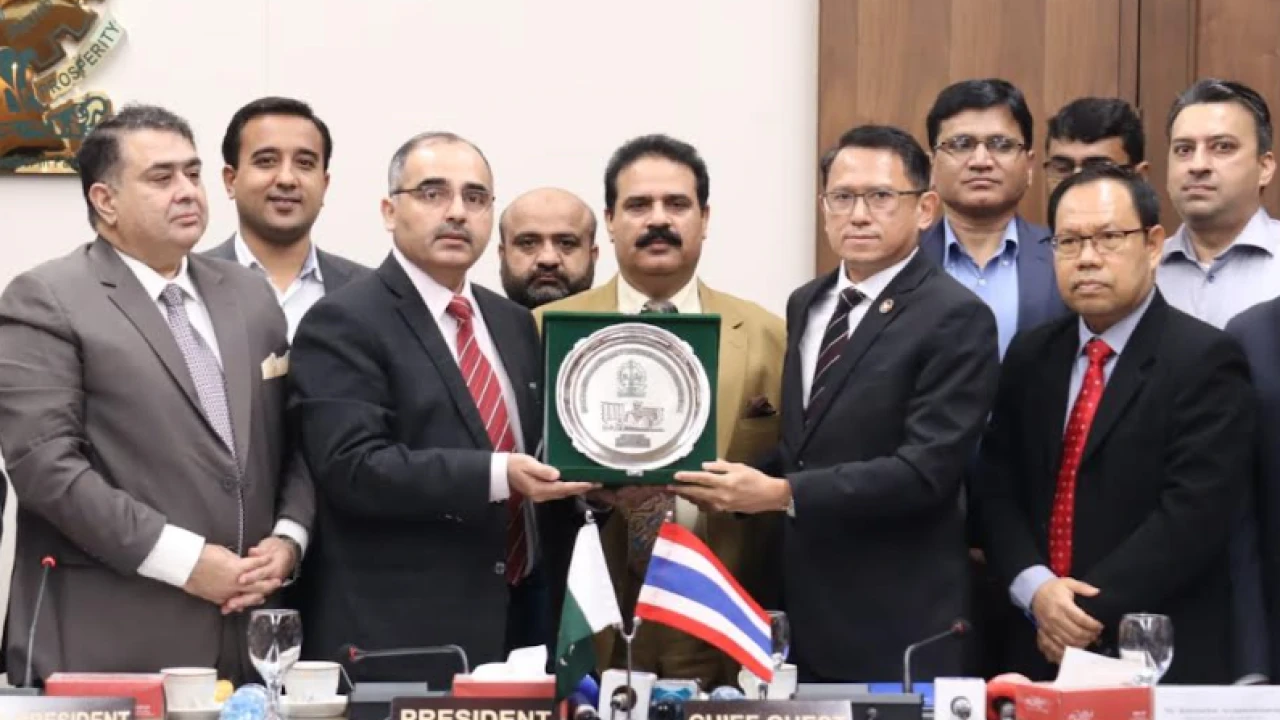 Lahore: In a significant development, the Ambassador of Thailand, Chakkrid Kraichaiwong, announced the revival of Thai Airways services from Pakistan, marking a promising step forward in strengthening bilateral ties. The Ambassador revealed plans to reintroduce five weekly flights from Karachi and Lahore, along with four flights from Islamabad.
This announcement was made during the Ambassador's address at the Lahore Chamber of Commerce & Industry (LCCI). The event was graced by the presence of LCCI President Kashif Anwar who gave the welcome speech, while Senior Vice President Zafar Mehmood Ch, Vice President Adnan Khalid Butt, and esteemed guests, including Minister Counselor (Commercial) at Royal Thai Embassy Bangladesh in Pakistan, Khemathat Archawathamrong, and Deputy Head of Mission Royal Thai Embassy Islamabad, Kamol Wan Sriposil, along with former LCCI office-bearers and Executive Committee Members.
Ambassador Chakkrid Kraichaiwong commended Lahore as a vibrant and culturally rich city and expressed optimism that his visit would yield positive outcomes. He elaborated on the purpose of his visit to LCCI, emphasizing the objective of expanding activities between Thailand and Pakistan.
Highlighting the strategic significance of Pakistan, the Ambassador noted that Pakistan serves as a gateway to Central Asia and the Middle East for Thailand. He identified key areas of interest, including seafood, mangoes, the halal industry and Halal cosmetics, underscoring the potential for two-way trade. He emphasized that trade between the two countries had experienced a decline after 2021.
Addressing concerns about repatriation of profits for investors in Pakistan and LCs opening, the Ambassador was reassured by President LCCI Kashif Anwar, who highlighted the role of the Special Investment Facilitation Council (SIFC) in facilitating investors through streamlined one-window services.
Furthermore, the Ambassador proposed that Thailand could contribute to Pakistan's tourism sector, drawing on Thailand's extensive experience in tourism, hospitality, and restaurant management. He stressed the importance of preserving heritage while promoting sustainable tourism. He praised Pakistan for maintaining historical and cultural heritage in a winsome manner.
Ambassador Chakkrid Kraichaiwong extended formal invitations to LCCI to participate in various exhibitions in Thailand, covering pharmaceuticals, food, auto parts, and other sectors. He also underscored the inclusion of women entrepreneurs in the working sector as a priority.
President LCCI Kashif Anwar reiterated the strong and long standing friendship between Pakistan and Thailand, founded on a shared vision for a prosperous economic future. He expressed a deep interest in exploring new avenues of collaboration that would benefit both nations and contribute to regional stability and economic growth.
He said that collaboration in the field of tourism holds immense promise. Pakistan has a rich cultural heritage and diverse landscape which would be of great interest to Thai tourists.
Kashif Anwar emphasized the economic significance of Thailand as a key member of ASEAN with global exports exceeding $284 billion and imports surpassing $306 billion. He referred to data from the State Bank of Pakistan indicating that bilateral trade between Pakistan and Thailand reached approximately $876 million in 2022-23, with Pakistan exporting around $164 million and importing $712 million during the same period. Notably, Pakistan's imports from Thailand saw a significant reduction in 2022-23 compared to the previous year.
The Ambassador highlighted Thailand's global imports, including Frozen Fish ($2.2 billion), Medicaments ($1.8 billion), Screws & Bolts ($1.1 billion), Surgical/Medical Instruments ($803 million), and Precious/Semi-Precious Stones ($803 million). Kashif Anwar emphasized Pakistan's potential to export these items to Thailand at competitive prices.
Kashif Anwar pointed out that Pakistan's primary exports to Thailand were condensate oil, used in plastic manufacturing, and frozen fish while Imports from Thailand primarily included automotive sector products, organic chemicals, and plastic articles. He identified key sectors for enhancing bilateral trade as value-added textiles, leather, pharmaceuticals, sports goods, surgical instruments, and food products, especially meat. Additionally, products such as guar, canola, citrus concentrate, grapes, and berry concentrates hold export potential for Pakistan.
Acknowledging the need for better market penetration in Thailand and guidance regarding certification requirements, Kashif Anwar urged collaboration between Pakistani and Thai counterparts to reduce tariff and non-tariff barriers and facilitate market access. He emphasized the importance of swift progress toward a Free Trade Agreement, highlighting the pivotal role organisations like LCCI can play in this regard.
Kashif Anwar also underscored the significance of the Special Investment Facilitation Council (SIFC), established by the Government of Pakistan to expedite new investments in defense, agriculture, minerals, information technology/telecommunication, and energy sectors. He expressed hope that Thai investors would be apprised of SIFC and encouraged to invest in Pakistan through joint ventures.
Collaboration in the tourism sector was identified as a promising avenue, with Pakistan's rich cultural heritage and diverse landscapes offering attractions for Thai tourists. Learning from Thailand's successful tourism industry, Pakistan could develop its tourism sector along modern lines.
Kashif Anwar emphasized the importance of active engagement between the business community and diplomatic missions of both countries, encouraging trade delegations, single-country exhibitions, and exchange of expertise. Such initiatives, he noted, would lay a strong foundation for expanding trade and economic ties between Pakistan and Thailand.
He said the revival of Thai Airways services, coupled with increased collaboration across various sectors, reflects the commitment of both nations to strengthen their economic relationship and explore new opportunities for mutual growth and development.