Braves' Acuna 5th player ever with 40-40 season
Braves star Ronald Acuna Jr. clubbed his 40th homer of the season Friday night against the Nationals, becoming the fifth member of MLB's exclusive 40-40 club.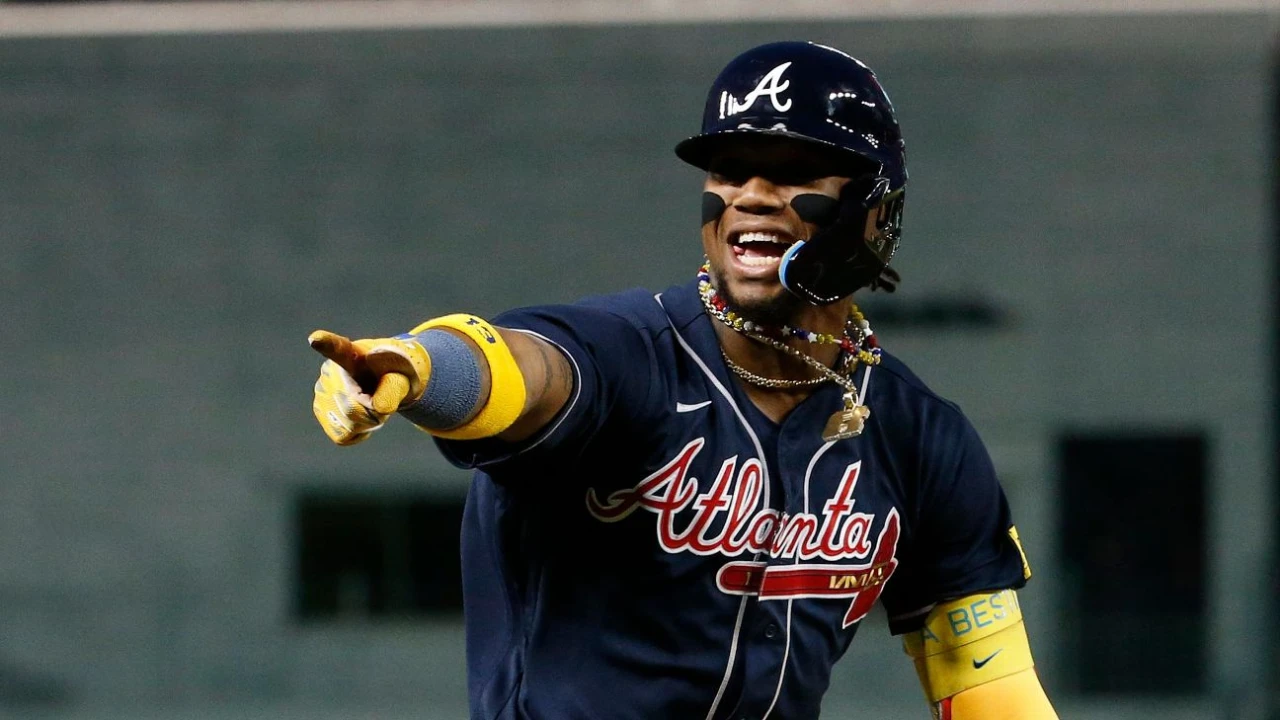 Atlanta Braves star Ronald Acuña Jr. became the fifth player in major league history to have 40 home runs and 40 stolen bases in a season, entering the exclusive club when he led off Friday night's game against the Washington Nationals with his 40th homer.

Acuña sent a 3-2 slider from Nationals lefty Patrick Corbin over the left-field fence for his eighth leadoff homer of the season. He joined Alfonso Soriano (2006), Alex Rodriguez (1998), Barry Bonds (1996) and Jose Canseco (1988) as the only members of the 40-40 club.

"It's elite company, that's for sure," manager Brian Snitker said. "I'm just glad I got a front-row seat to watch it."

Acuña, one of the leading contenders for National League MVP honors, entered the game with 68 stolen bases, tops in the majors. He is the only player ever to have a 40-60 season, and in fact, no one before this season had ever achieved a 40-50 season.

"It's pretty incredible, and just think of how many players have played in the big leagues and my name is alone," Acuña said of the 40-60 season. "But I'm hoping, and I'm sure someone will break that record too."

Friday's homer was the 160th of Acuña's career. According to ESPN Stats & Information, he is the first player in MLB history with 160 homers and 160 stolen bases at age 25 or younger. Acuña, 25, has 175 career stolen bases.

Acuña also doubled and scored three runs in the Braves' 9-6 win. He has hit safely in 14 of his past 15 games, with eight home runs and 15 RBIs in that span. His 143 runs scored are the most since Rodriguez also tallied 143 runs in his 2007 MVP campaign.

"He's healthy," Snitker said. "He wasn't healthy last year, and he has been from the get-go this year. I think that's a product of him doing what he can do because he's healthy again."

Braves right-hander Charlie Morton pitched a scoreless inning before he was removed Friday with a right index sprain, Snitker said. He will undergo an MRI on Saturday.

Morton said he hopes to be ready for the postseason.

"This is more a question about effectiveness," Morton said. "I can pitch. I can go out there and pitch, but the next start I make is probably going to be in the postseason, if I had to guess. It's not a game in late May or early August. It's going to be the biggest of the season. That's where the frustration comes in and the question mark comes in."

The Associated Press contributed to this report.