Meet me at Arrowhead: Travis Kelce-Taylor Swift rumored romance timeline
Taylor Swift and Travis Kelce driving into the sunset? Here's a timeline of the moments that led to all those romance rumors as the songstress attended the Kansas City Chiefs star's game on Sunday.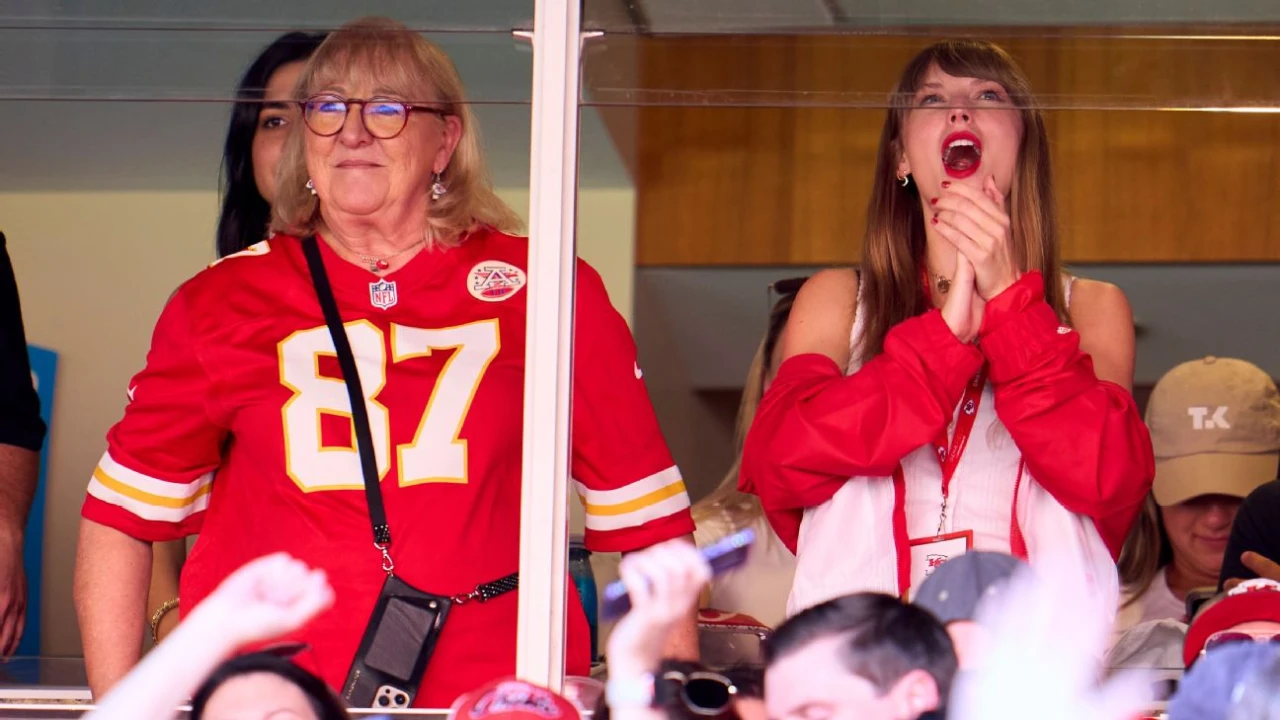 There are few things that could captivate NFL fans and pop culture savants like the rumored love story of Kansas City Chiefs tight end Travis Kelce and global superstar Taylor Swift.

In this life, Swift will do things greater than dating the boy on the football team (that's a "Fifteen" reference to the untrained eye), but that doesn't stop us from being intrigued.

After weeks of speculation, the songstress was at Arrowhead Stadium on Sunday to watch Kelce and the Chiefs defeat the Chicago Bears 41-10. The Swift sighting added ample fuel to the possible duo's already formidable hype train.

While haters will say it's all a sham -- sitting in a suite beside Donna Kelce is a far cry from the privacy measures Swift took while dating actor Joe Alwyn -- they need to calm down.

The fact that Kelce and Swift were both born in 1989 and that the former wears red on the football field clearly lends credence to this suspected pairing.

On the off chance you're still not convinced, here's a look at the timeline of the burgeoning romance:

While Kelce would have been enchanted to meet Swift, it didn't quite happen that way when No. 87 made his way to her Eras Tour concert over the summer.

"I was disappointed that she doesn't talk before or after her shows because she has to save her voice for the 44 songs she sings," Kelce told his brother, Philadelphia Eagles center Jason Kelce, on their "New Heights" podcast on July 26.

Kelce then explained why he was hoping to meet the singer.

"If you're up on Taylor Swift concerts, there are friendship bracelets and I had received a bunch of them, but I wanted to give Taylor Swift one with my number on it," Travis Kelce said.

This admission prompted Jason to ask for clarification on whether his brother was referring to his football number or phone number.

"You know which one," Travis replied with a grin.

"She doesn't meet anybody, or at least she didn't want to meet me, so I took it personal."

The thing about having a younger sibling who's rumored to be dating a global icon is that you're probably going to have to field some questions on the matter.

Jason skated around the rumors when Tony Gonzalez inquired about Travis' relationship status on the Sept. 14 "Thursday Night Football" postgame show.

On Sept. 20, Jason was asked about his brother's relationship situation again on 94.1 WIP in Philadelphia.

"I don't really know what's happening in Travis' love life. I try to keep his business kind of his business and stay out of that world," Jason said.

"But having said that, I think he's doing great and I think that it's all 100% true."

The Eagles star was quick to note that he was joking, but since then, everything has changed.

After missing Week 1 because of injury, Kelce returned to the field -- and the end zone -- on Sept. 17.

Sure, that was nothing new, but what stood out about Patrick Mahomes linking up with his favorite target was the commentary on the play.

CBS announcer Ian Eagle made a clever reference to the smash hit "Blank Space" off of Swift's 2014 album "1989."

Making lyrical references to Swift's expansive catalog will likely never go out of style.

It appeared Kelce was able to shake off not being able to meet Swift at her concert as he made known his hopes that she would return to Kansas City, this time as a spectator.

On a Thursday appearance on "The Pat McAfee Show," Kelce shared that he extended an invite to the 12-time Grammy Award winner.

"I told her that I've seen her rock a stage in Arrowhead and she might have to come see me rock the stage at Arrowhead," Kelce said.

"We'll see what happens in the near future."

On a Sunday in a stadium, we watched it begin again. Swift was spotted on the bleachers -- er, in a suite, sitting beside Kelce's mom, Donna.

While it's unclear whether his mother was telling stories about him on the T-ball team, it appeared the two were having a grand time taking in the lopsided Chiefs victory.

Meanwhile, the Kansas City sideline was abuzz after team members saw that the superstar was, in fact, in attendance.

If Kelce felt pressure, he didn't let it get to him. The All-Pro TE scored a touchdown, and she appeared mystified by how the city screamed his name.

After Sunday's game, Mahomes said he thought Kelce "wanted to get in the end zone just as much as all the Swifties wanted him to."

She saw the scoreboard, but she didn't run for her life.

The Chiefs star, who once starred in the reality dating show "Catching Kelce," was seen walking out of the stadium with Swift after the game.

If the first sighting of the pair together wasn't enough to send Swifties into overdrive, the internet sleuthing that resulted in the revelation that Travis was rocking an outfit titled the "1989 sleep set" surely did the trick.

While some will cite Kelce's choice of ensemble as being auspicious to the timing of the Oct. 27 release of "1989 (Taylor's Version)" -- and further proof the rumored relationship is strictly a mastermind promotional ploy -- we choose to believe in love.

Sometimes the jokes write themselves.

In a second spotting of the duo, Kelce and Swift were seen driving away from Arrowhead Stadium together.

We won't opine that they were always skipping town or voted most likely to run away together, but just know we're thinking it.

Real, as they say, recognizes real. So it's no surprise six-time Super Bowl winning coach Bill Belichick had a Swift endorsement of the songstress when asked about the rumors.

This isn't the first time the New England Patriots coach has praised the 33-year-old, as he also noted how impressed he was by her toughness in the wake of her three-hour-plus, rain-soaked performance at Gillette Stadium in May.

"That was pretty impressive," Belichick said on WEEI's "The Greg Hill Show" of her Eras Tour concert.

"She's tough, man. Just stood out there and played right through it."

Live from New York, it's Taylor watching Travis?

OK, MetLife Stadium is in New Jersey, but the sentiment remains. Ticket sales for the Chiefs' next game on the road against the New York Jets have spiked astronomically amid speculation the pop star -- who is on break from the Eras Tour until November -- might be in attendance for the "Sunday Night Football" showdown.

"Since Swift's appearance at the Chiefs game on Sunday, the Jets have sold more tickets for their game against the Chiefs in a single day than since the season started -- by more than double," StubHub told Town & Country.

Call it karma for the ill-fated Jets in the wake of QB Aaron Rodgers suffering a season-ending Achilles tear in Week 1 or call it what you want, but the power of Swift is undeniable.