The flight permit of a private airline—Air Blue has been revoked by Civil Aviation Authority (CAA) upon the violation of coronavirus Standard Operating Procedures (SOPs).
Pakistan Civil Aviation Authority on May 16 released the letter which highlighted that a private-owned airline's flight PA613 was found violating coronavirus SOPs carrying 24 COVID-19 positive passengers from Dubai to Peshawar.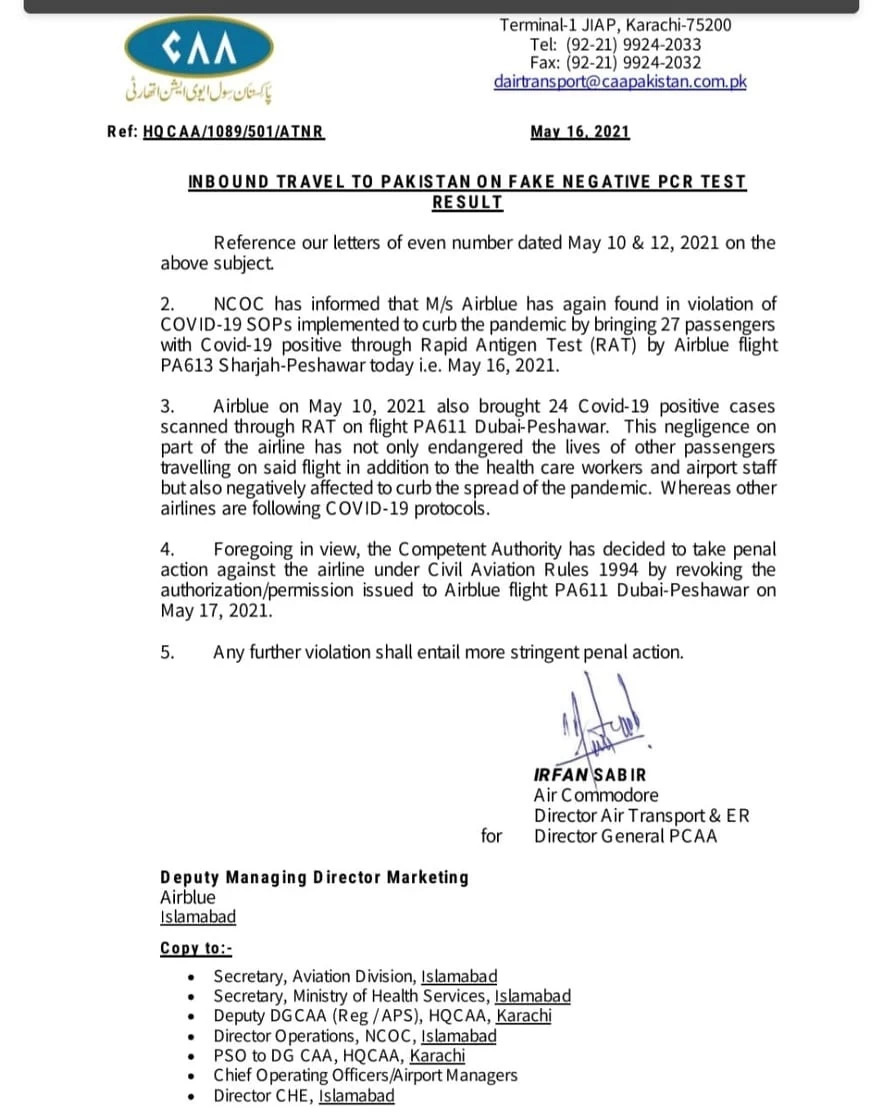 After the report came out, the CAA decided to revoke the airline's flight permit from Dubai to Peshawar on May 17.
According to a spokesperson of CAA, the airline was found violating SOPs on May 16 bringing 27 coronavirus positive passengers in a Sharjah-Peshawar flight.
The report also identified that the negligence shown by the airline administration could result in the spread of the virus.
"The violations by the airline are endangering lives of passengers," said a spokesman.
Earlier, the notice was issued to the airlines stating that the National Command and Operation Center (NCOC) has informed that the private airline has again found in violation of COVID-19 standard operating procedures (SOPs) implemented to curb the pandemic by bringing COVID positive passengers to Peshawar from Sharjah.
Last week, 24 passengers who were kept in isolation after testing positive for COVID-19 had mysteriously gone missing from the Peshawar Police hospital.
Last week, Pakistan had allowed airlines to operate an additional 30% of flights in a revised policy.
According to a notification issued in this regard, additional flights were allowed to ensure passengers were able to travel abroad without any hindrances, while only cargo flights of foreign airlines were allowed to return to Pakistan.
This is in addition to the 20% of flights that were already allowed by the CAA to operate in Pakistan, the notification stated.
As per the directives issued earlier by NCOC, the number of foreign flights operating to Pakistan was reduced to 20%, keeping in mind the prevalent coronavirus situation in the country and the region.