Nawaz Sharif initiates PML-N alliances in Balochistan for upcoming elections
The PML-N Supremo says the prosperity of Balochistan has always been a top priority for him and his party.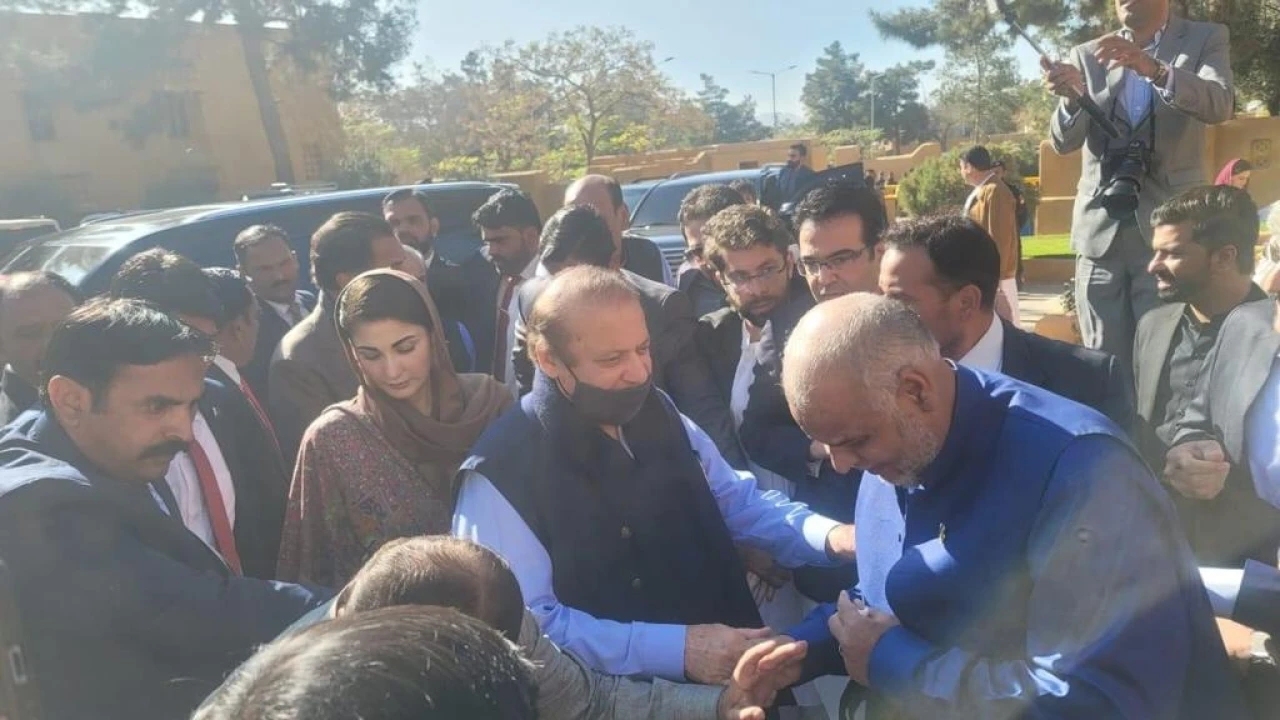 Quetta: Pakistan Muslim League-Nawaz (PML-N) supremo Nawaz Sharif landed in Balochistan on Tuesday as part of the party's strategic approach to forge alliances across all provinces in anticipation of the upcoming general elections scheduled for February 8.
As the three-time former prime minister spearheads the party's election campaign and works towards building new partnerships, the PML-N is expanding its footprint to Balochistan. Accompanying Nawaz Sharif on this visit were PML-N President Shehbaz Sharif, senior vice president Maryam Nawaz Sharif, and other key leaders.
Upon their arrival, the PML-N delegation, led by Nawaz Sharif, engaged with various stakeholders, including a Balochistan Awami Party (BAP) delegation comprising Nawabzada Khalid Magsi, Manzoor Kakar, and others. The meeting also saw the presence of Pakhtunkhwa Milli Awami Party (PKMAP) President Khalid Magsi, National Party's Abdul Malik Baloch, and JUI-F's provincial leadership. Notable attendees included Senate Chairman Sadiq Sanjrani, Balochistan Assembly Speaker Mir Jan Muhammad Khan Jamali, and others.
During the discussions, Former Balochistan Chief Minister Jam Kamal and his group also met with Nawaz Sharif, signaling potential shifts in allegiance.
Nawaz Sharif, addressing the gathering, emphasized that the prosperity of Balochistan has always been a top priority for him and the PML-N. He highlighted the party's initiated projects aimed at the development of the province, particularly emphasizing the construction of roads to alleviate poverty.
لواری ٹنل پہ ہم نے 30 ارب روپے لگا کر اسے مکمل کیا ہم نے غازی بروتھا کے پلانٹ کو مکمل کیا جو آج پورے ملک کو بجلی فراہم کررہا ہے گلگت سے سکردو تک سڑک 60 ارب روپے کی لاگت سے ہم نے مکمل کروائی۔قائد مسلم لیگ ن محمد نوازشریف pic.twitter.com/WcvT2k0IqS

— PMLN (@pmln_org) November 14, 2023
Nawaz Sharif acknowledged the sacrifices made during the construction of the Gwadar-Quetta road, underscoring its significance in connecting South Balochistan with Sindh through the completed highway to Khuzdar and Ratodero.
Nawaz Sharif said, "The roads were constructed to end poverty in the province," citing the Gwadar to Quetta route that reduced travel time from two days to eight hours.