Marriyum rejects notion of favoritism in cases against PML-N leadership
The PML-N leader defends acquittal of Shehbaz Sharif and others in corruption cases, saying that "what is wrong if the justice system is clearing years' old stains on it,".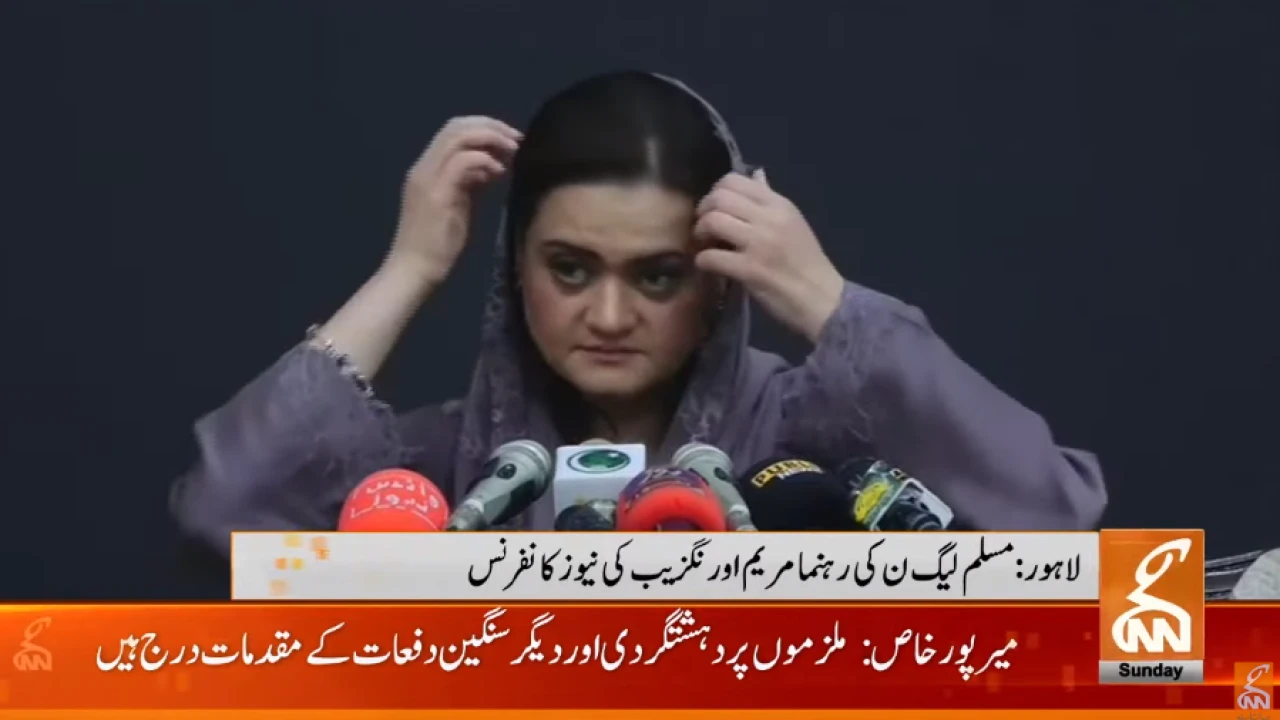 Lahore- PML-N leader and former Federal Minister for Information and Broadcasting Marriyum Aurangzeb on Sunday shunned away any impression of "Ladla" [favorite] being attached to the acquittal of party President Shehbaz Sharif and other leaders in different cases.
"What is wrong if the justice system is clearing the years' old stains on it?," asked Marriyum Aurangzeb while addressing a press conference at party's secretariat in Model on Sunday.
"Is it Ladla pan [favoritism] that a person who was elected thrice for the prime minister office was removed every time from the office? Ordered were passed to arrest his daughter," said the former federal minister.
She held the press conference a day after an accountability court gave clean chit to PML-N President and former Prime Minister Shehbaz Sharif and ten other accused including Fawad Hassan Fawad and Ahad Cheema in Ashiana case.
لاہور؛ ترجمان مسلم لیگ (ن) مریم اورنگزیب اہم پریس کانفرنس کررہی ہیں۔ https://t.co/kcsjnV60vh

— PMLN (@pmln_org) November 19, 2023
Marriyum Aurangzed said that Shehbaz Sharif was summoned in Saaf Pani case and was arrested in Ashiana housing scheme case. Nawaz Sharif, she said, was arrested for not taking salary from the son.
"When they [PTI] did not find any thing the used to threatened the chairman NAB," she said, adding that the chairman NAB at that time was also blackmailed.
The PML-N leader said that Hamza Shehbaz was kept in jails for around two years and Rana Sanaullah was implicated in a fake heroin case.
The NCA in the UK, she stated, was also sent documents after they failed to prove anything here but they also could not get anything from there.
"Shehbaz Sharif was jailed on the political grounds," said Marriyum Aurangzeb, adding that project Imran Khan was launched and the today's youth must know the reality.
Ahad Cheema, she said, was arrested before Shehbaz Sharif's arrest and yesterday he was also declared innocent in the case.
"Where are those faces which used to be at the prime minister house and used to mislead the public? I don't see them anymore," said Marriyum.
She further said that Shahzad Akbar while sitting in his room used to order to install cameras in the room of Marriam Nawaz Sharif.
"When we were accused were faced the courts rather than resorting to the incidents like May 9," said the PML-N leader, adding that the PTI leaders hurled threats and created chaos when they were summoned by the courts.
"May 9 incidents only happen when corruption is done," she claimed.
Marriyum Aurangzeb said that Shehbaz Sharif successfully secured deal with the IMF and saved the country from the default.
At the end, she quoted Asif Ali Zardari that he was of the view that fair elections would be held this time.
"Our political rivals also understand that Nawaz Sharif will be the next prime minister," she added.