Opposition parties' leaders have devised a strategy to give PM tough time: Imran Yaqub Khan
Lahore: Maulana Fazlur Rehman, Nawaz Sharif, Asif Zardari have devised a strategy to give Imran Khan a tough time.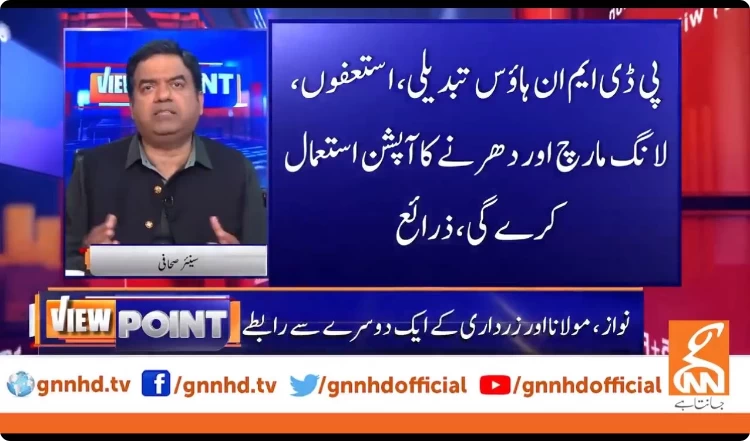 Speaking in GNN programme "View Point", senior analyst Imran Yaqub Khan said that it has been heard for the last several days that Maulana Fazlur Rehman, Nawaz Sharif and Asif Zardari are having telephone conversations and PDM has decided to give the government a tough time.
سینیٹ الیکشن۔۔۔ عمران خان کو ٹف ٹائم دینے کیلئے نواز، مولانا اور زرداری نے حکمت عملی بنالی۔۔ مزید سنیئے عمران یعقوب خان سے۔۔@imranyaqubkhan @ZafarHilaly @PTIofficial @pmln_org @MediaCellPPP #ViewPoint #GNN pic.twitter.com/05EiC8k5RA

— GNN (@gnnhdofficial) February 12, 2021
In the conversation between the three leaders, it has been decided that Asif Ali Zardari to be given a free hand to complete his numbers after which a no-confidence motion to be bounced in Parliament.
PPP has conditionally agreed to resign from assemblies but only after it gets unsuccessful to pass the no-confidence motion. At the same time, the PDM leadership has decided to hold a meeting again after the Senate elections and the decisions will be made; when to hold a long-march, whether to hold a sit-in or not. and whether the resignations to be given before or after the long-march, he added.