UK and Taliban in talks to evacuate British citizens, Afghans
The United Kingdom (UK) is in talks with Taliban to provide secure "safe passage" for its citizens and Afghans who have worked for the British government.
According to a government statement late on Tuesday, UK Prime Minister Boris Johnson's special representative for Afghan transition, Simon Gass, flew to Doha, Qatar, to meet Taliban representatives.
Much of the Taliban's senior leadership lived in exile in the Qatari capital until the overthrow of Afghanistan's Western-backed government after two decades of war.
Gass "is meeting with senior Taliban representatives to underline the importance of safe passage out of Afghanistan for British nationals, and those Afghans who have worked with us over the past twenty years," the statement said.
It is the first publicly disclosed statement about diplomacy between London and the Taliban since UK joined the United States in the mammoth airlift of more than 100,000 people out of the country after the Afghan military's capitulation.
The Taliban has pledged to allow Afghans to come and go in the face of calls from the international community to honour that commitment in the days after the US withdrawal on Tuesday.
More than 8,000 Afghans who helped NATO forces made it out of Afghanistan and the British government said they would be given indefinite leave to remain.
But Johnson has come under fire after many Afghans who helped NATO – and are eligible to move to the UK – were believed to have been left stranded in Afghanistan, where they are at the mercy of the Taliban.
An unnamed British minister told the Sunday Times newspaper that he believed the UK could have evacuated "800-1,000 more people" in the chaotic airlift.
Johnson's government sought to extend the US withdrawal deadline of August 31 but ultimately failed to persuade President Joe Biden.
After the Taliban swept into Kabul in mid-August, the British prime minister said the Taliban must be judged on its "actions rather than by its words" and insisted the UK could not have remained in Afghanistan without American support.
British foreign minister Dominic Raab was also condemned by the opposition Labour party for not immediately leaving a beach holiday when the Taliban took control.
Courtesy: Al Jazeera
Eidul Adha on July 10 as Zil Hajj moon not sighted in Pakistan
Central Ruet-e-Hilal Committee Chairman Maulana Syed Abdul Khabir Azad announced the decision following a meeting of the committee
The Central Ruet-e-Hilal Committee announced Wednesday that the Zil-Hajj moon has not been sighted in Pakistan, adding that Eid ul Adha in Pakistan will be observed on July 10 (Sunday).
Chairman Maulana Syed Abdul Khabir Azad announced the decision following a meeting of the committee, held in Karachi after Maghrib prayers to sight the crescent moon.
The first day of Zil hajj would fall on July 1 (Friday), he added.
In the meeting, it was formally announced by the committee that the moon of Zul-Hijjah has not been seen anywhere in the country, therefore Eid-ul-Adha will be on Sunday, July 10.
Earlier, the Lahore Zonal Committee had also announced that the moon of Dhi Al-Hajj has not been seen. Eid-ul-Adha will be on Sunday, July 10, however, the final announcement in this regard was to be made by the Central Route Hilal Committee.
There's need to prioritize inflation fight over growth: global central bank chiefs
ECB President Christine Lagarde says the low inflation of the pre-pandemic era would not return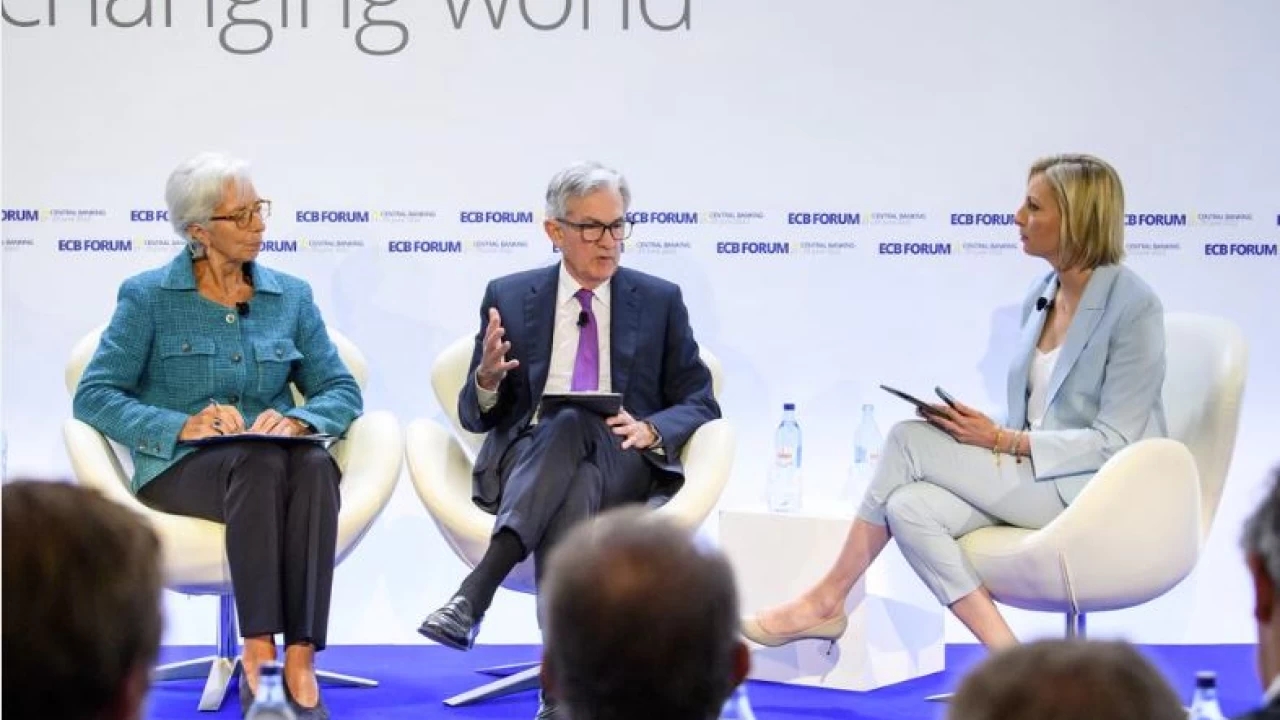 Bringing down high inflation around the world will be painful and could even crash growth but must be done quickly to prevent rapid price growth from becoming entrenched, the world's top central bank chiefs said on Wednesday.
Inflation is breaking multi-decade highs around the world as soaring energy prices, post-pandemic supply chain bottlenecks and in some cases red-hot labour markets are pushing up the cost of everything, and threatening to set off a hard-to-break wage-price spiral.
"The process is highly likely to involve some pain but the worst pain would be from failing to address this high inflation and allowing it to become persistent," U.S. Federal Reserve Chair Jerome Powell said at the European Central Bank's annual conference in Sintra, Portugal.
Echoing Powell's words, ECB President Christine Lagarde said the low inflation of the pre-pandemic era would not return and that the ECB, which has persistently underestimated price growth, had to act now because price growth was likely to remain above the 2% target for years to come.
RISKS
Engineering policy tightening to avoid a recession in the United States is certainly possible, Powell said, adding that the pathway was narrow and there were no guarantees of success.
"Is there a risk that we would go too far? Certainly there's a risk, but I wouldn't agree that it's the biggest risk to the economy," he said. "The bigger mistake to make, let's put it that way, would be to fail to restore price stability."
Augustin Carstens, the General Manager at the Bank for International Settlements, an umbrella group of central banks, said policymakers had taken the first step in recognising they had a problem. Now their job was to tighten policy, as risks were mounting.
"They should try to... prevent the full transition from a low inflation environment to a high inflation environment where this high inflation gets entrenched," Carstens told the ECB gathering. "You need to prevent this vicious cycle from kicking in."
The ECB has already flagged rate hikes in both July and September while the Fed increased rates by 0.75 percentage points in June and may opt for a similar move in July.
The Bank of England raised rates by 25 basis points to 1.25% this month - its fifth successive move -and said it would act "more forcefully" in the future if it saw a greater persistence of inflation.
"There will be circumstances in which we will have to do more," BoE Governor Andrew Bailey told the conference. "We're not there yet in terms of the next meeting. We're still a month away, but that's on the table."
"But you shouldn't assume it's the only thing on the table," he said, referring to another 25 basis point hike.
However, Bailey also warned that the British economy was now clearly at a turning point and starting to slow.
SOURCE: REUTERS
President lauds services of armed forces of Pakistan
They are real defenders of the motherland.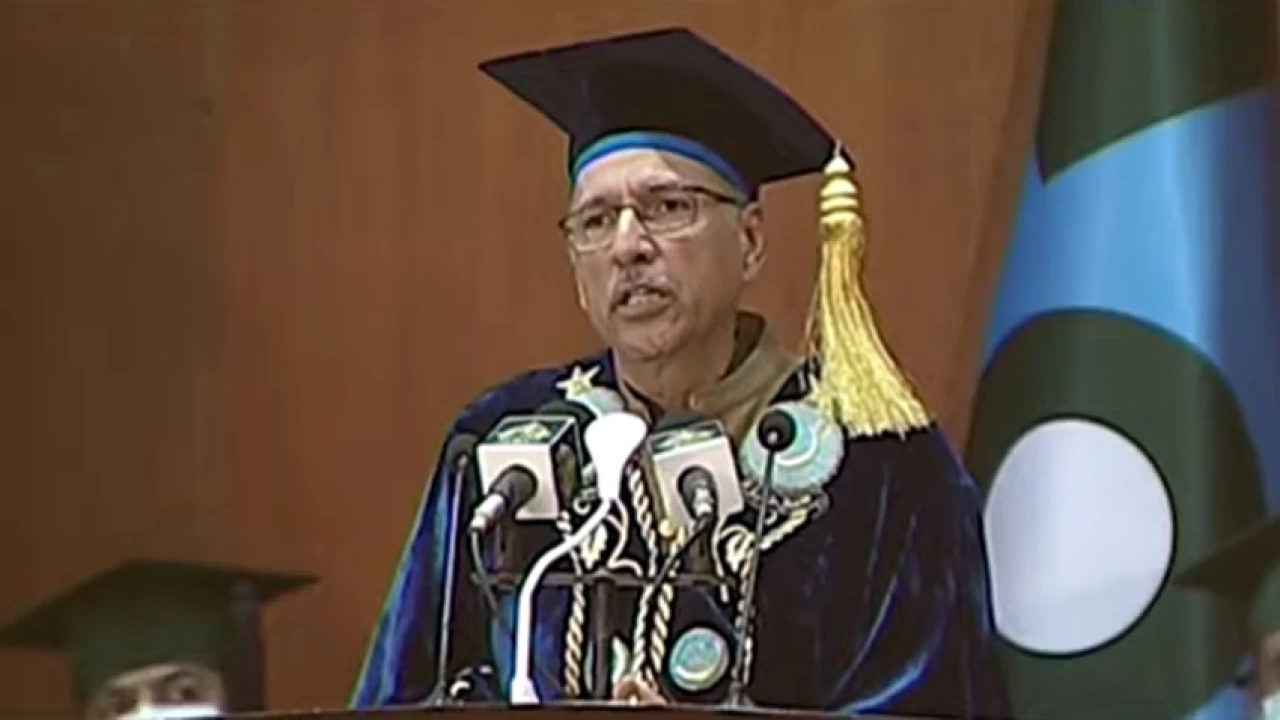 Islamabad: President Dr. Arif Alvi has called for creating skilled human resources to compete with world in various sectors of life.
He was addressing the graduation ceremony of 35th Air War Course at Pakistan Air Force Air War College Faisal in Karachi on Wednesday.
Dr Arif Alvi said that targets of development could only be achieved today by fully mobilizing human resources and adopting technological advancements and modern methods.
The President lauded the services of the armed forces of Pakistan and said that they are real defenders of the motherland.
As per reports, 70 officers of all the three armed forces of Pakistan and friendly country passed out— 35 from Pakistan Air Force, ten from Pakistan Army and seven from Pakistan Navy.
Participants from Bangladesh, Sri Lanka, Indonesia, Malaysia, Jordon, Yemen, Saudi Arabia, Nigeria, and Iraq were also part of the course.