Vaccine manufacturers begin quick testing against new omicron Covid variant
Leading manufacturers of Covid-19 vaccines in the world said Friday that they are working to quickly investigate and adapt their shots to a new and highly mutated strain of the virus.
The World Health Organization on Friday said the new strain, named omicron, is a "variant of concern" that may pose a higher risk of reinfection than past mutations of the virus.
Pfizer and BioNTech said they are investigating omicron, first labeled B.1.1.529, and can adapt their vaccine quickly if needed.
"We understand the concern of experts and have immediately initiated investigations on variant B.1.1.529," the companies said.
Pfizer and BioNTech said they expect more data from lab tests in two weeks at the latest.
"These data will provide more information about whether B.1.1.529 could be an escape variant that may require an adjustment of our vaccine if the variant spreads globally," the companies said.
Pfizer and BioNTech said they can adapt their mRNA vaccine within six weeks and start shipping batches within 100 days if an escape variant is identified.
Johnson & Johnson on Friday said they were already testing their vaccine against omicron.
"We are closely monitoring newly emerging COVID-19 virus strains with variations in the SARS-CoV-2 spike protein and are already testing the effectiveness of our vaccine against the new and rapidly spreading variant first detected in southern Africa," J&J said.
AstraZeneca said it is also investigating the variant. Its vaccine platform developed with Oxford University enables a quick response to new mutations as they emerge, the company said.
"AstraZeneca is also already conducting research in locations where the variant has been identified, namely in Botswana and Eswatini," the company said.
Moderna, in a statement Friday, said the combination of mutations in the variant "represents a significant potential risk to accelerate the waning of natural and vaccine-induced immunity."
"A booster dose of an authorized vaccine represents the only currently available strategy for boosting waning immunity," the company said.
Moderna said it will test three booster candidates against omicron, including at a higher dosage level. The company will also develop a booster dose specific to the variant.
"From the beginning, we have said that as we seek to defeat the pandemic, it is imperative that we are proactive as the virus evolves," said Moderna CEO Stephane Bancel in a statement. "The mutations in the Omicron variant are concerning and for several days, we have been moving as fast as possible to execute our strategy to address this variant."
The variant, which emerged in South Africa, has about 50 mutations, more than 30 of which are on the spike protein that allows the virus to bind to human cells. The spread of the new variant is still in its early stages, and it's not yet clear how severe an infection would be to a vaccinated person.
Several European and Asian nations have suspended flights from southern Africa in response to the variant. The United Kingdom suspended flights on Thursday from six countries in the region, and the European Commission – the European Union's executive body – told all 27 member states to halt travel from southern Africa.
White House chief medical advisor Dr. Anthony Fauci on Friday said the U.S. is working with South African scientists to obtain the molecular makeup of the variant so lab tests can be conducted. Those tests would help determine whether or not the variant can evade antibody protection provided by the vaccines.
Fauci said that data would help determine whether or not the U.S. should implement similar travel restrictions. The Biden administration confirmed later on Friday that the U.S. would restrict entry for non-citizens coming from eight southern African nations.
The strength of Covid vaccines against infection has declined over time, although they're still highly effective at preventing hospitalization and death. A study published in the journal Science this month found that the Pfizer vaccine's efficacy at preventing infection declined from 86% to 43% from February to October. Moderna's vaccine dropped from 89% to 58%, and J&J's vaccine fell from 86% to 13% efficacy against infection in the same study.
The U.S. Centers for Disease Control and Prevention authorized booster shots of Pfizer-BioNTech's and Moderna's vaccines for all adults last Friday. The Pfizer booster dose was 95% effective at preventing symptomatic infection in people who had no evidence of prior infection in a clinical trial of 10,000 participants ages 16 and older, according to the company. Moderna is still conducting a clinical trial on the efficacy of its booster dose.
SOURCE: CNBC
Kazak envoy calls on COAS Bajwa, discusses regional security, bilateral matters
General Qamar Bajwa hoped law and order situation in Kazakhstan would be restored soon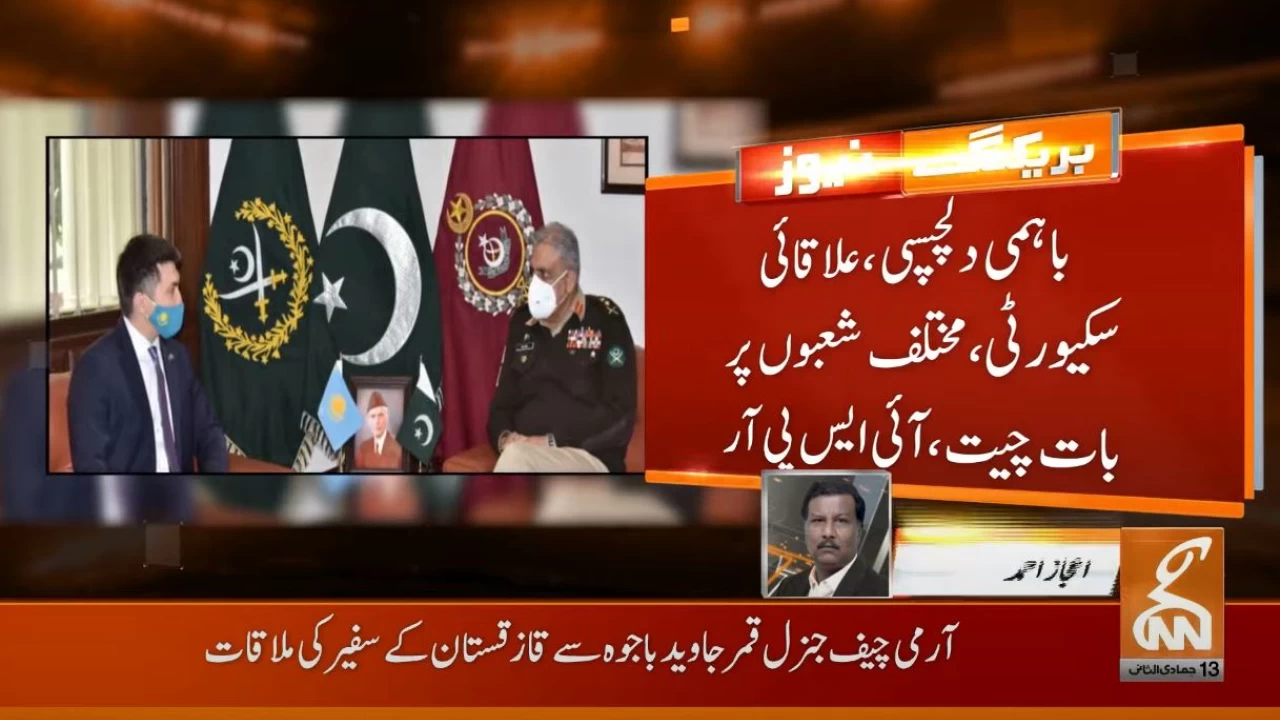 Rawalpindi: Ambassador Extraordinary and Plenipotentiary of the Republic of Kazakhstan Yerzhan Kistafin Monday called on Chief of Army Staff (COAS) General Qamar Javed Bajwa at GHQ on Monday.
During the meeting matters of mutual interest, regional security situation and cooperation in various fields were discussed, said an Inter Services Public Relations (ISPR) media release.
Speaking on the occasion, the COAS hoped that law and order situation in Kazakhstan was restored soon.
Referring to Afghanistan, the COAS stressed upon the need for sincere international efforts to avert a humanitarian crisis there.
General Bajwa said Pakistan remained committed to cooperate with its international partners for peace in the region.
The visiting dignitary appreciated Pakistan's role and efforts for regional stability and pledged to play his role for further improvement in diplomatic cooperation with Pakistan at all levels.
Four killed, several injured in Bahawalpur road accident
According to preliminary details, the ill-fated auto was carrying school children.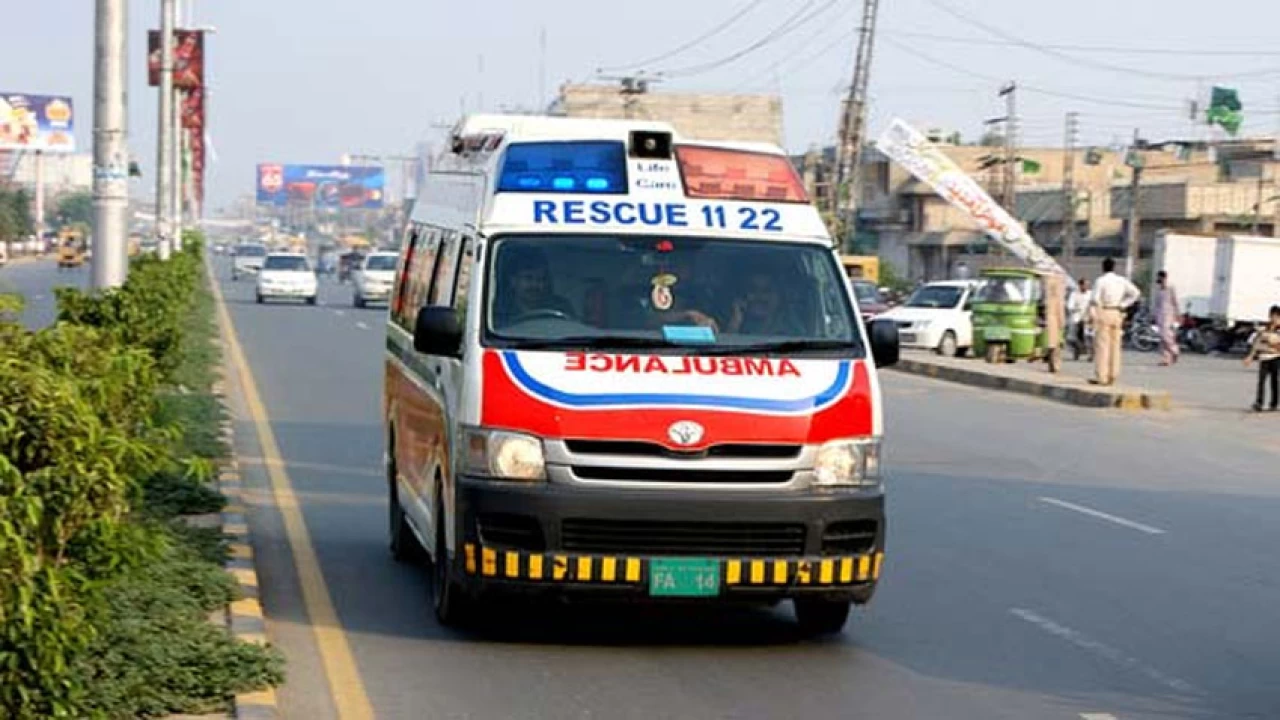 Bahawalpur: In an unfortunate incident, four students were killed while several others sustained injuries following a horrific collision between a troller and auto near Musafir Khana in District Bahawalpur.
Police and rescue teams reached the spot after getting information and shifted the deceased and injured to Bahawal Victoria Hospital.
According to preliminary details, ill-fated auto was carrying school children.
Police, however, started an investigation into the incident as the driver of troller fled from the scene.
Job market recovery likely to slow in 2022 due to new Covid variants: ILO
There would be an even bigger deficit in working hours in 2022 than it previously estimated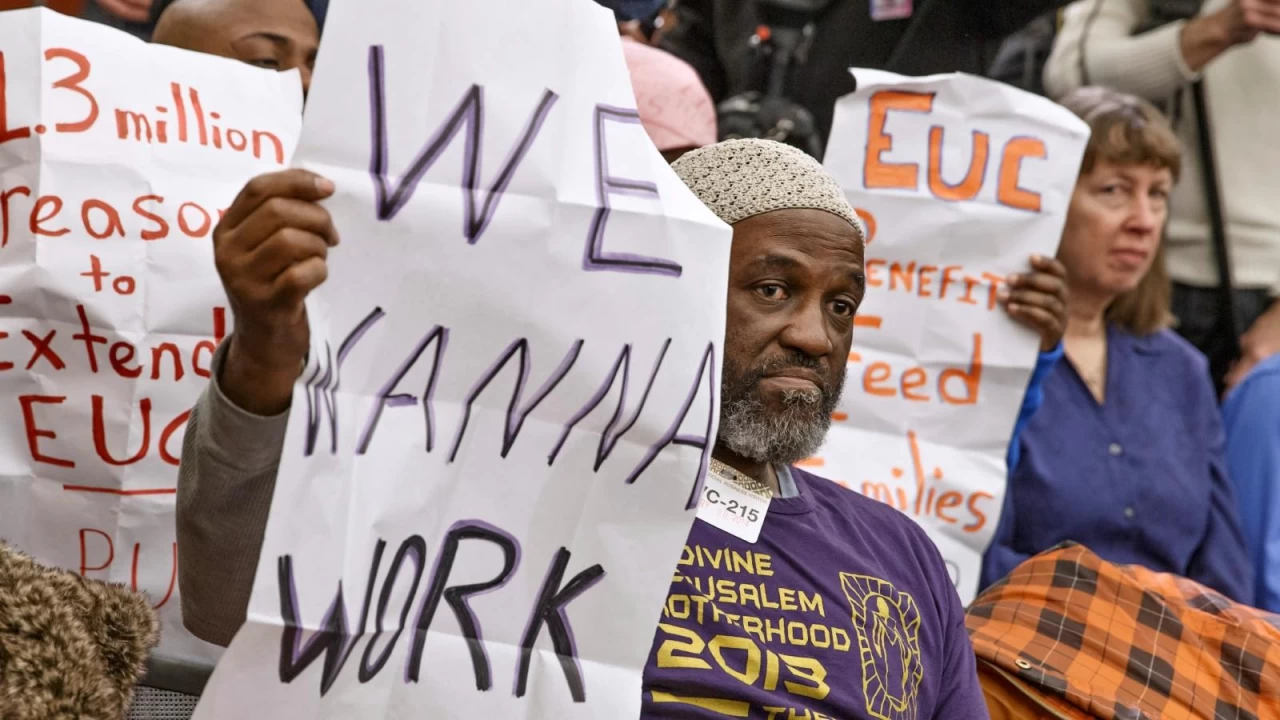 London: The United Nations' International Labour Organization has warned that job market recovery from the Covid-19 pandemic looks set to slow in 2022.
In its 2022 World Employment and Social Outlook trends report, published Monday, the ILO forecast that the number of hours worked globally in 2022 would be 1.8% lower than in the fourth quarter of 2019, just before the onset of the pandemic.
The ILO forecast that there would be an even bigger deficit in working hours in 2022 than it previously estimated. It projected that the fall in global working hours this year would now be the equivalent of losing 52 million full-time jobs, nearly double the 26 million it previously forecast in May 2021.
Guy Ryder, ILO director-general, said in a press briefing ahead of the release of the report on Monday that this "downside readjustment is quite considerable."
Ryder said that there were a number of reasons behind the expected slowdown in the labor market recovery, including the spread of new Covid variants, such as delta and omicron.
The ILO expected the labor market recovery to remain weak through 2023.
Ryder said that the far-reaching changes to economic and social behavior brought on by the Covid crisis had reduced the demand for, and the supply of, labor. He said that the ILO expected this trend to continue for "as long as the pandemic itself remains uncontrolled."
The ILO estimated that global unemployment is expected to reach 207 million in 2022, versus 186 million reported in 2019.
Ryder said that to be "sustainable this recovery must be based on the principles of decent work, employment creation, labor rights, social protection and social dialogue."
He referred to the guidance that was offered in the ILO's call-to-action, that was adopted by its 187 member states in June 2021. For example, the ILO suggested that states should provide incentives to employers to retain workers, such as shorter working weeks.
SOURCE: CNBC