Of ringmasters and circuses
Pakistani political philosophy has been reduced to just televisions and newspapers. Technological advances in communication have ended political discourse from streets, neighborhoods and arenas to arguments on television shows and statements printed in newspapers.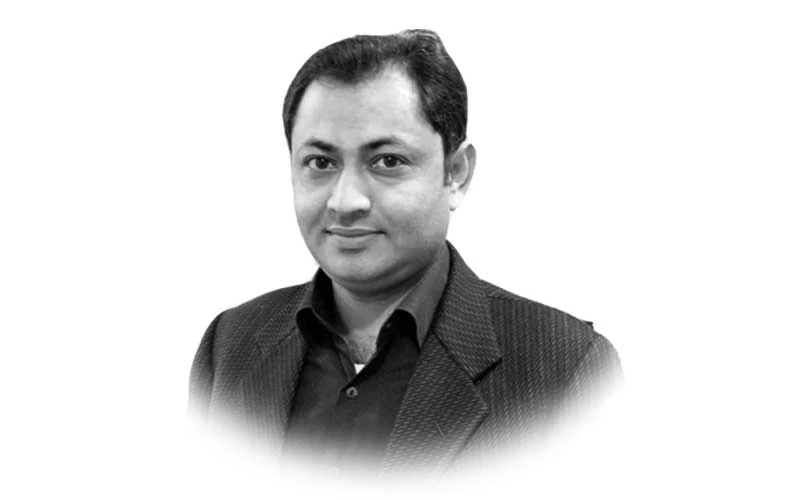 The ubiquitous cell phones in our hands have brought breaking news, latest developments and statements to us in less time that we could have ever imagined.
In the fifteen years I have been associated with the news industry, I have watched times change, studied their effects and reviewed what I have learned. In the olden days, when the 9 o'clock news bulletin on PTV ended television time for the day, curbsides, drawing rooms, baithaks and deras came alive as political discussions extended long into the night. The discourse stemmed from personal experiences, anecdotal evidences and private studies. There was individuality; analysis was tinged with the hue of ethnic identity and cultural characteristics. An unwritten rule was respect for opposing views and differences of opinions.
All that changed when General (retd) Pervez Musharraf took over the country and gave permits to private television channels. A new phenomenon was introduced, i.e. the race for breaking news. From 8:00 pm till 10:00 pm, talk shows reigned supreme.
Our process of watching, analyzing and understanding news was changed completely. Lightning fast breaking news, analysis and reviews robbed us of our ability to think for ourselves. The ordinary man's understanding of the system that governed his life went through a metamorphosis. How did this happen? Let us review.
Political reporting, which takes up a major chunk of news, requires a deep understanding of the topic and as complete information as can be provided. Once the news is out, follow ups require research, time and effort. But now, the basis of evaluating news channels is how fast they brought the news to the audience, how quickly they beat their competitors, how far ahead they are of their peers. Comprehensive and correct information is no longer the benchmark for analyzing content. Switch on any channel and asses how most of them present the occurrence of a development as complete news, not the facts, policies and ideas that are linked to it. Here too, sensationalism takes precedence over all else. Another factor are our political talk shows, presented mostly be people who have no experience of field reporting yet are called senior journalists. They take up pre-established positions and ignore real journalism.
This divide is now quite prominent. People switch on television only to watch the show that broadcasts views that their own preferences align with. Bereft of their own opinions, viewers have stopped discussing politics within their circles. The end result is low tolerance for opposing viewpoints and promotion of self-interest. A good talk show now is one where there is plenty of emotional argument, where matters escalate from disagreement to ferocious anger or even physical blows. On such nights, both the anchors and the producers of the shows expect high ratings.
And so, media now constitutes itself basically not on news but on presenting a riot for its viewers. The media is now a major player of this capitalistic system. Questions that must be asked are being ignored for the sake of remaining a power player. As for the anchors whose faces we see plastered on billboards and whose slick promos present alternate realities, well, their own lifestyles now have removed them very far from the life of an ordinary citizen. If you do not believe me, watch the circus. You'll spot the ringmasters easily enough.
Dollar continues losing momentum, falls Rs1.79 against PKR
The greenback has been losing value against the local unit for the fourth consecutive session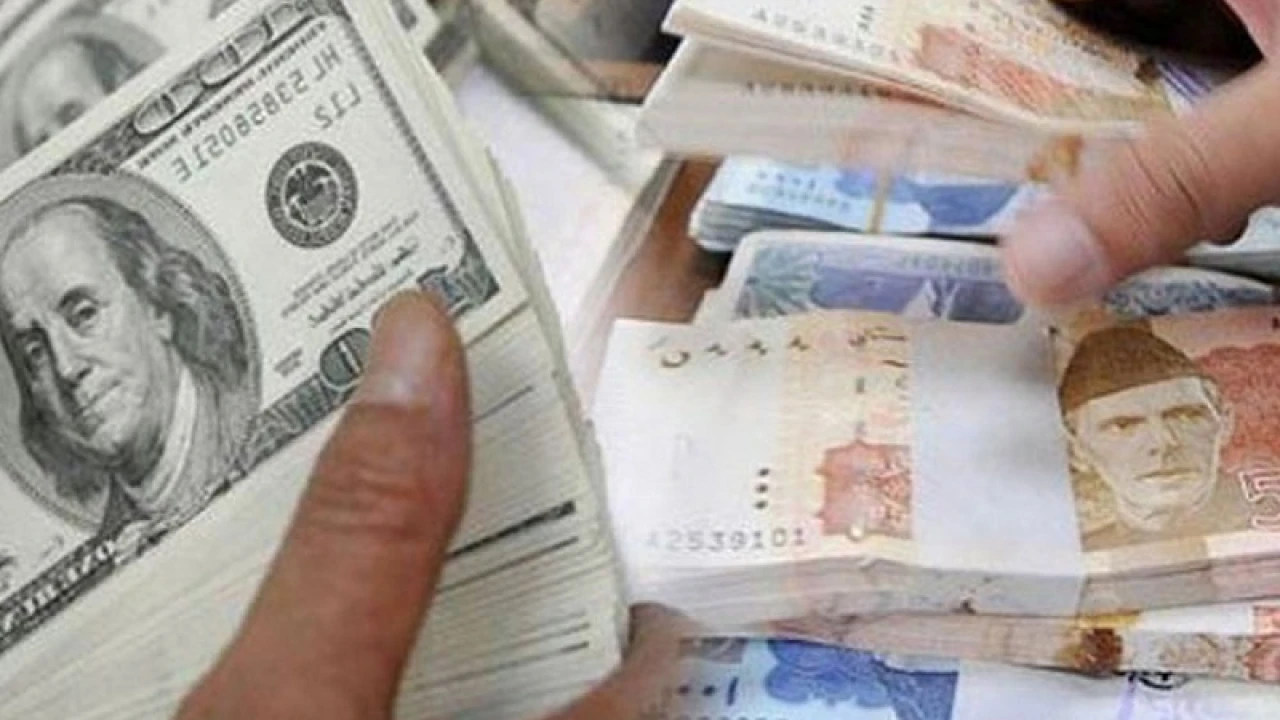 Karachi: Pakistani rupee on Wednesday gained Rs1.79 against the US dollar in the interbank market and closed at Rs232.12 against the previous day's closing of Rs233.90.
According to the Forex Association of Pakistan (FAP), the buying and selling rates of dollars in the open market were recorded at Rs230 and Rs233 respectively.
Interbank closing #ExchangeRate for todayhttps://t.co/v4VsDNfLah pic.twitter.com/kdHo1MFlF2

— SBP (@StateBank_Pak) September 28, 2022
According to market experts, the currency market was reacting positively to Ishaq Dar's upcoming appointment as the new finance minister and expectation of strict action against hundi/hawala networks.
Meanhile, the price of Euro decreased by Rs 3.96 and closed at Rs 221.69 against the last day's closing of Rs 225.65.
The Japanese Yen lost 02 paisas to close at Rs 1.60, whereas a decrease of Rs 4.90 was witnessed in the exchange rate of the British Pound, which was traded at Rs 247.90 as compared to its last closing of Rs 252.80.
The exchange rates of Emirates Dirham and Saudi Riyal decreased by 49 and 52 paisas to close at Rs 63.19 and Rs 61.67 respectively.
-- ADDITIONAL INPUT FROM APP
Cuba in the dark after Hurricane Ian knocks out power grid
Authorities were working overnight to gradually restore service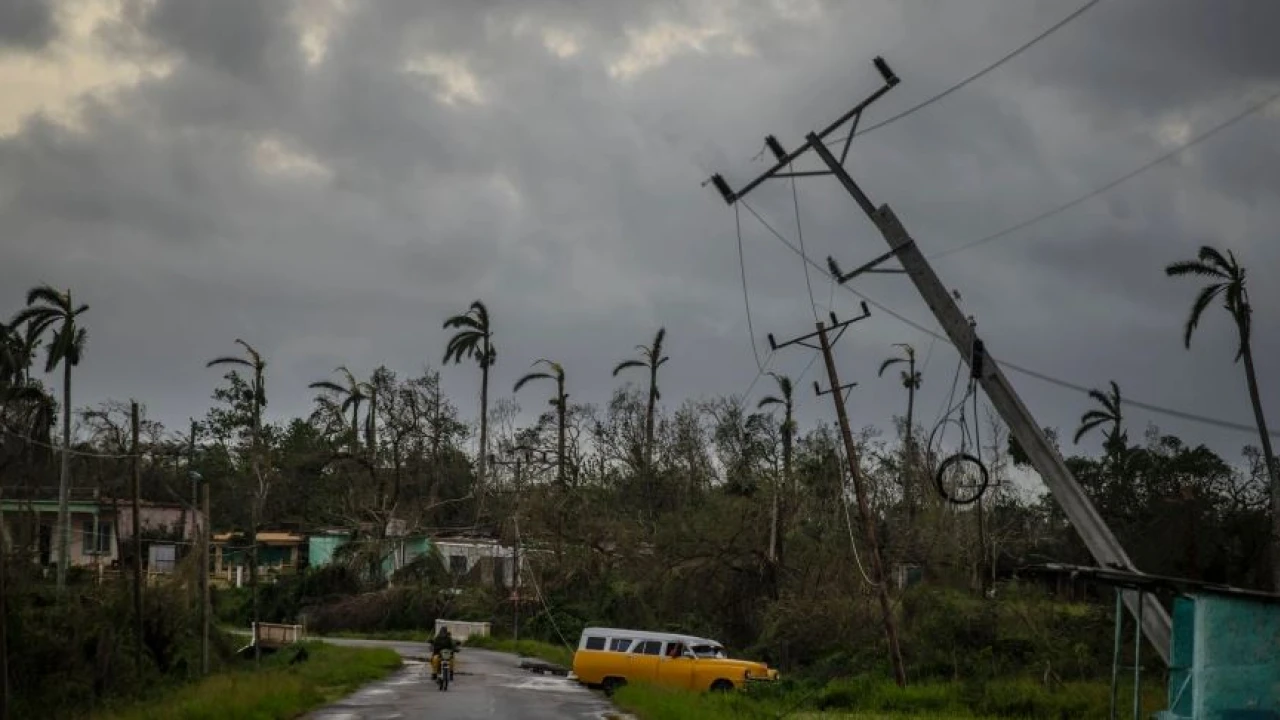 Havana: Cuba remained in the dark early Wednesday after Hurricane Ian knocked out its power grid and devastated some of the country's most important tobacco farms when it hit the island's western tip as a major storm.
Authorities were working overnight to gradually restore service to the country's 11 million people, according to a statement from Cuba's Electric Union. Power was initially knocked out to about 1 million people in Cuba's western provinces, but later the entire grid collapsed.
Ian hit a Cuba that has been struggling with an economic crisis and has faced frequent power outages in recent months. It made landfall as a Category 3 storm on the island's western end, devastating Pinar del Río province, where much of the tobacco used for Cuba's iconic cigars is grown.
Tens of thousands of people were evacuated and others fled the area ahead of the arrival of Ian, which caused flooding, damaged houses and toppled trees. Authorities were still assessing the damage, although no fatalities had been reported by Tuesday night.
Ian's winds damaged one of Cuba's most important tobacco farms in La Robaina.
"It was apocalyptic, a real disaster," said Hirochi Robaina, owner of the farm that bears his name and that his grandfather made known internationally.
Robaina, also the owner of the Finca Robaina cigar producer, posted photos on social media of wood-and-thatch roofs smashed to the ground, greenhouses in rubble and wagons overturned.
State media said Cuban President Miguel Díaz-Canel visited the affected region.
"Being in the hurricane was terrible for me, but we are here alive," said Pinar del Rio resident Yusimí Palacios, who asked authorities for a roof and a mattress.
Officials had set up 55 shelters and took steps to protect crops, especially tobacco.
The U.S. National Hurricane Center said Cuba suffered "significant wind and storm surge impacts" when the hurricane struck with top sustained winds of 125 mph (205 kph).
Ian was expected to get even stronger over the warm Gulf of Mexico, reaching top winds of 130 mph (209 kph) approaching the southwestern coast of Florida, where 2.5 million people were ordered to evacuate.
As the storm's center moved into the Gulf, scenes of destruction emerged in Cuba. Authorities were still assessing the damage in its world-famous tobacco belt.
Local government station TelePinar reported heavy damage at the main hospital in Pinar del Rio city, tweeting photos of collapsed ceilings and downed trees. No deaths were reported.
Videos on social media showed downed power lines and cut off roads in the provinces of Pinar del Rio, Artemisa and Mayabeque. A hospital in Pinar del Río was damaged.
"The town is flooded," said farmer Andy Muñoz, 37, who lives in Playa Cajío in Artemisa.
He said many people lost their belongings due to the storm surge.
"I spent the hurricane at home with my husband and the dog. The masonry and zinc roof of the house had just been installed. But the storm tore it down," said Mercedes Valdés, who lives along the highway connecting Pinar del Río to San Juan y Martínez. "We couldn't rescue our things ... we just ran out."
SOURCE: AP
Ukraine invasion: EU executive proposes eighth batch of sanctions against Russia
The Group of Seven major industrialised countries have already agreed to put an oil price cap in place via insurers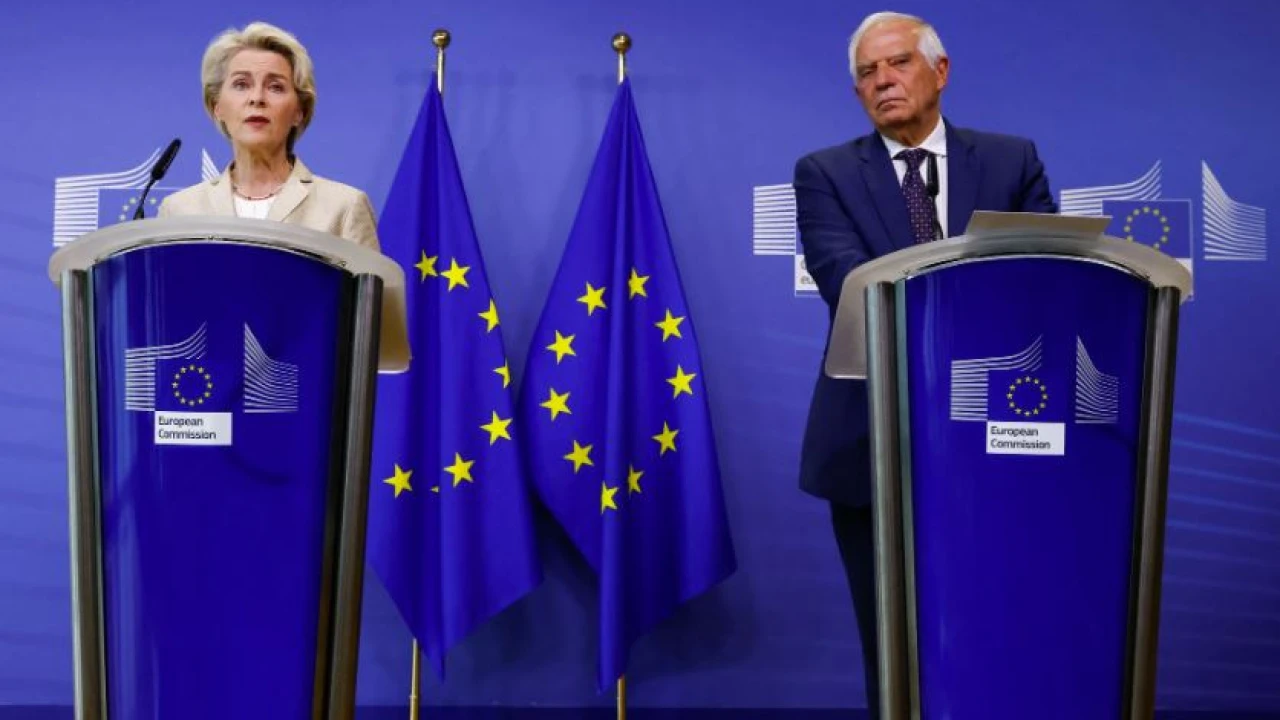 The European Union executive proposed on Wednesday an eighth round of sanctions against Russia over its invasion of Ukraine, including tighter trade restrictions, more individual blacklistings and an oil price cap for third countries.
The proposal will now go to the bloc's 27 member countries, which will need to overcome their differences to implement the new sanctions on top of seven sets of punitive measures imposed on Russia since its forces swept into Ukraine on Feb. 24.
That may take time despite the EU being spurred into action by Russia's military mobilisation last week, nuclear threats and steps to annex a swathe of Ukraine, after invading the former Soviet republic that aspires to join the EU.
"We do not accept the sham referenda (in Russian-occupied areas of Ukraine) nor any kind of annexation...And we are determined to make the Kremlin pay the price for this further escalation," European Commission President Ursula von der Leyen told reporters.
"We are proposing a new package of biting sanctions."
The Group of Seven major industrialised countries - which includes EU countries Italy, France and Germany - have already agreed to put an oil price cap in place via insurers.
Earlier on Wednesday, a senior economic adviser to Ukrainian President Volodymyr Zelenskiy called on the EU to further cut money flows to Russia from fossil fuel sales.
"If you are doing nothing it means you are just prolonging this war with Ukraine. This is just ridiculous. The whole civilised world has to be united on that," said Oleg Ustenko.
While the EU already agreed to stop importing Russian oil starting later this year, Ustenko said "blood money" would keep on flowing to Moscow unless European companies were banned from insuring Russia's seaborne shipments to other countries.
UNANIMITY
The proposed sanctions fall short of harder-hitting measures, including a ban on importing Russian diamonds, sought by Russia hawks Poland and the three Baltic countries.
But EU states need unanimity to impose sanctions and the oil cap might be too much for Hungary, where Prime Minister Viktor Orban, who cultivates close ties with Russian President Vladimir Putin, has been a vocal critic of economic restrictions.
Ustenko hoped Hungary would eventually agree, and that EU countries with large shipping fleets - Greece, Malta and Cyprus - would also back more measures hitting Russian oil revenues.
Speaking next to von der Leyen, EU foreign policy chief Josep Borrell said the bloc was also blacklisting more individuals from Russia's defence sector, those involved in ad hoc votes organised by Moscow in occupied Ukrainian territories, those the West blames for spreading Russian propaganda and those helping to circumvent sanctions against Moscow.
Poland's EU ambassador said the proposed individual sanctions would include Patriarch Kirill, head of the Russian Orthodox Church and a close Kremlin ally, after previous attempts to blacklist him in the EU were blocked by Hungary.
Von der Leyen said a new imports ban would cost Russia 7 billion euros in lost revenues and that the EU would also expand the list of prohibited exports "to deprive the Kremlin's war machine of key technologies".
Under the proposal, European companies would be barred from providing more services to Russia and European citizens would not be allowed to sit on boards of Russian state companies.
This would be a nod to popular outrage over the cases of Gerhard Schroeder and Francois Fillon - former top European politicians who subsequently took jobs on Russian boards.
The Commission was due to present details of the proposal to member states at a closed-door meeting later on Wednesday and the 27 were expected to have a first discussion on Friday before national EU leaders meet in Prague on Oct. 6-7.
SOURCE: REUTERS