The Republican vs. Republican feud behind the government shutdown fight, explained
A rundown on the factions involved in the disarray.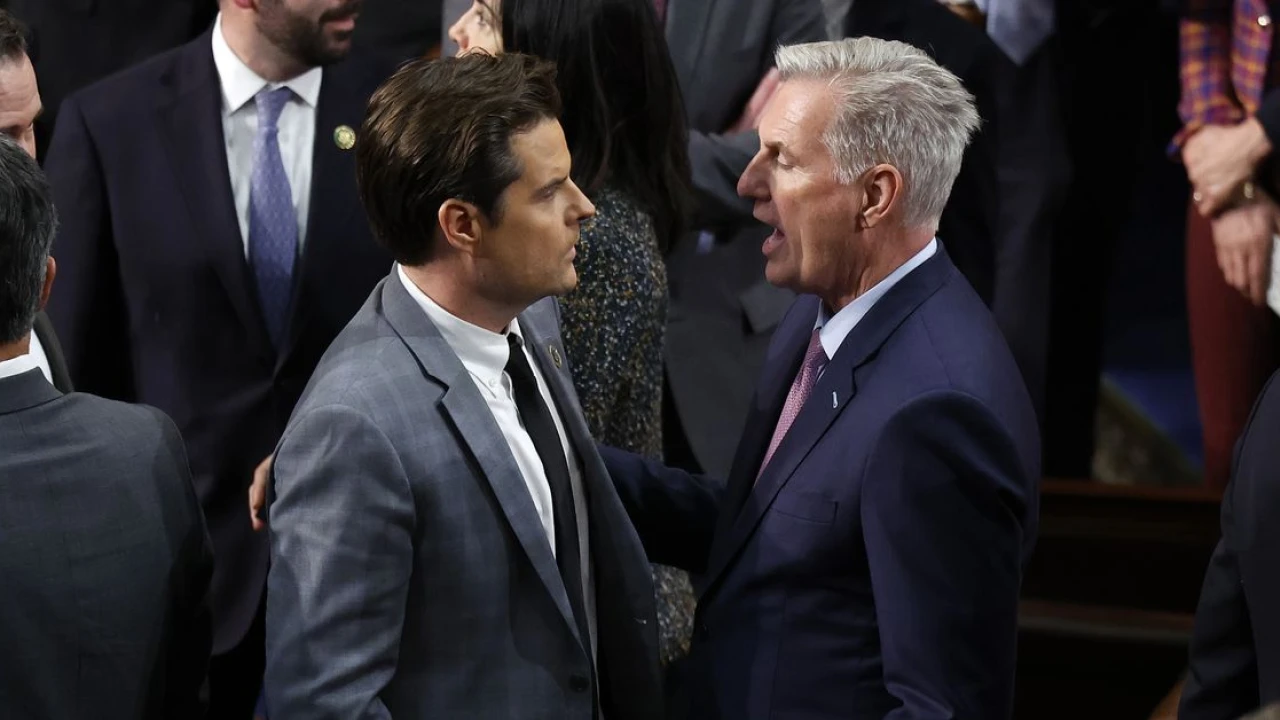 This month, due to House Republican in-fighting, the US government is on the verge of a shutdown yet again.
It's clear Congress doesn't have time to pass the bills it needs to in order to keep the government open before money runs out on September 30. At question is whether the House can pass a short-term funding bill, known as a continuing resolution or CR, that's acceptable to the House GOP caucus, Senate Democrats, and President Joe Biden in the time that's left. Doing so would buy lawmakers the time they need to come to an agreement on longer-term funding bills while avoiding a shutdown.
The main hold-up so far is that the Republican conference can't agree on what should be in the short-term bill: Although the GOP is broadly fiscally conservative, its far-right members are pushing for more aggressive spending cuts, the attachment of border security policies, and the omission of Ukraine aid.
The latest development in this impasse has been the emergence of a compromise cobbled together by House Speaker Kevin McCarthy and his leadership team. While some GOP lawmakers opposed to previous CR drafts have said they'd support it, it's still unclear if enough members would ultimately back it.
McCarthy's latest proposal is a short-term bill that would keep the government open for 30 days, establish funding levels at $1.471 trillion a year (much lower than the current $1.7 trillion levels), institute a more conservative border policy, and establish a commission to research ways to reduce the national debt. It does not include, however, either disaster aid or Ukraine aid, both of which the White House requested.
The compromise as written is pretty much dead on arrival in the Senate, which wants any CR to include Ukraine and disaster aid, as well as more spending. That means even if it quells House dissent for now, it will do little to avert a shutdown. Since Democrats control the upper chamber, they'll urge for a "clean" continuing resolution, one that doesn't have a ton of other policies hitched to it, such as immigration policies that conservatives have demanded. That eventual confrontation will force House Republicans to navigate their divides again.
Complicating matters further is the fact that the House GOP has a very narrow majority — if all of its lawmakers are present (and they haven't been lately) Republicans have just four votes to spare. With House Democrats unlikely to back a bill that severely curbs spending, that gives small groups of GOP lawmakers outsize control over the CR process, and ultimately over whether the government shuts down.
Below are the different House factions taking advantage of that small majority and jostling for their policy priorities in spite of the looming shutdown deadline:
House Freedom Caucus
A conservative group that's at the heart of the shutdown drama, the Freedom Caucus has been vocal about opposing any short-term funding bill that doesn't address its demands. Those demands were made clear in a statement it posted in August, one that included a push for CR language that addressed the supposed "weaponization of the government" against conservatives, border security proposals, and measures to tackle what it called "woke policies" in the military.
Although the group's membership is somewhat private, it's believed to contain roughly three dozen members and therefore has the numbers needed to obstruct the passage of any compromise. Prominent members include Reps. Scott Perry (R-PA), Byron Donalds (R-FL), Jim Jordan (R-OH), and Chip Roy (R-TX).
Previously, Freedom Caucus leadership was involved in the negotiation of another possible short-term funding deal, though it failed to gain the full backing of the group's membership. The leaders involved, including Donalds and Roy, had emphasized the wins that the caucus secured in the deal, including major spending cuts and border security policies.
In the past, the Freedom Caucus has been known as the faction of the Republican Party that's been willing to blow legislation up in order to make its larger point. Now that a few of its demands have been included in the latest continuing resolution proposals, at least some members have begun to signal that they'll go along with their caucus's leaders this time.
Rogue conservatives
Others who've been outspoken about the need for more curbs to spending are archconservatives like Rep. Matt Gaetz (R-FL), one of the members who is reportedly against the latest CR. Gaetz has at times balked at approving any CR at all because he argues that it won't result in significant changes to longer-term funding as the US's debt continues to grow.
Gaetz has also been one of the most vocal lawmakers threatening House Speaker Kevin McCarthy's leadership, complicating an already tricky situation for the speaker. Under caucus rules, any member of the House GOP is allowed to challenge the speaker's leadership at any time, and Gaetz has said he will try to oust the speaker if he doesn't cave to conservative demands for more enduring spending cuts. A majority of the House would have to vote to remove the speaker for it to actually happen, however.
Another prominent lawmaker in this camp is Rep. Marjorie Taylor Greene (R-GA), who unlike Gaetz is seen as a McCarthy ally. She has pushed to ensure the CR won't contribute to aid to Ukraine, a battle she's appeared to have won in the latest version of the bill. Again, the Senate has forcefully noted it has no plans to pass any CR that doesn't include Ukraine aid, raising the question of how Greene and those sympathetic to her stance on Ukraine will vote should the House be forced to compromise to avoid, or end, a shutdown.
Main Street Caucus
A self-described pragmatic group of about 70 lawmakers that includes the likes of Reps. Dusty Johnson (R-SD) and Stephanie Bice (R-OK), the Main Street Caucus says it's committed to conservative principles, business-friendly policies, and productivity. Its members dislike being described as moderate and emphasize that they back conservative ideals but support a functional Congress. Although they also like spending cuts, the Main Street Caucus is less keen on a potential shutdown.
"Our caucus hates cliffs, we hate dumpster fires, we hate chaos. We aim to be the grown-ups in the room," Johnson previously told Roll Call.
The Main Street Caucus was also involved in negotiations on the prior GOP spending deal, which Freedom Caucus leadership supported but rank-and-file members rejected. The version of the CR they advanced is now dead, though Main Street lawmakers largely appear to back the latest proposal as well.
The moderates
Increasingly, it's looking as though one likely way out of a shutdown could be some form of compromise legislation between moderate Republicans and Democrats. McCarthy previously worked with Democrats on a budget deal that was supposed to govern the fall's spending bill negotiations. That partnership wasn't received well among the further right parts of the caucus, and should he try to work with Democrats again, McCarthy would risk one of his members starting the process to remove him from his leadership.
All that hasn't stopped a couple of different groups from floating the idea of a bipartisan solution. That includes discussions by the center-right Republican Governance Group, which has roughly 40 members; the center-left New Democrat Coalition, which has more than 90 members; and the bipartisan Problem Solvers Caucus, which has over 60 members.
This week, the Problem Solvers Caucus put forth a framework with its compromise ideas that included funding the government at the current levels through January 11, a border security proposal, disaster relief money, and Ukraine aid. While it is the sort of proposal that could feasibly be accepted by the Senate and White House, its disaster aid and Ukraine money will likely make it unacceptable to the more conservative members of the House GOP, sinking its chances of getting them on board.
Love Is Blind season 5 is all about red flags
Netflix's hit reality dating series is back to ask: What is love? And baby, who hurt you?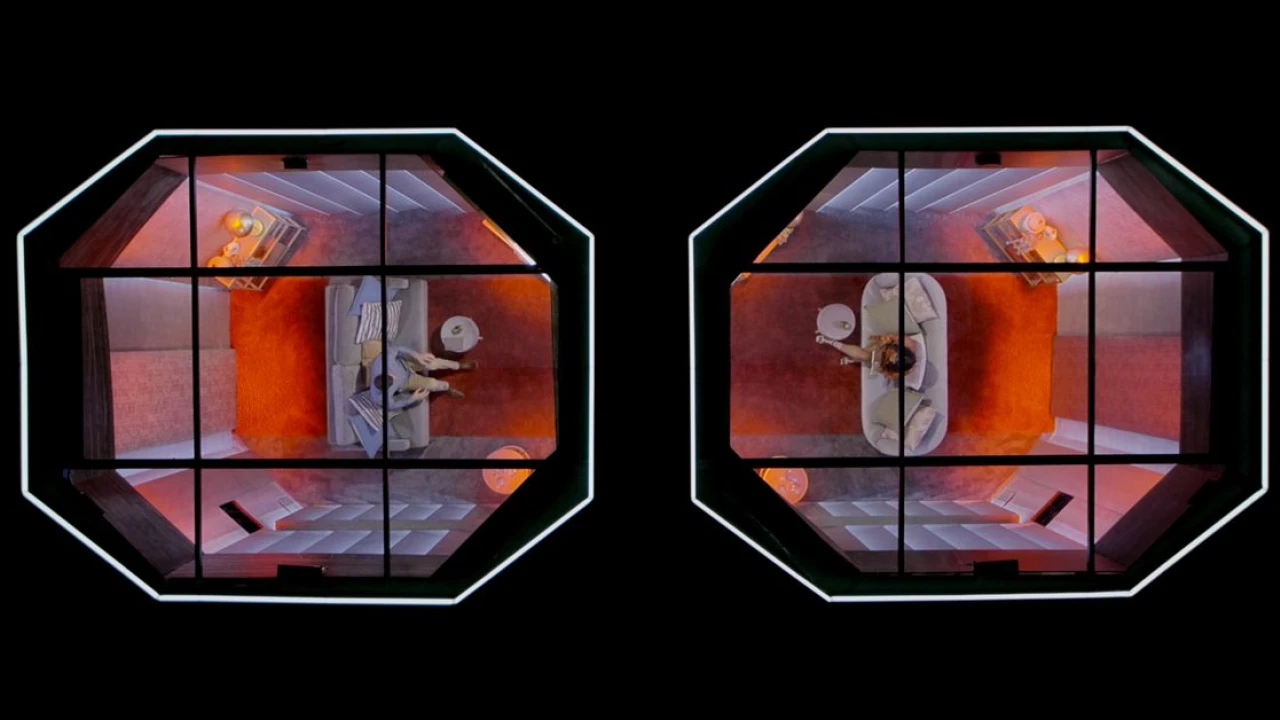 The mystifying thing about Netflix's Love Is Blind is that it's somehow still capable of unearthing fresh new horrors.
The contestants assembled by Netflix all seem to agree that the best way to fall in love is by immediately and ceaselessly dumping all of your trauma on another person. And if that doesn't work, rinse and repeat with the next faceless person behind the pod wall.
The show is built on a simple gimmick: Men and women fall in love sight unseen, and marry each other (or not) at the season's end. This raises a lot of questions; for instance, how do we fall in love? The castmates seem to have an answer I'm not totally sure psychologists would agree with. Behind the scenes, the players grapple with another big question: How do I get the most screen time? That's a problem some of them are able to solve all too easily.
Love is Blind season five is a lot of emotional punishment
In this fifth installment, which takes place in Houston, the overarching theme that permeates seemingly every conversation, every relationship, and every major conflict on the show is trauma. It almost feels as though this group of participants decided, as a collective, that telling someone everything bad that's ever happened to you is one of the immediate paths to love.
"I don't think we have been vulnerable with each other," says Lydia, one of this year's more enigmatic participants. Lydia has curly, honey-hued hair, tan skin, and an accent her Texan suitors often find impenetrable — an annoying wrinkle when you have to woo your husband in the pods. "What is your biggest trauma in life?" she asks.
Milton, who is sitting on the other side of the wall, hears her fine. Milton is an engineer with an extensive knowledge of geology. He has long limbs and a mustache. He tells her a story about how he was once playing basketball and came down funny. His back began to hurt, and when he got it checked out, the doctors told him something was seriously wrong. His spine has the tendency to "collapse on itself," he tells her, and his vulnerability caused a chain reaction which pushed on his organs, causing them to fail.
"I know I'm not gonna live a really long time," Milton tells Lydia. Milton is extremely precious, as is his limited time on earth. "People that are as tall as I am live significantly shorter."
"So you're telling me how tall you are," Lydia responds, cocking her head with a giggle. That giggle makes Milton say that he's falling in love with her; he could see himself spending his condensed lifetime with her. She says she can picture the same thing, presumably imagining growing somewhat old with an amorphous but elongated blob.
Milton isn't the only person with damage — emotional and physical — this season.
In the first set of episodes, we learn about some participants' very serious and sometimes life-changing circumstances. This includes things like Milton's disease but also abusive mothers, absent fathers, and a male contestant talking about how he was date-raped in Mexico. There's Johnie, a divorced lawyer who is getting over being in love with a man who was addicted to drugs. And then there's Izzy, who was ostracized in school for being a Christmas-eschewing Jehovah's Witness, only to later find out that his dad, who indoctrinated him into the religion, wasn't his biological father.
"It sounds so weird to say that I love that you have your traumas and insecurities," says Izzy, who is excited to celebrate Christmas now, to Johnie. It is indeed unusual to tell someone you love their life-shattering experiences.
"But I guess I love that, because I have them too," he assures her.
Advice from psychologists and therapists says sharing past traumas with your romantic partner (or potential romantic partners) can be a good thing, but they couldn't have predicted this. Love connection by way of trauma-dump also certainly happened on previous iterations of Love Is Blind, but it never got so much attention, or happened with so many couples.
This abundance of damage-sharing makes for some odd moments — like Lydia telling Milton she will cherish his tall body and short life — but also creates some riveting cringe television. At least some of these chronic oversharers inevitably get dumped.
Telling a person who you've known for less than 10 days that you're not interested in them is fairly easy in the real world. In Love Is Blind season five, though, that gets exponentially more difficult because that person has more than likely told you their deepest, darkest secrets. There's a moment this season where you can literally watch someone fall out of love with Johnie as she talks about her drug-addled ex in the most roundabout, painful way.
This group damage-sharing sets up a secondary dynamic in which the same-sex cast members become extraordinarily close with one another. These contestants are not only dumped by strangers, but they're then comforted by people they've just met. For people who may not even know one another's names, there are pep talks that get a little too comfortable and hugs that go a little too deep. It's all a bit bizarre, especially when you consider they're competing with each other in the same dating pool.
What's fascinating is that it's difficult to tell: Is this what all these people actually believe love to be? Or is this just what happens when you are isolated from the world, segregated by sex, put in a pod, provided a lot of alcohol, and told to find the love of your life through a makeshift wall?
You can bet there's an awful villain this season
While the spilled emotional baggage feels new this season, the show maintains its most entertaining tradition: the slow reveal of which of these people are absolute ghouls.
Last season's honors went to Irina, who bullied the other girls with her sidekick Micah. Both those women made the series' original villain, season one's Jessica (whose worst crime was feeding her dog red wine), seem absolutely winsome. Finding more and more sinister antagonists feels like both a descent into the bowels of reality TV and, counterintuitively, the show's best strategy to keep up with the high bar for drama it's already set. Even relatively normal Jessica's popularity eclipsed that of the show's happy couples, as did season two villains Shaina and Shake, and season three's Cole, a man who had flies breeding in his toilet.
Without giving too much away, there are at least three people I think will become fixtures of group texts and online conversation: JP, Stacy, and Uche.
The first two fit previous Love is Blind archetypes: the guy who shuts down and the girl who's not like other girls (but still loves sparkles and brunch).
For some inexplicable reason, JP owns a lot of clothing — shirts, jerseys, swimsuits — that incorporate the American flag. JP seems to be aggressively into US iconography in a way that calls to mind less of an abiding love for the country's national parks or amber waves of grain and more of an undertone of thinly restrained brutality. Although I do not know JP, I feel like he would try to inflict harm on me if he thought America wanted him to.
Stacy, who sadly does not match with JP, teaches group fitness exercise classes and goes hard on bronzer. She is the type of person who sees things in this world as either "the worst" or "amazing." Stacy reveals to one of the men that she has an innate talent, a secret superpower if you will: She can guess men's shoe sizes, just by looking at them.
"This guy was being a dick, and I looked at his feet and they were small, and I was like, 'What are you, a size 6?'" Stacy tells a man who she cannot see because they are in the pods. Still, she lets him know that she assumes that his feet are bigger than a 6. Stacy's superpower — object permanence and being able to perceive size — is objectively not that super, but she and her male match both laugh anyway.
But JP and Stacy are nothing more than henchpersons compared to the pathological egomaniac final boss known as Uche. Uche is a handsome lawyer who owns a tech company. He says his hobbies include poetry and spoken word. The more time you spend learning about Uche, the more you understand that Uche's true hobby is emotional terrorism.
Extremely early on in the pods — which again, only last a staggeringly short 10 days, considering these people get engaged at the end — Uche asks Aaliyah, one of his matches, if she's ever cheated. She tells him yes, that it happened two years ago, and she never told her ex. She gives him short answers, signaling that it's not something she's really proud of or wants to talk about. Uche then tells her that if she wants him, she has to be honest. He then begins what can only be described as a cross between therapy and water-boarding.
"You would have made yourself an honest person," Uche tells this person he's barely met, if only she had come clean about her cheating. He goes on to diagnose this stranger and the unknowable circumstances of her life: "You cheating on somebody and you being dishonest is about you."
"I really hated myself for that," she responds, giving this man to whom she owes nothing an explanation. She didn't think that telling her ex about cheating would really add much to a relationship that was already dead in the water. She starts crying, telling Uche that she learned her lesson.
"That's only two years ago," Uche responds, telling her that he does not believe that she won't cheat on him should they be released from the pods and allowed to marry. But he doesn't simply end the interaction; he dangles the possibility of a relationship in front of her, making her beg and essentially say, "I am a terrible person and not deserving of your love, Uche, but please take pity on me because you are Uche and I am nothing but a lowly worm."
If this is indicative of how Uche operates in the real world, it's all the scarier because the women on Love Is Blind aren't blinded by his beauty. They're letting a faceless man waltz into their lives and speak to them like that! Thanks to the machinations of producers (the cast hangs out post-pods now), Uche's rancid vibes hang over the season.
As villainous as he is, Uche is actually Love Is Blind in its purest, crystalline form.
Love Is Blind has proven itself to not actually be about whether two people who have never seen each other can find love. Nope. This season yielded the smallest amount of post-pod "engaged" couples in show history. The show's batting average for happy, married couples remains abysmal.
Like Uche, Love Is Blind is and has always been a much more cynical bait and switch.
There's no "winning" on this show, as the pool of "prizes" are men and women who have been picked to cause the most drama and wave the brightest of red flags. The show is really just an exercise for those at home to prove that they can spot the most dangerous people before they rip off their masks two or three episodes in.
As a loyal viewer, this show has sharpened my senses to pick these monsters out with ruthless efficiency. Love Is Blind makes it clear to watch out for emotional terrorists like Uche, to avoid Stacys who will laugh at your tiny feet, and to pity the single straight women who have to endure men like American flag-loving JP. A Love Is Blind fan isn't blind at all, and the show has just made it easier for us all to see.
Love Is Blind is now streaming on Netflix.
The conflict over Nagorno-Karabakh, explained
The future of Armenia and Azerbaijan's feud over the semi-autonomous region is uncertain — and could destabilize the region.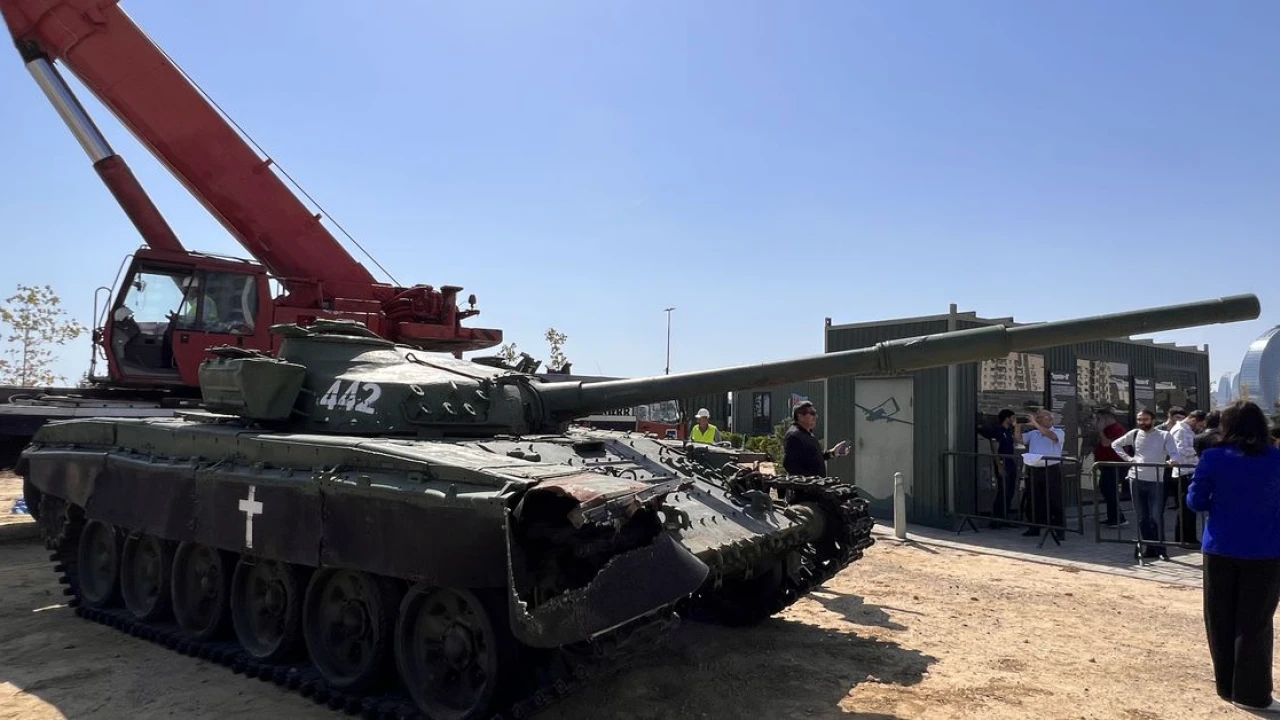 A decades-long conflict in the Caucasus flared up this week, as Azerbaijan on Tuesday launched an "anti-terror" strike aimed at Nagorno-Karabakh — the semi-autonomous, majority-Armenian region within its internationally recognized borders.
For the second time in three years, Azerbaijan's government made decisive gains: The government of Nagorno-Karabakh has agreed to dissolve its military, and the future of the region's semi-autonomous status has been put into serious doubt. It's a result that could echo far beyond Azerbaijan's borders, as it has escalated an already difficult humanitarian crisis and is roiling Armenian politics.
Though there's no suggestion of imminent war between the neighbors, regional experts said there is concern that continued crises like last week's strike could inflame longstanding tensions, resulting in continued conflict between Armenia and Azerbaijan that could also pull in other regional powers like Iran and Turkey.
"This could become a regional war," Benyamin Poghosyan, a senior fellow on foreign policy at the Applied Policy Research Institute of Armenia, an independent think tank in Yerevan, told Vox. At the very least, he said, "I am afraid that for years to come […] the South Caucasus and Armenia and Azerbaijan will be volatile."
This week's crisis in Nagorno-Karabakh, explained
The trouble in Nagorno-Karabakh didn't just start this past week. The region has been the locus of conflict between Armenia and Azerbaijan since the collapse of the Soviet Union, but animosity between the two countries goes back to the turn of the 20th century.
After the region was absorbed into the USSR, the Soviet Union designated a majority-Armenian autonomous region within Azerbaijan in 1923 — today known as Nagorno-Karabakh.
Conflict between Nagorno-Karabakh and Azerbaijan started in earnest in 1988, when the region began agitating for independence. Between 1988 and 1990, Azerbaijan carried out multiple pogroms against Armenians within its borders, and interethnic conflict was common. Moscow intervened in 1990, and in the aftermath of the dissolution of the USSR, Nagorno-Karabakh claimed independence — though the international community has never recognized the breakaway republic.
This declaration inflamed tensions between Azerbaijan and Armenians in Nagorno-Karabakh. Backed by Armenian troops, Karabakh Armenians took control not only of their historical region, but also of much of Azerbaijan's territory up to the border with Armenia.
The conflict, which ended with a 1994 ceasefire, was a huge moral victory for Armenia, according to Poghosyan, who said that territorial gain was "one of the primary pillars of independent Armenian identity," after centuries of oppression.
But it was also an unsustainable loss for Azerbaijan — about 20 percent of its territory was now outside of the country's control.
Azerbaijan, aligned with Turkey, recaptured significant territory in a 2020 war. During that conflict, Russia, which has long been Armenia's military partner, failed to back Armenia and Karabakh Armenians. That conflict ended in a Russia-brokered ceasefire, which about 2,000 Russian peacekeepers have helped ensure.
Cut to this week: On September 19, Azerbaijan launched an "anti-terror" campaign in response to the deaths of six people in two landmine explosions within Azerbaijan.
US Secretary of State Antony Blinken called for an immediate halt to the hostilities, which displaced at least 7,000 people and killed around 200, with thousands reportedly still missing.
Authorities in Nagorno-Karabakh accused Azerbaijan on Wednesday of violating the ceasefire agreement, though Azerbaijan vehemently denied the claim. There were also reports of heavy gunfire Thursday, but because mobile connectivity and electricity are only sporadically available in the region, verifying claims from either party is nearly impossible.
Talks between Azerbaijan's government and representatives from Nagorno-Karabakh's capital, which Armenians call Stepanakert and Azerbaijan refers to as Khankendi, are continuing. "We have an agreement on the cessation of military action but we await a final agreement — talks are going on," David Babayan, who advises the head of Nagorno-Karabakh's breakaway government leader Samvel Shahramanyan, told Reuters Thursday.
In addition to dissolving the armed forces, Zaur Shiriyev, the International Crisis Group's analyst for the South Caucasus, told Vox via email that the ceasefire agreement involves "the dismantling of all existing de facto institutions, [political] positions, and symbols, and discussions about the integration of local Armenians under Azerbaijani authority," including how to implement some autonomy at the municipal level and protect Armenian language and customs. That would suggest Nagorno-Karabakh's semi-autonomous government may not be in existence for much longer, and that the way of life the region's residents have known may be coming to an end.
What Azerbaijan decides to do about Nagorno-Karabakh affects the whole region
Nagorno-Karabakh, like other potential territorial conflicts, is an issue of great political volatility within Armenia because it is an issue of national pride and identity for many Armenians, and because it is a way to gauge Armenia's power and influence in the region.
That influence has waned somewhat as Azerbaijan's military might has grown, aided by increased oil and gas wealth and a security partnership with Turkey, and as Armenia's relationship with Russia has diminished.
Under current Prime Minister Nikol Pashinyan, the Armenian government has distanced itself both from Russia and from Nagorno-Karabakh, insisting that it has had nothing to do with the agreement between Azerbaijan and the de facto government in Stepanakert, and even backing off of previous hard-line guarantees for the region like autonomous rule, Paghosyan told Vox. Armenia was reluctant to get involved in this latest outbreak of fighting; Pashinyan said he wouldn't let the country be "drag[ged] … into military operations."
Russia, which helped broker peace in 2020, has also seen its role in the region greatly reduced. Russian peacekeepers have been present maintaining the 2020 ceasefire, but their influence has softened over the years, particularly due to Russia's invasion of Ukraine. And their presence has, at best, only been able to keep an uneasy peace, with low-level hostilities common in the region.
"The ongoing war in Ukraine has indeed weakened Russia's role, and since 2022, coupled with [Azerbaijan's] checkpoint in Lachin, and the recent brief war that ended with the capitulation of local Armenians, Azerbaijan has gained more control over the region's affairs than Russia had previously," Shiriyev said.
Russia has also struggled with maintaining the flow of goods and people across the region's only physical connection to Armenia, the Lachin corridor. That area has been severely restricted by Azerbaijan since December 2022, Shiriyev said.
"Even before last December, when Azerbaijani-backed activists started protests near the road demanding Azerbaijani control, Baku alleged that the road was being used for unchecked transfers of weapons and natural resources from the region to Armenia," he explained. In April of this year, Azerbaijan established a border checkpoint on the Lachin corridor, over time choking off transport completely. Since that time, the humanitarian situation in Nagorno-Karabakh has become increasingly desperate, and only one humanitarian convoy, from the International Committee of the Red Cross, has been permitted to enter the region in months.
Despite Russia's reduced status in the region, the country is still playing an administrative role in this conflict, facilitating discussions between the Azerbaijani government and local Armenian authorities. "Nowadays, if disarmament takes place, the Russian forces will play a part in it, and over time, they will coordinate the implementation of other ceasefire terms," Shiriyev told Vox. "Baku views [Russia's] role as a stabilizing factor, especially in areas where local Armenians live."
The future looks challenging for Pashinyan as his internal opposition — which is friendlier with Russia than he is — is harnessing protests and frustration with the prime minister over Nagorno-Karabakh to try to get him to resign. "Protests erupted quite spontaneously and only afterwards political opposition wanted to take them over," Meliqset Panosian, an independent researcher based in Gyumri, told Vox.
What's all but guaranteed, Poghosyan said, is continued conflict and possible regional destabilization. Many in Armenia "are feeling humiliated," he told Vox; to restore their dignity, "they will be more inclined to have more nationalistic views." Armenia is courting other security partners in addition to Russia, and could aspire to build up its military over the coming years. While it's decidedly the weaker of the two states, it's not above military conflict. The interests of Russia, Turkey, Western countries, and even Iran overlap and conflict in the region, meaning the potential for animosity and outright hostility remains.
What happens now? Honestly, it's hard to say
Despite the new agreement between Nagorno-Karabakh and Azerbaijan, there are still a great many unknowns — primarily what Karabakh Armenians' lives would look like, should they decide to stay in the region. The terms of Wednesday's ceasefire are still in flux, though Azerbaijan President Ilham Aliyev has promised Karabakh Armenians a "paradise" as part of Azerbaijan.
In the immediate term, the first priority is for humanitarian aid to reach the people of Nagorno-Karabakh, since many in the area are already suffering from severe hunger, Poghosyan said.
There's no indication as of yet that those who remain will enjoy autonomy; as Poghosyan said, Pashinyan's only request, though he is not part of the negotiating process, is that ethnic Armenians have rights under Azerbaijani jurisdiction. Aliyev has promised that Armenians will enjoy the right to their own language and culture, but Armenians have expressed concerns about violence and even ethnic cleansing.
That's not unfounded, given the region's history. And according to a 2022 State Department report, evidence was found of Armenian graves being desecrated by Azerbaijani soldiers, as well as "severe and grave human rights violations" against Armenian ethnic minorities, including "extrajudicial killings, torture and other ill-treatment and arbitrary detention, as well as the destruction of houses, schools and other civilian facilities."
Those concerns make an exodus from Nagorno-Karabakh likely. Poghosyan estimates that 50,000 to 70,000 of the approximately 120,000 Karabakh Armenians will choose to leave their homes, and will look for safe passage either to Armenia or to other locations including Russia where they might settle.
"Now, most of them want to leave to Armenia, almost nobody believes in peaceful coexistence with Azerbaijanis," Stepan Adamyan, an Armenian who works with international journalists, told Vox. "Every hour [on Facebook] I read their posts saying 'do something, take us out of here.'"