Heavy rains wreak havoc in Balochistan
Army troops reached there to help the local administration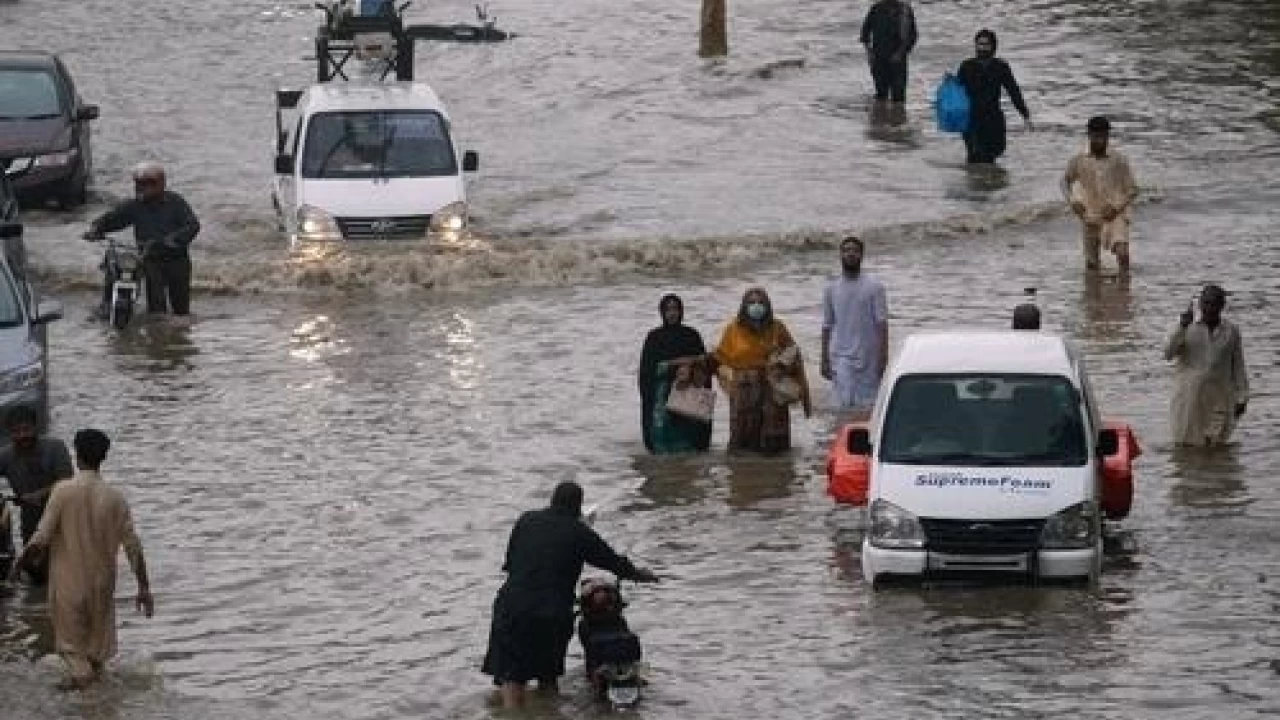 Quetta: The death toll in the monsoon heavy rains with strong winds reached 37.
According to details, the deceased include six women of a Nomad family in Quetta and more bodies were recovered from different areas of the province, who were swept away in the last night flash flood.
The Balochistan government has immediately declared an emergency in district Quetta in view of the natural calamity which destroyed dozens of mud and makeshift houses in the provincial capital Quetta and other rain-affected areas of northern and central Balochistan which were receiving continuous heavy rains since the last 24 hours.
The concerned authorities have issued a high alert across the province more heavy rains were predicted by the meteorological department and said that the ongoing monsoon spell will continue for next three more days. Army, FC, and levies forces were also put on high alert to deal with any untoward situation.
In the port city of Gwadar, army troops reached to help local administration as in the old city and other areas the rainwater accumulated due to heavy rain the coastal town received early morning and its was continuing throughout the day with small intervals.
Officials said that over 50 mud houses collapsed in Sariab mills, eastern bypass and another area on the outskirts of Quetta in the flash flood because of heavy rains with thunderstorms that caused at least 10 deaths. "Six women of Nomad family were killed when the huge wall of a house fell on the makeshift house of the Nomads due to rain and strong winds," the members of the grieved family said, adding that two women succumbed to their injuries as there were no arrangements to take them to hospital. The family belongs to the Jaffarabad area of Balochistan and comes to Quetta to spend the summer season along with other families living in makeshift houses.
The officials of the Provincial Disaster Management Authority (PDMA) said that four bodies of the rain victims were also recovered from the flood water accumulated in the eastern bypass, Kharotabad and other areas.
Two girls who drowned in a water pond were also recovered who was missing since last night. The PDMA was informed by police about the girls but there was no response last night. However, the PDMA divers launched a search operation on Tuesday in a boat where the flood water had accumulated as a result of last night's heavy rain.
"The body of a girl was recovered by the divers of PDMA from A pond," officials said.
Two women were also killed in Dasht area Mastung district when a wall of their house fell on them after receiving heavy rains.
PDMA officials said that two young sisters were also drowned in a deep pond in Bhosa Mandi area last night.
Taiwan's fighter jets roar into sky in face of Chinese war games
Defence ministry spokesperson Sun Li-fang said this was a good chance for Taiwan's forces to hone their skills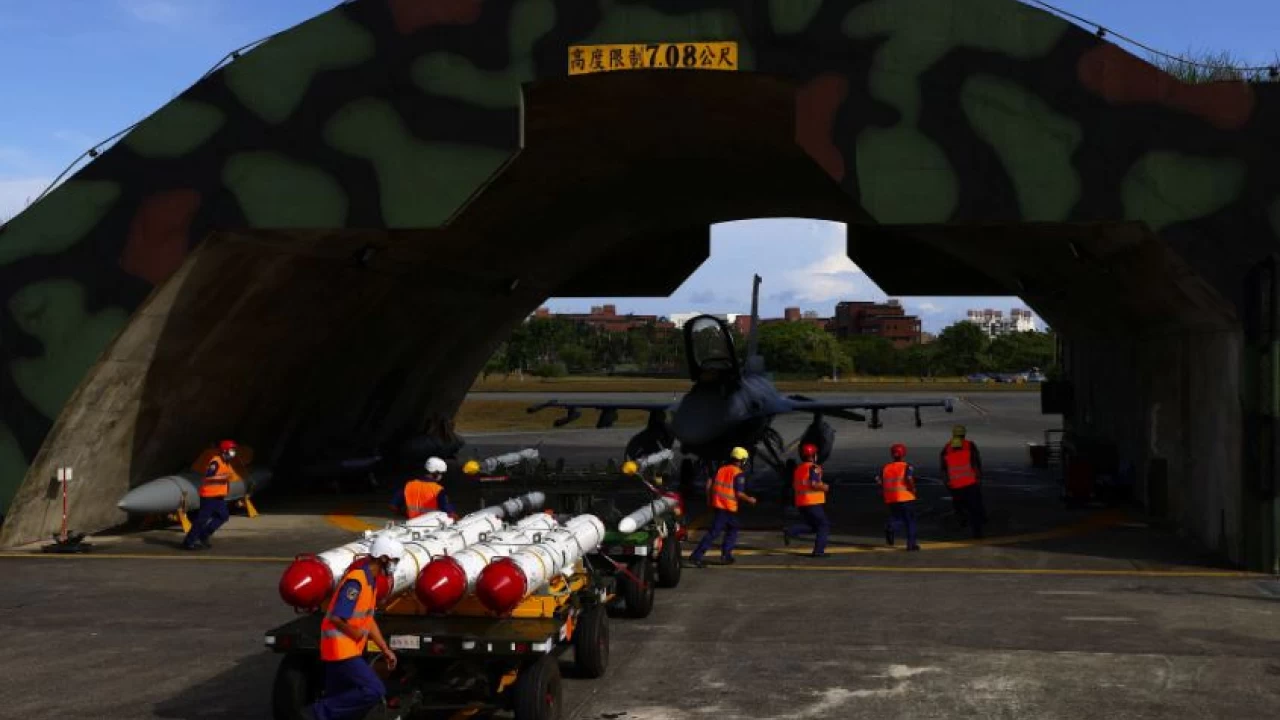 Taiwanese F-16 fighters roared into the night sky on Wednesday in a show of force in front of the media, demonstrating the military's determination to defend the democratically governed island in the face of days of Chinese war games.
China, which claims Taiwan as its territory, has been carrying out military exercises around the island after a visit earlier this month by U.S. House of Representatives Speaker Nancy Pelosi, who was followed by five U.S. lawmakers on Sunday and Monday. read more
Pelosi's visit infuriated China, which responded with test launches of ballistic missiles over Taipei for the first time, and sending warships and fighter jets close to Taiwan, though the scale of the activities has now greatly reduced.
On a government-organised trip to the key Hualien air base on Taiwan's mountainous east coast, the first to a military facility since the Chinese exercises began, reporters watched ground crew demonstrate how they rapidly upload weapons onto F-16s, including Boeing Co's (BA.N) Harpoon anti-ship missiles.
Defence ministry spokesperson Sun Li-fang told reporters at the base that while they condemned China's actions, this was a good chance for Taiwan's forces to hone their skills.
"We will seize this opportunity to test all the training we normally do, and through this improve our current methods and raise our combat effectiveness," he said.
"The Republic of China's forces are confident, capable, and determined to defend the safety of the Republic of China," Sun added, using Taiwan's formal name.
While Taiwanese fighters, including Hualien's F-16s, have been repeatedly scrambling since early this month, the ministry has stressed Taiwan's "calm" response and there have been no clashes.
"I won't say there's a lot of change but our frequency to scramble is higher and the tension is higher," said F-16 pilot Django Lin.
Taiwan President Tsai Ing-wen has said they are not seeking to provoke or escalate tensions.
The Hualien base, which has hangers cut out of the side of a mountain, has two pilots on duty at any one time sitting in their flight suits and able to be in the air within six minutes.
The fighters on display were the Lockheed Martin Corp (LMT.N) F-16V, Taiwan's most up-to-date combat jet.
Taiwan has been converting 141 F-16A/B jets into the F-16V type, and has additionally ordered 66 new F-16Vs, which have new avionics, weapons and radar systems to better face down the Chinese air force, including its J-20 stealth fighters.
The F-16Vs can also carry Raytheon Technologies Corp's (RTX.N) advanced AIM-9X Sidewinder air-to-air missiles.
Taiwan's government says that as the People's Republic of China has never ruled the island, it has no right to claim it or decide its future, which can only be set by Taiwan's people.
SOURCE: REUTERS
At least 26 killed, dozens injured in northern Algeria forest fires 
Deaths include 24 people in El Tarf and two in Setif, with hundreds forced to leave their homes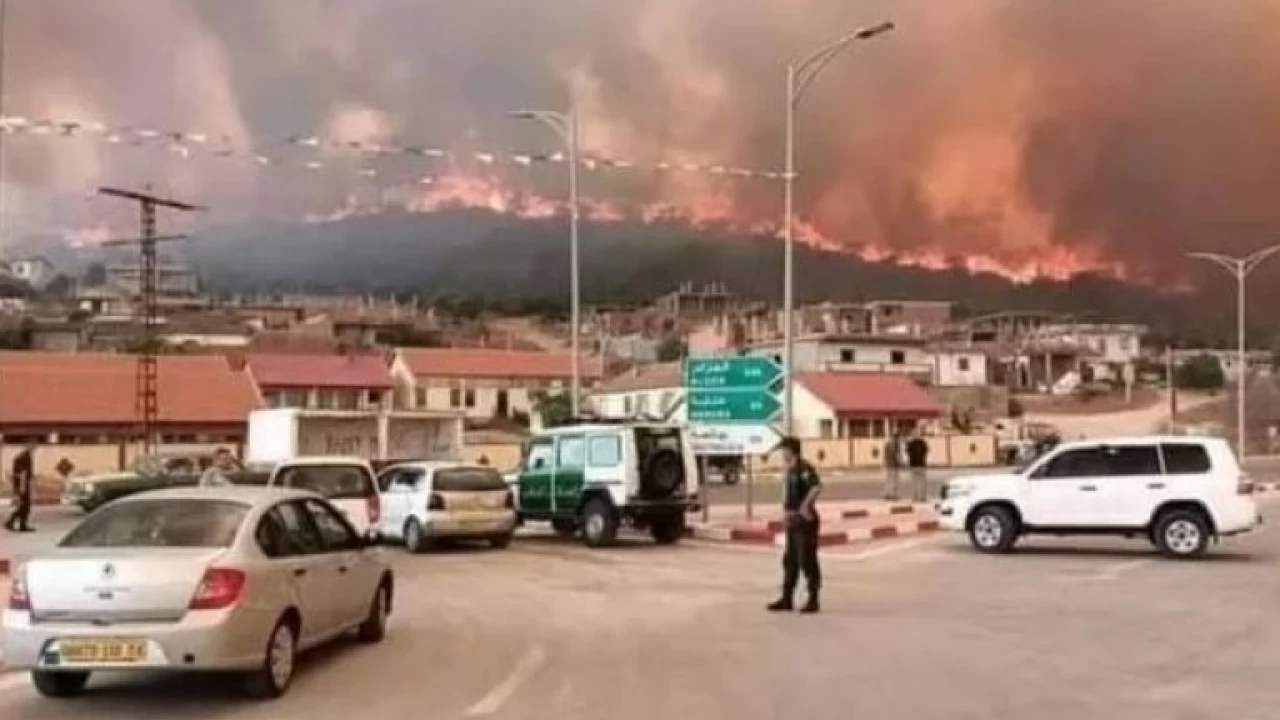 El Tarf: At least 26 people died and dozens of others were injured in forest fires that ravaged 14 districts of northern Algeria on Wednesday, the interior minister said.
Kamel Beldjoud told state television that 24 people lost their lives in fires in El Tarf, near the border with Tunisia, in addition to two others who died earlier in Setif.
The civil protection agency in Setif had said that two women, "a 58-year-old mother and her 31-year-old daughter", were killed in the town.
In Souk Ahras, farther to the east near Algeria's border with Tunisia, people were seen fleeing their homes as fires spread before firefighting helicopters were deployed.
An earlier toll said four people in Souk Ahras suffered burns and 41 others had breathing difficulties, the authorities said. Media reports said 350 residents had been evacuated.
No updated toll was given on the number of people injured in the fires in other areas.
The gendarmerie has closed several roads as a result of the fires.
"Thirty-nine fires are underway in 14 wilayas (administrative councils)," the civil protection agency said, noting that El Tarf was the worst hit, with 16 fires in progress.
Helicopters used bambi buckets to drop water on fires in three wilayas, including Souk Ahras.
Since the start of August, 106 fires have broken out in Algeria, destroying more than 2,500 hectares of woodland.
Beldjoud said some of the fires were started by people.
Wednesday's toll brings the total number of people killed in wildfires this summer up to 30.
Algeria is Africa's largest country but it only has 4.1 million hectares (10.1 million acres) of the forest.
Each year the north of the country is affected by forest fires, a problem that has worsened due to climate change.
Last year, at least 90 people died in forest fires that ravaged northern Algeria, destroying more than 100,000 hectares of woodland.
2nd ODI: Pakistan to face Netherlands today
Pakistan is leading the series by 1-0.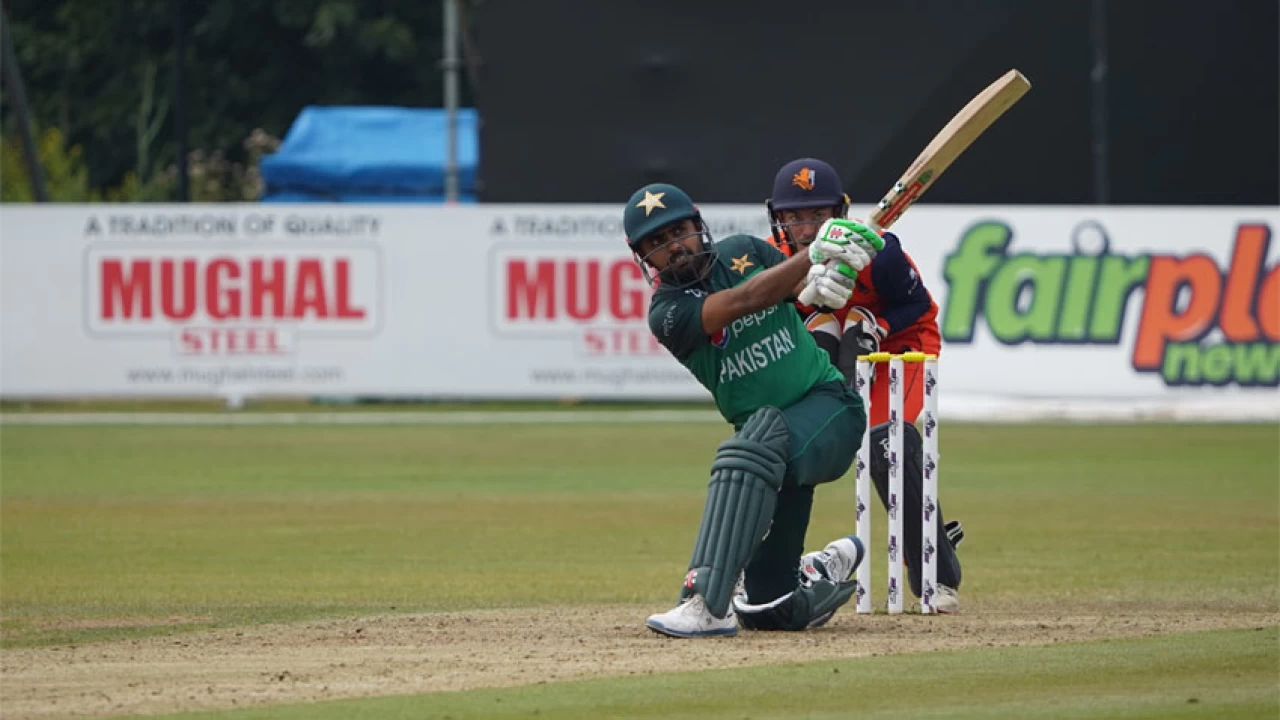 Rotterdam: The second One-Day International of the three match series between Pakistan and Netherlands will be played on Thursday (today) at Rotterdam.
The match will start at 02:00 pm.
Pakistan is leading the series by 1-0.
Pakistan squad
Babar Azam (c), Shadab Khan, Abdullah Shafique, Fakhar Zaman, Haris Rauf, Imam-ul-Haq, Khushdil Shah, Mohammad Haris, Mohammad Nawaz, Mohammad Rizwan, Mohammad Wasim Jnr, Naseem Shah, Salman Ali Agha, Shaheen Afridi, Shahnawaz Dahani, Zahid Mehmood
Netherlands squad
Scott Edwards (c), Musa Ahmad, Shariz Ahmad, Wesley Barresi, Logan van Beek, Tom Cooper, Aryan Dutt, Arnav Jain, Viv Kingma, Ryan Klein, Bas de Leede, Teja Nidamanuru, Tim Pringle, Max O'Dowd, Vikram Singh