Another monsoon spell to hit Karachi tomorrow
Rainfall with thunderstorms under the current system are expected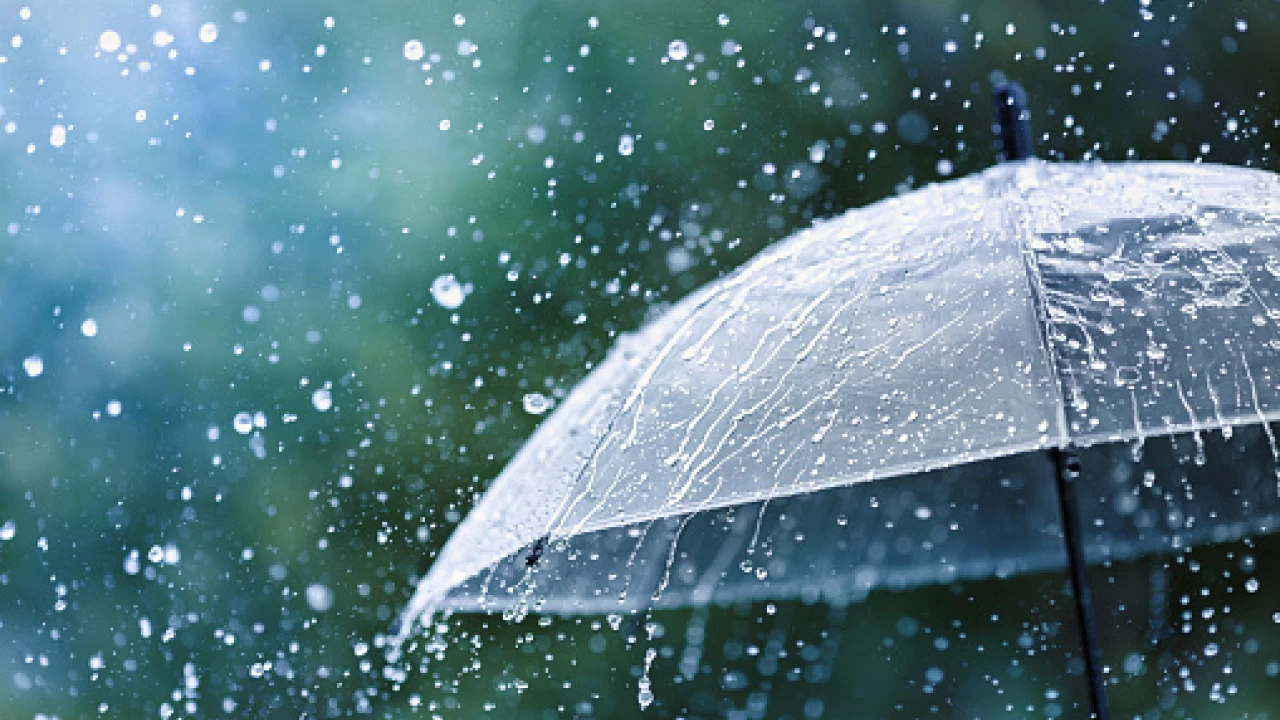 Karachi: Meteorological Department predicted that another spell of monsoon rain is to enter Karachi tomorrow.
As per details, rainfall with thunderstorms under the current system will start from tomorrow in the city.
Meanwhile, scattered showers are likely to hit the city today in the morning and evening hours. Today, the minimum temperature was recorded at 28 degrees Celsius.
Today, the maximum temperature is likely to be recorded at 36 degrees Celsius. The humidity in the air was recorded at 85%.
Sea breezes are suspended in the city while the west wind is blowing at a speed of 12 km per hour.
The downpours will continue in the city till August 9.
On the other hand, the city that is home to millions has still been unable to return to its typical shape after the recent spells of monsoon and several diseases including dengue have gripped Karachi.
The highly dengue-hit district was District East with 132 cases reported. Central district 53, South District 51 cases reported, Korangi district 15 cases, Kemari district 12 cases, and Malir district 10 cases reported.
The city has not yet been able to drain the water of the monsoon rains and 282 fresh dengue cases were reported in Karachi amid the falls.
Premier League: Manchester United suffer humiliating 4-0 loss
It was the first time since 1960 that United have conceded at least six goals in their first two matches of a top-flight season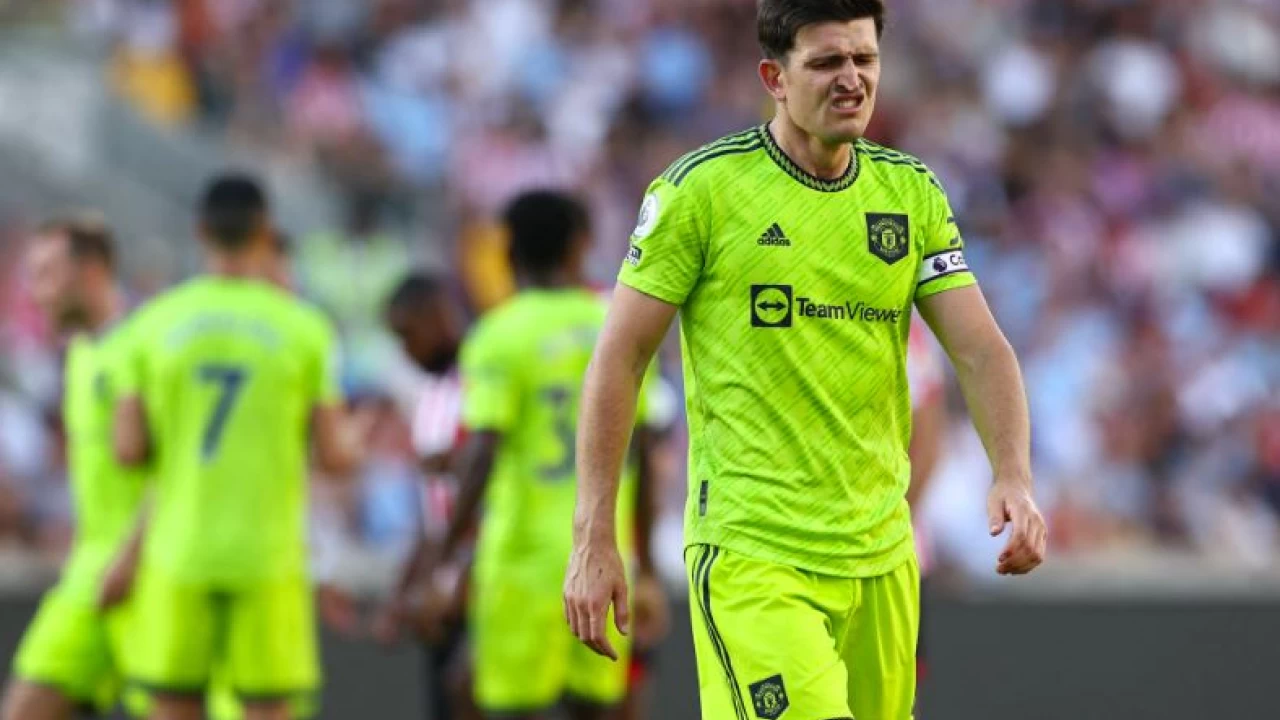 A shambolic Manchester United side conceded four goals in the opening 35 minutes in a 4-0 drubbing at Brentford on Saturday as their woeful start to the Premier League season continued.
United's seventh successive away league defeat was assured long before the interval as Brentford took ruthless advantage of a catalogue of errors by the visitors.
The rout began in the 10th minute when United keeper David de Gea allowed a weak shot by Josh Dasilva to slip past him.
Things got worse for United eight minutes later when De Gea played the ball out to former Brentford player Christian Eriksen who was caught in possession and Mathias Jensen slotted home.
When United's defence failed to deal with a corner and Ben Mee glanced in a close-range header to make it 3-0 the Brentford fans were ecstatic while United's new manager Erik ten Hag looked ashen-faced in his technical area.
Brentford's fourth was a gem as Ivan Toney delivered a diagonal ball to Bryan Mbeumo from a counter-attack and Mbeumo calmly beat De Gea.
Ten Hag made three substitutions at halftime with Raphael Varane, Tyrell Malacia and Scott McTominay coming on but despite a slight improvement United offered little fight.
Brentford's fans serenaded their players with "Hey Jude" at the final whistle while United's players looked crestfallen as they trudged off rock bottom of the table having also lost their opener at home to Brighton & Hove Albion.
It was the first time since 1960 that United have conceded at least six goals in their first two matches of a top-flight season and the first time they have lost their opening two matches since 1992 when they went on to win the title.
WOEFULLY INADEQUATE
This side, however, looks woefully inadequate to mount any kind of challenge and Ten Hag, who was taunted by the Brentford fans, appears to have a huge job on his hands.
The Dutchman is the first Manchester United manager to lose his first two games in charge since John Chapman in 1921.
"It's easy to dismantle this United side, just be organised and fight and you're there," said former United player and Sky Sports pundit Gary Neville said.
For Brentford, whose starting line-up cost in the region of 55 million compared to the more than 400 million of United's, have picked up four points in their first two games.
"It was just hard work. We knew the high press would affect them. It was clear to see that if you work hard, you get the result," Toney told Sky Sports.
"We know they have great talent in there and have some players who can change the game. When you work like we did today and run all over them, you get a result like we did."
United has Cristiano Ronaldo back in their starting line-up but the Portuguese forward barely got a look in.
The confidence drained out of United from the moment De Gea allowed Dasilva's shot to end up in the back of the net.
Eriksen, who got a mixed reception from Brentford's fans, then inadvertently gifted his former club their second as United looked shellshocked by the energy of their hosts who went on to record their biggest top-flight victory since 1938.
Things will not get any easier for United whose next game is against Liverpool.
"It was a horrible day," De Gea said. "I should have saved the first shot and then the result may have been different.
"Other teams concede one goal and win 5-1. We have to react much better. It was a poor performance."
SOURCE: REUTERS
YouTube plans to launch streaming video service: WSJ
The company has renewed talks with entertainment companies about participating in the platform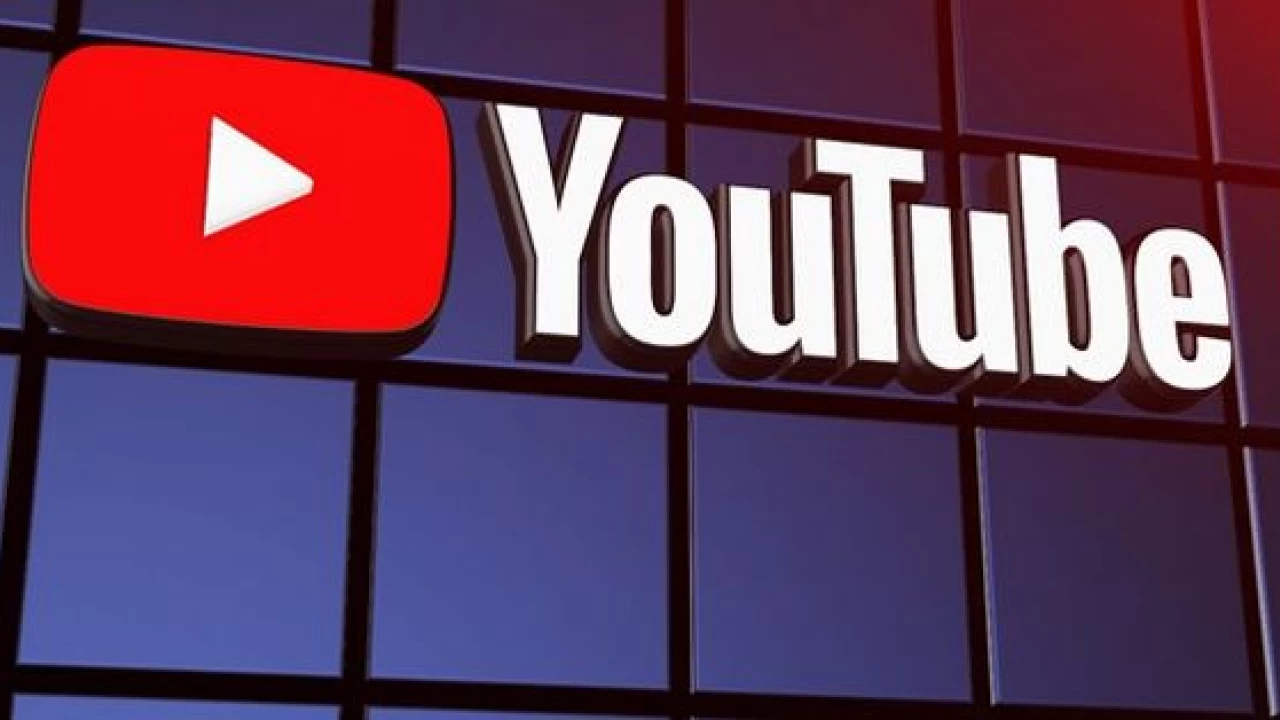 Alphabet Inc's YouTube is planning to launch an online store for streaming video services, the Wall Street Journal reported on Friday.
The company has renewed talks with entertainment companies about participating in the platform, which it is referring to internally as a "channel store", the report said, citing people close to the recent discussions.
The platform has been in the works for at least 18 months and could be available as early as this fall, the report added. https://on.wsj.com/3w22hAv
Alphabet did not immediately respond to a Reuters request for comment.
With more consumers cutting the cord on cable or satellite TV and shifting to subscription-based streaming services, the planned launch will allow YouTube to join companies like Roku Inc (ROKU.O) and Apple (AAPL.O) in a bid to gain a portion of the already crowded streaming market.
Earlier this week, the New York Times reported that Walmart Inc (WMT.N) has held talks with media companies about including streaming entertainment in its membership service.
SOURCE: REUTERS
'We will have achieved real freedom by next Independence Day': Imran Khan
The PTI chairman announced to hold countrywide anti-government rallies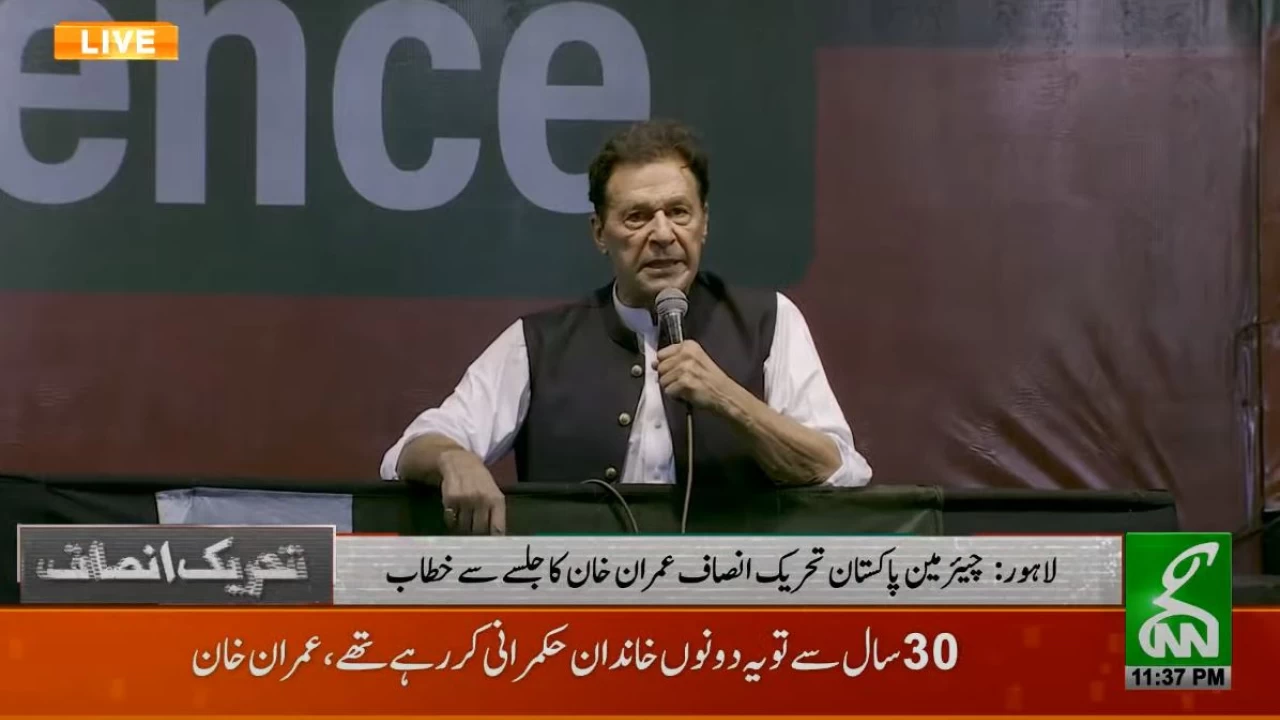 Lahore: PTI Chairman Imran Khan Saturday said he wasn't against America, but wanted friendship and not slavery.
Addressing a a large public meeting cum rally at the Lahore's National Hockey Stadium, Khan said Quaid-e-Azam had said that Muslims always struggled for freedom.
The party celebrated the 75 years of Pakistan's independence — marked with fireworks and traditional songs.
The PTI Chairman said he had decided to "go to the people", starting from Rawalpindi, followed by Karachi, Sukkur, Hyderabad, Islamabad, Peshawar, Mardan, Attock, Abbottabad, Multan, Bahawalpur, Sargodha, Jhelum, Gujrat, Faisalabad, Gujranwala, and Quetta.
"Today I have to give you a road map of real freedom, that country is lucky in which there are fanatical intelligent youth and whose mothers and sisters have the passion for freedom."
The PTI chief said his character assassination had been continuing for the last 26 years, but "look at the glory of Allah, today a large number of people have come for solidarity".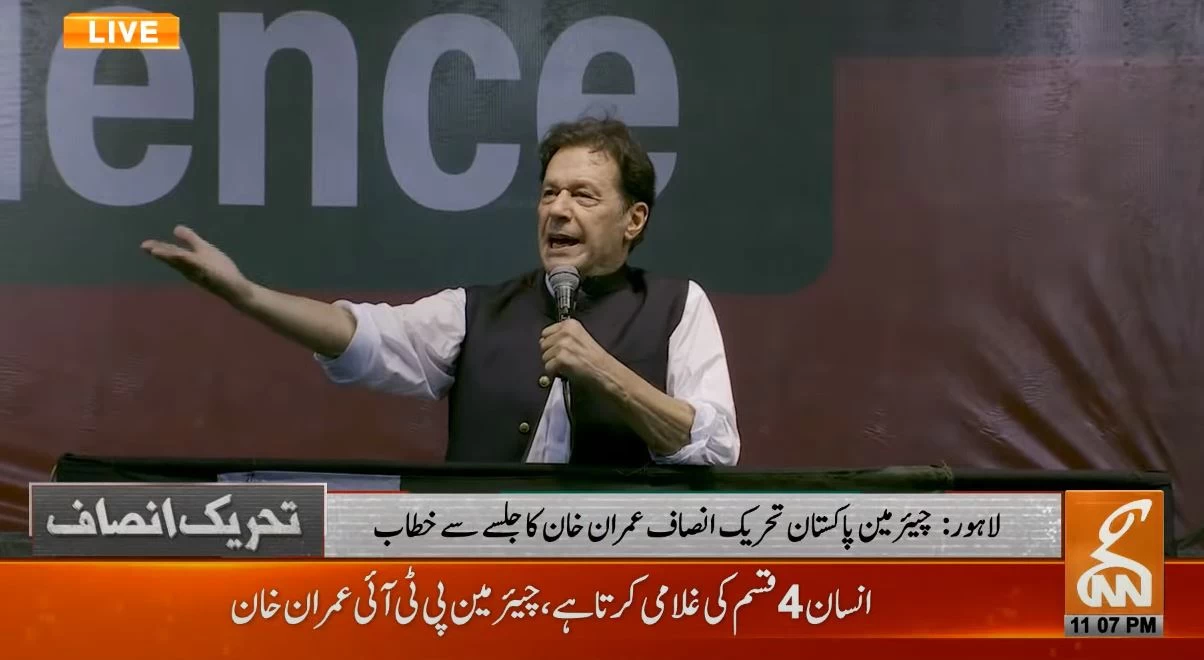 He said Quaid-e-Azam Muhammad Ali Jinnah gave us freedom from slavery, a nation that is a slave never rises, fear is also a slavery, a person trades his conscience because of fear.
Khan said the idol of fear makes a person a slave, a slave nation can never rise, why do we walk in front of the world with outstretched hands?
The former premier said a nation that is a slave never rises, when a human being falls, it goes lower than animals, all kinds of tactics were used to defame me.
He said that since 26 years these people have been destroying my character, educated and honest people used to say that politics is very dirty, I entered politics for justice and self-righteousness.
The PTI stalwart said the revolution did not come with the sword, the intellectual revolution came from the minds, our people have a misconception that Islam spread with the sword.
Imran Khan said freedom does not come easily, but sacrifices have to be made. I know that my nation is ready for sacrifices. Until this imported government is dismissed and elections are held, we will continue our struggle and bring our nation together. Together we will clear the nation's debts.
"I went to Russia for the benefit of my people, who are they to ask why I went to Russia? Am I their slave? I wanted to buy cheap oil from Russia. I wanted to buy 20 million tons of wheat from Russia at cheap prices. When the imported government came, we talked about buying cheap oil from Russia."
Khan said our rulers were lying at the feet of America as they didn't have enough courage to say that this is the need of our people.
He announced the formation of a new "Tiger Force", claiming that it would work for "independence" as the people did before the partition.