Punjab CS requests federal govt to transfer him with immediate effect
Kamran Adil was appointed by former Punjab CM Usman Buzdar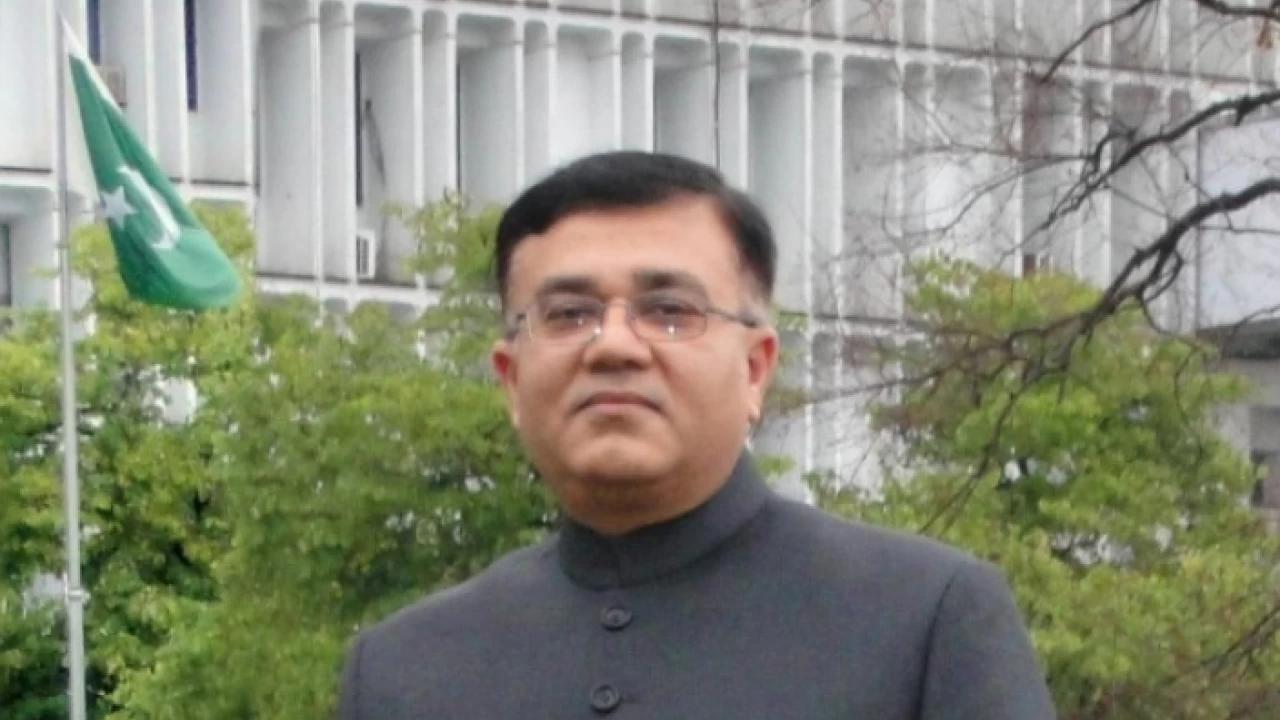 Lahore: Punjab Chief Secretary (CS) Kamran Ali Afzal officially requested the federal government on Saturday to transfer him from the province as he is unable to continue his current assignment "owing to personal reasons".
According to a letter written to the Secretary Establishment, Afzal requested that his services be withdrawn with immediate effect.
Omar Sarfraz Cheema, adviser to Punjab chief minister on information, was questioned about the matter during a press conference in Lahore and said it had nothing to do with the PTI.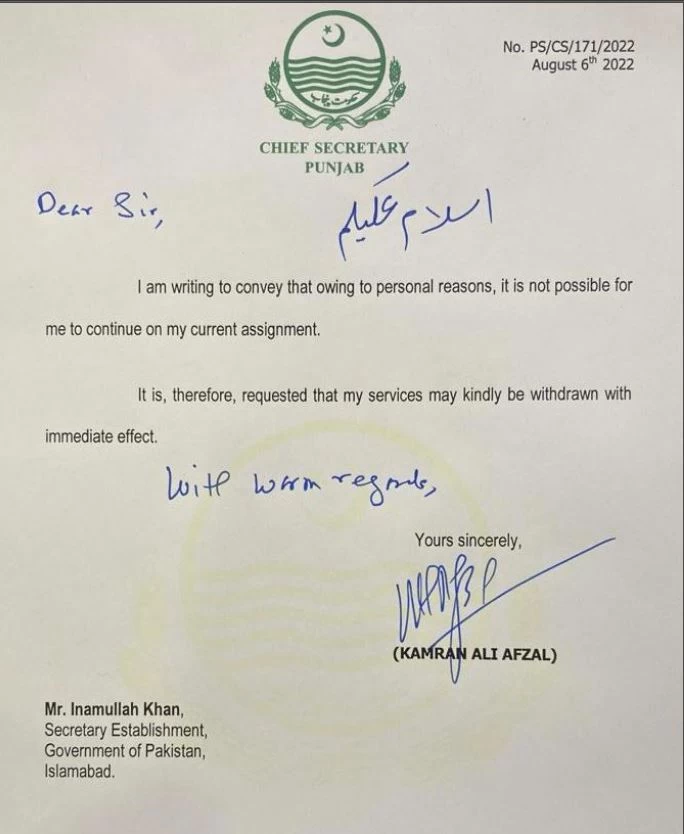 "What his role has been in the last 2.5-3 months is before you and maybe he did not feel [right] about moving forward together because he has his own priorities and service career [to think about]," Cheema said.
Kamran Azfal was posted the provincial chief secretary in September 2021 when Sardar Usman Buzdar was the Punjab chief minister.
He was the fifth Punjab chief secretary during the three years of the previous PTI-led government and belonged to the 21st Common of the District Management Group.
Punjab Chief Minister Pervaiz Elahi had expressed his annoyance at Afzal and former police chief Rao Sardar Ali Khan over their action against PTI legislators and deploying the police force on the floor of the Punjab Assembly earlier this year.
One killed, 17 injured in stage collapse at Spanish festival
The accident happened in the early hours at the Medusa Festival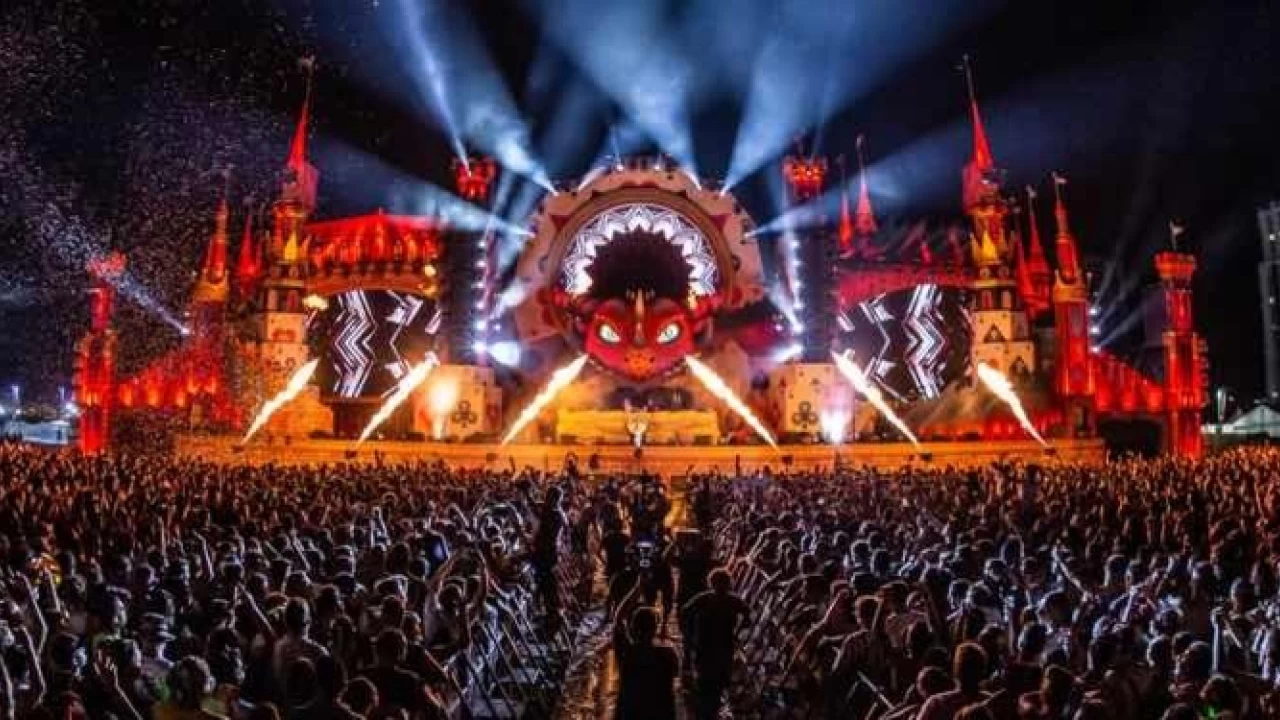 Madrid: One person was killed and at least 17 injured when high winds caused part of a stage to collapse at a dance music festival near the Spanish city of Valencia early on Saturday, regional emergency services said.
The accident happened in the early hours at the Medusa Festival, a huge electronic music festival held over six days in the east coast town of Cullera, south of Valencia.
Of the injured, three suffered serious trauma injuries and 14 had more minor injuries, regional emergency services tweeted.
The festival was suspended for the time being "due to the inclement weather during the early hours of August 13, and with the aim of guaranteeing the safety of attendees, workers and artists", organisers said in a statement on the festival's Facebook page.
The festival site had been vacated "as a preventative measure to facilitate the work of Medusa Festival emergency and security services", the statement added.
Spanish media said that other structures at the event were also damaged in the high winds.
SOURCE: Reuters
'We will have achieved real freedom by next Independence Day': Imran Khan
The PTI chairman announced to hold countrywide anti-government rallies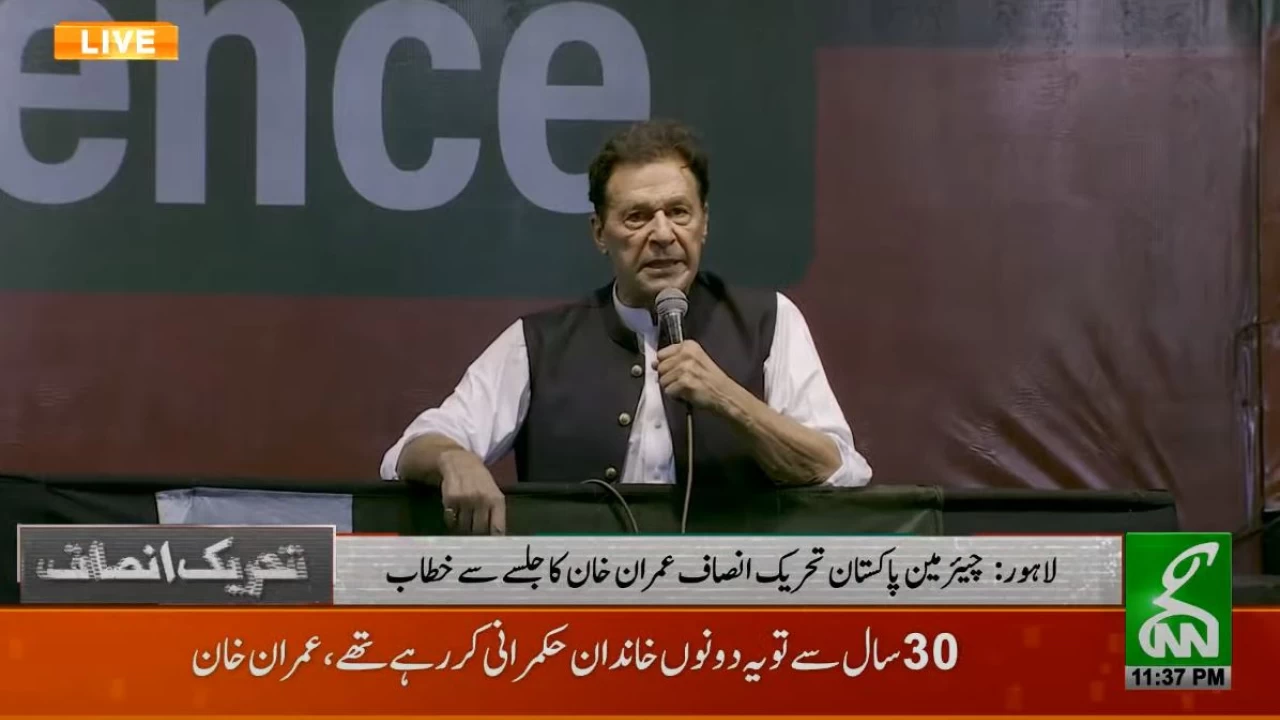 Lahore: PTI Chairman Imran Khan Saturday said he wasn't against America, but wanted friendship and not slavery.
Addressing a a large public meeting cum rally at the Lahore's National Hockey Stadium, Khan said Quaid-e-Azam had said that Muslims always struggled for freedom.
The party celebrated the 75 years of Pakistan's independence — marked with fireworks and traditional songs.
The PTI Chairman said he had decided to "go to the people", starting from Rawalpindi, followed by Karachi, Sukkur, Hyderabad, Islamabad, Peshawar, Mardan, Attock, Abbottabad, Multan, Bahawalpur, Sargodha, Jhelum, Gujrat, Faisalabad, Gujranwala, and Quetta.
"Today I have to give you a road map of real freedom, that country is lucky in which there are fanatical intelligent youth and whose mothers and sisters have the passion for freedom."
The PTI chief said his character assassination had been continuing for the last 26 years, but "look at the glory of Allah, today a large number of people have come for solidarity".
He said Quaid-e-Azam Muhammad Ali Jinnah gave us freedom from slavery, a nation that is a slave never rises, fear is also a slavery, a person trades his conscience because of fear.
Khan said the idol of fear makes a person a slave, a slave nation can never rise, why do we walk in front of the world with outstretched hands?
The former premier said a nation that is a slave never rises, when a human being falls, it goes lower than animals, all kinds of tactics were used to defame me.
He said that since 26 years these people have been destroying my character, educated and honest people used to say that politics is very dirty, I entered politics for justice and self-righteousness.
The PTI stalwart said the revolution did not come with the sword, the intellectual revolution came from the minds, our people have a misconception that Islam spread with the sword.
Imran Khan said freedom does not come easily, but sacrifices have to be made. I know that my nation is ready for sacrifices. Until this imported government is dismissed and elections are held, we will continue our struggle and bring our nation together. Together we will clear the nation's debts.
"I went to Russia for the benefit of my people, who are they to ask why I went to Russia? Am I their slave? I wanted to buy cheap oil from Russia. I wanted to buy 20 million tons of wheat from Russia at cheap prices. When the imported government came, we talked about buying cheap oil from Russia."
Khan said our rulers were lying at the feet of America as they didn't have enough courage to say that this is the need of our people.
He announced the formation of a new "Tiger Force", claiming that it would work for "independence" as the people did before the partition.
YouTube plans to launch streaming video service: WSJ
The company has renewed talks with entertainment companies about participating in the platform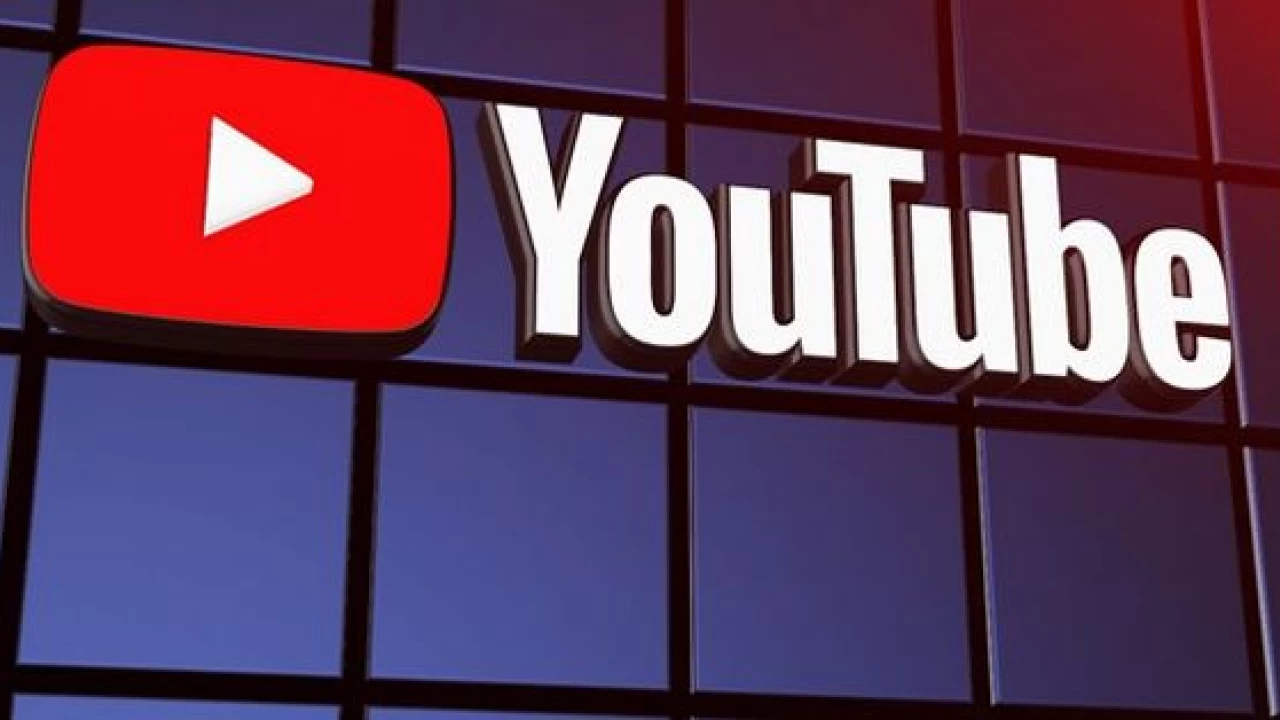 Alphabet Inc's YouTube is planning to launch an online store for streaming video services, the Wall Street Journal reported on Friday.
The company has renewed talks with entertainment companies about participating in the platform, which it is referring to internally as a "channel store", the report said, citing people close to the recent discussions.
The platform has been in the works for at least 18 months and could be available as early as this fall, the report added. https://on.wsj.com/3w22hAv
Alphabet did not immediately respond to a Reuters request for comment.
With more consumers cutting the cord on cable or satellite TV and shifting to subscription-based streaming services, the planned launch will allow YouTube to join companies like Roku Inc (ROKU.O) and Apple (AAPL.O) in a bid to gain a portion of the already crowded streaming market.
Earlier this week, the New York Times reported that Walmart Inc (WMT.N) has held talks with media companies about including streaming entertainment in its membership service.
SOURCE: REUTERS