Missing radioactive capsule found in Australia
Emergency services had "literally found the needle in the haystack".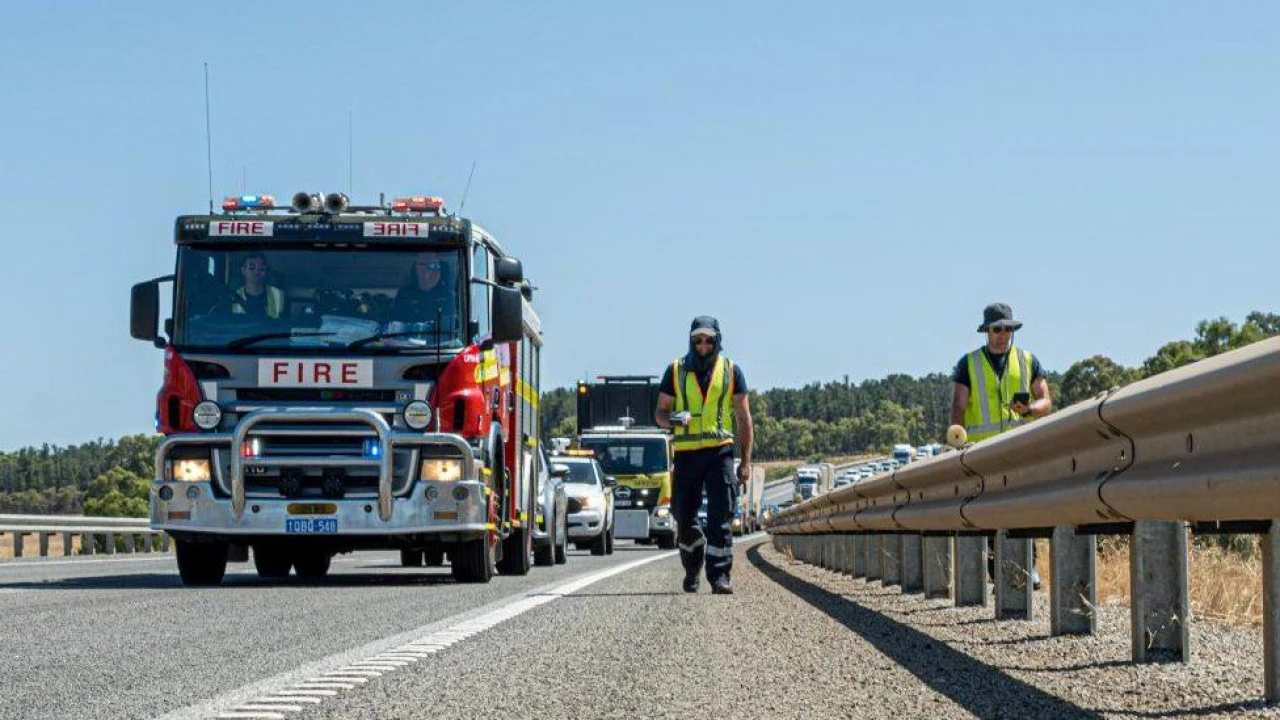 Authorities in Western Australia say they have found a tiny radioactive capsule which went missing last month.
Emergency services had "literally found the needle in the haystack", they said.
A huge search was triggered when the object was lost while being transported along a 1,400km (870 mile) route across the state.
Authorities released a close-up picture of the pea-sized capsule - which could cause serious harm if handled - on the ground among tiny pebbles.
A serial number enabled them to verify they had found the capsule they were searching for.
Mining giant Rio Tinto apologised for losing the device, which is 6mm (0.24 inches) in diameter and 8mm long.
It contains a small quantity of Caesium-137, which could cause skin damage, burns or radiation sickness.
Emergency services used specialised equipment including radiation detectors during their hunt.
Announcing their find on Wednesday, the state emergency services paid tribute to "inter-agency teamwork in the face of seemingly insurmountable odds".
The capsule was found when a vehicle equipped with specialist equipment, which was travelling at 70 km/h (43 mph), detected radiation, officials said.
Portable detection equipment was then used to locate the capsule, which was found about 2m (7ft) from the side of the road, they added.
A 20m "hot zone" has been established around the capsule and it will be placed into a lead container.
It will be stored at a secure location in Newman overnight before being transported to a secure facility in the city of Perth on Thursday.
The device is part of a density gauge, which was being used at Rio Tinto's Gudai-Darri mine in the remote Kimberley region of Western Australia. The company had earlier promised to launch an investigation into what had happened.
Australian authorities have promised a review of existing laws on the matter.
Prime Minister Anthony Albanese told a news conference in Perth that the current fine for failing to safely handle radioactive substances is "ridiculously low". It currently stands at A$1,000 ($700, £575) and A$50 ($35, £30) for every day that the offence continues.
Exposure to trace quantities of the metal is like "receiving 10 X-rays in an hour, just to put it in context, and... the amount of natural radiation we would receive in a year, just by walking around," said Western Australia's chief health officer Andrew Robertson earlier this week.
It was thought that the capsule may have gone missing up to two weeks ago.
The search area for the lost capsule was huge. It is roughly equivalent to the distance by road from John O'Groats in Caithness to Land's End in Cornwall, or from Washington DC to Orlando, Florida.
The state's desert is remote and one of the least populated places in the country. Only one in five of Western Australia's population lives outside of Perth, the state's capital.
The gauge was being transported by a subcontracted company, which picked it up from the mine site on 12 January to move it to a storage facility in the north-east suburbs of Perth.
When it was unpacked for inspection on 25 January the gauge was found broken apart and the radioactive capsule was gone. One of four mounting bolts and screws were also missing.
Authorities said vibrations during transit may have caused the bolts to become loose, allowing the capsule to fall through gaps in the casing and truck.
This incident came as Rio Tinto tries to repair its reputation in Australia.
In 2020, Rio Tinto blasted the 46,000-year-old rock shelters at Juukan Gorge in Western Australia to expand an iron ore mine, sparking a major outcry that led to several of the company's top bosses standing down.
And last year, a parliamentary inquiry found sexual harassment was rife at Australia's mining firms, after an internal review at Rio Tinto found more than 20 women had reported actual or attempted rape or sexual assault over five years.
SOURCE: BBC