Maryam Nawaz addresses workers' convention in Multan
The PML-N senior vice-president lashes out at PTI Chief Imran Khan, holding him accountable for economic crisis.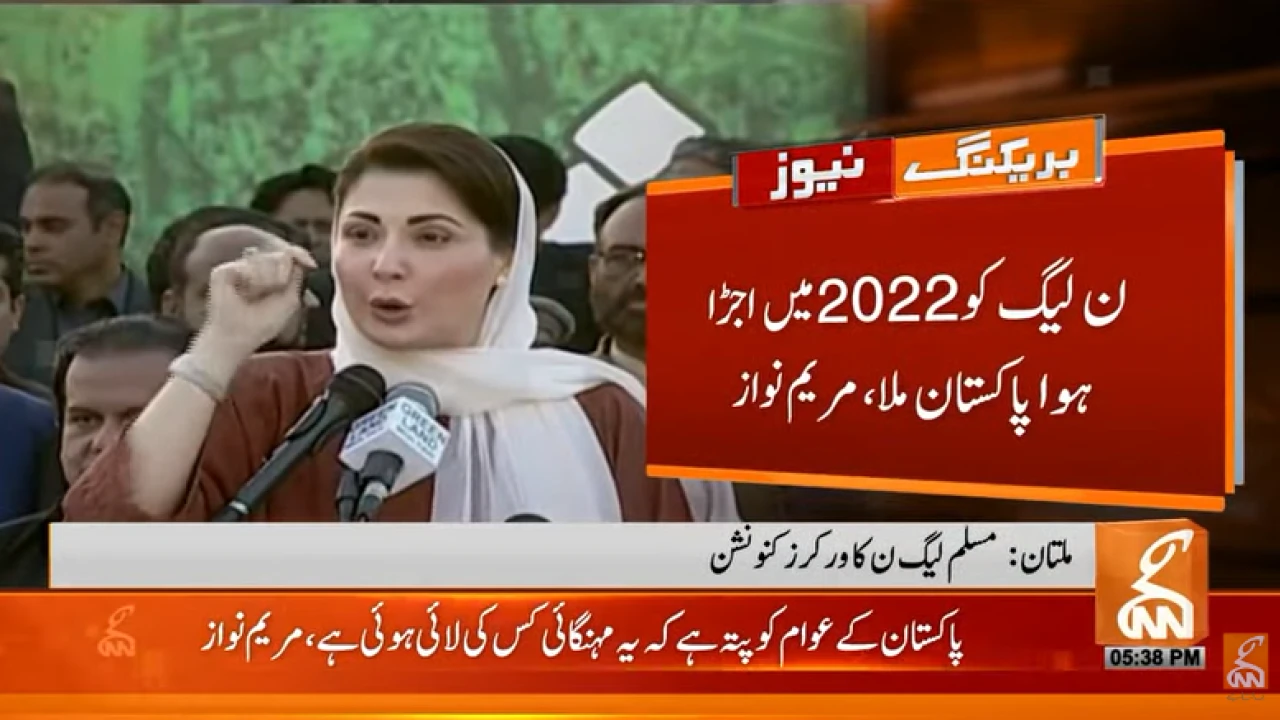 Multan: Pakistan Muslim League-Nawaz (PML-N) Senior Vice-President Maryam Nawaz that her party leadership faced many cases and hardships but they did not cry but these PTI leaders were crying everywhere.
"I feel mercy for them when I see them crying now," said Maryam Nawaz while addressing workers convention in Multan on Sunday.
She said that PML-N under the leadership of Nawaz Sharif would once again take the country out of crisis.
"We are in pain that there is sky-rocketing inflation. I'm in pain, Nawaz Sharif and Shehbaz Sharif are in pain but we all know that who has brought this inflation," said Maryam Nawaz.
Addressing the participants, she said that country progressed every time whenever Nawaz Sharif took over the charge.
"The history is witness that every time Nawaz Sharif steered the country out of crises. What is left if Motorway is ousted? What is left if atomic blasts are ousted? What is left if Metro Bus is ousted? The prices went down during his tenure," she added.
ملتان: چیف آرگنائزر مسلم لیگ ن مریم نواز ورکرز کنونشن سے خطاب کر رہی ہیں https://t.co/Hp8fuWfpgD

— PML(N) (@pmln_org) February 5, 2023
Maryam said that Nawaz Sharif also held meetings with the IMF during his government and the prices did not go up but the latest problems and prices were only because of Imran Khan's deal with the international lender.
"This agreement has tied our hands and this agreement was finalized by Imran Khan," said the PML-N vice-president, quoting General retired Bajwa that they committed blunder by bringing Khan to the power.
"This thief and fitna must be ousted now from the politics," said Maryam, calling Imran Khan a "snake" who was biting the "five".
Shehbaz Sharif, she stated, would take the country out of crisis.
The PTI did not even know how to do opposition in the parliament and now they were crying on TVs.
"For the first, they are "Baifaiz" she taunted the PTI leadership.
Maryam said that Nawaz Sharif's wife died and his daughter went to the jail but nobody saw him crying and she felt proud of Nawaz Sharif whenever she saw these people crying.
She stated that Imran Khan announced "jail Bharo Tehreek" but actually he had had "Jaib bharo Tehreek,".
Earlier, Rana Sanaullah said that conducted atomic tests on May 28, 1998 and if Pakistan exists its because of atomic power and credit goes to Mian Nawaz Sharif.
He said that people should be conveyed that it was the PML-N which took the country out of crisis in 1999.
"On Oct 12, 1999, the same slogan of accountability was chanted and then the whole system was wrapped for next 13 to 14 years," said Khan, adding that there had been hours' long load-shedding in the country and it was Nawaz Sharif who pulled the country out of crisis.
He stated that from 2013 to 2017, there had been many challenges and finally Nawaz Sharif was disqualified on a very poor ground.
"You must star jail bharo tehreek. Yes do it and I will deal with you," warned the interior minister while addressing Imran Khan.
He said that Imran Khan should remember what happened with him on November 26.
"We will provide you everything in the jail except one thing. You have to survive without that thing," said Rana Sanaullah, without naming Imran Khan.
He went on to say that the PML-N would win the next general elections.