Bakhtawar's groom drop latest pictures of Barat ceremony
Karachi: Bakhtawar Bhutto-Zardari, the eldest daughter of former president Asif Ali Zardari and slain Benazir Bhutto, tied the knot with Dubai-based businessman Mahmood Chaudhry on Friday.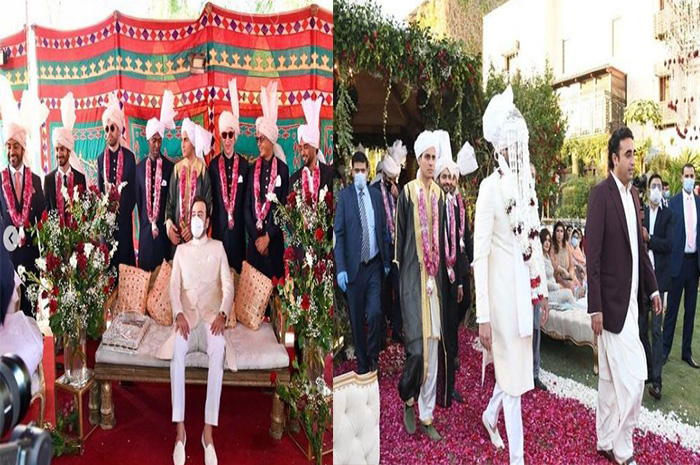 Bilawal Bhutto Zardari had shared the first images of his sister's nikkah ceremony yesterday but now Chaudhry has shared more, giving more sneak and peak into the event.
View this post on Instagram
Nearly 150 people including family members of the groom and bride attended the close ceremony held at the Bilawal House in Karachi.
The reception ceremony is being held in Karachi today where 300 people including key politicians, military officials and others have been invited.
The PPP chairman in a message on the event said,: "Happiest moment in many years to see my sister @BakhtawarBZ getting married. Felt like our mother was watching over us in this moment of joy. Wishing them both all the best of for their new life together . Masha'Allah!"
Festivities for the wedding kicked off earlier this week with a Milad ceremony, which was organized on January 24.
میری بہن بختاور بھٹو زرداری کی شادی ایک طویل عرصے بعد آنے والا خوشیوں کا لمحہ ہے، مجھے ایسا لگا کہ مسرت کے اس لمحے میں میری والدہ ہمیں دیکھ رہی ہیں، میری جانب سے دونوں کو ایک ساتھ نئی زندگی کی ابتداء کی مبارک باد ہو- ماشاءاللہ ! https://t.co/5wdweW341F

— BilawalBhuttoZardari (@BBhuttoZardari) January 29, 2021
Bakhtawar's henna (Mehndi) function was held Wednesday night and it was attended by the close relatives of both sides.
She had also shared a video on Instagram, showing the mehndi design on her hands.
In November, Bakhtawar Bhutto-Zardari exchanged the rings with Mahmood Choudhry as country's prominent persons, including politicians, business tycoons, and lawyers attended the functions.Karachi: Pakistan Peoples Party (PPP) chairman Bilawal Bhutto Zardari on Friday shared first images of nikkah ceremony of his sister Bakhtawar Bhutto Zardari.
The Nikkah ceremony of former President Asif Ali Zardari's eldest daughter and Mahmood Chaudry, the son of a business tycoon was held at Bilawal House today.