Lahore Whites' Abid Ali scores unbeaten century in drawn match against Multan
The players say they are much excited for the domestic cricket at the local grounds.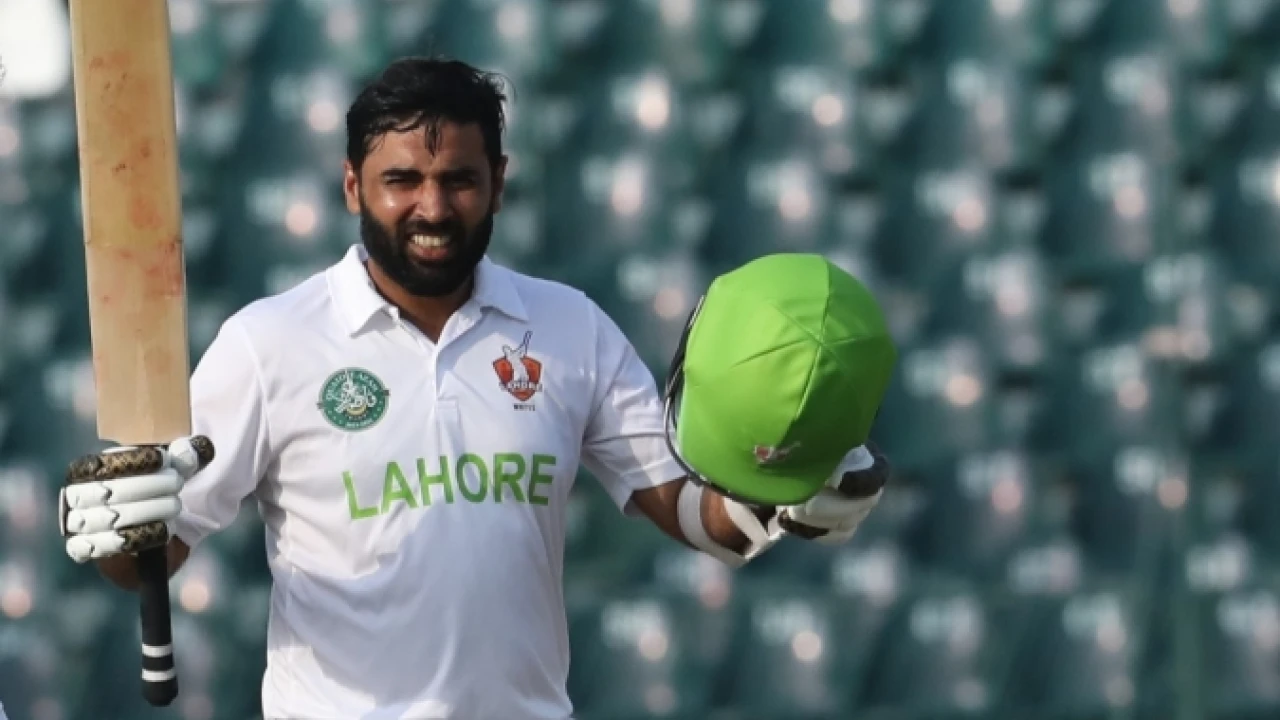 Lahore: The third round matches of the Quaid-e-Azam Trophy was concluded on Monday.
Lahore Whites v Multan (Gaddafi Stadium)
At stumps the previous day, Multan remained comfortably at 329 for the loss of six wickets with veteran Aamer Yamin and Ali Usman at the crease.
They got to 346 after which they declared the innings, inviting Lahore to bat.
Other than Abid Ali, none of the Lahore batters stuck on the crease long enough to stitch together any solid partnerships. Abid, who got a century, was crucial to Lahore Whites getting to 304 runs in the innings.
The match was drawn, without either side getting to bat for the second time.
Faisalabad v Lahore Blues (Pindi Cricket Stadium)
Faisalabad started their day at 34 for two.
Wickets falling periodically did not allow Faisalabad batters to sustain any solid partnerships. Mohammad Huraira and Irfan Khan Niazi, both of whom scoring 39, were the highest scorers on the card.
Faisalabad got to 188 runs having lost seven wickets, in their second innings. Lahore did not get a chance to bat for the second time.
The match was effectively drawn.
FATA v Karachi Whites (KRL Rawalpindi)
FATA started the day at 110 for the loss of six wickets.
Mohammad Sarwar Afridi produced a fighting knock of 70 runs. The second highest score of the innings was 24, which came from Mohammad Nisar Afridi's bat. FATA was bowled out for 184.
The Karachi bowlers had a proactive outing with the ball; they displayed a collective bowling effort, which each bowler picking wickets. Ghulam Mudassar got a five-wicket-haul while Mir Hamza returned with three wickets.
The two captains shook hands as the match was drawn.
Scores in brief
Lahore Whites v Multan (Gaddafi Stadium)
Match Drawn
Multan: 329-6 in 96 overs (Zain Abbas 94, Sharoon Siraj 64; Mohammad Naveed 2-73, Mohammad Irfan 2-84)
Lahore Whites: 304-6 in 78 overs (Abid Ali 164*, Mohammad Irfan 39*; Siraj Uddin 2-62, Zahid Mehmood 2-108)
Peshawar v Rawalpindi (Abbottabad Stadium)
Peshawar win by an innings and 93 runs.
Rawalpindi: 137 all out in 53.1 overs (Syed Aqib Shah 37; Niaz Khan 5-53, Abbas Afridi 3-26) and 87 all out in 27.2 overs (Bilawal Bhatti 20; Mohammad Ilyas 5-26, Sajid Khan 2-8, Abbas Afridi 2-26)
Peshawar: 317 all out in 88.3 overs (Waqar Ahmed Snr 184; Abbas Ali 45; Kashif Ali 5-101, Bilawal Bhatti 2-70)
Faisalabad v Lahore Blues (Pindi Cricket Stadium)
Match Drawn
Faisalabad: 211 all out in 83.2 overs (Mohammad Abubakar Khan 63, Ali Shan 55; Ali Shafiq 5-36, Kashif Bhatti 3-38) and 188-7 in 51 overs (Mohammad Huraira 39, Irfan Khan Niazi 39; Nisar Ahmed 2-43, Kashif Bhatti 2-48).
Lahore Blues: 201 all out in 59.5 overs (Nisar Ahmed 44, Imran Butt 42; Faheem Ashraf 3-39, Khurram Shahzad 3-41, Mohammad Ali 3-44)
FATA v Karachi Whites (KRL Rawalpindi)
Match Drawn
Karachi Whites: 144 all out in 66.1 overs (Rameesh Aziz 45, Mohammad Hasan 32*; Irfanullah Shah 4-35, Mohammad Sarwar Afridi 2-14, Sameen Gul 2-30) and 1-0 in six overs.
FATA: 184 all out in 70.5 overs (Mohammad Sarwar Afridi 70, Mohammad Nisar Afridi 24; Ghulam Mudassar 5-44, Mir Hamza 3-52)