Saints QB Carr suffers shoulder injury, ruled out
Saints quarterback Derek Carr was ruled out for the rest of Sunday's game against the Packers with a shoulder injury.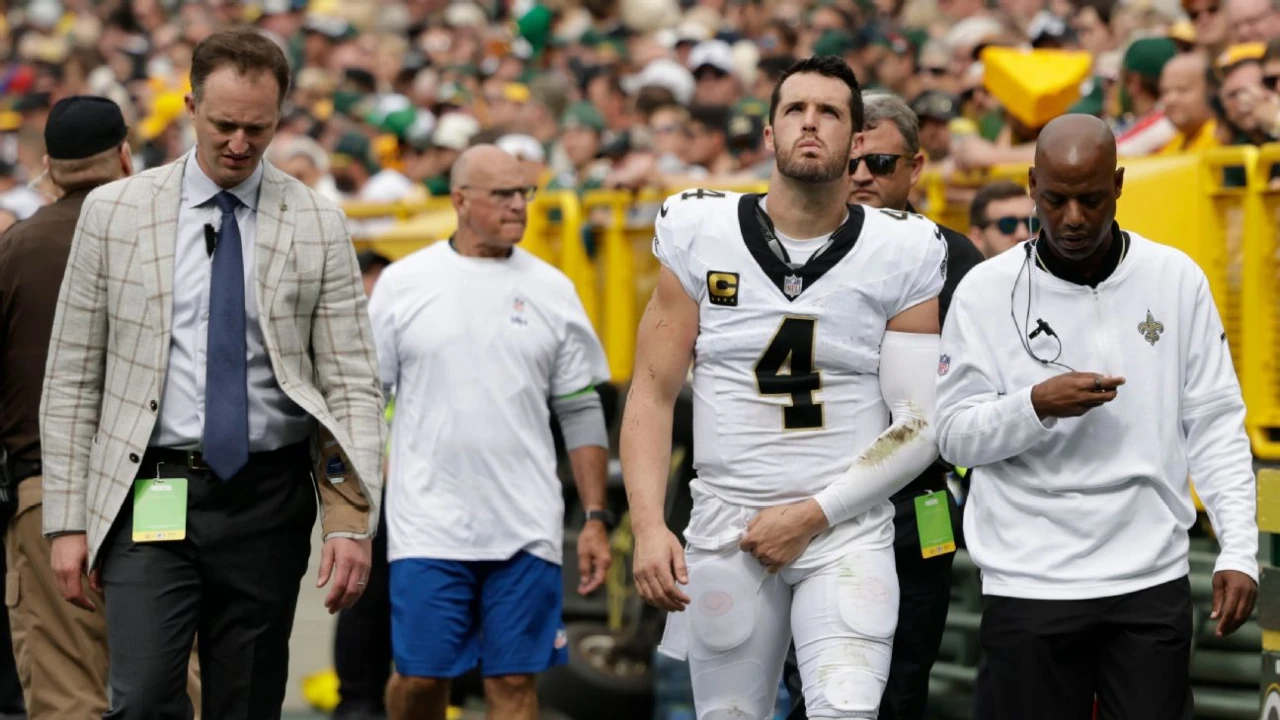 GREEN BAY, Wis. -- Saints quarterback Derek Carr went to a local hospital Sunday to be evaluated after injuring his right shoulder in the third quarter of New Orleans' 18-17 loss to the Packers, according to coach Dennis Allen.

''They're doing an evaluation, I think it's X-rays," Allen said after the game. "I can't tell you really any more than that. When we know what it is, we'll let you know."

Carr flew home with the team.

Carr's injury marks the fifth consecutive season that the Saints have injuries at quarterback. Drew Brees missed nine games between 2019 and 2020, and Jameis Winston missed most of the 2021 season with a torn ACL before injuring his back and foot in the 2022 season.

In that time span, the Saints also started Teddy Bridgewater, Trevor Siemian, Ian Book, Taysom Hill and Andy Dalton in addition to Brees, Winston and Carr due to injuries and COVID-19.

The Saints turned to Winston after Carr was ruled out of the game in the second half. The Saints had a 17-0 lead when Carr exited, but the Packers scored three straight times in the fourth quarter for the win.

Winston completed 10 of 16 passes for 101 yards and was able to drive the team 47 yards to the Green Bay 34 in the last three minutes of the game, but Saints kicker Blake Grupe missed a potential winning field goal.

"I think Jameis did fine stepping in," Allen said. "Overall, I'm just going to say it wasn't good enough for any of us."

Carr landed hard on his shoulder following a sack that occurred on third-and-9 with 10:51 left in the third quarter. He remained on the ground for a few minutes as athletic trainers attended to his shoulder with his teammates kneeling beside him.

"Just to see him on the ground not wanting to move ... of course that was alarming to see," said Saints wide receiver Rashid Shaheed, who had a punt return for a touchdown early in the game.

Carr walked to the sideline on his own and entered the injury tent, where team doctors evaluated him and quickly determined that he would need to leave the game to get X-rays.

Carr was 13-of-18 for 103 yards and a touchdown before the injury.

"He got slammed pretty good," Saints tight end Juwan Johnson said. "You could just tell. Obviously, it was unfortunate because of the sack, just him being on the ground, I knew something was up with the force he was put on the ground. I hope it's nothing serious, that's kind of the biggest thing."

Winston will regain his starting role for the third straight season if Carr is out for any extended time. Winston took a pay cut to stay with the Saints this year after they signed Carr to a four-year, $150 million deal in free agency.

"I'm confident in our football team," Allen said when asked of his confidence in Winston. "We stumbled today, we learned from it, we'll get better from it and we'll keep going."

Winston appeared in four games in 2020 in place of an injured Brees, started seven games in 2021 and started the first three games of last season. He did not regain his starting job from Dalton last year after the team chose to rest him to heal his injuries.

Winston said that his first thought was whether Carr was OK after he got hurt. His second thought was that he needed to grab his helmet and warm up.

"The second thing is, 'Hey, I'm prepared for this opportunity,'" Winston said. "I've been there before, and I was ready."

Carr was the second Saints player ruled out Sunday after guard Cesar Ruiz left the game early with a concussion.

"We know he's going to be all right, he's a tough guy," Shaheed said. "He's a warrior. We're all behind him no matter what."
Pirates stage team-record comeback, shock Reds
The Pirates overcame a nine-run deficit for the first time since the franchise started in 1882 as Luis Rivas tied a career-high with five RBIs in a 13-12 victory that dealt a staggering blow to the Reds' playoff hopes.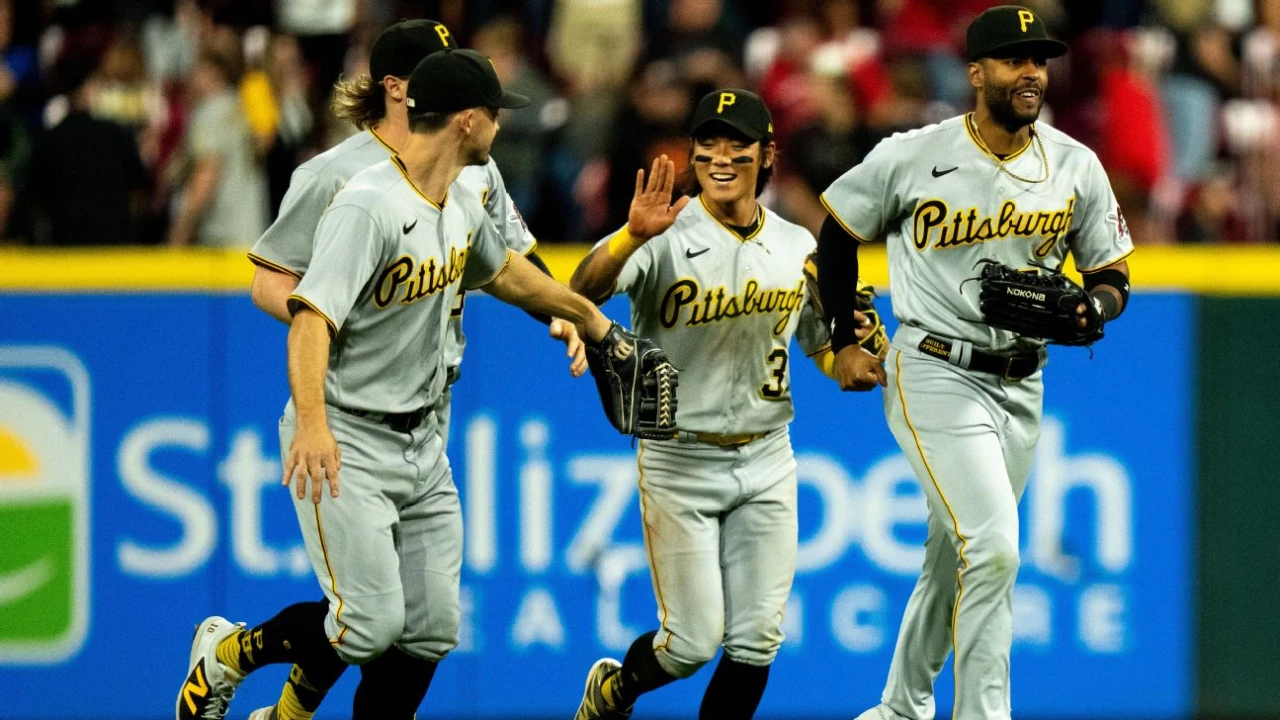 A surprise in 2023 following a 100-loss season, the Cincinnati Reds and their beleaguered bullpen were dealt a staggering blow by the Pittsburgh Pirates.

The Pirates overcame a nine-run deficit for the first time since the franchise started play in 1882 as Alfonso Rivas tied a career high with five RBIs in a 13-12 victory Saturday night.

"There really [is] not a whole lot to say," Reds manager David Bell said. "Our players have given absolutely every ounce of energy from Day 1 of spring training. That continued tonight. It is going to continue to the last pitch of the season."

The Pirates came into this game 0-819 in their history when trailing by nine-plus runs in a game, according to the Elias Sports Bureau.

Cincinnati, which dropped 2½ games back for the National League's last wild-card berth, opened a 9-0 lead with three runs in the first, five in the second and one in the third then allowed 13 unanswered runs. The Reds attempted to rally but stranded the potential tying run at third base in the ninth.

"This time of the year, everybody is battling some stuff, but it's meaningful baseball," Reds catcher Tyler Stephenson said. "Everybody knows that. They put some good at-bats together and had stuff go their way. It is what it is."

The Reds, who have lost four straight, squandered a nine-run lead for the first time since a 10-9 defeat at Milwaukee on April 28, 2004. This was the biggest blown lead in the major leagues this season, topping Seattle's 7-0 advantage in a 14-9 loss at the Chicago Cubs on April 11.

Pittsburgh, which entered the National League as Allegheny City from 1882 to 1890, had overcome eight-run deficits four times, the last when the Pirates trailed the Houston Astros 8-0 in the second inning of an 11-8 win July 15, 1994.

Reds rookie Christian Encarnacion-Strand, Tyler Stephenson and TJ Friedl all homered off Bailey Falter, who allowed eight runs and nine hits in two innings. Friedl hit a drive into the right-field corner that Joshua Palacios couldn't come up with and wound up with the Reds' first inside-the-park homer since Jay Bruce at the New York Mets on June 15, 2012.

Spencer Steer's RBI double off Kyle Nicolas boosted the lead to 9-0 in the third.

"It was just, we're going to chip away," Pirates manager Derek Shelton said. "We wanted to get into their bullpen and use as many arms as possible. We just kept chipping, kept having good at-bats."

Held hitless for three innings, Pittsburgh started its comeback on Rivas' RBI single in the fourth off against Connor Phillips. Ji Hwan Bae and Palacios had run-scoring singles in a five-run sixth, and Bryan Reynolds hit a three-run homer against Alex Young.

"It's funny because [Ke'Bryan] Hayes was standing right next to me and he goes, 'If he hits a homer here, this is going to get real,'" Shelton said. "He hit a homer, and it got real."

Rivas greeted Lucas Sims with a three-run double in the seventh that tied the score 9-9, and the Pirates opened a 13-9 lead in the eighth against Reds closer Alexis Díaz (9-6) when Jack Suwinski and Rivas hit run-scoring singles and Bae followed with a two-run double. Right fielder Stuart Fairchild saved a run when he threw out Hayes at the plate trying to score from second on Jared Triolo's single.

Nick Martini hit into a run-scoring forceout in the eighth, and Encarnacion-Strand followed with an RBI single against Colin Selby. With two on, Bae made a diving backhand stop on Stephenson's grounder, stepped on second and threw to first for an inning-ending double play.

On a night when each team had 16 hits, José Hernández (1-1) got the final out of the seventh in his first major league win.

Pinch hitter Joey Votto singled off rookie Carmen Mlodzinski leading off the ninth on a ball that took a bad hop over Bae, Friedl doubled, and pinch hitter Jake Fraley hit an RBI groundout that cut the Reds' deficit to one.

Rookie Elly De La Cruz struck out on an inside sweeper in an 11-pitch at-bat, and Jonathan India flied out to center.

The Associated Press contributed to this report.
Turkey, Pakistan agree to increase investment cooperation
They also discussed the Pakistan-Turkey bilateral relations in this meeting.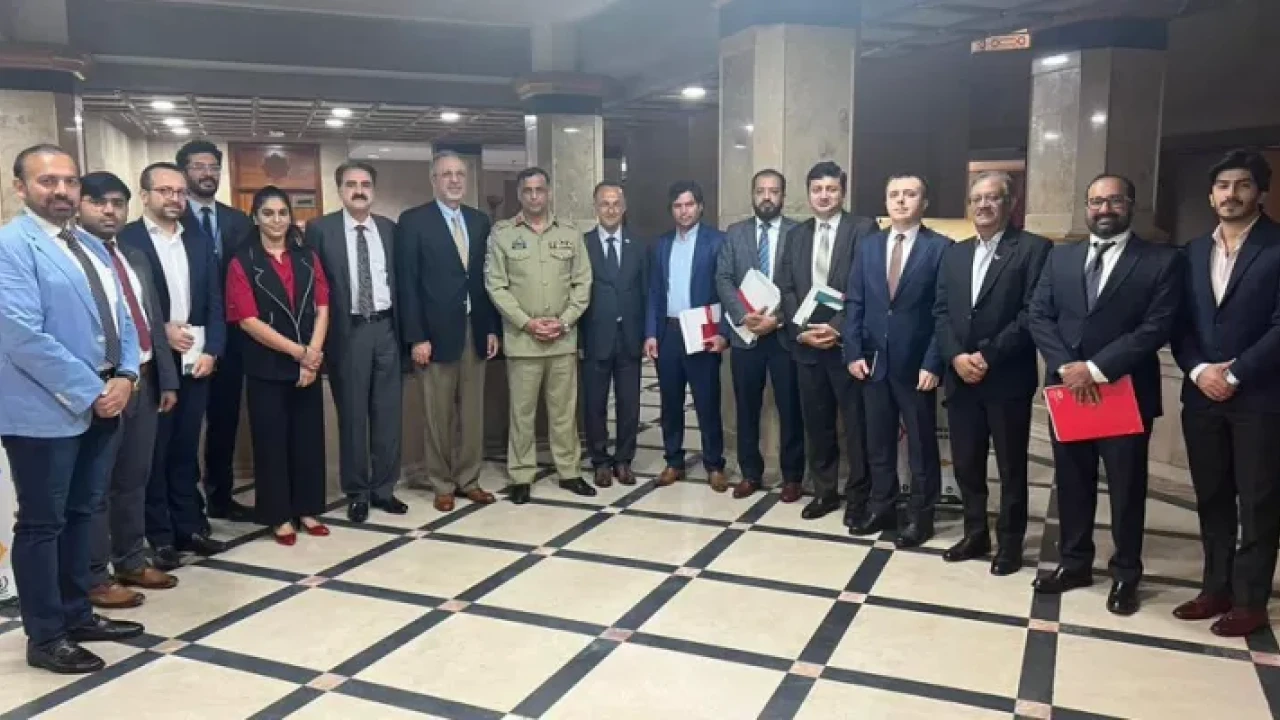 Islamabad: Pakistan and Turkey have agreed to increase investment cooperation to boost their national trade economies.
According to sources, Turkish Ambassador Mehmet Papaci met the Director General of the Special Investment Facilitation Center (SIFC) on Monday.
In addition, they agreed to increase investment cooperation between the two countries.
They also discussed the Pakistan-Turkey bilateral relations in this meeting.
The ambassador assured Turkish companies to invest in Pakistan while the SIFC director general assured Turkish companies of full cooperation.